21st January 2010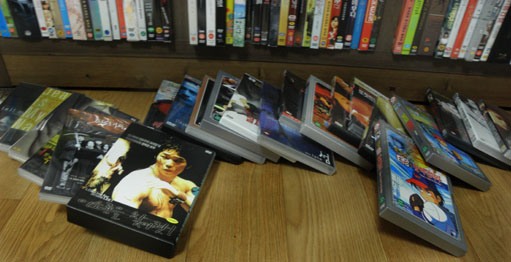 As I mentioned earlier in the week, I was recently forced to find a new supplier of DVD to feed my addiction after Madmad closed its e-doors as of January 11th.  A brief search led me to DVDKorea (www.dvdkorea.co.kr) where I was very impressed with the selection.  They had many things I had been looking for such as Looking for Bruce Lee and the remaining two films of the Dokgotak series. They also had many films that I formerly owned on VHS but had not yet replaced such as Quiet Family and Phantom Submarine.  All in all, I clicked about a hundred titles to place them on reserve and from that list ordered 26 titles. 
On the plus side, the order arrived within twenty-four after I sent payment.  But there was a large drawback.  Only 23 titles  were in the box which lacked an invoice.  Missing were the films Gosu from 1997 which I know very little about, a three-disk box set featuring the films of director Min Byeong-hoon (Flight of the Bee, Let's Not Cry and Pruning the Grapevine) and Korean Short Animated Films vol.2.  Checking the website, they do state those films have not yet been sent, so I guess I can expect them eventually.
I think I was spoiled with the quality of service I had experienced while a customer of Madmad.  If films were going to take longer to send, it was always posted right on the order site.  If a movie or two were going to be late, they would send an email to inform me.  An invoice was always included with my orders and in most cases a freebee was included (which was how I acquired movies like Oh! Brothers and the Hi Dharma series).
I guess will wait and see how long it takes them to complete more order before I decide whether or not to continue using this company.  I may have to shop around a little more…