27th January 2010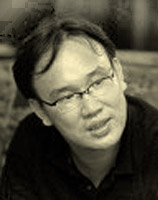 Kim Seong-soo, the youngest of five children, was born in Seoul on June 19, 1961.  He attended Sejong University and majored in English but his passion for movies was ignited after joining a movie club at school where he befriended director Yoo Ha, who had re-enrolled in school, and director Ahn Pan-seok.  Viewing Yooo Hyeon-mok's film The Aimless Bullet, he is quoted as saying that 'there has never been a movie like this' and claims that was the inspiration behind him enrolling at Dongguk University's graduate program for film. However, he didn't finish the program. Instead he jumped at the chance to join director Park Kwang-soo's team in writing and filming The Black Republic (1990) and The Berlin Report (1991).  He also assisted on the screenplay for Lee Hyeon-seung's film The Blue In You (1992).
The first film he directed was a 1993 short film called Bimyeong City. After its release, he continued to help other directors with their screenplays while preparing his first feature length film, Run Away which opened in 1995.  However, it was his second film, Beat, that caught the attention of the nation.  Opening a year earlier than Shiri, Beat is an early indication of the changes that were taking place in Korean film-making and it remains a favorite to this day.
Kim followed up this film with City of the Rising Sun and the epic film Musa (sometimes listed as The Warriors).  In 2003, Kim directed and produced Please Teach Me English and in 2006 he produced The Restless.  Kim Seong-soo should not be confused with another director by the same name born in 1938 and still active in the film industry today.
Below is an interview I had translated several years ago at the time of the release of Please Teach Me English.  It was conducted and written by Lee Ji-hoon and Joo Seong-cheol and appeared in the magazine Film2.0 on November 16, 2003. The original article in Korean can be viewed here: http://www.film2.co.kr/people/people_final.asp?mkey=1775
++++++++++++++++++++++++++++++++++++++++++++++++++++++++
I couldn't help noticing that you have a picture of Che Guevara hanging on the wall.
Oh, I've admired him for a long time. Wasn't he great? (laughs) His life was amazing. He was a romantic and, as I get older, I feel that he had some kind of spark in him. He's not a bad looking guy either. You know, you can't get a picture like that just anywhere. I bought it while I was in Italy at a communist bazaar.  They open it once a year like a kind of village festival. I've seen many pictures of Che Guevara but I never found one that I really liked until I bought this one. I only paid about W10,00 for it.
Che Guevara's image of the romantic revolutionary seems related to the image of some of the characters in your movies.
That could be. I was brought up in a time when people would get excited watching movies where the hero from the National Independence Army would come riding over the hill to save the downtrodden.  There has been that feeling of heroism in my movies.
I have heard that you like romantic comedies.
Probably everyone who claims to like movies, enjoys romantic comedies. I am like anyone else and I like a wide variety of films.  I had thought about making a romantic comedy before.  I wanted to debut with Dr Bong.  If I had succeeded at that time, no one would be asking me why I am making a comedy now. (laughs)
But aren't most of your movies along the lines of action and adventure like Beat, City Of The Rising Sun and Musa?
Oh, of course.  People tell me that I am a director who makes these macho-action movies, especially as I started to get settled down in Chungmuro.  But I feel defensive when I hear that.  To tell the truth, I think I have typecast myself as an action movie director.  It is partly because I love the movies of Chang Cheh and Bruce Lee.  When I was young, I enjoyed watching westerns and war movies in the theaters or on tv. And I just remembered…when I was in college, I joined a movie club. I was asked to write down a list of my ten favorite movies.  I put Bruce Lee's  Fists Of Fury at the top of my list and everyone made fun of me. (laughs)  It was the mid-80's and everyone was analyzing the films of people like Sergio Eisenstein or Jean-Luc Godard.  Anyway, since finishing school, I don't watch many action movies. And films like Fists Of Fury don't appeal to me like they did when I was younger. I have asked myself many times how I am different now from when I was younger and was able to get interested in those movies. I've come to conclusion that I just have different tastes now.  These days, I get introduced as the director who makes movies describing a tough, male-driven society, but I don't really agree with that assessment. Of course, my movies may seem that way, but that's not necessarily how it is.
I remember that people seemed a little shocked when they heard that Kim Seong-soo was going to make Please Teach Me English. Is what you just said the reason why you planned a new romantic comedy?
I have no idea why people were shocked (laughs).  The thought of me doing a romantic comedy must have seemed alien to them. I have no idea why. (laughs). I sometimes get this rebellious feeling when I hear about what people expect from me.  I will soon be in my mid-40's and, having already started my own company, I feel like I shouldn't be holding still.  I have set up a new office.  Of course, it's not a venture business, but I am feeling in the need of some adventure at this time (laughs).  The reason I made Please Teach Me English was because I liked the scenario. I especially liked the role that was given to Lee Na-yeong.
It is a fact that this is the first movie you made where the main character is a woman and many people doubted you would be able to understand a female character or be able to depict her well.
I've heard that a million times.  It is true that I don't know much about women. I have never been in their minds or been able to look deeply into their psyche.  I was brought up at a time when it wasn't really a man's place to know or care what makes women tick.  For example, in Jang Hyun-su's Rules Of The Game, there is a scene on the rooftop scene between Park Jung-hoon and Lee Kyeong-yeong.  When I watch a scene like that where two men are talking, I completely understand the corresponding emotions. Maybe not everyone can understand the feeling, but I do. (laughs). Anyway, I can understand everything about men and their emotions, but I wasn't sure about making a film that depicts a female character. However, this script was too good to pass up.  The character of Yeong-ju is sweet and charming in the scenario.  I thought I could handle that movie because the director's job is to simply change the written scenario into a series of images.
A director's job is to change a scenario into a series of images?
Isn't it?  That's what a director does.  There might be some directors who are able to show the audience more than what can be seen on the screen, but I'm not at that level yet.  I've been trying to work on that.  Anyway, in Please Teach Me English, I tried to make it more of a character-driven movie without using too many special effects.  I have found that most good romantic-comedies focus on the characters without special camera tricks. Rather than making this film realistic, I tried to make it like a cartoon.
When you make films in a genre other than action, don't you find it difficult to find a balance between your old style and the style you want people to see?
I didn't realize that I had my own style.  The reason I became known for a certain style is because I have wanted to try various techniques in my works, not because I am stylistic.  I am still a young director and I believe it is my job to try various things and see how they appear on the screen.  Unfortunately, it doesn't always go that well. (laughs).  But with Please Teach Me English, I didn't worry about that. I wanted to follow the scenario as closely as possible.  I did have one thought regarding my style of directing. Because most of the films I have made were action movies, I had no time to discuss a scene with the actor before filming. Musa is an example.  It was really difficult to get all those horses standing where they should be standing or trying to capture the wind which would only be blowing perfectly for just a second.  But when the time was right, I would yell, "Alright! Let's go! Woo-sung, move forward now!" Then he would walk forward a bit and say, "But what am I supposed to do?" (laugh)  I wouldn't even tell the actors what to do in certain scenes.  Then I would say. "What? You mean I didn't tell you? Alright, don't worry about it. Just move forward and turn your face once to look back as you walk across."  That's how I would do it. It left something to be desired because it was just using the image of the actors instead of extracting quality from them.  Other directors have a chat with the actors before the scenes.  I really envied that technique. (laughs)  So I decided to talk a lot with the actors this time.
Besides the genre, there are other differences between Please Teach Me English and your other films.  Your other movies all deal with these do-or-die situations and the instinctive reactions and explosive violence that came with them.  In Please Teach Me English, these situations don't exist.  Were you comfortable with such a big change?
I felt comfortable with it because I like both styles.  When I'm in a singing room, I sing trote and then something for Sechs Kies.  The film Musa uses all things related to action and heroism.  But the work was just too much for me to manage. But even though there were many difficulties, I never once lost my temper or considered giving up.  I usually just dive headlong into my business. There was just one time near the end when we were filming the final battle when I thought to myself, "This is going to be tough."  After finishing Musa, I briefly thought about making a film about the Korean War, but I decided that I needed a little time before beginning such a huge project.  A few days later, producer Jo Min-hwan, who had just set up Nabi Pictures, showed me Please Teach Me English which was one of the many scenarios he had in the works.   Looking back on it, I don't think I had any specific kind of movie in mind. I was just looking to try something different.  I think I chose this scenario because I wanted change.
Are you happy with the finished product?
Who on earth is ever satisfied with his own work? (laughs) I do have one regret though, that I didn't go into the characters a little deeper.  I should have examined and fleshed out Yeong-ju and Mun-su a little more.
Despite the title of the movie being about English, the movie focuses much more on the romantic comedy aspect than on the English theme. Maybe you could have included more episodes based on learning English to make it even more entertaining.
At first, I wanted to include more parts on learning English. But in the planning stage, others pointed out that the Korean audience would not appreciate the movie being filled with English. I agree now that it was a good idea to take it out. Viewers don't like when English is used too much.  For instance, say that my foreign friends and I are sitting here.  While I am looking away or doing something else for a minute, they talk among themselves and laugh about something someone said. What should I do then? Look at my friends and ask, "What's going on? What did I miss?" No. I would just pretend to be on my way to the bathroom.  It would embarrass me to ask what was going on especially if they explained it to me and I still couldn't understand.  In a similar way, viewers are uncomfortable with movies which are full of English that they can't completely understand. So we took most of the English parts out of the movie in the early stages.
Another thing I have to ask about is Mun-su's adopted sister.  It seems to me that many recent Korean comedies discuss family issues.
I grew up in Itaewon so I have seen the kind of meetings that my movie describes. But these days are somewhat different than it was in the past.  Before, if a child who was adopted by an American met his or her parents, they would just sit together and sob.  But nowadays, people think that it is 'cool' to have a child living overseas. I have never thought that overseas adoptions were foolish or tragic.  In the movie, Yeong-ju is a woman living in a fantasy world so I tried to balance her character by making Mun-su more grounded in reality.  But by doing that, Mun-su became the one who would be discussing the adoption situation. Once we got into shooting the scene, I realized that Mun-su's character would find meeting his adopted sister very emotional and everyone would be left sobbing.  That is not how I wanted to end the movie so it concludes with the romance of Yeong-ju and Mun-su.
Many directors of commercial films not only want to make movies that the audience can enjoy, but they want to give the stories a little deeper meaning and take the audience a little further. Is that what you were trying to do?
I don't want to take the audience any further than they want to go. I want to make films that match the viewers tastes and expectations.  That has been my policy since I debuted as a director with Run Away.  I have always thought that people would find a movie fun if I found it fun.  I am no higher than any other movie-goer. I do try to do something new each time as I believe that viewers want to see new things.
I heard that this movie was selected as the first movie produced by Nabi Pictures because it was a safe choice economically.
It wasn't that. We were considering other movies besides this one. Right now we are making My Mother The Mermaid.  Director Park Heung-shik was preparing a movie for us and new director Jo Dong-ho was planning to make a science fiction movie set in the Gobi Desert. However Park wasn't able to obtain the copyright of the original Japanese animation that his movie would be based on and Jo also ran into trouble.  I had been thinking about producing a big film with a budget of W500 million, but decided it would be much to big a financial burden.  For practice, I instead planned an omnibus of three short stories.  But the investment process didn't go as well as I thought.  I was only able to gather W100 million.  I was depressed about that.  I thought that it would be best to give that money to the youngest of my director friends.  So I invested in one film.  I want to gather more money and produce two more movies.  Anyway, the next movie that came my way was Please Teach Me English.  I didn't try to be especially careful with it or anything just because it was the first movie of Nabi Pictures.
You're thinking about becoming a producer?  You have a long history of directing films, why would you be attracted to producing?
I am not looking to become a producer as a career but as a producer who continues to work in the fields.  I used to think that a movie would be mine if I directed it. But working on Musa made me think differently.  I worked closely with producer Jo Min-hwan while making that film.  I saw more of him than I did my wife.  While we were working on Musa, I realized that it wasn't my movie.  It was Jo Min-hwan's.  I came to realize that it was the producer who actually made the film and with that in mind, I thought that producing a movie would be fun. Also, these young directors today are great.  If it is possible, I hope to help them by investing in their films. When I think about Nabi Pictures, I think it would be ideal if Jo Min-hwan handled the financial and investment end of the business and I should manage the creative parts.  In that way, the system would balance out.
So in the past, you felt that it was the director who makes a movie, but now you realize that a movie is produced through a joint effort.
I haven't thought that a movie belongs to a director for a long time.  When I went to Cannes the first time, I was so excited. I felt that all my dreams had come true.  I had just gone for pleasure, but I put my arm around Spike Lee's shoulder and the whole wonderful movie world was there before me.  After some time, I went a second time. A friend of mine in France asked me to help his business.  I went there to do marketing.  I looked around and I was shocked.  I thought a movie came about from a director's creativity, but that is not the way it is.  I realized that a movie's life comes about from the people who invest in films. I felt that in the movie industry, being the director is a very small part.  That made me think more about the system of making films.  I am not saying that is how it has to be but it is what the current situation is.
As an experienced director, do you also think about helping newcomers?
I never though about that before!  But I think…. I think that I should be responsible for my own work so I don't make trouble for other people. If I decide to help new directors, it will not out of any sense of duty.
How has your attitude towards movies changed as you've gotten older?
Hmm….
Is that a difficult question? (laughs)
It's just that I have been thinking about that very question myself recently, especially after completing Musa. When I was young, I thought that movies were my life. But I have changed. How am I different now? I wish I could answer that, but I'm not sure I know. (laughs)  I still don't know myself very well.
Are you worried about losing some of your audience since your film will be released on the same day as Matrix 3?
When I thought about the release date, I only took other Korean films into consideration. Movie-goers these days enjoy local films more than Hollywood movies. I thought that Untold Scandal and Once Upon A Time A Battlefield would offer strong competition. After looking at their scenarios, I thought that The Greatest Expectation, Spring Breeze, Oh, Brothers and Oldboy would be good too.  There was no possible date I could pick that would avoid being released on the same day as one of these.  It is not useful to have Korean films compete against each other.  I thought that I would rather go up against Matrix 3. Matrix 3 is more of a man's film while Please Teach Me English is more likely to attract female viewers. I thought about the target audience when I chose the date.  If I am asked, "Why are you competing against Matrix 3?" I will say, "Why not? Isn't it great?" (laugh) We were scheduled to open on November 5 and Matrix 3 was originally slated for November 7, but then it got pushed up two days to the 5th.  There was nothing we could do about it.
Do we get to see a new Kim Seong-soo film soon?  Will it be a new genre or will you be going back to your old style?
I might try a different genre.  I don't only make action movies or romantic comedies. I'm not like that. But I might return to my former style. It was fun to make a romantic comedy but it's hard for me to get used to filming this way. It's too easy (laugh) I miss the hardships filming in the Gobi Desert.  I feel like doing a movie like Musa again.  I just needed a rest.  After the success of Musa, people started asking about a <Musa 2>, but it wasn't possible at that time.  Now I would be open to the idea of making a film like that.  I am up to the possibility of making any kind of movie.