2nd February 2010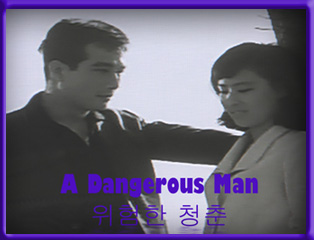 I watched a couple of movies this weekend from the sixties that I had not seen before. The first was Shin Sang-ok's 1963 Romance Gray (or as the KMDB calls it 'Love Affair'–but since the title is already in English, I am not sure why the created another name for it)   With the exception of one camara technique he employed where the characters made their pleas and arguements by speaking directly into the camera, I found the movie to be rather disappointing. I was mostly disappointed with this movie because of the plot which portrayed the wives as horrible people because they left their husbands who were having affairs with more sympathetic mistresses.
However, I the next movie I watched I found to be much better in every regard. That movie was A Dangerous Man directed by Jeong Chang-hwa.  Director Jeong has about 50 movies to his name and even more that he produced. His directing career lasted from 1953 to 1977 but in the late 60s his movies were, at first co-productions with the Shaw Brothers and Golden Harvest productions companies out of Hong Kong. Throughout most of the 70s he worked almost exclusively for those Hong Kong studios and seems to have relocated there as records indicate that he won third place in the 1975 Hong Kong Yacht Race and was honored by the Hong Kong Film Archives.  But in 1966, when A Dangerous Man was made and released, Jeong was working soley for Korean studios. Glancing through a list of his films, none of them jump out at me as being particularly famous however, if A Dangerous Man is any indication of the quality of his work then I want to see more.
The basic plot revolves around Deok-tae (Shin Seong-il) who lives with his older sister Ok-joo (Moon Jeong-sook).  Ok-joo has supported and raised her brother after the death of their parents and plays the role of mother and sister to him and, for his part, Deok-tae is very protective of her. Ok-joo falls in love with a gangster named Mr. Min (Heo Jang-kang) and the two date several times before he tells her that he was only seeing her for fun and dumps her when she starts talking marriage.  Pregnant, Ok-joo sees no option but to have an abortion. Naturally upset, she tells her brother what has happened to her and he, already something of a lowlife, hatches an absolutely evil plan for revenge which involves Min's younger sister Yeong-ah played by Moon Hee.
I cannot stress enough just how evil Deok-tae's plan is and yet, somehow, even as he is looking somewhat maniacal while plotting and carrying out his plan, I found myself both loathing and rooting for him. I don't know exactly how that happened but the writing and Shin's acting combine to make a complex character out of Deok-tae.  Although Shin Seong-il was certainly overworked, when he likes his role and is in his element, his acting is excellent. We learn early on that he is crude when, at a concert, he throws popcorn at the piano soloist (although I have to admit, I found that to be pretty funny). However, he later proves himself to be much worse than just ill-mannered and commits a crime that should have landed him in jail…if Yeong-ah could have been convinced to tell anyone. But Yeong-ah genuinely loves him and is willing to ignore all his faults—including finding him in bed with the loose cabaret girl (played brilliantly by Choi Ji-hee–I wish her character had more of a role because she steals the scenes whenever she appears).
If I had one complaint about it it would be that I was often comparing it to Early Rain and Barefoot Youth where Shin Seong-il plays similar characters. It was also similar to Early Rain, also from 1966,  in that much of the rest of the cast from that movie were playing similar characters here as well–Moon Hee in love with a man that is no good for her, Twist Kim as his comic buddy. But as I like both Early Rain and Barefoot Youth–that is not much of a complaint.
I have just mentioned about the basic plot of the movie, there is much more to it that I do not wish to spoil. Although it is not on DVD, it ought to be.   I would buy this film in a hearbeat if it ever became available.