10th October 2009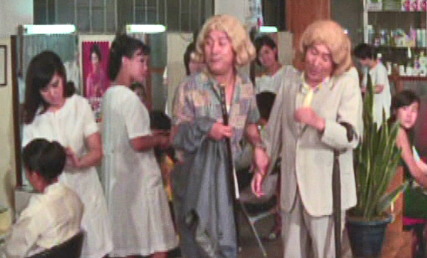 Originally posted February 12, 2008—When I saw that EBS would be showing this film on Sunday night, I was looking forward to it since it is rare that they show a comedy and this was one that I hadn't seen before. However, I also steeled myself and prepared to be at least mildly offended for male hairdressers everywhere. As it turned out, I needn't have worried. This was not so much a running joke about men who enter traditional female roles. It was instead more of a spoof of one person's life–and the spoof was done rather respectfully at that.
It is the story of Ku Hyeong-gu played by popular comedian Ku Bong-seo. Hyeong-gu was the name of a charater Bong-seo played in an earlier film by director Shim Woo-seob called The Male Housemaid (1968) and, although there is a sequel to that film called The Male Housemaid 2 made in 1970, The Male Beautician seems like the true sequel and a continuation of Hyeong-gu's story.  It starts off with Hyeong-gu running out of the house in his apron buying tofu from the delivery cart.  He complains about how small his salary is as a kitchen maid and wishes for a way to make more money. That is when he hears about a man who studied hairdressing in France and gets the idea that he can be a beautician as well.
He goes to the shop of Miss Oh (Choi Ji-hee) who is expecting the aforementioned hairdresser. She mistakes Ku for 'Andre Yoon' and offers him a contract. The sight of how much money he is being offered–500,000 KRW upfront for signing the contract and then 50,000 per month plus a place to live. This was an enormous amount of money at that time and Ku cannot refuse.  He bumps into the real Andre and quickly sends him on his way, telling him there is no job here–but not before learning a handful of French expressions and taking notes on his style and mannerisms.
Ku then begins working in the shop and his clumsy attempts at hairstyling and beauty treatments are adored by the neighborhood women as they are passed off as being in the style of Paris. This illusion is helped by fellow housemaid, Nan-yi (Nam Jeong-im) who passes herself off as a former exchange student who studied under Andre and gives various foreign-sounding names to his hair creations.
I mentioned earlier that this film seemed like a friendly spoof of a certain individual and the name of the hairdresser should have given that away. I was talking about Andre Kim, the internationally recognized fashion designer.  The mannerisms and speaking style mimic Andre Kim to a tee. At first I wondered if Kim was even around at that time, but a quick search revealed that he had opened his first shop in Seoul in 1962 and had his first international fashion show in Paris in 1966.  (I also learned that he received all of his education in Korea which makes me wonder why he massacres the Korean language whenever he speaks–dropping in English or French words at every opportunity). 
Like many Ku Bong-seo comedies, this is a very light but very watchable movie with lots of sight gags. Enjoy it if you get the chance.