21st February 2010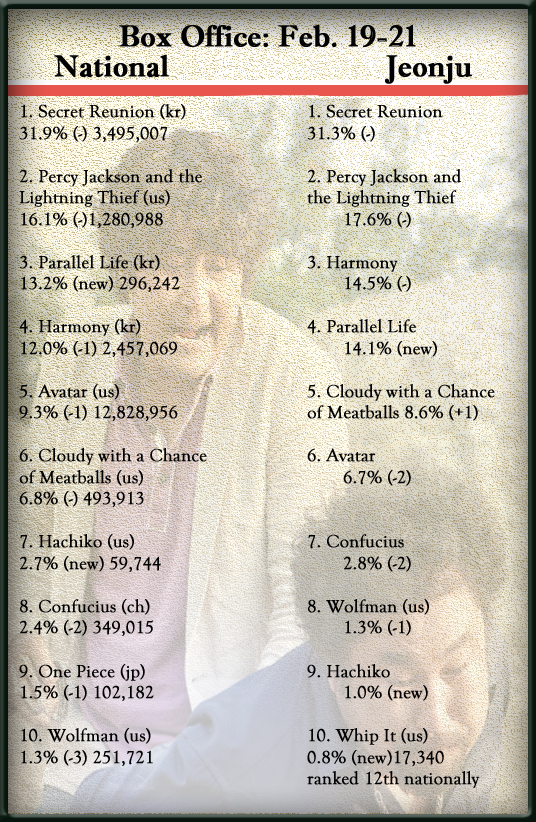 Not to much changed in the upper rankings of the box office. In fact, the only thing I want to comment on is the absence of The Neighbor Zombie which also opened last week.  The Neighbor Zombie ranked 21st on the national box office chart.  It did not open in Jeonju–actually not only did it not open in Jeonju, it was not released anywhere in the entire North Jeolla Province. Therefore, I was unable to see it. The movie had a very limited release–only 12 theaters throughout the country. While that is not good news, there is a plus side. Hana TV often picks up these smaller releases and has them airing, for a fee, within a month. I will probably be able to see it soon.
Below is what will be released in theaters this coming weekend–the last weekend of winter vacation before classes start again.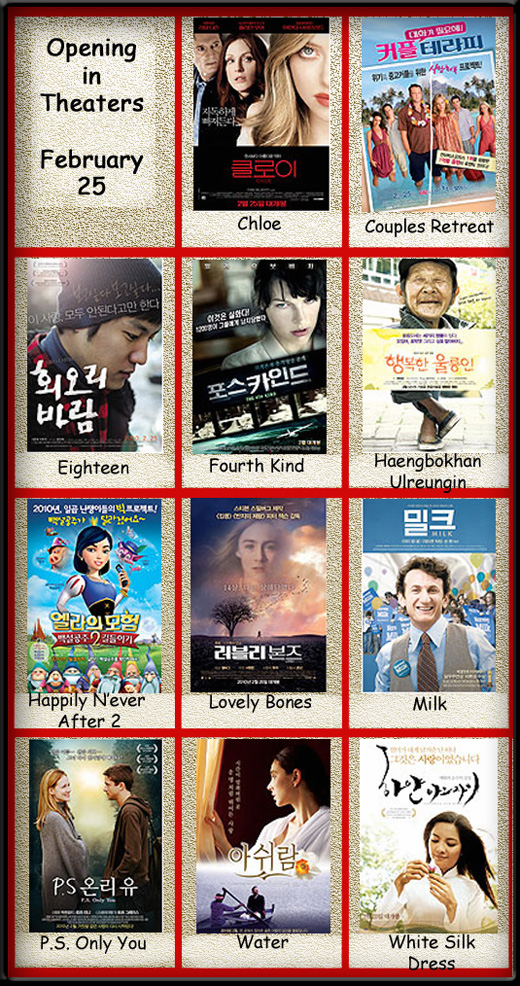 1. Chloe (us)– d. Atom Egoyan, starring Julianne Moore, Liam Neeson www.chloethemovie.co.kr
2. Couples Retreat (us)– d. Peter Billingsley, statring Vince Vaughn, Kristin Davis http://couples2010.kr
3. Eighteen (kr)– d. Jang Geon-jae, starring Seo Joon-yeong, Lee Min-ji http://blog.naver.com/eighteen2010
4. Fourth Kind (us)– d. Olatunde Osunanmi, starring Milla Javovich, Will Patton www.4th-kind.co.kr
5. Haengbokhan Ulreungin (kr)– d. Hwang Seok-ho, starring Yang Dong-am, Nam Jin-hyeon www.mountainpictures.co.kr <documentary> Title translates as 'The Happy Man of Ulreung Island' but there is no official English title yet.
6. Happily N'Ever After 2 (us)– d. Boyd Kirkland, starring David Lodge, Doug Erholtz www.ella2movie.co.kr
7. Lovely Bones (us)– d. Peter Jackson, starring Mark Wahlberg, Rachel Weis
8. Milk (us)– d. Gus Van Sang, starring Sean Penn, James Franco
9. P.S. Only You (us)– d. Dylan Kidd, starring Laura Linney, Topher Grace http://psthemovie.com
10. Water (ca/in)– d. Deepa Mehta, starring Lisa Ray, John Abraham
11. White Silk Dress (vn)– d. Luu Huynh, starring Truong Ngoc Anh, Khanh Quoc Nguyen