27th February 2010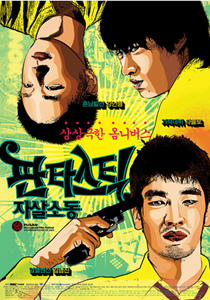 I am sure you have all experienced a case where you have been looking forward to a movie but when you see it you are disappointed. Well, I am happy to report that this is definitely NOT the case here. The movie had a lot of expectations to live up to–I had heard good things about it but I wasn't able to watch it when it was released as part of the Pusan International Film Festival and then I could not locate the DVD for many years. But I found that the new DVD company I am using has a lot of hard-to-find films (things like the 1986 version of Hwang Jin-yi or the Crying Nut movie Looking for Bruce Lee) and I was finally able to get my hands on it.  After watching it I can say that this movie was well worth the wait and one viewing will not be enough to satisfy me.
Fantastic Parasuicides is not actually one movie. It is an omnibus of three short films all involving people attempting to commit suicide but who are not quite able to pull it off. The first of these is goes under the English title Hang Tough. It was directed by Park Soo-yeong whom I see has numerous short films starting around 2003 but whom has yet to helm a feature lenght move. That is disappointing. If the quirky style of Hang Tough is anything to go by, I definetly want to see more of Park's work in the future. In Hang Tough, a young school girl misses an important exam because she fell asleep in the library. Deciding that she does not want to live any longer she throws herself from the top of the school…only to wake up on the ground. She picks herself up and walks away confused, only to find that things are not quite the same as before and she is about to embark on a surreal adventure. This short features some excellent and surprising performances including roles played by Tablo (lead singer of Epik High) as a high school boy with a plan to blow up the school with a homemade bomb. (I am afraid to see the spam that sentence is going to bring me!) Park Hwi-soon (of KBS2's Gag Concert)plays the girl's teacher–a man so afraid that one of his students is going to kill him that he is willing to kill himself first and Kim Ga-yeon plays the school's nurse intent on declaring her love for the young school girl who is now trying to stop everyone else from killing themselves. This is a funny mix and the whole film feels like a blend of Alice in Wonderland and It's a Wonderful Life.
The second story, Fly Chicken, features Kim Nam-jin who also starred in Shadows In the Palace the same year this film was released. Kim plays a soldier who, disgusted with the horrors he witnessed in battle, decides to go to the coast and shoot himself in his hotel room. He prepares three bullets, one for his heart, one for his soul and one for his life. But fate has arranged several interruptions that when combined may prevent him from carrying out his plan. This segement was also good, but much more somber than the first. The generous amounts of comedy are carried out in a deadpan fashion and the results generate more of an air of the bizarre than laugh-out-loud humor. Once the film got started, I enjoyed it but I wound up turning the volume on low for a couple of minutes during the 'talking to the chicken' part. No, Kim was not shouting at the chicken. He was talking to the chicken in chicken language. Clucks and crows that were subtitled at the bottom of the screen. While it is bizarre and amusing that Kim's character knows chicken-speak without any explanation…it did grate on my nerves after about a minute. Fortunately, that does not last too long.
The final story, Happy Birthday,  was also good. It is about an old man who has been living alone for six months after the death of his life partner. He wakes up one day, realizes it is his birthday and suddenly feels more alone than ever. He decides he is going to jump off something but along the way meets a young man, carrying a satchel full of gold teeth, standing on the train tracks.  He learns the man is being chased by a couple of gangsters and decides to help him out even if it means his own life will end.
This is a great collection. I was surprised how quickly the 92-minute running time seemed to fly by. If you can track it down, don't hesitate to buy it. I know I will be watching it again soon.