7th March 2010
The new semester started on March second and even though my classes were just introductions to the subjects, it really wore me out.  I guess that is the drawback of long winter breaks.  While I am a little worried about the size of my classes–my film class has 80 students and my other classes for English average around 60–I am looking forward to it.  Anyway, here is a look of what is coming to DVD this week in order of their release date.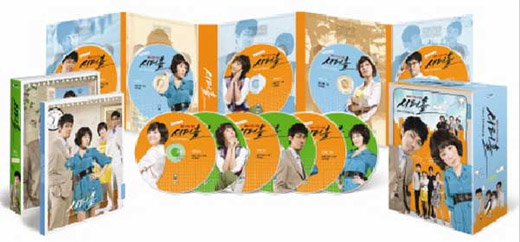 CITY HALL:  Airing over SBS-TV, City Hall was a successful drama starring Cha Seung-won and Kim Seon-ah. The 11-disk box set contains all 20 episodes. Each of the first ten disks holds two episodes plus its own special features. For example, Disk 1 has episodes 1&2 plus interviews with the director and writer. Disk 2 has episodes 3&4 plus an interview with Cha Seung-won.  Meanwhile the final disk contains 150 minutes of the staff talking about the drama during and after their final shoot.  The drama is fully subtitled in English but the special features are not. The show is rated for ages 15 or older and this region 3 set will be released on March 9 with a recommended price of 121,000 KRW.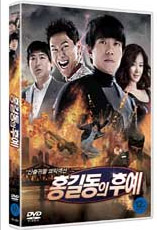 DESCENDENTS OF HONG GIL-DONG/RIGHTEOUS THIEF:  This is frustrating me. What is the name of this movie? When it was released, the Korea Times listed it as Descenendents of Hong Gil-dong. Later KOFIC listed the film to be The Righteous Thief. Usually, when KOFIC lists a name, that is what the film will certainly be called. This seemed to be true a little later when Asiana Entertainment asked me to write an article about this film using the title Righteous Thief. Now, TechnoDVD which supplies me with the release information of DVDs lists the English name as Descendents of Hong Gil-dong. Well, whatever it is being called, the region 3 DVD is a simple 1-disk release with special features that include audio commentaries by director Jeong Yong-gi and actors Lee Beom-soo, Kim Soo-ro, Seong Dong-il and Lee Shi-yeong as well as extras with the making of the film, actor interviews, the shooting of the posters, deleted scenes etc. The disk contains subtitles in English and Korean and is rated for ages 12+. The DVD will be released on March 10 with a recommended price of 22,000 KRW.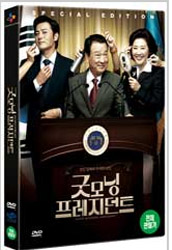 GOOD MORNING PRESIDENT: This quiet success from last year will be released in a 2-disk set on March 11. The special features for this film include optional audio commentaries by director Jeong Jin and actors Lee Soon-jae, Jang Dong-geun, and Im Ha-ryong on Disk 1 which also contains the movie itself. Disk 2 contains the making of the film plus a special section highlighting each of the presidents of the film, a showing of all the cameo appearencs and a look at the Pusan International Film Festival when this film was released. Rated for all ages, this region 3 release contains Korean and English subtitles and has a suggested retail price of 25,300 KRW.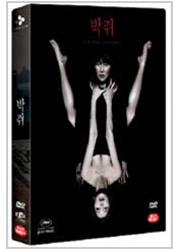 THIRST: I have been waiting for the region 3 release of Park Chan-wook's vampire film for a while–but I have to say I am a little bit suspicious of the release date shown to me by TechnoDVD. That is because the site I do my DVD shopping has not listed this film yet. Normally, when a movie is going to be released for sale on DVD, DVDKorea allows shoppers to reserve in advance. It happens, often, that disks are delayed and I wonder if that is the case here..I will know more Monday and edit this post accordingly. However, the 3-disk set looks pretty good. It contains two versions of the film: the theatrical version on Disk 1 and the uncut version on Disk 2. The final disk contains the usual extras including the making of the film, trailers, poster photo shoot plus some unusual sections labeled 'Art' and 'Music' .  The film is recommended for ages 18+ , has English and Korean subtitles, and will be released on March 11 with a suggested pricetag of 27,500 KRW.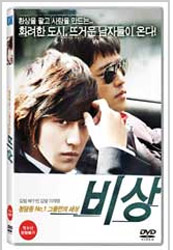 FLY UP: This small film appeared in and disappeared from theaters very quickly. That may be why it is getting a bare-bones release. Fly Up will be on just one disk with extras limited to trailers and the music video. It is recommended for ages 15+, will sell starting at 25,300 KRW and will be released on March 11. But the DVD of Fly Up contains NO English subtitles.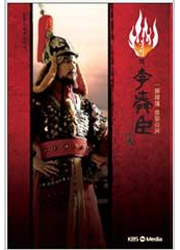 LEE SOON-SHIN: I have often found movies of historical figures to be …well…dry. However, when KBS made the story of Admiral Lee Soon-shin into a drama, it proved to be very well done and exciting. The tv-drama is not being released on all-region DVD with English and Korean subtitles. The 33 episodes that make up the story are contained on 12 disks and NGs are included. The DVDs will be released on March 12 and will have a recommended price of 121,000 KRW.
Please keep in mind that all the prices listed in these posts are suggested prices. Most dealers in Korea will be selling them for slightly less so look around a little before you shop.