12th October 2009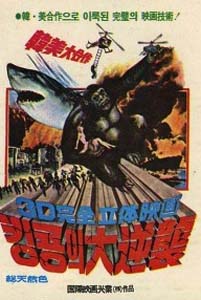 Originally posted August 7, 2009–On July 30, the below article appeared on the KOFIC website and was picked up by other websites that provide information about Korean films. Written by a KOFIC staff member, it reads:      Korea's First 3D Horror Project Soul Mate Announced:  Soul Mate, to be directed by KIM Ji-hwan resulted from KOFIC's Filmmaker's Development Lab (FDL) and took part in PIFAN's Network of Asian Fantastic Film's (NAFF).  The production of such films underscores the growing importance of PIFAN not just as an exhibitor of genre films but as a catalyst of film production.  The FDL on the other hand, is a programme that takes a number of film projects from up and coming Korean film makers (in and out of the country) and matches them with mentors from the film industry.  This year there were 5 projects including Soul Mate.  The $2 million dollar film is to be created by Korean visual effects company 'Macrograph' and production company 'Entourage'.   Macrograph for its part is no stranger to high profile movies after working on Korean films The Forbidden Kingdom, The Restless, and thriller Handphone.  The film has already secured development funds and the film's producers are in talks with local and one Singaporean company to secure coproduction partners. Rather than the usual fare of (pretty young) girls becoming murder fodder to a host of grizzly attackers, Soul Mate focuses on a group of college boys.  The producers are aiming to assemble a "dream team of good-looking boys" who will one by one, come to their ends at the hand of a mysterious stalker.  This film is expected to be released in the summer of 2010. 
As much as I dislike the stinker of a movie pictured above right, what I dislike even more is forgetting the past and the efforts of filmmakers from previous decades. This ad pictures the infamous film know in English-speaking countries as APE. It was co-directed by Choi Yeong-cheol and Paul Leder and screened in theaters as Korea's first 3D horror movie in July 1976.  Choi had a career as a director that ran from 1963 to 1991. (His last film, Pure White Cult, was about the cult briefly mentioned in the giant pig film Chaw this summer). As can be seen on the poster–in letters almost as large as the title–is that it was a horror film made in 3D. Actors Lee Nak-hoon and Woo Yeon-jeong are listed first and second in the credits in this ad and the film was produced by Hong Yeong-shil for Gukje Productions.
Although there are many non-Korean actors, APE is still a Korean film. While an argument may be made that it is not a horror film, that would go against the classification on the Korean Film Database and of KOFIC themselves. Incidently, the first 3D Korean film that I am aware of is from 1971, an action film entitled The Black Sun of Jijiharu.
Just because a film is from another era or was not successful, does not mean it should be overlooked. And for an organization like KOFIC, which aims to promote Korean movies, to spread incorrect information is unforgivable. Ten minutes of research would have turned up the unfortunate APE as the true first Korean 3D horror project.