2005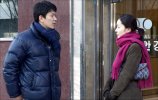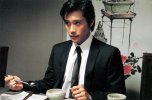 From left:   "The President's Last Bang",  "Tale of Cinema",  "Welcome to Dongmakgol",  "A Bittersweet Life"
   The year 2005 turned out to be somewhat of a rejuvenation after the comparatively weak offerings of 2004. Although Korean films did not win any major awards from top-ranked festivals in 2005, as they had the previous year, the films themselves provided a much broader range of quality. From large commercial releases to low-budget digital films, from action films to romantic comedies, there was more or less something for everyone in 2005, and audiences responded with strong interest and support.
Commercially, the first half of the year showed an unmistakable drop from the previous year, but a string of major box office hits followed in the second half, including Welcome to Dongmakgol, Sympathy for Lady Vengeance, Marrying the Mafia 2, You Are My Sunshine, Typhoon, and in the closing days of the year, King and the Clown. Critics seemed happy as well, with films such as Hong Sang-soo's Tale of Cinema, Im Sang-soo's The President's Last Bang, and Lee Yoon-ki's This Charming Girl providing much to talk about in addition to the above.
Some government support helped to ensure that small films got released, too. A total of 17 films with budgets of less than $1 million were released in 2005, compared to only 3 in 2004. Many of these releases were only on a single screen, and attendance tended to be light, however for many micro-budget films even a single screen can make a difference. Among critics, Yoon Jong-bin's The Unforgiven received the most notice among these smaller releases, although films such as Git, Spying Cam and Geochilmaru: The Showdown had their supporters.
Most of the big news in 2005 was taking place outside of Korea, however. A wave of popularity enjoyed by Korean entertainers throughout Asia, particularly in Japan, reached new levels of intensity. Korean films such as Windstruck, April Snow and then A Moment to Remember set box office records in Japan. Meanwhile Korean TV dramas such as Jewel in the Palace enjoyed astounding levels of success in Hong Kong, Taiwan, and China. Japanese film companies paid a total of $76 million for rights to Korean films in 2005, which by itself would be enough to completely fund 28 average-sized films. The infusion of money into the film industry caused a shift in power relations, and set off some ugly public spats between producers and star management companies.
If there was bad news in 2005, it was the dawning realization that the DVD market in Korea would never emerge into a normal, healthy industry. Young Koreans show a clear preference for downloading movies off the internet -- 80% of high school students are said to have tried it -- and in the absence of any viable legal sites, illegal providers of pirated movies flourished. At the same time, however, Koreans got a glimpse of the future, with the debut of satellite and terrestrial broadcasting for mobile phones, and the promise of various new, hi-tech means of watching films set to emerge in the next few years.
     Reviewed below:    Git (Jan 14)  --  Marathon (Jan 27)  --  The President's Last Bang (Feb 3)  --  This Charming Girl (Mar 10)  --  Crying Fist (Apr 1)  --  A Bittersweet Life (Apr 1)  --  Blood Rain (May 4)  --  The Bow (May 12)  --  Antarctic Journal (May 19)  --  Tale of Cinema (May 26)  --  The Aggressives (June 2)  --  Rules of Dating (June 10)  --  Green Chair (June 10)  --  The Red Shoes (June 30)  --  Voice (July 15)  --  Mokdugi Video (July 15)  --  Sympathy for Lady Vengeance (July 29)  --  Welcome to Dongmakgol (Aug 4)  --  Murder, Take One (Aug 11)  --  The Wig (Aug 11)  --  Cello (Aug 18)  --  April Snow (Sep 8)  --  Duelist (Sep 8)  --  Geochilmaru: The Showdown (Sep 15)  --  Camellia Project (Sep 16)  --  You Are My Sunshine (Sep 23)  --  Sa-Kwa (n/a)  --  All For Love (Oct 7)  --  Princess Aurora (Oct 27)  --  Love Talk (Nov 11)  --  The Unforgiven (Nov 18)  --  Wedding Campaign (Nov 23)  --  When Romance Meets Destiny (Nov 23)  --  Five Is Too Many (Nov 25)  --  Bystanders (Dec 1)  --  Love is a Crazy Thing (Dec 9)  --  Typhoon (Dec 14)  --  Blue Swallow (Dec 29)  --  King and the Clown (Dec 29).
The Best Selling Films of 2005 

| | Korean Films | Nationwide | Seoul | Release | Weeks |
| --- | --- | --- | --- | --- | --- |
| 1 | King and the Clown | 12,302,831* | 3,667,849* | Dec 29 | 7 |
| 2 | Welcome to Dongmakgol | 8,008,622 | 2,435,088 | Aug 4 | 11 |
| 3 | Marrying the Mafia 2 | 5,635,266 | 1,451,468 | Sep 8 | 7 |
| 4 | Marathon | 5,148,022 | 1,552,548 | Jan 27 | 9 |
| 5 | Typhoon | 4,094,395* | 1,229,971* | Dec 14 | 6 |
| 6 | Another Public Enemy | 3,911,356 | 1,167,828 | Jan 27 | 6 |
| 7 | Sympathy for Lady Vengeance | 3,648,808 | 1,375,194 | Jul 29 | 5 |
| 8 | Mapado | 3,090,467 | 922,647 | Mar 10 | 8 |
| 9 | You Are My Sunshine | 3,051,134 | 1,063,480 | Sep 23 | 6 |
| 10 | All For Love | 2,533,103 | 902,189 | Oct 7 | 5 |
| | All Films | Nationwide | Seoul | Release | Weeks |
| --- | --- | --- | --- | --- | --- |
| 1 | King and the Clown (Korea) | 12,302,831* | 3,667,849* | Dec 29 | 7 |
| 2 | Welcome to Dongmakgol (Korea) | 8,008,622 | 2,435,088 | Aug 4 | 11 |
| 3 | Marrying the Mafia 2 (Korea) | 5,635,266 | 1,451,468 | Sep 8 | 7 |
| 4 | Marathon (Korea) | 5,148,022 | 1,552,548 | Jan 27 | 9 |
| 5 | King Kong (US-NZ) | 4,232,430* | 1,352,121* | Dec 15 | 7 |
| 6 | Typhoon (Korea) | 4,094,395* | 1,229,971* | Dec 14 | 6 |
| 7 | Another Public Enemy (Korea) | 3,911,356 | 1,167,828 | Jan 27 | 6 |
| 8 | Sympathy for Lady Vengeance (Korea) | 3,648,808 | 1,375,194 | Jul 29 | 5 |
| 9 | Harry Potter and the Goblet of Fire (US) | 3,615,300* | 1,239,817* | Dec 1 | 6 |
| 10 | Mr. and Mrs. Smith (US) | 3,546,900 | 1,206,120 | Jun 16 | 7 |
* Includes tickets sold in 2006.  Source: nKino, Korean Film Council (KOFIC).


Seoul population: 10.32 million
Nationwide population: 48.8 million

Market share:   Korean 58.7%, Imports 41.3% (nationwide)
Films released:   Korean 83, Imported 213
Total admissions:   145.5 million (=$873 million)
Number of screens:   1,648 (end of 2005)
Exchange rate (2005):   1028 won/US dollar
Average ticket price:   6172 won (=US$6.00)
Exports to other countries:   US$75,994,580 (Japan: 79%)
Average budget:   4.0bn won including 1.3bn p&a spend

Short Reviews
These are some reviews of the features released in 2005 that have generated the most discussion and interest among film critics and/or the general public. They are listed in the order of their release.

    Git (a.k.a. Feathers in the Wind)
Sometimes small-scale, informal projects can liberate a director. Without the pressure and weighty expectations involved in producing a major work, inspiration flows freely and the result is an even more accomplished piece of art. This may have been what happened with Git by Song Il-gon, the director of Flower Island (2001), Spider Forest (2004), and various award-winning short films including The Picnic (1999).
Git was originally commissioned as a 30-minute segment of the digital omnibus film 1.3.6. Comprising works by Jang Jin (Someone Special), Lee Young-jae (Harmonium in My Memory) and Song, 1.3.6 was intended to explore environmental themes and was slotted to open the first Green Film Festival in Seoul in late October. Alas, the festival's expectations were confounded, first in that only Lee Young-jae's work really engaged environmental issues in a direct way (the other two were merely set in rural areas), and second by the fact that Song went out and shot a 70-minute film. As an omnibus work, 1.3.6 has to be considered a failure, especially as the three films (Jang's amusing Sonagi Epilogue, Lee's poorly-received Mobius Strip, and Song's poetic Git) don't match, not just in length but in form, content, mood, style, and quality.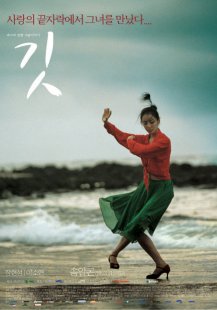 But if Song betrayed the spirit of the omnibus project, he remained true to the needs of his film. Git centers around a film director who, in the middle of starting his next screenplay, remembers a promise he'd made ten years earlier. While staying on a remote southern island off Jeju-do, he and his girlfriend of the time agreed to come back and meet at the same motel exactly ten years in the future. Now, years after breaking up, he returns to the small island named Biyang-do, wondering if his ex-girlfriend will remember their appointment. (It seems appropriate that Git's basic setup recalls Richard Linklater's Before Sunset, another film that stands out for the beauty and simplicity of its construction)
On Biyang-do, the director -- named Jang Hyun-seong, the same as the actor who portrays him -- is overpowered with both memories of the past and the beauty of the island. As he waits, the pressures of his work life start to recede, and he becomes acquainted with the young woman who runs the motel. Named Lee So-yeon (played by -- sure enough -- actress Lee So-yeon of Untold Scandal), the woman is twelve years his junior, and possesses an unusual energy and enthusiasm.
Although the general path followed by the plot is pretty straightforward, Song leads us down many odd and fascinating detours. There is So-yeon's uncle, a middle-aged man with bleached blonde hair who hasn't spoken since his wife abandoned him. A peacock appears on the island, with no clear explanation or motivation. And the tango, a very un-Korean pasttime, makes a striking appearance in the film. In Song's other works, such elements sometimes feel forced or self-consciously arty, but here they blend with the otherworldly presence of the island and add a sense of mystery.
Git (which means either a triangular flag or "feather" in Korean) is surprising in several respects. One is that such a low-budget film looks so good visually. In Flower Island, Song showed an unusual talent for the aesthetics of digital cinema, but here he takes it one step further. To capture a natural setting so well on a medium that often feels cold and sterile is an unusual accomplishment.
The relaxed, convincing performances of the actors also deserve notice. Lee So-yeon makes her slightly thin character memorable through considerable screen presence, while Jang Hyun-seong of independent films Nabi and Rewind gives the performance of his career. Whatever we feel about the character he portrays, Jang's performance is so real and natural that we can't help but be drawn to him.
In a year that has been lacking in unexpected discoveries, Git is an exciting find. At its rousing premiere at the Green Film Festival in Seoul, a prominent Korean film critic told me it may be the best romance Korea has ever produced. One hopes that it will be liberated from the other two segments of 1.3.6. and distributed on its own. At 70 minutes, it is a perfectly respectable length for a stand-alone feature film, and this is a movie that deserves to travel.      (Darcy Paquet)
There was a lot going on in the world of Korean film at the beginning of 2005. The controversy of The President's Last Bang was being played out in the courtrooms and in the entertainment news. The collapse of the PiFan Film Festival was a hot topic and the hype surrounding the impending release of Another Public Enemy was overwhelming. Almost missed among all that was a quiet film directed by a virtual unknown but starring the talented Jo Seung-woo. The media found it interesting as 'a story of human triumph' but most people seemed certain that Kang Woo-suk's feature would dominate the box office. That all changed however, after Marathon had its press screening.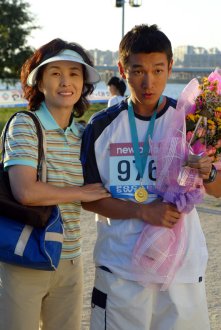 It was reported immediately after in numerous newspapers that the journalists in attendance applauded long and hard following the press screening and that most of them were in tears. The question and answer session with the director and lead actors that was held after the showing went on for much longer than anyone was accustomed to. Most questions had to do with how Jo Seung-woo was able to convincingly take on the role of an autistic young man.
What followed next was a powerful nine-week run in the domestic box office where the film eventually went on to gather more than 5 million viewers. Although it did open in the number two seat slightly behind Another Public Enemy, word of mouth soon launched it into the number one position during its second week. More and more newspapers began to compare its success with that of another sleeper hit, The Way Home, but Marathon soon out-performed that movie as well.
Much of the credit for the success of Marathon falls squarely on the shoulders of Jo Seung-woo. His performance is worthy of the considerable praise that has been heaped on it. Jo convincingly becomes Cho-won, a young man born with autism. In his younger days, Cho-won was prone to tantrums and violence against himself, but the special school his mother enrolled him in and the different athletic activities she taught him eventually helped Cho-won to cope with the world around him. After he takes third place in a 10km marathon, his mother sets her goals for her son to run a full 40-km marathon in under four hours. However, it is uncertain whether or not Cho-won shares her dreams or if he is just doing what he is told because, as his brother puts it, he is incapable of rebelling against his mother.
Kim Mi-sook does an outstanding job as a mother spurred on to never give up on her son, through a mixture of fiercely defensive love and an enormous amount of guilt. She skillfully brings Cho-won's mother, Kyeong-sook, to life as a flawed protector of her son. Her obsession to make up for her past failings with Cho-won lead her to virtually ignore the needs of the rest of her family, which succeeds in driving them away emotionally and physically. When asked by a swimming instructor if she has any wish for herself, she replies that she wishes to die a day after Cho-won. Kyeong-suk believes if that were to happen, she would be able to take care of her son for his entire life, but her motives for saying that are later thrown back in her face, and she is accused of needing Cho-won to stay with her more than her son needs her.
Mentioned at the end of the movie is the fact that the characters of Cho-won and his mother are based on real people. Cho-won was inspired by Bae Hyeong-jin. Just 22-years old at the time of this film's release, Hyeong-jin had already participated in several marathons and a triathlon. He has since gone on to become somewhat of a celebrity, appearing on talk shows and even having a line of TV commercials with SK Telecom. Described as 'having a mind of a five-year old', Mr. Bae is an accomplished athlete and many of the events of his childhood are depicted accurately on screen. His mother involved him in many physical activities which he seemed to enjoy as a form of therapy, and had him keep a journal. It is from here that the misspelled Korean title of the movie originated. ("Mar-a-ton" should be spelled "Ma-ra-ton" -- similarly, the official way to write the film's English title is with a backwards "R")
Director Jeong Yun-cheol spent two years interviewing Bae and documenting the lives of him and his family. While he had directed a couple of short films prior to Marathon, the last being in 1999, Jeong had more recently worked as an editor for the film Three and as an art director for Wonderful Days. After this emotionally-charged runaway hit, it seems likely that we will be seeing more from him in the near future.      (Tom Giammarco)
Some have referred to Im Sang-soo's The President's Last Bang as "the most political film in Korean history." Certainly, few works have stirred up the same level of heated public debate as this portrayal of the night when Park Chung-hee -- an authoritarian president who took power in a 1961 military coup and held it until 1979 -- was shot and killed by his chief of intelligence. Although Korea has changed beyond recognition in the 25 years since Kim Jae-gyu pulled the trigger, Park's legacy remains an unresolved question for much of the Korean populace. Complicating the matter, Park's daughter now leads Korea's centre-right opposition party, ensuring that the historically themed Last Bang would be read as a comment on the present as well as the past.
The film itself has got somewhat lost in the controversy surrounding its release, at which time a judge from the Seoul Central Court ordered that four minutes of documentary footage be removed, since it might "confuse" viewers as to what is fact and what is fiction. The footage -- clips of anti-government protests shown at the film's opening, and images from Park's funeral that accompany the end credits -- were important to the overall work, and the four minutes of black screen which appear in their place leave the audience with an altogether different viewing experience.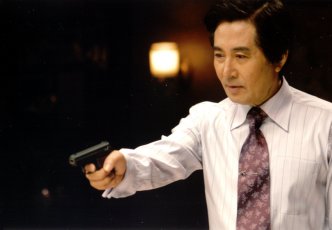 Many have viewed Last Bang as a bit of character assassination aimed at the late President Park. An observant reader on the Koreanfilm.org discussion board noted that this was more or less equivalent to making a movie about George Bush snorting cocaine and driving drunk in his youth. The most offensive bits may actually sneak past the radar of many foreign viewers: the tendency of Park and his advisors to speak in Japanese, his portrayed fondness for Japanese enka songs, his habit of holding late night drinking parties with young girls, and his cowardice in the face of danger (well, the latter two are easy to catch). Just why Park's fondness for things Japanese should be so controversial requires a short history lesson, but suffice it to say that he is being portrayed as being associated and aligned with Korea's former colonizers.
Personally, I love the George Bush analogy and I agree that director Im was out to settle a few scores with the many admirers of the former president. However I can't accept that this is the film's key purpose. If that were the case, there would be no reason to structure the film in the unusual way it is put together. Namely, the emotional climax -- Kim blowing Park's brains out -- occurs not at the end, but halfway through the film. As much of the plot is devoted to what happens after the event, as to what comes before.
Few filmmakers adopt such a strategy, though Atom Egoyan's The Sweet Hereafter (1997) comes to mind as another example of a film with its emotional climax in the middle, rather than the end. The unusual structure has opened Last Bang up to criticism, with many maintaining that the work loses its energy or focus in the second half. The result for me, however, is to make it much more of a thinking film than an emotional film. And I maintain that there is enough going on here to justify it as an object of study. (I should also note here in fairness to the director that the documentary footage that is meant to be screened over the end credits does pack a complex emotional punch. Without it, the film's ending is emotionally monotone.)
I read Last Bang as a film about history. Of course, it covers a specific historical incident, and also tries to capture the mindset of an authoritarian nation (the press kit calls it a film about "when a military society turns the gun on itself"). But most of all, this is a film about a small group of individuals who consciously decide to change history. To what extent can an individual, or a small group of people, really do that? This is what I think the movie is asking.
The process of unleashing change is portrayed as being unexpectedly simple. Im Sang-soo brings the events of this famous night down to a very human level, through evocative details concerning the many personalities involved, and through his liberal use of black humor (a perfect antidote to the chest-thumping heroism we see in other Korean films based on history). Thus, the final act that brings down the Park era comes across as being quite matter-of-fact.
Yet in the chaos that follows the shooting, we gradually realize that Kim Jae-gyu's ambition to transform Korean history is up against forces more powerful than the slain dictator. An individual can set loose the forces of history, but cannot control them. Those who are familiar with Korean history will know that Park may have made his exit on that night, but the oppressive military dictatorship lived on in another form.
In this sense the character of Kim Jae-gyu, portrayed masterfully by Baek Yoon-shik (Save the Green Planet), may be Im Sang-soo's greatest creation. Every sentence uttered by Baek resonates beyond its immediate context, and his actions embody a prototype that reappears in many guises throughout history. True, the entire ensemble cast is nothing short of fantastic, including a career-reviving performance by Han Suk-kyu, but everything in the film boils down to Baek's character.
Three cheers to Im Sang-soo. In making this leap from sex (a preoccupation of his previous films Girls Night Out, Tears and A Good Lawyer's Wife) to politics -- perhaps not such a long leap after all? -- he has given Korean cinema a much-needed shot in the arm. Now, the only work remaining is to get this film back from its censors. Unlike decisions made by the ratings board, the court's ruling applies internationally as well as in Korea, so it is illegal to screen the uncut version of the film anywhere in the world. Godspeed to the appeals process.      (Darcy Paquet)
Jeong-hye (Kim Ji-soo) is a twenty-something single woman working at a post office. She lives alone in a cheap-looking apartment building, politely answering her aunt's irritating phone calls, purchasing meals, even packets of kimchi, through mail-order service, and taking care of plants. Jeong-hye is neither autistic nor misanthropic: she enjoys drinking beer and chatting with her co-workers, for one. It is only that she is perfectly happy with remaining in the background of the hustle-bustle of Korean city life. Nonetheless, Jeong-hye's life is beginning to show signs of change. She adopts a lovely kitten. She invites an equally shy and very absent-minded writer (Hwang Jeong-min, A Bittersweet Life, A Good Lawyer's Wife) to a dinner at her place. Finally, a chance encounter with a troubled young man (Seo Dong-won) leads her toward an attempt to address a long-repressed trauma.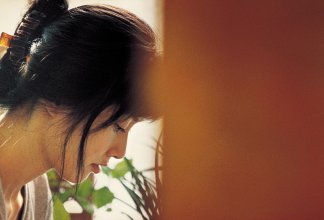 Winner of the Best Film Prize at the 2004 Pusan Film Festival's New Currents Section, This Charming Girl is a quietly effective character study, made in cinema verite style but nearly completely devoid of the kind of pretensions and self-importance that plague many first-time features. Director Lee Yoon-ki shows a commendable discipline in keeping his hands largely invisible. It is no mean feat to capture the characters in intimate, unguarded moments with handheld camera but to keep the stance non-intrusive, which is what Lee accomplishes here. When the film slides from objective reality into Jeong-hye's subjective vision (limited to the daydream visitations of her mother, played by veteran actress Kim Hye-ok [Green Chair, Our Twisted Hero]), the transition is so natural that we do not even question whether she is experiencing a flashback, visualizing a wish, or seeing a ghost.
Much of the film's strength must be attributed to the brilliant casting of Kim Ji-soo in the role of Jeong-hye. When I first saw the film, I pegged Kim to be a newcomer with only a theatrical background: in other words, I assumed that her utter lack of affectation in front of the lens was due to her (fortuitous) lack of familiarity with the moviemaking process. I was therefore stunned to find out later that Kim was a well-known figure in TV drama, most recently featured in MBC's The Age of Heroes (2004), with more than ten years of experience in front of the camera. Not only does she not break the rhythm of her performance against extreme long takes and close ups, that reveal minute abrasions and scars in her face, she also makes Jeong-hye absolutely believable in her hesitation and withdrawal, without making her neurotic or eccentric. It is an eye-opening performance the likes of which has seldom been seen in Korean cinema, especially melodramas that often push the actor's emotive capacity to maximum overdrive.
Part of the film's attraction comes from the thrill of anticipating when Jeong-hye will break from her routine and reveal her inner turmoil. When it does happen, the "revelation" is inevitably disappointing in its predictability. The plot development leading to Jeong-hye's confrontation with the source of her trauma is one of the film's few obvious weaknesses, even though the sequence in question features another terrific performance by Lee Dae-yeon (Camel(s), the psychiatrist in A Tale of Two Sisters) and a breathtaking long take inside a lady's restroom, showcasing Kim's tour de force performance.
We live in a world where cinema verite takes of sweaty, gymnastic sex or of characters languorously inhaling cigarettes with vacant eyes automatically cue us that they are meant to be serious "art" films. This Charming Girl, on the other hand, is like an entire film devoted to one of the "extra" figures appearing for a minute or so in these movies, say, a post-office clerk who processes the protagonist's Sturm und Drang letter to her divorced husband, and immediately exits the movie. Director Lee Yoon-ki and the filmmakers, adapting Woo Ae-ryung's novel, deliberately focus on such a seemingly boring and inconsequential character, and restore her integrity as a personage: she is revealed to have an inner world just as mysterious and absorbing as those of the conventional "art" film characters. In the end, it is the film's unwavering gaze, close and proximate, yet deeply compassionate and respectful, that renders This Charming Girl so powerful, and, in collaboration with Kim Ji-soo's superb portrayal, makes Jeong-hye one of the most fascinating characters in recent Korean cinema.      (Kyu Hyun  Kim)
When director Ryoo Seung-wan made his debut in 2000 with the independent feature Die Bad, Korean critics could hardly contain their enthusiasm. Here, they said, was a uniquely talented director with a hard-edged, innovative style who could breathe new life into the aesthetics of independent-minded cinema. Few people listened to Ryoo's protests that he was, at heart, a genre filmmaker. He pointed to his goofy internet short Dazimawa Lee as much more in keeping with his innate style. Sure enough, his next two features, No Blood No Tears (2002) and Arahan (2004) were more obviously structured around genre cinema, though he dissected and blended genre archetypes in fascinating ways. Critics, their expectations confounded, were unimpressed, particularly with Arahan. When will you stop fooling around and make something serious, they seemed to be asking.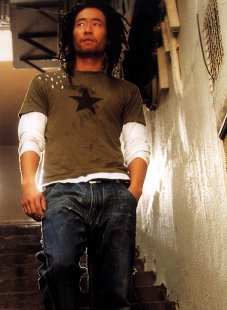 Though not really a submission to the critics' wishes, the gritty and at times shocking Crying Fist represents a synthesis of the harsh realism Ryoo displayed in Die Bad and the commercial elements of his later work. Much of the film concentrates on the day-to-day experiences of two unrelated men, and contains almost nothing in the way of genre elements. The movie's resolution then plays out along the lines of the boxing film, but with one key difference that turns the genre completely on its head.
Kang Tae-shik (Choi Min-shik) is a former Asian Games silver medallist whose life is at a dead end. His past glory worth almost nothing in the present day, he has found a creative but strenuous way to earn money: he becomes a human punching bag. In the meantime, his disintegrating marriage places great strain on both wife and husband, not to mention their young son.
Yu Sang-hwan (Ryoo Seung-beom) is a delinquent from a crumbling neighborhood who gets by on committing petty theft and harassing students. His relationship with his father, younger brother and grandmother is tenuous at best. One day his life is turned upside down, and like Tae-shik, he reaches the nadir of his existence. More out of frustration than anything else, he takes up boxing.
In Korea this film has drawn interest for pairing an acclaimed veteran actor with perhaps the most talented of the younger generation stars. All the more interesting, then, that Ryoo Seung-beom, the director's younger brother, should end up outshining the lead from Oldboy. Ryoo's portrayal of Sang-hwan (which incidentally is the same name of the characters he played in Arahan and Die Bad) is a perfect embodiment of caged fury. He speaks very little, but his body language radiates deep-seated anger and pain. Put simply, Ryoo's performance is mesmerizing, and watching him is one of the film's biggest pleasures. (Those who saw him in Arahan will find him completely unrecognizable.) Meanwhile Choi Min-shik also gives an excellent performance, but since he portays a character whose spirit has essentially been snuffed out, it's harder to relate to him. We get a strong sense of the aimlessness and desperation he feels, but this also makes the middle sections of the film somewhat tiring to watch.
The viewer's patience is rewarded by the end, however, in a resolution that is emotionally moving on the level of Failan, and backhandedly subversive in its construction. Think of virtually any boxing movie, and you envision a likeable central character (underdog) fighting at high stakes against a formidable opponent. As viewers, our emotional energy is funneled into the main character, almost to the point where we're the ones throwing the punches. Unspoken nationalistic or prejudicial feelings sometimes creep unawares into our minds. "Kill that German whore!" we scream while watching Million Dollar Baby.
Now imagine a boxing movie where two men who desperately need a break in life, who we both empathize with so much that it hurts, step into the ring against each other. Who do we cheer for? It's such a simple variation on the standard formula, but it causes the whole generic structure of viewer loyalties and triumph-against-odds expectations to crash down like a house of cards. Watching this film's gripping resolution play out, we have no idea what will happen, and we hardly even know what to wish for.      (Darcy Paquet)
A Bittersweet Life opens with a gorgeous black and white image of a willow tree tossing in the breeze. As color slowly starts to bleed into the frame, we hear a voiceover by the main character Sun-woo: "On a clear spring day, a disciple looked at some branches blowing in the wind, and asked, 'Master, is it the branches that are moving, or the wind?' Without even looking to where his pupil was pointing, the teacher smiled and said, 'That which moves is neither the branches nor the wind, it is your heart and mind.'"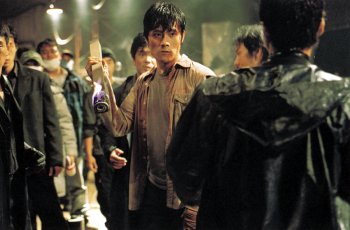 Sun-woo (Lee Byung-heon) is a man whose heart and mind remain closed to wind, rain, or disruptive emotions. For the past seven years he has served his gangster boss with unflinching exactitude. He manages an upscale bar called La Dolce Vita (which echoes the film's original Korean title), and he despatches people who get in the boss's way with skill and efficiency. The boss (Kim Young-cheol) trusts him so much that he asks Sun-woo to look after his mistress (Shin Min-ah), and to kill her if she is being unfaithful.
A Bittersweet Life posits what might happen if, after all those years, a frozen pysche such as Sun-woo's should suddenly start to melt. This would seem at first to be an overly romantic notion to throw into a Korean-style noir film, where the violence is gut-wrenching and the hero feels no qualms about putting his gun to a man's forehead and pulling the trigger. But the emotions that seep into Sun-woo's mind unleash a recklessness in him, that will later transform into fury once he senses that he has been betrayed.
The familiar stylistic traits of director Kim Jee-woon, seen before in A Tale of Two Sisters (2003), The Foul King (2000), and The Quiet Family (1998), can be spotted here in abundance, and yet he has never made a movie quite like this one. It feels nihilistic at times, and as in Oldboy -- which will surely be compared to this film countless times -- the violence is strong and innovative enough to become a topic of conversation. Mixed in with the cruelty is a bit of absurd, black humor in the middle reels, but not enough to lessen the heavy feel of the work as a whole. The end result is a visually stylish, cool film that is both very commercial (even though it underperformed in both Korea and Japan), and also complex enough to make it hard to pin down.
One way to approach this film is to simply revel in the details. I love the way Lee Byung-heon savors the last bites of his dessert before going downstairs to beat the pulp out of some rival gangsters who have wondered onto his turf. Perhaps in defiance of Korean critics who, after watching A Tale of Two Sisters, accused Kim of having a foot fetish, the director introduces his striking lead actress Shin Min-ah with a huge shot of her bare feet. I love the way Shin Min-ah's home is decorated (production designer Ryu Seong-hee is Korea's most famous; she also worked on Memories of Murder and Oldboy). And finally, I love the ending, even if I can't speak about it here. If the ending of A Tale of Two Sisters disappoints, the final shots of this film make up a sweet, indelible set of images.      (Darcy Paquet)
Blood Rain, set in 1808, takes place on a small island with a technologically advanced (for its time) paper mill. The presence of the mill has spawned a bustling village, and given its townspeople a certain degree of wealth. With climate and trees perfectly suited for papermaking -- and a location remote enough to ensure both privacy and secrecy -- the island has established a profitable business in high quality paper, with trade routes stretching as far away as China.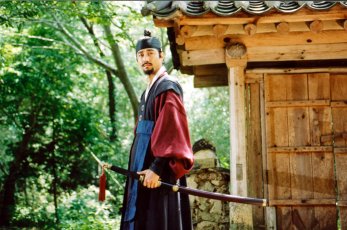 It is on this isolated and largely self-autonomous island that a string of gruesome murders start to take place. It's not just the growing number of dead bodies, but the sickly innovative cruelty of the killing that breeds apprehension in Won-gyu (Cha Seung-won), a government investigator sent from the mainland to solve the case. Soon he discovers that the murders are linked to an incident seven years in the past, in which the former owner of the mill was executed for practicing Catholicism. The townspeople, for their part, are convinced that the dead man's ghost has come back for revenge.
Blood Rain (no relation to the famous Korean novel of the same title) is the odd fusion of a labyrinthine, complex narrative that calls for one's deepest concentration, and heaps of medieval, gory violence to sicken one's stomach. Straight-on shots of skulls being crushed and men being torn limb from limb are interspersed with ruminations on class relations in Confucian society, and applications of Western and Eastern science as a means of solving the film's central mystery. The end result is certainly unique and memorable, but sadly its central concept seems to work much better as ideas in a screenplay, than as images on celluloid.
This is not to say that the film isn't beautiful. The colors and cinematography, not to mention the rugged setting and elaborate set design, may indeed be the film's strongest element. But despite the fact that Lee Won-jae and Kim Seong-jae's screenplay has won praise within the local film community, the completed work struggles to hold all of the material contained within it. Major plot points are revealed by voiceover, rather than onscreen action, and to accomodate the film's two-hour running time, many ideas are simply thrown at the viewer, rather than being fully expressed. Partly as a result, much of the gory violence feels like compensation for a lack of drama.
It's a shame, because this project seemed to hold so much potential. It is the second feature of Kim Dae-seung (Bungee Jumping Of Their Own), who had previous experience in period filmmaking as an assistant director to Im Kwon-taek. Kim does have talent, and he employs some creative transitions in moving from scene to scene. Unconventional casting was also used in putting Cha Seung-won in the lead role, for his first non-comic effort since Libera Me (2000). However, lower marks go to the musical score by Jo Young-wook (Oldboy, Silmido), which features a distracting reworking of Rakhmaninov that manages to snuff out much of the film's poetry.
Speaking of snuff... please forgive me if I end this review with some comments about the chickens. According to traditional shamanist beliefs, chicken blood is supposed to provide some protection against malevolent spirits. Towards the end of the film, we are shown the depths of the villagers' panic in a scene where at least five real-life chickens get their heads chopped off in gory closeups (no time to close your eyes -- it's upon you in an instant). Clearly there was no CG imagery at work here. I imagine the crew simply cooked them up for lunch after the scene was shot, which makes you think: is there anything fundamentally different between this scene and a shot of a teenager munching down a chicken burger? But philosophical issues aside, the shots are so viscerally disturbing that they distract from a major plot twist that occurs just moments before, and it gives moralizing film critics (like myself?) something to latch onto instead of discussing the film itself. After all the ink spilled in newspapers worldwide over the fish in The Isle and the octopus in Oldboy, Korea is probably now going to become known as that country that likes to rip apart live animals in front of the camera. It's perhaps fortunate for the makers of Blood Rain that in the same month as its debut, Danish filmmaker Lars von Trier premieres his Manderlay at Cannes with a scene featuring a live donkey slaughtered on set. "If Lars can slice up a donkey," they might reasonably ask, "then what's wrong with a few chickens?"      (Darcy Paquet)
   (Addendum: a reader has now informed me that Von Trier elected not to include the scene with the donkey in his final cut, as he feared it might be too distracting)
I should admit before starting this review that I've always had a hard time connecting on an emotional level with the films of Kim Ki-duk. People don't judge movies purely by objective criteria; they are also drawn to particular works because it says something to them personally. For me, the only films by Kim that have been able to do that are Spring, Summer, Fall, Winter and Spring (2003) and Samaritan Girl (2004).
The Bow, I'm sad to say, was an even tougher slog for me than usual, and a critical consensus seems to have emerged that it is not up to the level of Kim's other recent work. Manohla Dargis of the New York Times went so far as to call it "risibly bad", which is about as nasty a term as I can think of. So what went wrong with The Bow, anyway?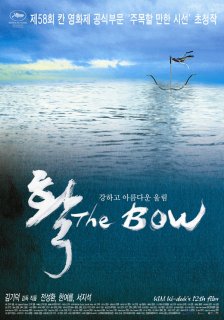 The story centers around a man in his sixties who has been raising a young girl since childhood on a ship that floats unanchored off Korea's western coast. Though the borders of her world are obviously quite limited, she seems happy, and the old man plans to marry her the day she reaches legal age. The two make their living by hosting fishermen aboard the boat, and also tell fortunes in a rather bizarre and dangerous fashion, by shooting arrows whizzing past the girl's head into a Buddhist painting on the side of the boat. (This method of fortune-telling appears to have been invented by Kim, though possibly inspired by the common practice of dropping a dart onto a spinning disc)
The film opens in striking fashion with a shot of the weapon that inspired the film's title. When fitted with an additional piece, the bow becomes a stringed instrument. Sadly, however, the instrument doesn't fit into the film's plot beyond providing for occasional mood music. The bow is utilized more often as a means of fending off lecherous fisherman from the young girl, who braves the dead of winter in a flimsy dress, and who (like all the women in Kim's films) is pretty gorgeous. Soon, however, a sensitive male college student shows up on board, and the old man discovers he's going to need more than a bow if he wants to keep the delectable young thing for himself.
One of Kim's most common approaches to storytelling is to set up an isolated or marginalized world (usually a physical space, but sometimes a way of life like in 3-Iron) that operates by its own elaborate set of rules and customs. Examples include the red-light district in Bad Guy, the lake in The Isle, the motel in Birdcage Inn, or the floating temple in Spring, Summer, etc... Part of the pleasure in watching his films comes in exploring and coming to understand these worlds and how they operate. For example, in The Bow we are shown how the girl and the old man defend themselves in a series of repeated scenes. First we are shown the man's skill with the bow, then we see how the girl's spatial knowledge of the boat and archery skills can serve as a second layer of defense. These scenes don't really add much depth to the human characters, but they characterize the "society" of the boat itself.
One of the problems with The Bow is that the basic setup is quite simple, compared to his previous films. The world of the floating temple in Spring, Summer... is just as artificially constructed as the boat in The Bow, but it contains more material, and gives us plenty to think about. The set of attitudes and customs which Kim presents in the film may not be "genuine" Buddhism, but they are worthy of notice in themselves.
In The Bow, however, once the ground rules are established, Kim has little left to fall back upon. The protagonists remain rather one-dimensional, and so the characters' psychology cannot properly sustain the narrative. Also, outside of the girl (Han Yeo-reum, having changed her screen name since appearing in Samaritan Girl) and the old man (Jeon Seong-hwan from Ogu), the acting is horrendous. Working with actors does not seem to be Kim's forte. He can give inherently talented actors space so that they excel (like Suh Jung in The Isle, Jo Jae-hyun in Bad Guy, or Kwak Ji-min and Lee Eol in Samaritan Girl), but he is unable to elevate the work of a less gifted cast such as we have here.
This is compounded by the fact that the two main characters do not speak to each other. It's true that one of Kim's strengths is to be able to tell stories using very little dialogue. The lack of dialogue between the leads in The Isle and 3-Iron worked well because these couples could communicate with each other emotionally, and the absence of words only accentuated their strange bond. However, in The Bow the old man and the girl spend much of the film growing emotionally more detached. Since they don't talk, the only way left for them to communicate is to trade angry stares, which they do, over and over and over again. In this way, the lack of dialogue comes across feeling more like a gimmick than an integral part of the film.
Despite all these weaknesses, the film probably could have been saved with decent music. However the score is sappy, not particularly melodic, and repetitive enough to make this 90-minute film a very frustrating experience. After three straight "hits", I think Kim has to file this in the "miss" category.      (Darcy Paquet)
An expedition team led by Choe Do-hyung (Song Kang-ho) marches on toward the Antarctic Point of Inaccessibility, one of the most difficult places to reach on the planet Earth, and trodden upon only once by a Soviet team in 1958. Min-jae (Yu Ji-tae), formally trained in mountain climbing at Switzerland and in awe of the charismatic Do-hyung, is joined by the bookish navigator Young-min (Park Hee-soon), the rather thuggish but sharp communications expert Seong-hoon (Yun Je-moon), the genial cook Geun-chan (Kim Kyung-ik) and the electronics specialist Jae-kyung (Choe Deok-moon). When Min-jae discovers an old journal left by a British expedition 80 years ago, he begins to notice odd parallels between the journal entries and his team's experience.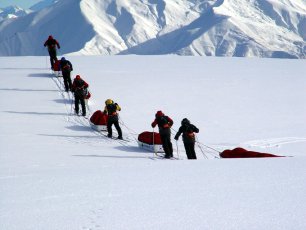 Antarctic Journal had been a long-gestating pet project for the young director Im Pil-sung, whose short films including Baby (1999) and Souvenir (1997) received much critical kudos. I had been hearing rumors about the alleged brilliance of Im's screenplay (revised with input from director Bong Joon-ho and writer Lee Hae-joon) for several years. The big-budget production (8.5 billion won in total) set a new precedent for collaboration between Korean and New Zealand cinema industries. Despite the high expectation, however, the movie had a disappointing domestic run, contributing to the latest industry wagging about the decline of so-called star power in Korean cinema.
Antarctic Journal has its share of problems but neither its stars nor its technical staff can really be blamed for them. While the character of Do-hyung is certainly not a stretch acting-wise for Song Kang-ho, he still does an excellent job in communicating the man's mental breakdown, mostly with subtly vacant stares and ill-timed smiles: there is no spittle-flying historionics. Yu Ji-tae presents a credible audience identification figure, whose faith in human reason and decency becomes severely tested. The rest of the team members are played by capable, theater-trained actors, making the most out of sometimes unevenly distributed dialogues and scenes.
Director Im Pil-sung, aided by DP Jeong Jeong-hoon (Sympathy for Lady Vengeance) and editor Kim Min-seon, makes striking use of the 2.35:1 scope screen. Sometimes two characters enter into a conversation while occupying extreme right and left corners of the screen, leaving a stretch of white space in the middle, signifying a distance that cannot be breached by communication. There are poetically beautiful but unnerving moments such as a beam of sunlight that pours into the makeshift tent, seemingly taking on the solidity of a pole made of golden glass. The film also includes some very impressive set pieces, most notably those involving ice crevices. Kawai Kenji's (Chaos, Ghost in the Shell) score is exceedingly effective in musically evoking the eerie atmosphere of Antarctica, simultaneously cold and intimate, and Dong-hyun's grim and relentless drive.
Regrettably, Antarctic Journal never makes up its mind about whether to stick to genre conventions or not. Is the film a new sack filled with old wine, an exotic update of true and tried horror cliches, perhaps a snowbound R-Point or a retread of John Carpenter's Thing (1982)? Or is it primarily a psychological thriller, the real horrors generated by the team members' paranoia and self-possession? Or is it a human drama, which explores the innate insanity of the "can-do" spirit that propel Korean "leaders" like Do-hyung toward his goal, with the bloody and torn bodies of his "family" strewn along the path? Antarctic Journal is a little bit of all of the above, but these elements never congeal into a coherent shape.
True, the fact that the audience does not receive sufficient "exposition" about what exactly is going on is in itself not such a serious problem. The real issue is that the film's mysteries are neither grounded in its characters nor anchored in its narrative design: we are given a lot of pieces of puzzle, which refuse to add up to a picture. To give but one example, what the heck is that white figure clearly recorded by a video camera but which no character seems to be aware of? What about the ghost from Do-hyung's past: is it really a dead spirit, or a projection of his guilty psyche? It eventually becomes tiresome to try to "figure" all these things out on your own. I can imagine many Korean viewers, expecting all the loose ends to be somehow tied up at the end, even if it involves a ridiculous deus ex machina ("It was all a dream! They never left the camp!"), groaning in frustration and getting up in a huff as the end credits roll.
Antarctic Journal contains enough impressive visuals and solid performances (not to mention Kawai's bone-chilling music score) to be worthwhile for viewers with an open mind and penchant for spectacles. Those who perhaps expect another emotionally satisfying genre hybrid in the manner of Save the Green Planet are advised to adjust your expectations lower. I personally wish Director Im had gotten rid of all the CGI "horror" effects and simply focused on Dong-hyun's character, exploring, Scorsese- or Herzog-style, his grand, foolhardy obsession and the ultimate abyss it leads into. This might have given this slick but flawed film a chance to kindle the softly glowing ashes of greatness at its core.      (Kyu Hyun  Kim)
Every day I wallpaper my computer with a single image from a different South Korean film to help me suffer through the monotony of my day job. And I noticed something when I tile-d up my screen with the image of Hong Sangsoo's Tale of Cinema that is the left-center image at the top of this 2005 page. Because of the repetitive positioning of Hong's shot, this image creates dissonance when wallpaper-ed. Multiplied, the thick white line that divides our two characters appears to be a border, so Tong-su (Kim Sang-kyung - Memories of Murder and returning to work with Hong again after his exemplary portrayal in Turning Gate) and Yong-sil (Uhm Ji-won - Over The Rainbow, The Scarlet Letter) appear to be looking away from each other when in fact, as we know from the single image alone, they are looking at each other. (I actually brought over a colleague at my day job and asked her, 'Are the characters looking at or away from each other?'. She waffled in confusion - 'Looking away, wait, no, they're looking at each other, wait...?' - as I had with a cursory glance at my screen.) The Warholian multiples my computer affords results in an optical illusion of the 'Do you see a young or old lady?' variety. And what better way to demonstrate Hong's trope of the come-here/go-away ambivalence of his characters. Hong's characters are constantly struggling between either/or's - e.g., life/death, "clean"/"unclean", intimacy/isolation, love-me/love-me-not - that wallpaper their lives. And repetition of this single image underscores the repetition of single banal moments in Hong's films. This confusion around what constituted the border of the image highlights the tentative crossing, retrenching and re-crossing of borders, real and unreal, that Hong's characters engage in within each film and across his oeuvre.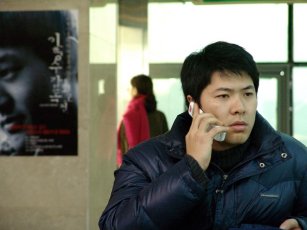 The film begins with what we will later discover is a short film. This short film designates the first half of the larger film that is Hong's Tale of Cinema. This short film yet revealed to us as such involves a character named Sang-won (Lee Ki-woo - He Was Cool, Sad Movie) who happens upon an old classmate named Young-sil (played by the same actress as above). Sang-won's hesitation to meet up with Young-sil later eventually results in Sang-won ambivalently making a pact with Young-sil that they die together. When the second half emerges from the audience filing out of the short film we just saw along with them, we see the actress of the character in the short film, also named Young-sil, walking out and then we see Tong-su talking on his cell phone. We learn that the director of the short film, a character named Yi Hyong-su with whom Tong-su went to film school, is seriously sick in the hospital. Hyong-su's former classmates are meeting up for dinner to collect money to cover Hyong-su's hospital costs. On the way to and away from this dinner, Tong-su stalks Young-sil and repetitions of happenings "Like in the film" result.
Although not my favorite Hong film (I still go back and forth between The Power of Kangwon Province and Turning Gate), this film will still satisfy any Hong fan and annoy any Hong detractor. His second film in a row to compete in the main competition at Cannes, (the French title is Conte de Cinema), much has been said about Hong stepping away from his stationary camera to begin zooming in and out on his characters. Yet what I found most effective was his panning. In a scene in the first section where we pan towards a theater poster at which Sang-won is gazing, when we pan back, we expect to still see Sang-won staring at the poster. But instead he's gone, highlighting the elusive positions of Hong's characters who never stay grounded but run away from what's in front of them to later stumble upon the very people, situations and emotions they tried to escape. Outside of the new techniques, ever since Jeff Reichert's essay juxtaposing Turning Gate with Garden State in the Summer 2005 issue of the online journal Reverse Shot, I've been paying closer attention to Hong's use of color in the outfits of his characters. In the same image I discussed in the beginning here, Tong-su's dark blue (almost purple) jacket compliments Young-sil's cranberry scarf, adding a dissonating pleasure to the displeasure of that scene. The film score similarly presents contradictions, such as the hopeful melody that highlights the hopeless scene that ends the first half of this film. (By the way, the xylophonic score that begins the film is absolutely lovely.) Hong's use of vibrant colors and sounds to accompany otherwise discomforting scenes underscores the pleasure in the pain that his characters seem to endlessly repeat.
What struck me during this sixth film by Hong was how so many of the lines of dialogue, such as the subtitles "Why insist when it doesn't work?", "I couldn't go on doing nothing", or the dyad "I love you"/"You're talking rubbish", although well rooted in a specific context in a particular scene, could just as easily float through any of Hong's films and find just as believable a spot elsewhere to be spoken by any of his characters at any time. This is not a negative criticism, but part of what keeps bringing me back to Hong.
And speaking of criticism, when people ask me about my writing, I tell them although I write reviews and criticism, what I write are more like essays inspired by the film. And I love how Hong's films push me to write like this. I don't expect everyone to get as much out of Hong as I do. I know that some people find his constant returning to the "same" theme over and over again monotonous and elitist. (As if speaking for those critics during the opening scene, after Sang-won exhibits the "dodging the issue" behavior so important to Hong's men, Sang-won's older brother chastises Sang-won saying "That's typical!") But I have been watching and re-watching his films often - much easier to do thanks to the Kaurismäkian length to which his last two films have shrunk down -- because of the layers upon layers that keep building a treatise that I personally can't get enough of. Regardless of how "real" events portrayed in Hong's films might seem, I think of his films as not necessarily depicting real life but something deeper than that. They depict "philosophical life". And such is a life worth living. And one worth dying for as well.      (Adam Hartzell)
Whereas some may see skateboarders as merely vandals and hooligans, I see them as performance artists, athletes and guides. Their performances work from dance in how they move their bodies and from music in how they manipulate their boards in ways that arouse percussive slaps, clicks, clacks, grinds, and carves upon the metal and concrete that makes a city. They are athletes in how they exploit, to create a word working off Pierre Bourdieu's use of "social capital", their kinesthetic capital, that is, the physical resources afforded them by their youthful bodies. From our teenage years to our twenties, our bodies allow for greater physical creativity since we possess greater energy and flexibility. Also, our bodies during this age span are better able to recover from injuries that at times result from such exploits. And skateboarders are guides in how they "read" cities. As Iain Borden illuminates in his wonderful book, a book I'd been wanting someone to write for years, Skateboarding, Space and The City: Architecture and the Body, skateboarders interact with a city and its structures differently than the rest of us. They reinterpret and reclaim spaces forgotten or ignored, they re-familiarize us with spaces so ubiquitous that we've blocked them out of our minds until skateboarders thrust these spaces back into our consciousness, and they revision what uses spaces encourage. They approach modern architecture ". . . unconcerned with architecture's historical purposes" (105). They are not interested in the entire structure, but pieces of it. They do not exploit the buildings as they were initially devised, as mazes to direct us through our day. Instead, they exploit the textures of a space. "This focus on texture gives skaters a different kind of knowledge about architecture, one derived from an experience of surfaces and material tactility" (194). Since skateboarders read a city through their bodies acting upon the city, they can help us read our cities differently if we'd only bother to learn from them like Borden has.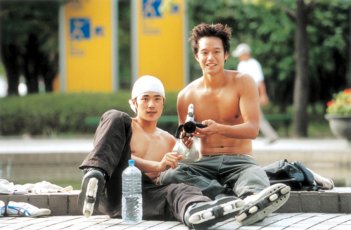 In-line skaters of The Aggressives variety can read cities similarly to skateboarders. And this is what I was hoping for from Jeong Jae-eun's second feature. In her masterful debut, Take Care of My Cat, Jeong brought us into the lives of five girls as they crossed into womanhood while negotiating a space for themselves within the opportunities and constraints available to them as young, Korean women in their city of Inchon. Along the way, Jeong provided us with many other fascinating observations, particularly how these young woman utilized technology in their relationships. Since in-line skating is also a technology, I was expecting a similar narrative use of this mechanical technology as Jeong afforded the computerized technology of cell-phones. Sadly, what I found instead were moments of promise that were never fully mapped out, nor as expertly intersecting, as they were in her debut.
The Aggressives mainly follows the life of Chun Soyo (Cheon Jeong-myeong - R U Ready?), a "loner" who is alone in not thinking he's alone, and his new found friends, a group of in-line skaters. This crew includes a stock group of characters, the lothario, the comedian, etc., along with three other characters whose lives are a little more developed in the narrative. Gabba (Lee Cheon-hee - Ice Rain, A Good Lawyer's Wife) is the father figure of the crew and works at an in-line skating park. Mogi (Kim Kang-woo - Silmido, Springtime), which is Korean for "mosquito", is the rebel who just wants to skate for fun. For those who have seen Stacy Peralta's documentary about the second-wave of skateboarding, Dogtown and Z-Boys (2002), and the fiction feature that spawned from it, Lords of Dogtown (Catherine Hardwicke, 2005), Mogi would be comparable to the skateboarding legend Jay Adams. Mogi is held in similar high esteem concerning his skills, and similar low esteem when his I-don't-give-a-f*** attitude becomes intolerable. Soyo is positioned in between the father figure and the rebel during a scene where the two other characters have a fight. Soyo will mimic the style and attitude of each of these characters in front of a mirror in the next scene, underscoring the over-arching theme of the film: that we might fall a thousand times as we try to find the ways and means to our success. As there must be a love interest for whom these characters can also fall, (but, thankfully, this is not your typical portrayal of a teen movie love interest), we also have Han-joo (Jo Yi-jin). She aspires to direct an in-line skating video, so she follows these boys with camera in hands and skates on feet, just like Spike Jonze did before he got into John Malkovich's head.
Although aspects of this subculture are touched on, the artistry and the style (which are filmed very well), the skating for fun and identity, the battles with police and the public, etc., just as there are too many characters to juggle, there are too many themes that aren't molded into a coherent whole. Yes, one could argue that, since in-line skaters experience the city through bricolage, what Eithne Quinn explains in her book Nuthin' But a "G" Thing: The Culture and Commerce of Gangsta Rap as when ". . . individuals improvise responses to their environment, to what they have nearest at hand" (53), what seems incoherent is actually in sync with the subculture's aesthetics. But that, similar to what I wrote about the inferior film Looking for Bruce Lee (Kang Lone, 2002), would seem too much like rationalizing a greater significance out of this film than is justified. And although the sound design is exquisite when the skates meet the concrete, in stark contrast to Take Care of My Cat, the soundtrack is pretty lame compared to the former film's lush, perfectly syncopated, cell-phone-like melodies. In the end, like skaters to a city, I can take bits of enjoyment from pieces of this film, but Jeong doesn't seem to have taken care of this film as well as she did her debut. Still, she's entitled to hundreds more falls since she already found artistic success with her very first effort.      (Adam Hartzell)
Mun-hee, a divorcee in her early thirties, has fallen in love with Hyun, in his last year of high school. Mun-hee is arrested and sentenced to 100 hours of community service for having sex with a minor, but upon her release Hyun meets her in front of the police station and they go to a love hotel for several more days of exhausting sex. Eventually, doubts begin to creep into Mun-hee's mind, and she declares that their affair is finished. Hyun is persistent, however, and soon their relationship enters a new phase.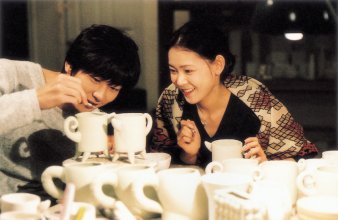 At first Park Chul-soo's Green Chair sounds like a fairly straightforward tale of sex and the occasional pang of guilt, but it ends up being much more interesting than that. The film's first reel is highly explicit, and will turn off a lot of viewers, but later things settle down and we get to examine all the little details of Hyun and Mun-hee's unusual relationship, from Hyun's talent for cooking to Mun-hee's preference in mattresses. The film presents such details with warmth and humor, resulting in a nuanced, touching, and subversive love story.
As in many of his previous features, such as the grisly "cooking" movie 301,302 or the ob-gyn extravaganza Push! Push! , Park's direct, non-judgmental approach can be alienating for mainstream viewers. This turned into a problem for Green Chair when its investor, Hapdong Film, decided it was too bizarre to hold any commercial potential, and shelved it. That was in 2003, and it was a year and a half before interest expressed by festivals such as Sundance and Berlin managed to rescue it from obscurity.
Apart from Park's inimitable style of directing, Green Chair draws strength from its great cast. Suh Jung, best known from Kim Ki-duk's The Isle, brings a slightly unhinged vitality to the character of Mun-hee; while newcomer Shim Ji-ho plays Hyun as passionate and self-confident beyond his years. A special treat is the appearance of ultra-cool actress Oh Yun-hong (The Power of Kangwon Province) as Mun-hee's friend -- the warmth and camaraderie the three characters share is one of the film's key strengths.
Perhaps the most interesting part of Green Chair is its bizarre cocktail party resolution. I don't want to give away the details, but Park manages to address the tension created by our unconventional couple in a way that is both matter-of-fact and completely unexpected. The scene is also a fitting reflection of how face-saving and self-interest lie just beneath the surface of society's debates over morality. Despite his status as a veteran director, Park has always shown a youthful glee in poking at society's sore spots. Green Chair represents one of his most successful efforts in doing do.      (Darcy Paquet)
Gang Hye-jung (Oldboy) plays a 27-year-old practicing teacher Hong, who is hit on by the schoolteacher Yu-rim (A startling turn by Park Hae-il, Memories of Murder). Initially, Hong is polite and demure to the point of idiocy against Yu-rim's lecherous advances, which quickly runs the gamut between workplace sexual harassment to outright date rape. However, the tables are turned in an unexpected way when Yu-rim accidentally runs into Hong's personal secrets, and when the details of their "love affair" are posted on the school's internet message board.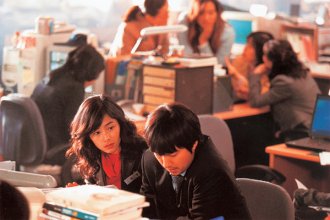 Rules of Dating was a sleeper hit of the early summer season, raking in more than 1.6 million tickets nationwide, and also generating some interesting and confused reactions from Korean viewers and critics (One review compared this film to an old Hollywood screwball comedy. Eh?). My reaction to Rules of Dating is similar to one I had to Im Sang-soo's Good Lawyer's Wife. Both films are sexually frank, morally challenging, quite funny and moving at times and driven by great performances by male and female leads. They are also not nearly as well put together or coherent in design as their defenders make it out to be, and neither is as "progressive" or "honest" as its filmmakers (in this case screenwriter Go Yun-hui and director Han Jae-rim) probably think it is.
Rules of Dating is an undeniably entertaining and even thoughtful film, but let me be clear about one point: it is not a heart-warming romantic comedy. The complacent thoughts that drifted into my brain in first 35 minutes about which direction this movie was likely headed were rudely betrayed (to my pleasant surprise, I must say) by what happened next. Hong's eventual fate in the story can either be interpreted as the Triumph of Evil Witch or Just Desserts for All Concerned, depending on your own perspective, and not exactly following the battle lines drawn across the gender divide either.
Gang is wonderful as Hong, looking far less like an anime shojo and comfortably inhabiting the body of a harried and stressed working woman, but it is the transformation of Park Hae-il that will draw attention among fans. It is indeed difficult to believe that this is the same actor who played the lead in Jealousy Is Middle Name. As embodied by Park, Yu-rim (ironically named perhaps, since it can also mean "Confucian scholars") is a total, irredeemable slimeball. When he approaches Hong and plays "cute," with Park's patrician voice now stickily rolling off his tongue like golf balls greased in a vat of K-Y Jelly, you will be both laughing until your sides hurt and resisting the urge to throw up. The amazing thing is that, like Hong, Park's Yu-rim is a completely believable character in the Korean context, a fascinatingly disgusting (or disgustingly fascinating, take your pick) combination of taekwondo-kicking-under-the-blanket machismo, uncommunicative obtuseness, irresponsible immaturity and, yes, boyish charm.
On the other hand, the movie suffers from a certain narrowness of horizon, both stylistically and content-wise. Director Han does a superb job with the actors but unfortunately abuses that super-trendy, nausea-inducing hand-held style (that looks as if "the cameraman is jerking off or something," as Roman Polanski reportedly once said) as well as the jump cuts that snip away in the middle of a character's action. The screenplay cried out for the kind of expressionist cinematic technique counterpointing the absurdity and nastiness of the superficially "funny" exchanges, but as it is presented, the mise en scene becomes repetitive and, eventually, tiring (I assume this attention-deficit editing style was not suggested by the veteran editor Pak Kok-ji). And the movie appears to ultimately hedge its bets regarding the possibility of a real romance brewing out of such politically and emotionally charged set-ups, involving sexual abuse, invasion of privacy and manipulation of ethics codes. When Lee Byung-woo's pleasant score accentuates the romantic mood, we are left unsure whether to take it at face value or in an ironical way, as a snickering commentary on the impossibility of true romance.
Rules of Dating is a gutsy film, very funny with nasty undertones (in that regard perhaps closer to a Hong Sang-soo film in spirit than the aforementioned Jealousy Is My Middle Name). It is best appreciated by those not easily offended and getting tired of mock-CF "rom coms" with the disease flavors of the months, and will make good fodder for post-screening discussion among friends and couples.      (Kyu Hyun  Kim)
Here is an old Korean riddle: What is the monster that opens its mouth wide and gobbles up your foot every morning? A shoe, of course.
Sun-jae (Kim Hye-su, Hypnotized, YMCA Baseball Team), an eye-doctor-turned-housewife, finds her cold, inattentive husband (Lee Uhl, Samaritan Girl, The Addicted) cheating with a younger woman. Abandoning her affluent suburban life, she moves into a decrepit studio apartment with her six-year daughter Tae-soo (Pak Yeon-a). Preparing to resume her medical career, Sun-jae is befriended by an interior designer In-cheol (Kim Seong-su, Sweet Sex and Love). Her life, however, plunges into an abyss of paranoia and nightmare after she picks up a pair of pink shoes (Hans Christian Andersen's cruel fairy tale Red Shoes, on which the film's premise is obliquely based, has mostly been known as Pink Shoes in Korean. Don't ask me why) lying about inside a subway car. Not only have this pair of shoes apparently performed wholly unnecessary amputation surgeries on the select individuals foolish enough to don them, they also become objects of unhealthy obsession for the ballet-dancing tyke Tae-soo. Unfortunately, this obsession is shared by Sun-jae. Soon mother and daughter are screeching and pulling each other's hair over the possession of the high-heeled monstrosity, which turns out to have an awful backstory reaching back into the colonial period.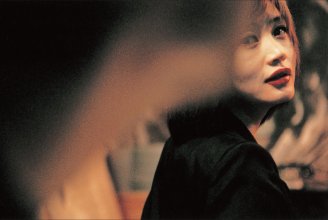 To my initial annoyance, it looked as if Red Shoes would follow the tiresome path of a "cursed object" exerting supernatural influence over the characters, substituting a pair of cursed shoes for a cursed cell phone, a cursed webpage, a cursed D-cup brassier and whatnot. However, it soon became clear that the "meat" of the film's horror was to be found in its unflinching exploration of psychology of the central protagonist, Sun-jae, as a divorced single mother full of unacknowledged emotions and desires. This is not really surprising, given that director Kim Yong-gyun's debut feature was Wanee and Junah (2001), both disturbing and sweet in its measured engagement with the story of an unmarried couple.
Like Kim Hye-su's previous film Hypnotized, Red Shoes is visually arresting, occasionally reaching out to the realm of exquisite and enigmatic beauty. Some of the ideas, such as the flurry of snowflakes that turns pink and then blood-red, are simple yet effective. The sequences set in the subway station, under the eyes of DP Kim Tae-gyung (director of the unfortunate Ryung a.k.a Ghost), make interesting use out of deliberately out-of-focus and grainy pictures. Art direction by Jang Bak-ha and Im Hyun-tae help create the oppressive yet strangely gorgeous Modern Gothic world, with spiral staircases, blinking fluorescent bulbs and blue-green shadows pooling in the corners of a workspace or a child's bedroom, contrasted against the archly theatrical, red-and-khaki-draped colonial decadence in the dialogue-less flashback. (The pro-Japanese Empire "propaganda" dance performance that climaxes the flashback sequence is, perhaps ironically, the movie's most beautiful set piece) Lee Byung-woo (Tale of Two Sisters, Untold Scandal) blends pipe organ, vocal murmurs, buzzing electronic noise and other elements into another of his great film scores.
Nonetheless, the film is ultimately a frustrating experience. As Darcy has pointed out in a recent Cine 21 piece, Korean horror films cannot seem to resist adding last-minute "revelations" that supposedly "explain" the character's weird behavior, Swiss Cheese holes in the plot, and other uncertainties and irrationalities. The result is usually more confusion, not less, on the part of the viewers. Red Shoes has one of these groan-inducing, utterly redundant Final Twists, revealed a good five minutes after the film's emotional climax has been reached. And if you could figure out just what in the name of Baby Jesus' diapers has actually happened to Tae-soo at the end, then you are either a telepath attuned to the brainwaves of writers Kim Yong-gyun and Ma Sang-ryul, or endowed with, shall I say, very active imagination. Ironically, it was director Kim's assured command of "routine" horror mechanics, rather than his "arthouse" sensibilities, that really held the film together and kept my interest going, at least until the depressingly familiar denouement.
On the other hand, Kim Hye-su's fans will be pleased, as Sun-jae's character is an excellent showcase for her acting chops, far more so than Hypnotized, where she faced an uphill battle against her electric-storm hairdo. How we are supposed to respond to Sun-jae herself constitutes a more difficult problem. Caught between the cold bastard of a husband and the cocky and smarmy boyfriend, she could be seen as a portrait of a contemporary Korean woman yearning for self-realization and fulfillment of basic desires, even at the risk of destroying her family and social life. In the end, however, the filmmakers seem to prefer the other interpretation, essentially accusing and sentencing Sun-jae for the sin of being truthful to her desires. In this sense, too, Red Shoes, despite its artistic gloss and undeniably creative touches, perhaps remains a conventional horror film, ultimately unable to illuminate the hidden recesses of the (female) mind.      (Kyu Hyun  Kim)
Young-uhn (Kim Ok-bin) is attacked by a supernatural force while practicing singing in her high school. Next morning, she wakes up from a seeming trance. To her shock, Young-uhn learns that she is dead and cannot leave the school grounds. She succeeds in communicating with her best friend Seon-min (Seo Ji-hye), a school DJ, who can hear her voice. Aided by the school's resident psychic girl Cho-ah (Cha Ye-rin), Seon-min attempts to uncover the mystery behind her friend's death.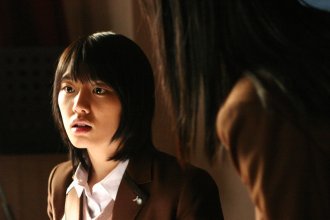 The latest installment in the successful "The Girl's High School Horror" (Yeogo gwedam) series is a refreshing departure from the current flock of East Asian horror films. Even though some of the film's plot elements --two close friends whose relationship becomes strained, flirtation with lesbianism and so on --are reminiscent of Memento Mori, generally thought of as the best of the lot, Voice is in fact a unique film that stands on its own.
To explain the film's strengths without spoiling its content is difficult. However, I can state right off the bat that the Big Revelation that dutifully turns up near the ending is not one of them. (I won't bore you with yet another ranting about how Korean horror film's obsession with the Big Revelation is turning into an Achilles heel) The young actresses, while competent and hard-working, are not spectacularly impressive compared to some of the series alumni: the characters they play are also stereotypical, with matching hairstyles (long, flowing hair for the Creepy Psychic Girl, short tomboyish 'do for the Spunky Heroine, etc). The film's pacing is deliberate, with a lot of exposition through dialogue: it could seriously suffer from badly done subtitles. DP Kim Yong-heung and director Choe Ik-hwan (the assistant director for Whispering Corridors) confine the action rigorously to a few sets, going for theatrical, medium-distance shots instead of the expressionist style that currently predominates Korean horror cinema. Lighting and sound design are superbly done, however, working with the muted, toned down palette and showing admirable restraint in illustrating the presence of the supernatural.
What makes Voice interesting is its unusually thoughtful and melancholy approach to death. The film dares to show the isolation and loneliness of the dead. Indeed, the film's terror is mostly visited upon on the dead, when they must face the Ultimate, Unknowable Darkness, the portal leading to which is an ordinary elevator door. Director and screenwriter Choe wisely trims the usual boogaboo scare tactics to the minimum and instead puts a lot of energy into the visual recreation of more abstract ideas, such as le temps du loup as a spiritual realm through which the dead can review meaningful moments in their lives. As the film progresses, it becomes increasingly clear that Voice is working its way toward a tough question perhaps seldom honestly answered in conventional horror films: what do the dead spirits really want when they haunt the living?
The movie's answer to that question has a ring of truth that you won't find in many other horror films. The dead want neither revenge nor truth: they want to live again. Therein lies the true horror as well as the true sadness of the situation. Voice, in its own unassuming way, is an earnest reflection on the terrors and sorrows of the teenagers faced with the overwhelming mystery of Death. I could be wrong, but it looks likely that the fat lady will be long time coming to sing the final aria for the Yeogo gwedam series.      (Kyu Hyun  Kim)
The lives of most modern movies seem to follow a similar pattern. They are first released in theaters where they are almost immediately stolen by pirates and scattered across the internet. Then, in the following months, these films see a video/DVD release and finally, begin appearing on television. If the movie was exceptional in some way, it may participate in a film festival before or after its general theatrical release. However Mokdugi Video, by young director/writer Yun Jun-hyeong, took an entirely different route.
Mokdugi Video first appeared on its own pay-per-view internet site in 2003 where it was seen by thousands and developed a cult following. The next year, it was screened at film festivals, including the 2004 Jeonju International Film Festival. Later that same year, the movie was shown on television and finally, in the summer of 2005, Mokdugi Video was given a limited release in general theaters across the nation--an astounding feat for a film which clocks in with a running time of less than one hour.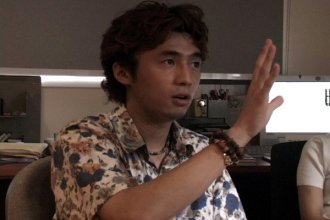 This unique path can be credited to the strength of the simple plot and the story-telling technique that leaves the viewer doubting what we know to be true. It was never any secret that Mokdugi (which means 'nameless ghost') Video is a mockumentary. It is a completely fictitious tale told in the style of a serious documentary. However, even that knowledge did not stop people from asking each other if any part of it was real when the credits rolled.
The story is based around a mysterious image that briefly appears in the background while a hidden camera records a couple having sex in an old motel. The appearance of this blurry image is so brief that the film-maker replays it several times and even circles the area we need to be looking in order for us to see it. The ghost makes surprisingly few appearances but they are enough to send a curious documentary crew to research the apparition. Their quest to identify the ghost sends them across the nation and into the realm of insanity and terror as they discover that the shoddy investigation techniques of the police decades earlier may have left a mass murderer free to roam the streets.
After first watching the film in the spring of 2004, I had written on the discussion board of Koreanfilm.org that it reminded me of a combination of 60 Minutes and The Blair Witch Project (1999) minus the hysterics. That evaluation remains true after a second viewing a year later. The calm, matter-of-fact manner demonstrated by the ghost hunting crew helps to add a sense of journalistic realism to the film. The sole exception is a scene with a shaman and the resulting confusion of this short segment threatens to derail the carefully built up atmosphere. Imagine how easily the terror and gritty realism of The Blair Witch Project could have been dispelled had Heather hired a 'psychic investigator' who screams at some point in the film, "I sense Eeevil here!"
Unlike The Blair Witch Project or the more recent Incident At Loch Ness (2004), the filmmakers in Mokdugi Video do not take center stage and become focal point of the haunting. Instead, they take on the role of investigators, a kind of paranormal CSI, in their search to attach a name to the phantom visitor and to discover what causes him to haunt the motel. In this sense, Mokdugi Video is far more similar to various television shows like Leonard Nimoy's In Search Of..., Cha Im-pyo's Black Box or any number of programs that pop up on the Sci-Fi Channel like Sightings, Beyond Mystery or Hauntings except that the movie admits right from the beginning that what we are seeing is a work of fiction, while the latter programs try to present what they are showing as fact.
And that is where the true power of Mokdugi Video lies. It demonstrates how easily something that is completely false can be built up on the flimsiest of evidence to become what seems to be true. When you get the chance, snap up this DVD, enjoy it right to its hair-raising conclusion as it draws you into believing the impossible. Then consider how these same techniques are used on us every day in everything from media to religion and from advertising to politics, in a far more frightening way.
A recent graduate of Dong-a University, Korea's leading college for film studies, director Yun Jun-Hyeong has a few other short films under his belt including Over (2002) and Uchu Fracachia (2003). It will be interesting to see what other films will come out of this creative talent.      (Tom Giammarco)
[Dear reader: Please excuse Professor Kim, who ranks as perhaps the world's most devoted Park Chan-wook fan, for the considerable length of the following review. He has promised to keep subsequent reviews to a more moderate size, at least until Park releases his next film. --Ed.]
Sympathy for Lady Vengeance is ostensibly the final film in director Park Chan-wook's "Revenge" trilogy that had begun with Sympathy for Mr. Vengeance (2002) and continued on to Oldboy (2003), three movies with strikingly different plotlines and characters. They are, however, united in their overarching themes: suffering, revenge and, most importantly, salvation, or its impossibility. Much has happened since the November 2003 release of Oldboy. It has since gone on to win the Grand Prix at the 2004 Cannes Film Festival. In a complete turnabout from the situation only two years ago, non-Korean cinephiles now have access to DVD and art house theater representations of Park's earlier works, as surely will they have of Lady Vengeance.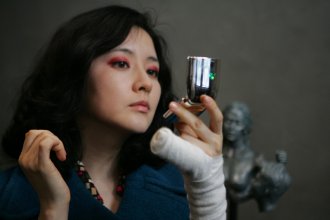 At first glance, Park Chan-wook seems poised on the verge of international fame and joining the ranks of Hong Sang-soo and Kim Ki-duk as frontrunners of Korean cinema. However, as sharply divergent critical opinions on Oldboy in Korea, North America and elsewhere attest to, Park is more problematic as an auteur to be celebrated. His films retain their power to shock and disturb (without relying on standard devices of exploitation) even the most seasoned critics, but not always in the ways they expect. They cannot be reduced to allegories about Korean society or history: neither do their languages follow the established grammar of "art" films. They are often accused of harboring vulgar and perverse qualities unbecoming their formal resplendence and aesthetic sophistication. Conversely, they are dismissed or vilified for being nothing more than a Faberge egg for a famished man, emptily beautiful and cleverly constructed, with little emotional or moral content. (More than once, Park Chan-wook has been given an epithet "the director who makes movies only with his brains, not his heart" by Korean journalists and critics. Jeez, I do wish someday to see a film genuinely made "with only brains, not heart" by a Korean director)
Sympathy for Lady Vengeance, if anything, will add more dry wood to the fierce bonfire of controversy surrounding Park's status as an artist as well as the real worth of his undeniably spellbinding films. Lady Vengeance unfolds in three sections. First, we see Geum-ja (Lee Young-ae, reuniting with Park after JSA [2000]) being released from prison after a 13-year sentence for the heinous crime of kidnapping and murdering a preschooler. From a series of flashbacks, we learn that she was revered as a saintly figure during her tenure in the female prison (hence the Korean title, "Kindly Miss Geum-ja"). Gradually, however, it is revealed that she is planning an elaborate revenge against Mr. Baek (Choi Min-sik, star of Oldboy), the orchestrator of the kidnap scheme for which she was arrested and convicted. She half-threatens, half-cajoles her former fellow inmates to help her carry out the revenge. The second section deals with Geum-ja's implementation of the plan, the scope of which expands to include the retired detective once assigned to her case (veteran actor Nam Il-woo), Jenny, her estranged daughter adopted by an Australian couple, and a host of other characters. The final section focuses again on Geum-ja and what I would have to call the spiritual aftermath of her revenge against Mr. Baek.
Lady Vengeance is clearly a work of a major artist, evolving before our eyes and improving his finesse. When Park is on top of his myriad tools of cinematic expression, the results have always been breathtaking and it is no exception here. The detective's reunion with Geum-ja is depicted with progressively rapid cross-cutting, a virtuoso manipulation of images. Her face in one scene occupies a small patch in the right-side frame: I have never seen such an extreme angle shot since Sidney J. Furie's take of Michael Caine in Ipcress File (1965). One of the back-street passages in Seoul, shouldered by slanting stone walls, a ridiculously mundane landscape for Seoulites, is transformed into an almost Biblically sinister Valley of Death, pregnant with hellish gloom. Those, too, concerned with missing the deliriously whacked-out imagery and wild stylistic flourishes of Park's earlier two films need not worry. Even though Lady Vengeance is more leisurely paced and "gentler," still only in a Park Chan-wook film do we get not only a dog with a human face (a la the Phil Kaufman Invasion of the Body Snatchers [1978]), but also a bullet entering the dog's brow and exiting through his, ah, terminal organ.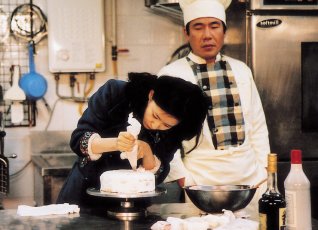 The technical team Park has assembled is, as usual, top-notch. Cinematographer Jeong Jeong-hoon (Antarctic Diary) and lighting director Pak Hyun-won (Windstruck, Mr. Vengeance), reunited from Oldboy, had an even tougher job in Lady Vengeance, as it includes more shifts in color and tone, beginning with the slightly garish and jaundicedly "warm" chromatic scheme for earlier sequences. Also returning from Oldboy are composers Jo Young-wook and Choe Seung-hyun, who provide a delicate, deceptively "proper" score, based largely on strings (Vivaldi is heard again, but used much more subtly than in Oldboy). Production design recreates the unmistakable universe of Park Chan-wook, based on the recognizable clutter of everyday life, but ever so slightly alien, hypnotically unnerving, including Geum-ja's scarlet den complete with an altar flanked by crimson candles.
Ironically, one of the reasons for me not finding Lady Vengeance as stunningly original as Mr. Vengeance or Oldboy may well be the very factor that might grant it a wider acceptance in North America and Europe. In the second section, Geum-ja makes a choice that pushes the film into territory that I feel has been mined well by the likes of Andre Cayatte and Claude Chabrol, a development that nonetheless will be easier to access emotionally for Euro-American viewers: this type of issue is codified as "serious" in their minds (Do I sound cynical?). Moreover, performances of the (theatrically trained) actors here are truly excellent. They are so strong (especially the dignified grandmother played by Won Mo-won) that they overshadow Lee Young-ae.
This brings me to Lee's star turn as Geum-ja. I have once in another review compared her to Hara Setsuko, wondering if there might be a Korean director who could bring out hitherto unexplored qualities in her, the way Ozu Yasujiro did with Hara. Director Park has accomplished this. Lee, who appears in practically every frame of the movie, presents a character radically removed from her CF or TV drama personality: psychologically damaged, mired in guilt, and yet cold-heartedly manipulating others to accomplish her objectives. As guided by Park, Lee's portrayal of Geum-ja swerves between Isabelle Huppert in a Chabrol film and Catherine Deneuve under the direction of Luis Bunuel. As such, I found her femme fatale characterizations more satisfying than her performances in the "dramatic" sections, not that she is bad in the latter. When Lee, filmed from a low angle in front of a vanity mirror, throws her head back and laughs, or when she, after a night in bed with her boy-assistant (adorably fresh-faced Kim Shi-hoo), nonchalantly asks him, "It was okay for me. How about you?" she exudes fatalistic glamour all her own: alluring, cool and somehow sorrowful. In these and other scenes, her devastating beauty made me feel like a cockroach crawling on a linoleum floor, looking up at her. I wish Lee Young-ae was allowed to be more Deneuve than Huppert, but her fans (who may well be the film's biggest constituency, globally speaking) will not be disappointed.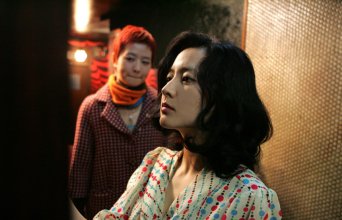 As for Lady Vengeance's depiction of violence, I cannot help but feel that film critics worldwide sometimes seem to employ a double standard: when European filmmakers show taboo materials, it's Art: when Asian filmmakers do it, it's Extreme Cinema. There are indeed supremely horrific images in Lady Vengeance, but none as graphic as children being raped in full view as in Catherine Breillat's Fat Girl/A ma soeur (2001) or in Agnieszka Holland's Olivier, Olivier (1992).
Lady Vengeance might feel rather subdued, even lackadaisical, for some viewers with a built-in expectation bred by Park's previous works. Its narrative might strike other viewers as meandering and unfocused. Yet others might take issue with the subplot involving Geum-ja's daughter. Geum-ja's English communication with the realistically pouty teen is handled reasonably well (certainly an improvement over Lee's awkward accent in JSA), although whether Baek's English translation of her dialogue in a key sequence will impress non-Korean viewers as funny (as it does Koreans) is open to question. Despite these potential flaws, however, in Lady Vengeance we are again presented with a unique vision of hybrid cinema, the kind of which we are not likely to see anywhere in the world, not to mention Korea. Morally complex, aesthetically accomplished, superbly acted, Lady Vengeance allows Park Chan-wook to bring the trilogy to a close on his own terms, by implicating us viewers directly in Geum-ja's act of vengeance and challenging us to see ourselves in her predicament.
In the third and final section, photographed in near-monochromatic colors (some prints will be reportedly shown with digital effects that gradually turn the film into black and white), Park lays out a deeply moving yet perplexing (especially so for non-Catholics, I suspect) vista of Geum-ja, perhaps standing in for all the main characters in the entire Revenge trilogy, reaching out for salvation, weighed down by her guilt.
I confess the film overwhelmed my defenses completely by this point: I was muttering to Miss Geum-ja onscreen, "Receive the Host. Save yourself. Save your soul." But how can she? And how can we?
In ignoscendo ignoscimur. In forgiving, we are forgiven. Those who commit the sin of revenge have condemned their souls. And are we not they, as well?      (Kyu Hyun  Kim)
A ragtag group of North Korean soldiers led by Commander Lee (Jeong Jae-young) are ambushed. Only Lee, Private Jang (Im Ha-ryong, Arahan, The Big Swindle) and teenager Taeg-ki (Ryoo Deok-hwan) survive. Encountering a strange young girl Yeo-il (Kang Hye-jeong), they find a temporary refuge in her village, called Dongmakgol. Its residents are blissfully unaware that the Korean War has been raging on. The villagers also offer refuge to South Korean soldiers, Lieutenant Pyo (Shin Ha-kyun) and the medic Moon (Seo Jae-gyung, the young monk from Spring, Summer, Winter... and Spring) as well as Smith, an American pilot (Steve Taschler). After a tense standoff, resulting in the blowing up of the village's warehouse, the soldiers agree to a reluctant truce, at least until the warehouse and its contents are restored.
Based on the long-running play written by Jang Jin (Someone Special, Guns & Talks), Dongmakgol is directed by Park Kwang-hyun, previously responsible for the beautiful "My Nike" segment in the Jang-produced omnibus film No Comment (2002). Based on this short, I had some inkling of Park's skills with visual imagery. Nonetheless, I confess that my immediate reaction upon reading about the film was "How could he possibly pull this off?" A feel-good fantasy about the Korean War?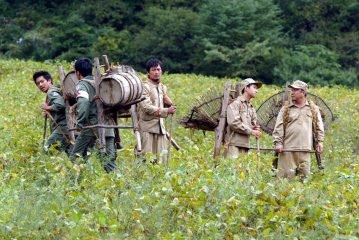 Indeed, there were so many ways in which Dongmakgol could have gone wrong. It could have turned out to be a "Disneyesque" melodrama sickeningly condescending in its portrayal of the villagers. Conversely, it could have been a lugubrious nationalist "epic," turning the villagers into puppet Victims of American Imperialism, climaxing with interminable shots of the Korean soldiers mowing down American paratroopers with machine guns, blood and guts splurging in slow motion. It could have been one of those "message" films in which the soldiers learn the true meaning of Peace by being assimilated into a Korean Shangri-la, its characters breaking out into song-and-dance numbers in between sage exchanges dispensing fortune-cookie "Eastern" wisdoms.
Almost miraculously, Dongmakgol avoids all of these pitfalls. There still might be those who find the film's tone too sweet, although the earthy humor of Jang Jin's dialogue, especially in the early part, goes a long way to prevent the film from wading into sap. Others might miss the satirical tang of Jang Jin's other works such as The Spy (1999). One could also debate pros and cons of the strong influence of Miyazaki Hayao and Japanese animation on this work, made more obvious by the musical contribution of a frequent Miyazaki collaborator Hisaishi Jo. Ultimately, though, few viewers will be able to resist the film's power to command their attention: the film has a coherence of design and narrative pull that would be an envy of Hollywood A-list directors.
The fantasy sequences are brilliantly combined with the more evidently theater-driven set pieces. The total of CGI shots reportedly approaches 700 but what is impressive is the way they are integrated seamlessly into the narrative. One jaw-dropping sequence involving a boar, especially, (possibly an homage to Princess Mononoke) will be talked over in word-of-mouth across the world.
The cast, as usual for a Jang Jin production, is excellent. Particularly noteworthy is Shin Ha-kyun, who has continued to deliver strong performances in a series of commercial failures for some time. Dongmakgol presents him with breathing space to overcome his Anthony Perkins syndrome. Even though Lieutenant Pyo does his share of neurotic eye-twitch, Shin is allowed to play him with a bit of mustachioed machismo and without relying too much on his typical "sensitive soul" characterization. You will choke up seeing Shin's climactic flash of smile, as memorable as Choi Min-shik's sad grin at the end of Oldboy. Kang Hye-jeong's Yeo-il, on the other hand, is a total fantasy figure, more anime-like than an actual anime shojo, and making her cutesy-poo or annoyingly chirpy would have completely destroyed the film. Here, too, Park guides Kang away from obvious mannerisms and solidifies her presence, again greatly aided by Jang's dialogue. (Unfortunately, the hilarity of a flower-child sprite like Kang speaking through the thick Kangwon Province accent will be lost to non-Korean speakers)
Depiction of "foreigners," usually a sour point in a Korean movie of this kind among non-Korean viewers, is not perfect, but a definite improvement in Dongmakgol. Taschler does a good job as the beleaguered pilot, although I wish the screenplay allowed him to flesh out his character a bit more. Except for one yahoo obviously set up as a hissable villain, all Americans in the film are portrayed as more than one-dimensional. The same evenhandedness is extended to the North and South Korean soldiers and how they regard the War from their respective viewpoints.
Overall, much of Dongmakgol's power must be attributed to its director Park Kwang-hyun, despite Jang Jin's unmistakable stamp. He does a superb job of walking the tightrope between fidelity to the genre conventions and logic of humanist fantasy on the one hand and a realistic evocation of the war experience and its very real tragedy on the other. Welcome to Dongmakgol in my opinion is the most accomplished feature film debut of a Korean filmmaker since Ryoo Seung-wan's Die Bad (2000).      (Kyu Hyun  Kim)
Murder, Take One opens with an exhilaratingly audacious sequence. A young woman's body, lying face down and bleeding on a bed, is pictured from overhead. The camera begins to ascend, taking in a flurry of activities by cops, medical examiners and journalists surrounding the body. As the camera now punches through the ceiling and continues to expand its scope, we see that her death scene is in fact a hotel room, and customers in other rooms are blithely continuing to squabble, scrounge and snore, heedless of the tragedy next door. Finally, we see the entire structure of hotel bisected in the middle, as if each of us is a Gulliver peeking into a Lilliputian hive. The circus-like atmosphere, the bold juxtaposition of serious tragedy and uproarious comedy, and most notably the fearless invocation of the theatrical artifice: most of the traits that render a Jang Jin film unique and fascinating are beautifully displayed in this shot.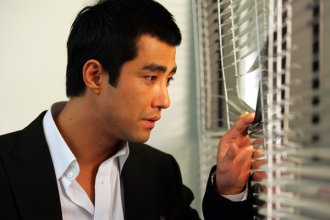 Jang Jin's adaptation of his own play opened nearly at the heels of the mega-hit Welcome to Dongmakgol, another film based on his play and directed by his protege Park Kwang-hyun. Although not nearly as successful as Dongmakgol, Murder, Take One did a respectable business, selling more than 2.4 million tickets nationwide, making Jang Jin & co. the uncontested box-office winners of the 2005 summer season. This is a sprawling grab bag of a movie, difficult to describe in a Hollywood-style "high concept" formula. A crackling murder mystery plot combines with drop-dead hilarious comedy, social satire and a dash of romantic fantasy to create an intimidatingly fizzy but immensely intoxicating witch's brew. Think Lieutenant Columbo wandering into Twin Peaks, with characters speaking lines written by Neil Simon.
Unfortunately, even a superbly gifted chef like Jang could not keep all these ingredients stewing for two hours without spoiling the taste. Around the start of the final third of the movie, Murder begins to lose its bearing. The set-up of a reality TV show shooting the murder investigation live loses its satirical edge when a shaman (and her cute little-girl assistant) is invited to the studio and attempts to contact the spirit of the dead woman (Haven't we seen this already in One Missed Call-- and frankly done much better?). And Cha Seung-won's Portrait of Jenny-like obsession with the murder victim goes nowhere: the ending that should have packed a wallop is instead merely quaint, in comparison to the giddy flow of energy that carried the viewers through the film's first half.
The biggest reason to see this film -- and it certainly stands up to repeated viewings, despite its lame conclusion -- is the array of amazing performances culled from its huge cast. Jang's approach is almost precariously democratic: he provides a space for an aria-like showcase to nearly every single supporting player, right down (literally) to a gas station attendant. For the most part, this daring strategy works beautifully: Murder, Take One is a veritable glutton's delight for connoisseurs of good acting. Just a few random highlights include: the super-veteran Shin Ku as the police chief "explaining" the complexity of the concept of murder to the thoroughly befuddled prosecuting attorney played by Cha Seung-won: a verbal duel between theater actress Jang Young-nam playing a steel-pike-wrapped-in-velvet law-woman and the insolent suspect Park Jung-ah (the lead singer from the rock group Jewelry): Hwang Jeong-min (Sun-yi from Save the Green Planet) as a blind masseur casually dropping an important clue in Cha's lap.
Unequivocally stunning is an early polygraph interrogation scene between Cha and Shin Ha-kyun in the role of the major suspect. This is possibly the most creative use of the polygraph machine as a prop I have ever seen in a movie. Shin's performance in this sequence is absolutely riveting, although his character arc has a rather disappointing resolution. (I would have loved to see Cha and Shin go the route of Sean Connery and Ian Carmichael in Sidney Lumet's The Offence)
And did I mention that the movie is drop-dead funny? It has probably the wittiest and drollest dialogue among all Korean films made in 2005. Regrettably, my prognosis is that about 30% of the film's verbal comedy is simply untranslatable. To cite one example, Jung Jae-young, a regular in Jang Jin production, makes a cameo appearance here as a doltish gangster named Kkureogi. The English subtitles on the DVD render it as "Bully," but it's not quite. Kkureogi is someone who doesn't know when to stop: Simsool-kkureogi, thus, is a grouch or an ass, and jam-kkureogi is a sleepyhead. But knowing a more accurate meaning of the word does not necessarily help a non-Korean appreciate why calling a burly gangster Kkureogi is so darn funny. This issue remains a challenge for fans of Jang Jin, who are hoping that more non-Koreans will come to appreciate his quirky output.
In the final analysis, Murder, Take One is a worthy addition to Jang's filmography, warts and all. The fact that it is ultimately less than sum of its parts, and not as sneakily insightful as Someone Special or as spectacularly well-constructed as Dongmakgol, does not make it any less fascinating.      (Kyu Hyun  Kim)
Su-hyeon (Chae Min-seo) suffers from leukemia. Her elder sister Ji-hyeon (Yu Seon), a glass sculptor who has lost her voice due to a strange accident, presents her with a gift to enhance her self-image and perhaps boost her hopes for the future: a wig. Su-hyeon indeed finds her health and outlook in life improving, after donning the wig. However, her personality seems to go through a subtle transformation as well, especially in her attitude toward Ji-hyeon's fiance Ki-seok (Moon Soo). When her friend who "borrows" the wig commits suicide under horrible circumstances, Ji-hyeon becomes convinced that the wig is cursed.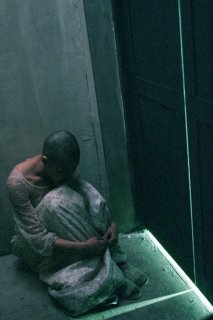 For the first two-thirds of its running time, The Wig is pretty engaging. Director Won Sin-yeon, who made the award-winning short Bread and Milk, takes time in setting up the relationship between the sisters and building up the atmosphere of dread and despair. (Some requisite shock scenes such as a bathroom suicide were probably added for obligatory reasons, as they are frankly the least interesting parts of the film) The cursed wig, which sounds like a supremely silly premise for a horror film (and an excuse to indulge in "long black hair ghosts" popping up everywhere), is actually deployed quite effectively. The mere sight of the clump of shiny, flowing black hair silently falling to the floor, or appearing to wave its strands in mid-air as if posing for a camera, is creepy enough without any sledgehammer sound effects. The film is also helped by sincere but restrained performances from the two female leads. Chae Min-seo, rather unremarkable in macho epics The Champion and Japan-made Aegis, is quite good as a young leukemia patient facing the prospect of death and unwilling to let go the newfound vitality the wig has granted her. Yu Seon, a TV actress with only a small role in The Uninvited to her feature credit, is given the more difficult role of the mute older sister. She pulls it off in fine form, perhaps lack of vocalization an asset in this case, as was so for Holly Hunter in The Piano.
The movie could have gone on to explore either the emotionally complex relationship between the sisters in a horror context, losing its fanciful Final Twist in the process, as in Bergman's Cries and Whispers (which I consider to be a horror film of the first order), or, conversely, the psychological horror of a young person facing bodily deterioration and the ambiguities of a life-sustaining addiction, a la Cronenberg's The Fly. Unfortunately, like almost all Korean horror films I have seen in recent years, The Wig noisily deconstructs itself in the final reel, as it gets caught up in a rush toward stitching together loose plot threads. At least The Final Twist is original, although I suspect many viewers will simply find it campy beyond imagination (it is about as predictable as, say, if Jang-geum's true identity in Daejanggeum were revealed as a time-traveling feminist traditional medicine specialist from 21st century Korea). Likewise, the slap-in-the-viewer's-face denouement, which obviously is meant to make a serious point about the difficulties of love and understanding even in a close relationship, comes across as either thoroughly ridiculous or merely callous. I am sure these ideas were fine in the screenplay (credited to Do Hyeon-jeong), but as filmed, they have no more impact than film-school exercises in Big-Deal Symbolism.
I suppose I should give a few more points to The Wig, compared to its 2005 summer season competitors, for refusing to indulge in digital-effects hocus-focus and for keeping the focus on the two sisters and their emotional relationship, at least until the crude and wacky mishandlings of the genre elements overwhelm it. Alas, the Horror-film-in-name-only Virus continues to infect the feature debuts of talented Korean filmmakers. Somebody ought to come up with a vaccine, pronto.      (Kyu Hyun  Kim)
Hong Mi-ju (Seong Hyeon-a, Woman is the Future of Man) is a college lecturer and cellist. As the film opens, she is rattled by the news of a recital by the sister of her old friend, Tae-in (Pak Da-an). It appears that she has a bitter memory involving Tae-in's accidental death many years ago. When her daughter Yun-jin acquires a cello and shows an unhealthy interest in it, however, she soon learns that her family is put under threat by a supernatural force.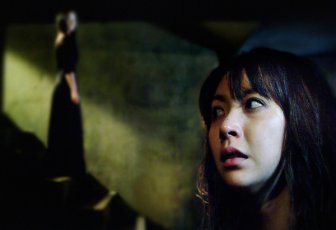 Thematically, Cello is yet another critique of a superficially happy and prosperous bourgeois family disguised as a horror film, following in the footsteps of Phone and Acacia. As in Red Shoes, the increasingly strained relationship between mother (Mi-ju) and daughter (Yun-jin) serves as the film's emotional center of gravity. The cello, a musical instrument whose shape resembles a human torso, is here used by debut director Lee Woo-chul as a mirror-like medium upon which moral hypocrisies of a middle-class Korean family are reflected. This directorial intent is reasonably clearly communicated, and I am sympathetic to his effort to avoid making yet another listless contribution to the "cursed object" sub-genre of post-Ring Asian horror (My colleagues know that I am no big fan of Hideo Nakata's Ring and its numerous cinematic spawn, especially in light of how they have mangled the John Wyndham-meets-H. P. Lovecraft sensibility of Suzuki Koji's novels). Seong Hyeon-a and other actors do a fine, if not particularly memorable, job of keeping the dramatic intensity at the correct level of pitch.
Unfortunately, Cello is almost stupifyingly dull. The suspense is non-existent, the pacing is slack, the CGI effects are murky, and the shocks are orchestrated with all the vigor of a player piano conking out a rendition of My Darling Clementine. As ridiculous and plagiarism-ridden as Bunshinsaba was, or as illogical and ham-fisted as Doll Master was, these movies at least held my attention to the end. Cello, I am sorry to say, is the first Korean horror film I have seen in many years that actually threatened to put me to sleep. And oh, about the final twist... not only is it utterly, miserably predictable, it is also so depressingly familiar that casually mentioning the title of another Korean film released last year with a similar twist would in itself constitute a complete spoiler. Suffice to say that if you don't have a good inkling of where this is all going in the first five minutes, you either need to have an eye doctor examine your retinas (they are not conveying correct information to your brain, massa), or are a true innocent as far as horror film cliches go... in which case I almost envy you.
This film constitutes another (sigh) case of a filmmaker saddled with a genre that he has either absolutely no understanding of or is totally indifferent to. To executive producers and big shots of the Korean film industry, I ask you: why do you assign horror film projects to these filmmakers? It is a bit like recruiting Tiger Woods for a baseball team: "C'mon baby, golf ball or baseball, they are all balls!" I do understand that horror films are easy money in the global market, but Christ... give the project to someone who cares. Someone who is willing to take the much-despised formulae and conventions of the horror genre and shape them into truly creative, audacious, challenging, slap-in-the-face artistic achievements, as Carl Dreyer, Oshima Nagisa, Mario Bava and David Cronenberg, among others, have done over the years. I refuse to succumb to the (seemingly obvious) conclusion that there are no such talents among first-time Korean directors.      (Kyu Hyun  Kim)
According to interviews he did prior to the release of his third feature, Hur Jin-ho doesn't want us to talk about his "previous works" when addressing April Snow. But when he repeats so many of his previous themes, the development of an ambivalent relationship, a male character who works in another sensory-dependent profession (photographer, sound man, and now lighting director), a male character who is again mother-less (but this time he's mother-in-law-less), and a title that invokes seasonal irony, how can we not compare it to the ones that came before?
In-su (Bae Yong-joon - Untold Scandal and the internationally popular TV drama Winter Sonata) and Seo-young (Son Ye-jin - The Classic, A Moment To Remember) meet when their respective partners are in a car crash that leaves them in mutual comas. The remnants of this car crash - condoms, text messages on cellphones, camera video of them in bed together - confirm their suspicions that their partners were having an affair with each other. Having rented rooms in the same hotel to remain near the hospital, In-su and Seo-young decide to begin an affair themselves, which results in the Hur trope of a hesitant relationship emerging between these two halves of broken wholes. The sex scenes in particular demonstrate quite well the trademark Hur uncertainty between his characters. Although this film has been getting poor reviews, I personally don't think it's that bad, although it is nowhere near the quality of his first two explorations of the ebb and flow of relationships.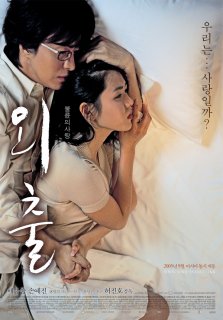 Early on, when Seo-young demurely tells In-su that she does housework and chores for a living, she feels a need to add that she guesses career women are more attractive. In-su answers with a definitive, "Actually, no." It is this interchange that is the intersection of all that makes April Snow a commercially successful film and a troubling one.
There is the obligatory note that must be made when speaking about this film, and that's about Yonsama. As you should know by now, Bae is HUGELY popular in Japan and his films will, until that popularity wanes, be positioned with the Japanese market in mind. In this way, the film did not need to be successful in South Korea (and it wasn't), because it was bound to rebound in Japan, (which it did, ending up setting the box office record for a South Korean film in Japan). Several reporters on the Asian film industry have noted how this represents further maturation of the South Korean film industry in that it represents a broadening of its market beyond its own borders. That specific line about housework and chores can be seen as an awareness of the particulars of Yonsama's Japanese market since it is middle-aged Japanese women, many of them housewives, who are so fond of him. By stating his preference for housewives, Bae, through his character of In-su, further solidifies his connection with this demographic. That said, I also feel a need to state that I think Bae is a decent actor and I can see why the ladies think he's a hottie. I also don't want to slam the middle-aged Japanese women who are so fond of him, for such desire for their idol is not necessarily a gender and age variation on Otaku-ness, but perhaps a medium for something more progressive about the wants, needs and demands of these women.
But this bit of dialogue also validates what I've found seeping underneath Hur's films: a problematic catharsis for the so-called 'nice guy'. This all goes back to what Hur said during a discussion after a screening of One Fine Spring Day at the San Francisco Asian-American International Film Festival where he claimed from his privileged male position that South Korean women have forgotten the importance of family. This proclamation had me receive the ending of One Fine Spring Day with less finery. It had me noticing how, to represent this 'family forgetfulness' in his women, each of his films includes a male character who is mother-less. And when I looked back at Christmas In August for the umpteenth time, I noticed something I had missed during all my previous viewings. The ex-lover who jilted our main character was placed into an abusive relationship within the narrative, leaving it open for the reasonable argument that she was receiving her 'just' punishment for not receiving the 'nice guy' when he desired her. Through his narratives, Hur demonstrates the revenge that simmers underneath every jilted nice guy, except rather than holding that anger and letting it dissipate, Hur continues to provide catharsis for the bad-guy-within that shadows the nice guy, the bad guy within the nice guy who seeks to lash out at the women who, for whatever reason, choose not to be with them. This desire for revenge comes full surface in April Snow when Seo-young asks In-su what he wants to do when his wife awakes form her coma. His answer is simple, "Get Revenge."
Hur can think whatever he wants about women who either expect more from their men and families or desire all the privileges afforded men, but by insisting on presenting this view as a Vengeance For Mr. Sympathy, I have to say that this is a gift I'd refuse regardless of the time of year when it's presented, in August or in April. It is this cathartic need that ends up tainting all the beauty that otherwise abounds in Hur's oeuvre. As a result of this underlying theme, what were otherwise touching stories about unattainable love risk becoming the opposite, tales about subtly executed revenge.
I truly didn't want this theory about Hur's films validated. I was hoping that April Snow would diverge from Hur's previous works in this regard. But sadly, like the seasons, this is a harmful theme that Hur keeps cycling back to.      (Adam Hartzell)
Much was said about Lee Myung-se's critically acclaimed Nowhere To Hide regarding how Lee reported to have researched the movement of footballers for the film. This could have been taken with mounds of grains of salt as perhaps further PR for a country that was about to co-host the World Cup in 2002 or simply an excuse to go and watch a bunch of great football matches. If I could write off on my taxes a visit to Europe to tour different football clubs as research, heck, I would. But Lee wasn't just talking out of his publicist here. It was clear from what he brought to our screens that how our bodies move as isolated atoms or in concert with other bodies was foremost in his mind.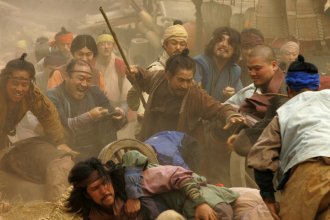 And movement takes precedent in Duelist as well, which has brought both greater praise to Lee and laments that he's forgotten to tell a story. There is a story here. The film takes place in a non-realist rendition of the Chosun dynasty. Nam-soon (Ha Ji-won - Phone, Sex Is Zero, and the TV Drama Damo) and Ahn (Ahn Sung-ki - It might be easier to say what film the exemplary Ahn has not been in, but let's just drop that he was the villain in Lee's Nowhere To Hide and the son in the classic The Housemaid by Kim Ki-young) are detectives who happen upon a counterfeit ring of the ringed coins minted at this time in Korea's longer unified history. The conspiracy implicates some high-ranking officials and as the investigation develops, so does the love between the seething, tom-boyish Nam-soon and the dashing, femininely-chiseled masculinity of Sad Eyes (Gang Dong-won - Too Beautiful To Lie and Too Many TV Dramas To Mention). That's really the gist of the story. If that's not enough, you are going to hate this film.
But if you were fascinated with how Lee orchestrated emotions out from hiding behind the shells of bodies in Nowhere To Hide, you will be equally treated to a visual concert that will send you home with dreamy images of bodies in chaos and control. Most striking is the crane-like mating ritual between Nam-soon and Sad Eyes. They pause, lurk, and flail, each with equal parts passion and discipline. Nam-soon and Sad Eyes have a lovely way of showing the respect, fear, and love they have for each other without much dialogue and plot. And the fact that Lee flips the gender code switch by coupling female masculinity with metrosexuality makes it all the more endearing and fascinating to watch. I found uncontrollable smiles creeping up on my face throughout this film. Many historical films intend to convey the sense of time past, but all films are influenced by the time within which they are made. In its purposely non-realist portrayal, Duelist's gender dance doesn't intend to represent the time of the Chosun Dynasty, but a subset of the gender politics of this time in South Korea's history, where newly empowered young women defend their desires with emerging young men who seek an equally liberating space for their fluxing selves.
Outside of our two lovers in motion, there are many other dramatic moments of movement throughout the film. (And let's make a shoutout to the sound artists as well who vividly add to the whooshes and swooshes, crashes and smashes, flashes and slashes on screen.) Early on we witness a scene from which we might infer that Lee wrote off some travel expenses to rugby matches this time around. And the spiraling infantryman in a later scene had me thinking of the organic, ephemeral art of Scottish sculptor Andy Goldsworthy, so beautifully captured - thus negating the ephemeral status of his artwork - in Thomas Riedelsheimer's documentary River and Tides. These infantrymen unfurl as if they were a chain of leaves let loose on a stream.
The valid question still arises, however, since the story is so plain, is all this just window-dressing to hide the fact that the film is going nowhere? Having only one screening available to me so far, I don't find the story lacking in structure, just lacking in breadth. It's simply a simple story. The twists and turns are not in the plot, but in the characters. Yet I don't need more of a story than what allows for the dancing display of development on screen for our two main actors. I respect that many other viewers might want more. Mine is a single-viewing experience that might be dampened or enhanced by more viewings. And mine is not the final word on Duelist, just a motion that our bodies not rest.      (Adam Hartzell)
In martial arts films, we're accustomed to seeing directors use deft editing techniques to make the moves of actors look more fluid and impressive. A leg is extended -- cut! -- we see the foot of the hero crunch into her opponent's skull -- cut! -- the bad guy flies through the air and crashes into a table, splintering it. The actors in the main roles may know hardly any martial arts, but through the magic of editing, they are made to look like masters in motion.
In the low-budget martial arts film Geochilmaru: The Showdown, however, director Kim Jin-sung (Surprise Party) is at liberty to dispense with the fancy camera tricks. After going out and casting real-life masters of judo, kickboxing, boxing, karate, kung fu, hapkido, and taekwondo in the lead roles, Kim can merely step back and let them do their thing. Although he does cut up the many fight scenes into multiple shots, it's also clear that this is not to compensate for any lack of skill on the part of the actors.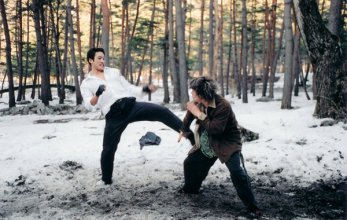 In this way, viewers can enjoy the convincing physicality which occupies the center of this film. Happily, though, Geochilmaru also turns out to have an engaging, well-structured and unconventional storyline that gives the film much of its energy.
This is no period-set fantasy: one of the opening lines of narration is, "Nowadays, if you aren't internet savvy, you can't even practice martial arts." According to our narrator (voiced by popular singer Kim C, who serves as the film's only recognizable persona), online discussion boards now provide the primary venue for martial arts masters to pass on their knowledge to the less-experienced. In the film, the discussion board at the center of the narrative has attracted upwards of 50,000 members, largely due to the insightful online writings of a man or woman with the ID 'Geochilmaru'. When eight members, who come from diverse backgrounds and train in a variety of disciplines, receive invitations to spar with the master in person, they are glad to accept. However, soon they discover that they are to be bussed out to the mountains of Kangwon Province, where they will face off against each other, with only the winner allowed to face Geochilmaru in person.
Two things serve as the glue that holds this film together. One is its narration. Directors who use a lot of narration often become easy targets for film critics, who complain that it's a lazy way to transmit information to the viewer. ("Why not show instead of tell," is a usual refrain) Although that's usually true, in rare cases narration can add an entirely new dimension to what we see on the screen, and Geochilmaru proves to be one such example. Kim C's relaxed, conversational narration never tries to be profound, but it succeeds quite well in placing us within in the mindset of our amateur fighters.
The second thing that makes Geochilmaru work is the efficient way in which director Kim characterizes his large cast (all identified by their internet ID's). With eight main characters, and much of the film's 86-minute running time devoted to fight scenes, Kim needs to quickly flesh out his heroes to make them distinct and memorable. His success at doing so in the space of a short road trip makes it all the more interesting later when the characters start to pair off against each other. Will Iron Fist, a soft-spoken woman who practices kung fu, get a chance to sink her feet into the obnoxious, trash-talking gangster Killer Smile? Our disappointment that some potential matchups never materialize only underlines the director's skill and passion in assembling this low-budget film.      (Darcy Paquet)
Obligations are making it difficult for me to spare two to three hours to watch a movie in one sitting. Until I can relinquish some of those responsibilities, I'm beginning to appreciate omnibus films more and more. Although arguments will be made that shorts within an omnibus film are intended to be watched in one complete sitting, I'm treating them more in the way the great short story author Alice Munro once said her collections should be read, watching each short in a single sitting, gradually pacing my way through the collection.
Such has brought me to the omnibus film The Camellia Project, three shorts about the lives of contemporary Gay South Korean couples. Each short is filmed on Bogil Island, as if standing offshore as a metaphor of the restrictions placed on Queer folk that they must separate from the main(stream)land to live their lives more freely. It's sad for those whose prejudices turn them off to such topics, because this omnibus is definitely worth a viewing in one, two or three installments.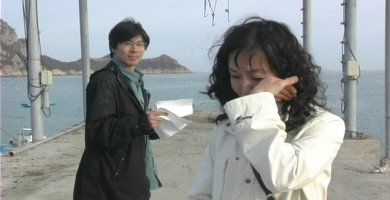 Director Choi Jin-seong's Freak Show begins the series. In it we meet Choon-ha (Hwang Choon-ha) as he accidentally locates his former lover while masturbating to a mixed martial arts match. Turns out his ex, Wang-geun (Kim Wang-geun) is now a professional fighter. Wang-geun, now married with a young daughter, takes his daughter on a holiday to reunite with Choon-ha. When his wife calls him on the phone concerned that he hadn't mentioned meeting up with a 'friend', she asks if this friend is female or male. When she hears he is male, it's not clear whether this comforts her. The rest of the short brings clarity to us on this point. (To avoid the censorship regarding graphic sex, Choi utilizes animation to demonstrate how this couple's church-bound relationship initially dissolved.) I'm less impressed with Freak Show as I am the two shorts that follow it, perhaps because it tries to do too much with the animation disruptions, the stage-like productions, and the drag show reductions. But that's not to say it's a horrible short, just not as good as the other two in tow.
The best of the bunch is director So Joon-moon's Drifting Island, a wonderful title to underscore how we are watching this couple drift apart to the sounds of waves that pace our breaths along with the beats of the film. It's a fairly simple plot which leaves me with very little to say in this paragraph devoted to it. But the closing moments of this relationship when these two men (played by Jeong Seung-gil and Lee Eung-jae) reach their climax as a couple is presented perfectly with tender restraint. If you are one to have problems with what is called 'identity-politics', this is the queer film for you. Its theme of love lost and let go shows the universal found in the particular.
Director Leesong Hee-il (of future No Regret fame) finishes this triptych with La Triavata, a short with a cryptic opening that gives way to an equally cryptic ending. A woman is in search of a man, but we are not sure exactly why. To tell you the relationship between the female seeker and male sought would be to ruin much of the power of the film, but let me say that it's not the relationship you think. (But I can't resist telling you that one of the men featured in this film is played by none other than Kim Tae-yong, the co-director of Memento Mori and director of Family Ties.) Leesong's choice not to resolve the film at the end is equally powerful because the smirk on her face reveals the possibility of condemnable reactions that daily South Korean society, as well as my own, sadly condones. (Interestingly, director Leesong will later cast two actors in his debut feature from this omnibus, but from the two shorts he did not direct, actors Hwang Choon-ha and Jeong Seung-gil, respectively.)
And if we are to eventually suppress and deactivate the condemnable reactions our societies encourage towards adults loving each other outside the demands of unhealthy gender paradigms, we need more films like The Camellia Project.      (Adam Hartzell)
One of the nastiest putdowns wielded by Korean film critics is the term 'shinpa'. If a film drives you crazy with its histrionic, sappy, overblown plot machinations, there's no need to write paragraphs picking apart its many faults. One word will do: call it shinpa. The word originally referred to a type of stage play that appeared in Japan in the 1880s ('shimpa' in Japanese), which adapted the Western melodrama -- particularly tales about scandalous romance -- into a form that local audiences could relate to. They were introduced into Korea in the 1910s and quickly became popular with general audiences, but highbrow critics attacked the plays for their escapist character and supposed appeal to base instincts and emotions. The term was later adopted into film criticism and it is used often today to refer to TV dramas or to melodramas like The Letter (1997) and A Moment To Remember (2004).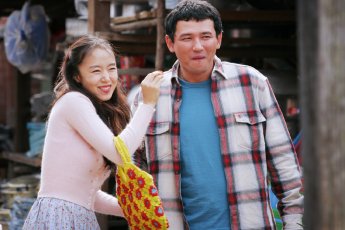 Most directors who aspire to auteur status would sooner quit filmmaking than make a work that could be branded as shinpa. Yet Park Jin-pyo, who proved he had guts enough to tackle septuagenarian sex in 2002 with Too Young To Die, now proves he has guts enough to tackle the most villified, banal genre in Korean cinema. The latter probably required more courage.
You Are My Sunshine (yes, the song does make an appearance) tells the story of a 36-year old farmer named Seok-joong who, apart from his cow and his mother, has difficulty relating to women. After backing out of a scheme that would have set him up with a Philippine bride, he decides to make do without a wife, until the day Eun-ha drives past him on her scooter. (Cue slow motion, music, and Seok-joong's mouth hanging wide open... he's in love)  Eun-ha, meanwhile, is employed as a sex worker at the local coffee shop, delivering beverages and a variety of services to whoever in town pays for them. She reacts with bemusement at first when the awkward, stammering Seok-joong presents himself, delivering free bottles of milk and roses to her on a daily basis. As time passes, though, she begins to wonder if life with him might be a better option than her current day-to-day routine.
You Are My Sunshine leaves no stone unturned in the shinpa book of techniques, with all the plot twists you'd expect in any 1970s Korean hostess film. The film even admits as such, in a scene where a reporter calls his boss to summarize the situation facing our heroes, saying "This is even better than I thought... it's total shinpa!" And yet there's a world of difference between this film and a work like The Letter. Like Hur Jin-ho (whose feature One Fine Spring Day is referenced several times within the text), Park presents a host of realistic details to support the film's sentiment, and characterizes his leads so well that they seem to exist outside the film as well as in it. Without preaching, the film also manages to slip in some cutting observances about rural life and societal prejudice. The film is unfortunately too long, meandering a bit in the middle, but when the requisite disasters set in towards the end, they carry their share of emotional force.
Much of the the credit for that emotional force has to be shared with the actors. Hwang Jeong-min's portrayal of the physically imposing but somewhat childish Seok-joong is the more acrobatic of the two performances, with Hwang enacting a 180-degree turnaround from the gangster he played in A Bittersweet Life. His character is the one who will be most discussed and noticed among Korean viewers. Nonetheless this film confirms for me that Jeon Do-yeon simply operates on another plane from her contemporaries. She has so much visceral talent, and she's so convincing in her role that, ironically, it's easy to overlook her performance. She never looks like she's acting, she just morphs into the character. Also deserving of major praise is Na Moon-hee, who is fantastic as Seok-joong's mother.
Some might argue that Park has sold out with this film, after making such a subversive debut in 2002. Certainly this is a more commercial venture -- at the time of this writing, it's scheduled to be released on 450 screens, a new record for a melodrama. But one can't help but admire the unpredictability of the director's vision, and the way in which he tackles a maligned genre in so straightforward a fashion. Sometimes, the most conventional artistic choices are the most radical.      (Darcy Paquet)
A friend of mine, in commenting how much she got out of Rules of Dating, added the disclaimer that it's a hard film to explain to other people because, well, the relationship you're talking about sounds so 'wrong'. There is much 'wrong' that happens in Rules of Dating, but like Hong Sangsoo's films, I never find the 'wrong' that happens approved by the text (as I do in the reprehensible Plastic Tree). There is a subset of films about "romantic" couples in South Korean cinema that focuses on the messiness of relationships that I think the majority of people experience more often than the fairy-tale, soulmate couplings we dream about. Although I see much positive about the heightened concern by United States filmmakers regarding the representations of particular populations, a negative side is that some might stray from portraying certain realities of life because some might be concerned of indirectly promoting all the -isms that still persist. Freed from the political situation particular to the United States, South Korean cinema has been able to develop some fascinating and complex romantic plots that often have you leaving the theatre not knowing what to think, having to let your thoughts and feelings settle before you proclaim allegiance with or defiance towards what you witnessed on screen.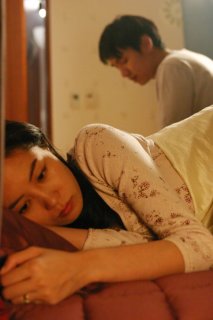 These types of messy romances serve as the base for Kang Yi-kwan's debut film Sa-Kwa. An assistant director for Memento Mori and Three Friends, Kang found himself with the privilege to direct Moon So-ri (Oasis, A Good Lawyer's Wife, Bewitching Attraction) in a film about loving, suffering, lying, and forgiving - oneself and others - that he also wrote. His camera immediately announces the unease that feeds these messy couplings through the feeling of improper intimacy conveyed in the at-the-shoulder shots of Moon's character Hyun-jung. The camera is extremely intrusive on Hyun-jung, making us feel as if we are stalking her. And this is how she feels initially about Sang-hoon (Kim Tae-woo - Don't Look Back and, speaking of Hong Sangsoo, Woman Is The Future Of Man), the man in her building who relentlessly pursues her in spite of her rejections. She reconsiders Sang-hoon after her boyfriend of many years unexpectedly calls off their relationship. We witness Hyun-jung stutter into a marriage with Sang-hoon upon which, as hard as we might try, we cannot justify projecting a star-crossed romance. The highpoint of this well structured narrative is the wedding scene. Without dialogue, but with the happy-wedding signifiers of lighting, costume and music, the ambivalent looks of Hyun-jung and Sang-hoon temper this joyous moment with an underlying feeling of doubt about this union. After the wedding we see their love grow, but we also see it dissipate.
The story is told from the point of view of Hyun-jung and we follow her as she struggles to figure out what's best for her and the people that matter to her. And speaking of people who matter to her, her family is absolutely wonderful in its characterization. What could have come off as cliches - the mother intrusive in her daughters's relationships, the father aloof to the troubles within the family, the younger daughter always ready to pout and stomp out of the room - instead come off as nicely nuanced and often hilarious. As much as this family has its trouble, (and to Kang's credit, by bringing in their economic issues this film keeps from being a completely atomistic take on these lives), I found myself wanting to join in on the hikes and tai-chi exercises as a cousin.
The choice to leave the film title un-translated for non-Korean audiences allows for Sa-Kwa to fully resonate with both its meanings, "apple" and "apology", two words that allude to Christian theology. As significant a religion as Christianity is in South Korea, I have been surprised how infrequently it shows up fully engaged in the plots of the country's films. The apple definition of Sa-Kwa obviously intends to reference the Garden of Eden story, but not as a platform to punish everyone as so-called sinners in order to control the population. Sa-Kwa presents adults living adult lives, making adult choices, and struggling with the ramifications of those choices. These characters aren't damned and excommunicated; they are embraced, understood, and forgiven.
And since one can't be forgiven until one apologizes, there in falls the other definition of Sa-Kwa. Apologies and forgiveness are prominent themes throughout Sa-Kwa as they both relate to suffering, making the film a wonderful jumping off point for the discussion of "Theodicy", the term from the 18th century theologian Gottfried Liebniz that means "the Justice of God" and represents theological attempts to explain 'why bad things happen to good people'. Sa-Kwa seems to argue that suffering comes from a direct relationship with knowledge, something represented by the apple since the apple in the book of Genesis comes from the 'Tree of Knowledge'. The more you know, the more you hurt. Rather than focus on the suffering of the wider world, Sa-Kwa focuses on the suffering of the everyday of the every woman and man. Some of the suffering of the everyday is caused by the things we bring about, such as the lies we tell and the selfish acts we demand, but some is also caused by decisions outside of our control. And the more we learn about what we can and can't control, the more we learn about life, the more possibilities to suffer emerge. But rather than taking this as a lesson to remain ignorant and to keep information from others, Sa-Kwa demonstrates how owning up to the responsibility knowledge affords us can lead to greater reductions in the suffering of ourselves and others. As one of Hyun-jung's parents (I forget which one exactly, only having access to one screening so far) underscores, wouldn't life be "boring" if we never had to work through suffering, if we didn't have to learn and apply what we learn?
Sa-Kwa is not so heavy-handed in its Christian subtext as to put off non-Christians like myself. As an Agnostic, I find the story a validation not of Christian belief but of the resiliency of my fellow human beings. Any of us who have been banished from the paradise of innocence in relationships after partaking of the fruits of knowledge that adulthood provides will find something to relate to in Sa-Kwa. The ending is appreciatively ambiguous enough that each of us can cuddle up with an ending that works for our fallible selves right now. Then we can watch it again at a different turn in our lives for a different teaching, a sign of all Good Books and Good Films.      (Adam Hartzell)
A week passes in Seoul, with a diverse group of couples and singles experiencing love or tragedy in strong doses. Broken families and newly-formed marriages, struggles with debt or with an uneasy conscience, conflict and resolution, sickness and health, newly-discovered love, the resurfacing of old relationships... Similar to Robert Altman's Short Cuts or, more recently, Richard Curtis' Love Actually, sophomore director Min Kyu-dong (Memento Mori) utilizes a large cast of talented actors and a well-written screenplay to weave a multitude of stories into a single narrative.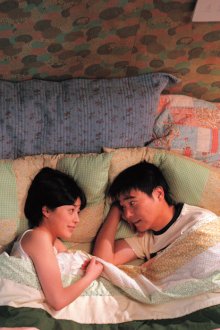 Whereas sweet-tinged optimism tied together the multiple parts of Love Actually, director Min adopts a more somber tone in All For Love that is sympathetic to the struggles of its characters, but not necessarily convinced that everything will work out for them. Indeed, the film feels like it was made in a time of economic insecurity, with people feeling a bit uneasy about the future. Thanks in part to this, real drama develops towards the middle and later sections of the film, as we draw closer to the characters and become concerned for their welfare. The ending finally brings everything together in an ambitious crescendo, leaving the audience satisfied but also, perhaps, a bit exhausted.
The cast is almost uniformly good, so that each viewer may have a different favorite couple. Veteran actor Joo Hyun (A Family) and Oh Mi-hye (making her film debut) are a particular treat as a gruff theater owner and a woman who rents a coffee shop from him. Despite playing opposite multiple attractive young actresses, Ms. Oh is clearly the most beautiful woman in the film.
Uhm Jung-hwa (Princess Aurora) and Hwang Jeong-min (You Are My Sunshine) are a jolt of comic energy in their indignant bickering and awkward attempts to reconcile. Im Chang-jung (Sex is Zero) and Seo Young-hee (Jealousy is My Middle Name) provide some of the film's most dramatic moments as a newlywed couple crushed by debt and desperate for work. Yoon Jin-seo (Oldboy)'s role as a young woman about to be ordained as a nun may seem a bit far-fetched, but she acts with such charm that this is easy to overlook. Finally Cheon Ho-jin, a long-time supporting actor finally beginning to attract some notice, gives a rock-solid performance as a tightly-wound, divorced father struggling to raise his son.
It's true perhaps that All For Love (the Korean title, by the way, means "The Most Beautiful Week in My Life") fails to hit the brakes at some key moments. I would probably consider the TV basketball match re-enactment scene with Kim Soo-ro to be absolutely ludicrous, if I hadn't seen similar displays of emotional kitsch on Korean TV before. The When Harry Met Sally reference also felt awkward and forced. But on the whole, this film is a winner, for its narrative strength and its large cast of memorable characters.      (Darcy Paquet)
It is obligatory to mention the filmography of actress Pang Eun-jin before we discuss the debut of Director Pang Eun-jin. She was the bespectacled part of the adept pairing of female characters that Park Chul-soo presented in 301, 302 and Push-Push. And she has continued on to assist independent South Korean films such as Road Movie and Rewind. Actress Pang was part of the group of creatives who introduced me to South Korean cinema and she is part of what's kept me there ever since.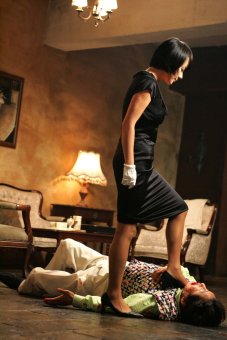 I was prepped to temper any hopes I might have had anticipating Director Pang's debut feature, Princess Aurora, so I wasn't disappointed when I first saw it at the 8th Women's Film Festival in Seoul, I just wasn't impressed. Any embarrassment associated with the viewing that I felt was due solely to my asking the obvious question during the post-screening Q&A, "What did she bring from her acting to directing?" to which Director Pang held nothing back, prefacing her non-answer (since her answer was "nothing at all") by lamenting how everyone asks her that question. (Ouch!) My second viewing of the film in order to write an earlier review brought no revelations. But although I don't know what life obstacles delayed my writing a review of Princess Aurora last year, a recent third viewing has resulted in my appreciating Director Pang's debut work much more than I did initially.
Detective Oh (played by Pang contemporary, Moon Sung-keun) is on the case of a serial killer who utilizes 'unusual' weapons. But the only reason they are 'unusual' is because men are categorizing them. The weapons, knitting needles, cosmetician facial plaster, etc, aren't unusual to women. And this serial killer is Jung Soon-jung, a woman, the less serialized gender in the serial killer genre. We learn that Detective Oh and killer Jung have a connection that connects all the murders. This is why Detective Oh is also a pastor-in-training; he is seeking forgiveness whereas Jung is seeking revenge.
It is difficult to talk about this film without ruining what is pleasurable about the film, figuring out where each victim fits in the larger web of vengeance and where Detective Oh fits into the puzzle as well. This leaves me to talk cautiously about what I began to find valuable about the film upon my third viewing. That is, the feminist findings in many of the twists in the delightful dialogue. (At least as I read the translations, since I can't hear the dialogue as a Korean audience would. An understanding, of course, one should apply to all my reviews until my Korean language skills improve.)
For example, when we first learn Jung is a car saleswoman, we are offered an immediate deluge of multiple reveals when a male colleague congratulates her for passing her heavy-machinery certificate. There is the political reveal. This colleague who congratulates her is traveling in a pack of male colleagues that alludes to a boys-network at the dealership off to do what boys-networks do, which is exclude women. The psycho-sexual comes in when it is noted that this certification will allow her to sell trucks, an object associated with males since the earliest days baby boys were designated with the color blue. Associating trucks with men, the economy of male scale has also associated selling trucks with higher commissions, bringing up more political issues of gender equity. Jung then tells her male colleagues she hopes to operate cranes in the future. Jung's intended humor in this joke reveals more of the psycho-sexual that Pang plays with throughout the film. But this also allows for a later plot reveal, and a revelation of Jung's intent, because Jung seeks surveillance of her actions and methods from the moment she magic-wands the surveillance camera in the shopping mall to get Detective Oh's attention, to the Princess Aurora stickers placed at each of her murders.
Princess Aurora is not the perfect serial killer thriller, but it is moments like that described above that are powerful to come back to because so much is tied up in this film beyond some of Jung's victims.      (Adam Hartzell)
I don't like writing reviews after only one screening of a film. The reason is that I'm well aware of how my feelings and thoughts about a film have occasionally shifted 180 degrees after a second viewing, finding a film I loved less thrilling later, or the reverse, finding a boring film full of wonderful illuminations a second time around. But often circumstances require me to go against my preferences, such as realizing my only opportunity to see a film might be at a festival. And wanting to maximize what I saw at PIFF 2005, I only had one screening of Lee Yoon-ki's Love Talk, a film which premiered at PIFF. The follow-up to his critically successful debut This Charming Girl, I don't find myself talking as lovingly about Love Talk as I do about Lee's debut. This Charming Girl had such an effect on me that I find myself often mis-titling one of my favorite songs by one of my favorite bands, The Smiths. "This Charming Man" has become This Charming Girl in the mis-connection between my brain and all the other organs that help me speak, demonstrating the huge influence Lee's debut has had on me.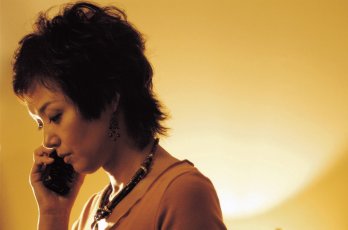 Love Talk intertwines the lives of three individuals of various levels of Korean-Americanization in Los Angeles, California. Sunny (Bae Jong-ok - Chilsu and Mansu, Jealousy Is My Middle Name) works at a "massage" parlor where she obliges all requests except for marriage. Renting a room in her house is Ji-seok (Park Hee-soon - Antarctic Journal), a man who has just come to The States from South Korea. He ends up working at a Korean video store hoping to rekindle what was lost with Young-shin (Park Jin-hee - Byul, Love In Magic) by creating a fateful accident one day in LA's Koreatown. Young-shin is the DJ of a Korean radio program offering advice about romantic relationships.
My disappointment with the film is not due to any feelings that it is formulaic or completely pointless; it simply doesn't have an impact on me in either a direct or indirect way. Sunny is perhaps the most interesting character for me. Here Bae again plays a woman who appears to blaze her own trail while negotiating the limited paths this society has left open for her. Next is Ji-seok who seems to float through this world new to him. But Young-shin's character is the least compelling, and with only one screening I can't say particularly why, but I just know I think about her less.
As an English language viewer, unfortunately part of the problem I have initially connecting with these characters and the events in this film is the spoken English from the non-native speakers. Even if English is not the first language of some of these actors and such is in sync with their characters, their English is still stilted in a way dissonant from the real way that English is spoken by non-Native speakers, causing dissonance in an already less accomplished work. But even the Western actors have their troubles conveying sincerity in their dialogue when they are speaking in their native English. Director Lee's opening of the film had me thinking of a great way to deal with the less than stellar performances by Western actors in South Korean films - Don't have them talk at all. The opening has us watch American men walk around the lobby of the modified brothel in a scene that seems right and presents a smooth feel that is disrupted whenever these actors open their mouths. (The exception, if I recall correctly, is Eric Steinberg who plays Sunny's security guard lover Andy, whose portrayal had me intrigued about his character). Again, I am speaking from my perspective of this film as a native English speaker. I have been told by some Korean language speakers that South Korean films I greatly enjoy have characters who deliver their Korean dialogue quite poorly. So Koreans watching this film with less familiarity with English might be less likely to have the reaction I had to this film, so I'm curious what the Korean receptions to Love Talk will be. But I'm always curious about that anyway, just more curious this time around.
Still, with such a disappointing sophomore effort, was This Charming Girl just a fluke? Was it really just Kim Ji-soo who made Lee's debut so impressive? (And stay seated, you'll be rewarded with a very brief appearance of Kim's Jeong-hye.) Well, Kim's performance was truly the surgical thread that sutured us up to find Jeong-hye so endearing. But Lee showed his chops as well with his refusal to chop away from scenes too quickly, allowing the peculiar charms of our lead to seep into our bodies through our eyes. He truly enhanced the character that Kim brought to the screen. In the end, I think Lee simply tried to tackle too much here with Love Talk. Perhaps a single character in LA's Koreatown would have sufficed, leaving us focusing on Sunny and how her life doesn't allow for much demonstration of how eponymous her name might be. I was impressed enough with Bae's performance in Jealousy Is My Middle Name, leading me to believe she could pull it off on her own. However, at the press screening (not at PIFF, but later before its official release), both Lee and Bae said the opposite. Apparently there were three other characters whose deeper lives were cut from the film. Lee appeared to regret cutting these lives away and Bae feels their absence limits the film.
Perhaps a second viewing will change my mind, and LJ Films might provide me that opportunity since they hold the U.S. rights to the film. I doubt another viewing will sway me towards a greater appreciation for Love Talk, but I've been surprised before.      (Adam Hartzell)
Winner of the FIPRESCI, NETPAC and other awards at the 2005 Pusan Film Festival, The Unforgiven is a feature-length graduation thesis film from undergraduate director Yoon Jong-bin. Despite its rough edges due to technical limitations and a low budget, the film was a smash hit at Pusan, generating wide publicity for the film and giving it a chance to be shown at respectable art-house theaters in Seoul. Unfortunately, director Yoon found himself the object of litigation by the Defense Department, when the film turned out to be a far cry from the heart-warming "story of friendship inside the barracks" the Defense Department had apparently read in screenplay form, before they granted Yoon permission to shoot his film inside the authentic living quarters (Yoon has since acknowledged his act of deception and stated that he will accept the appropriate punishment).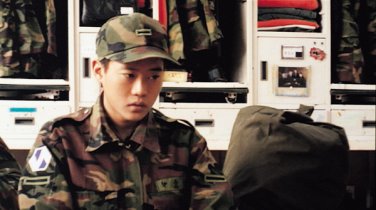 Those who have seen Yim Soon-rye's 1996 masterpiece Three Friends might recall a disturbing sequence in which the protagonist asks one of his friends to smash his shoulder with a piece of wood so that he could avoid being drafted into military service. The reduction of all human relationships into a rigid hierarchy, experienced in the two years of mandatory military service, maintained through small and large violations of private space (both external and internal) as well as small and large mechanisms of enforcement, from casually handed-down insults and corporal punishment to sexual harassment (among men: women are not drafted), casts a very long shadow on the lives of Korean men. And yet, few Korean films, if any, have directly tackled the subject of what really goes on inside the military, and what the experience means for male Koreans. The Unforgiven manages to grapple with this difficult subject, with an admirable level of thoughtfulness and honesty.
With its clever flashback structure, the film has the outline of a mystery, but it is at heart an intimate character study of two figures, Tae-jeong (the charismatic and handsome Ha Jeong-woo) and Seung-young (Seo Jang-won, pictured above, whose feminine beauty and vulnerable yet neurotic glances remind one of a young Christopher Walken). As the film opens, we see Sergeant Tae-jeong beating up a "junior" soldier in the restroom, mouthing tiresome I-am-doing-all-this-because-I-care-about-you cliches. One day he is introduced to Seung-young, a rookie. To their initial delight, they recognize each other as old school chums. Tae-jeong takes Seung-young under his wing and attempts to coach the latter in the "ways of military." But Seung-young, unable to tolerate the rampant unreason and you-gotta-do-it-no-matter-how-stupid- the-order-is (il)logic of grunt life, soon has himself pegged as a troublemaker. When Seung-young resolves to treat a spectacularly incompetent rookie Ji-hoon (played by director Yoon) differently from other "seniors," his stubborn sense of justice leads only to further problems for all concerned.
Director Yoon makes a number of shrewd choices that prevent the film from being mawkish or preachy. Seung-young's character, in particular, is well-drawn: he is not portrayed as a stalwart reformer but as a rather irritating, almost paranoid, nerd. His behavior, such as his refusal, for instance, to be photographed with a dika phone (cell phones with digital camera rigged inside), sets him apart from the rest of Koreans, whose sense of individual privacy is frequently dismantled by their sense of obligation to camaraderie or esprit de corps, or, perhaps more truthfully, their fear of ostracism. Some viewers might be desperately annoyed by Seung-young's inability to tell Tae-jeong just what he wants, but this aspect of his characterization resonated with me absolutely: the portrayal of a Korean man who simply cannot articulate his inner turmoil in an intelligible, rational language is dead-on. Director Yoon's own acting as Ji-hoon also deserves a special mention: he is transformed, without nary a misstep on his part, from a laughable dumb-clown figure, who seemingly "deserves" all the abuse and insults heaped upon him, to a wretched victim of emotional abuse and alienation, whose spiritual despair, when finally displayed in public, hits the viewer in the guts.
The Unforgiven is not without flaws, of course. The film's "mystery" plot and its resolution turn out to be something of a letdown (not to mention predictable), like the "revelation" about Jeong-hye's past in This Charming Girl. One could legitimately question, as Kim Young-jin (Film 2.0) does, the wisdom of Yoon's choice to rely on the "shock treatment" of a climax for generating desired emotional effects. Still, ultimately, The Unforgiven's virtues outweigh its shortcomings. It is neither a professionally polished genre film nor a didactic "message" movie. It is an honest, albeit confrontational, character-driven drama about two types of young men in South Korea -- one who learned to "adjust" himself to the military service and one who could not -- so common, yet so completely ignored by all of Korean popular culture, not just cinema. Whatever its critics may say about it, The Unforgiven is not a straightforward indictment of the Korean military: its "negative" depiction of the institution does not really go beyond describing what is "business as usual." The film's real object of inquiry, as it were, is the tragic price of denial, of shunting aside the absurd, horrid, unjust, and irrational aspect of one's life-experience into a small, dark corner and not talking about it.
Near the ending, Tae-jeong's girlfriend asks him, "How is, what's his name, your military buddy, doing?" and he answers casually, "He's doing okay." Tae-jeong then locks himself in the restroom and keeps repeating the phrase, "He's doing okay, he's doing okay... he is really doing fine..." with his haunted eyes fixed on himself in the mirror. Far more powerful than the J.S.A-like coda preceding the end credits, this scene is one of the most painfully honest renderings of young Korean men I have seen in a Korean film, whose souls are eaten away by the price they paid for having "adjusted" themselves to become good soldiers and upstanding "real men." The Unforgiven is a must-see for anyone who seeks to gain insight into the inner psychology of Korean men, and a stupendously promising debut for yet another talented Korean filmmaker.      (Kyu Hyun  Kim)
Having your debut film presented as the closing film at the 10th Pusan International Film Festival is quite a feat, but Hwang Byung-kuk's Wedding Campaign was definitely deserving of the venue. Wedding Campaign is a pleasant mainstream film that well demonstrates where South Korean cinema is headed if things continue to go well and South Korean cinema continues to push itself as it has here. The story revolves primarily around Hong Man-taek (Jung Jae-young - Guns & Talk, Someone Special), a 38-year old farmer who has yet to find a wife, much to the anguish of his mother (Kim Ji-yeong, who won a Grand Bell Award for her role in Invited Guests, was in Lovers of Woomook-baemi, and recently Arahan ) and his own disappointment. Knowing his opportunities are limited in their village, his grandfather (Kim Seong-gyeom - Fool Hunting, The Last Present) learns of an organization that assists Korean men in finding Korean-Uzbek women to marry. His best friend Hee-chul (Yu Jun-sang - Nightmare, Tell Me Something) is also single and encourages his friend to take the trip by going along with him. Arriving in Uzbekistan, Hee-chul's Casanova facade helps him initially but eventually he begins to believe his lies and loses what he could have had, while Man-taek's pathological insecurities around women make him quite undesirable. Man-taek's translator, Kim Lara (Soo Ae) realizes her work is cut out for her and the extreme pressure from her boss doesn't make turning Man-taek into an acceptable mate all that much easier.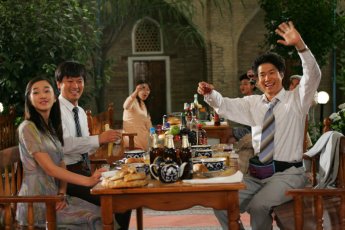 Now, if whatever sound you make inside your head whenever someone says something surprising erupted reflexively when I mentioned Korean-Uzbeks, the film lays out the history around that divergence in the Korean diaspora in an expository moment. And since I didn't write all that history down when I saw it during the press screening at PIFF, I'll leave it to the film to explain how this significant number of Koreans ended up in this part of Central Asia. I'll just say that it does not have to do with the "1.5 generation" of the late 80's and early 90's. It has a much longer history than that. Placing this film in Uzbekistan is one of the significant achievements of this film. Completing such a quality production in such a challenging locale demonstrates the rapid maturation of the South Korean film industry and the success of initiatives taken on by the industry to assist and encourage such endeavors.
Equally impressive is the fact that the film's narrative does not fully rely on cliches into which this type of film might fall. The need for these villagers to seek wives elsewhere is tied up nicely with import/export policies in South Korea and South Korea's drastic population shift to urban centers. But the plight of these men is not all the narrative is concerned with, for we also get more than a glimpse of the experiences of these Korean-Uzbek women and other women who are unfortunate to live in areas of economic desolation. The film more than hints at the economic and political dynamics involved in this type of scenario, much more than one would expect from a mainstream film.
But it is a mainstream film and it indeed entertains in the areas of comedy and melodrama with some nice circularity in themes, particularly the scenes where characters have to run away from the authorities. Jung and Yu present believable characterizations. Jung's paralysis and naivete is wonderfully paced and you just want to slap Yu, as is the intended reaction to his character. However, most impressive is Soo. I know she has had TV work well before her debut in A Family last year, but she is excellent here as the Korean-Uzbek translator/matchmaker. Only her second film, she does not deserve her 'rising star' status for she's already convinced me she's a full-fledged star, capable of whatever challenges directors throw her way.
With strong performances, an exciting international location, a pleasant narrative with enough twist and turns to avoid complete predictability, Wedding Campaign is a wonderful example of the campaign that South Korea continues to engage in concerning its film industry. It demonstrates not how South Korea is the next Hong Kong or next Hollywood, but how it is simply South Korea. The South Korean film industry is comfortable in her own skin and has nothing to prove to anyone else but herself. Kinda like the place you need to be personally to find your soul mate.      (Adam Hartzell)
Gwang-sik has never been particularly good at talking to women. While a university student, he fell hard for a woman named Yun-kyung (Lee Yo-won from Take Care of My Cat), but circumstances and his lack of nerve prevented him from ever getting close to her, despite the fact that she seemed to be interested in him. Years later Gwang-sik, who now has a small photography studio, runs into Yun-kyung again. But has anything really changed in him?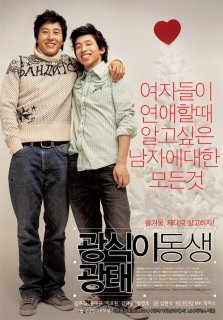 Gwang-sik has a younger brother, Gwang-tae. Gwang-tae experiences none of the problems that plague his brother. For him, picking up women is almost an unconscious habit. Getting them into bed is a piece of cake. Disposing of them afterwards is no less simple, excepting the times when they track him down and throw rocks through his window. One day, however, he meets a woman named Kyung-jae (fast-rising debut actress Kim Ah-joong) who is just a little too smart, too attractive, and too mature for him to handle. Suddenly, he feels just as confused about relationships as his brother Gwang-sik.
The first thing that struck me about When Romance Meets Destiny (Korean title: "Gwang-sik's Younger Brother Gwang-tae") was the image of the two men on the poster. Kim Joo-hyuk (Blue Swallow) and Bong Tae-gyu (A Good Lawyer's Wife) really do look like brothers. Or is it just the hairstyles?
Comedies that rely on character rather than slapstick or outlandish situations often last longer in the memory, and this film is no exception. The roles of Gwang-sik and Gwang-tae are both built from easily-recognizable types, but director/screenwriter Kim Hyun-seok (YMCA Baseball Team) has given them plenty of individuality and life. The fact that they are brothers makes them even more interesting. Actually, in some ways Kim has made the equivalent of a Korean family sitcom, similar to the legendary Soonpoong Clinic from a few years back, without the parents. It's a shrewd formula, because this is very much a young-generation film, yet we see the main characters within the context of a small family.
The film's strengths are some great dialogue, a few unexpected turns in the plot, and the bittersweet taste of its humor. More than anything, this film illustrates the power of good casting. While none of the actors qualify as a top star, each performer is so perfectly suited to his or her role, and the combination of roles are so interesting, that audiences were naturally intrigued (the film sold 2.4 million tickets).
If there was a disappointment to the movie, it was its somewhat limp ending. I'd like to give credit to the director for avoiding the conventional cop-out resolution that I was expecting in the back of mind. Yet at the same time, I couldn't help but feel much of the film's energy sapping away in the final reels, like a balloon slowly losing air. At the film's two-thirds mark I was in heaven, but by the time the ending credits rolled my feet were planted firmly back on the ground.      (Darcy Paquet)
I enjoy expensive, action-driven, high-tech blockbuster movies as much as the next person, but I also like cheap, leisurely, character-driven ones. Once you've become habituated to the eye candy of explosions, car wrecks and computer graphics, it may take a slight effort of will to get used to movies without them, but I think it's worth trying.
Ahn Seul-ki's Five Is Too Many is a good example of what I mean. Yoo Si-nae (Jo Si-nae), who's about 30, works in a tiny take-out restaurant; she lives in a shack and sends most of her wages to her family, helping to put her younger brother through school. Her boss is concerned because of new environmental rules that have just gone into effect to limit the use of disposable dishes. So when Si-nae sees a kid who's just bought some food from her taking a picture of the storefront, she runs after him. Unable to catch him, she throws a rock at him and catches him on the head, knocking him out. Rather than call the police, she carries him home.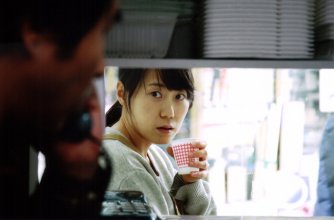 The boy, Kim Dong-kyu (Yoo Hyeong-geun) claims the blow gave him amnesia, so Si-nae lets him rest while she goes back to work. He's actually a high-school dropout who's run away from home and has been staying with a surly young couple; he's been laid off from his job at a gas station, so he was hoping to scam a reward by turning in businesses that violate the environmental laws.
Which reminds me that Five Is Too Many is also about poorer working people: after a long day at the chicken shop Si-nae goes home, not to a two-story house with dishwasher and a grand piano, but to a two-room shanty that locks with a padlock. The story takes place in winter, and these folks keep on layers of clothes when they're indoors because the heated floors don't really keep them warm.
On Si-nae's day off they eat at a restaurant where the waitress is being bullied by the owner (Kim Do-gyoon). Si-nae finally figures out Dong-kyu's game and takes him back to his mother, but then she encounters Young-hee (Choi Ka-hyeon), the bullied waitress, and on discovering that her boss hasn't paid her for five months, takes her in. Dong-kyu sneaks out of his mother's house and back to Si-nae's shack. The three of them come up with a little scheme that ruins Young-hee's boss's business and puts him out on the street, but not for long. It turns out he's secretly in love with Young-hee, so the next thing you know Si-nae has four people sleeping on her floor. And then Si-nae's forgetful but kindly boss tries to play matchmaker for her, introducing a handsome sailor named Kim Jun-seok (Kwak Tae-ho) who'd like to take Si-nae away from all this.
Writer-director Ahn piles on the complications so gently that you hardly realize what's happening until you see Si-nae sitting in her room surrounded by the crowd she's gathered, wondering how she got into this. The story winds her a little tighter before she finally snaps, resolving her problems in a very un-Korean cathartic outburst. The solution to Dong-kyu's problems follows in short order, with the help and support of his new "family." Some of the plot twists involve bursts of fantasy - where did people for whom a new jacket is a luxury get those trench coats and smoked glasses, for instance? - but they don't affect the plot in any serious way.
The story is told simply, with a camera that never moves (except when it's riding a bus), but is always well placed. The cast are all perfect for their characters, inhabiting them so naturally that I almost forgot they were acting. To tell the truth, Five Is Too Many is the kind of movie I prefer, and I wish I could see more like it. A big budget too often lets filmmakers hide behind star power and special effects when ideas have run dry. Five Is Too Many has nowhere to hide, but it doesn't need to.      (Duncan Mitchel)
Detective Choo (Shin Eun-kyung, My Wife is a Gangster) and Kim (Moon Jung-hyuk, the young killer in Bittersweet Life) are Mutt-n'-Jeff cop partners assigned to a series of baffling and frightening murders. It seems that someone is killing off junior high school kids. Autopsies reveal a capsule inside the stomach of each victim, containing a torn page from a diary of some sorts. Investigating a possible connection with the murder case at a hospital, Detective Choo runs into an old friend (Kim Yun-jin, now a bona fide American star thanks to the TV series Lost), strangely distant after all these years. As Choo and Kim investigate the whereabouts of the diary and the identity of its author, they begin to realize that there is a thread connecting the murder victims, involving the extended harassment and torture of one particular boy by his classmates.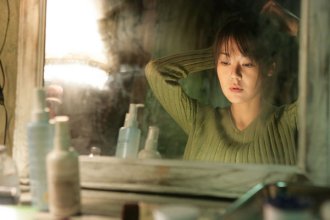 Bystanders, the second film directed by Im Kyung-soo (responsible for the intermittently funny high-concept satire Can't Live Without Robbery) from a screenplay by Ko Jung-woon, adapted for screen by Im, Lee Man-hee (Wild Card), Im Eui-young and Lee Kang-min, is a halfway decent effort gutsy enough to lay all its cards on the table in the first twenty minutes. There is little mystery to the identity of the killer, or the motive behind its murders. Director Im, writer Ko and the crew instead choose to explore the psychological and moral underpinnings of the main characters, in a sense letting the dramatis personae rather than the plot serve as the engine to push forward the narrative. Bystanders also attempts to walk the tightrope between its indictment of societal evil, in this case the so-called wangtta (used to be known as ijime, based on the Japanese word for "harassment" -- some English subtitles translate ijime/wangtta as "teasing," which is like calling cannibalism "unorthodox meat consumption") among schoolchildren, and its desire to deliver a clever mystery that fulfills all genre expectations while seemingly subverting them. Nice going, but the movie falls down splat on the floor in the final reel.
I was reminded of Paolo's comment that Marathon is yet another Korean movie that "blames everything on Mum." I still don't think Marathon is guilty of that, but I do believe Bystanders is, very much so. Let me just observe that the filmmakers abruptly insert a truly stupid coincidence in the plot, solely for the purpose of crushing one character with a Titanic-sized sense of guilt, and proceed to ape the conclusion of Seven in the most anti-maternalist manner possible. I can only guess that director Im and others perhaps wanted to point out that the culture of victimization and persecution that allow wangtta to flourish would eventually destroy even the bond shared between a mother and her son. If that's what they intended to get across, they have failed completely. What we actually have on screen is a bizarre combination of unreconstructed womb-worship and unabashed, vicious scorn toward the mothers who could not "protect" their children. What the heck? If any particular social group on Planet Earth urgently needs a break from this kind of hypocritical, pseudo-moralistic claptrap, it's Korean women!
Its thriller aspect pretty much ruined by its obsession with the stupid notion of "inadequate" motherhood, Bystanders is still worth checking out mainly for the terrific performances by its two female leads. Even though some critics were annoyed with Shin Eun-kyung's foul-mouthed, uncouth female cop, I am willing to defend her portrayal here. Sure, her tough cop routine is wildly exaggerated, even cartoonish, but she does know how to cuss like a real person and throw a punch. Shin manages to avoid the disgusting "I may act like a thug but inside I am a marshmallow" cheap sentimentalism that pervades Korean female roles like this.
Kim Yun-jin is marvelous in a role that, again, would have been unbearably sappy or gratingly self-absorbed had it been played by a less focused and versatile actress. She is never clammy when holding back tears, is never bug-eyed crazy when she intones her deep desire for revenge, and, amidst all the melodramatic brouhaha, calmly shows off femme fatale elegance. Kim even has a long, single-take show-stopper of a scene, where she directly faces the camera and acts out shock, despair, incredulity and the devastating grief of a mother discovering for the first time the true extent of the torment dealt out to her son. It is a tour de force performance, sending shivers down and up your spine, comparable to Angelica Huston's Greek tragedy-like breakdown that climaxes Stephen Frear's Grifters. Magnificent. For my money, Bystanders' sole claim to recognition fifteen years down the lane will be Kim Yun-jin's acting in it.      (Kyu Hyun  Kim)
The city of Busan offers up a space full of visual contrasts. Apart from a few upscale tourist districts, much of this densely-populated city consists of narrow streets flanked by drab, concrete three and four-story buildings that seem to lean over you as you walk past. The cluttered development of the city, together with the noisy crowds, create a mood that is at once intimate and oppressive. Yet move to any sort of elevation in this hilly town and you catch a glimpse of the Pacific... a vast stretch of blue that seems to promise absolute freedom and unlimited potential.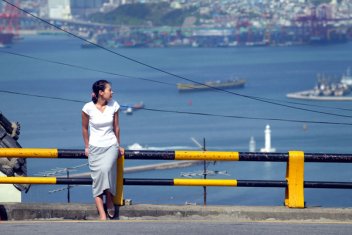 Busan offers an appropriate backdrop to the story of our heroine (let's call her Yun-jeong), a mother of two young boys who is hemmed in by debt that her husband can't pay. On the side, and in secret, she works for an illicit telephone service that provides anything from companionship to phone sex for lonely men. As her financial situation worsens, one day she comes across a confident, somewhat imposing woman who offers her a much higher-paying job: acting as a physical companion for men in bars, karaoke rooms, and occasionally in cheap motels.
When people in Korea talk about so-called 3D jobs ("dirty, dangerous, difficult") they are usually referring to factory work, but surely the sex industry qualifies too. After accepting her new job, Yun-jeong comes into contact with angry men, violent men, and men with uncomfortable demands. She is expected to consume tremendous amounts of alcohol on a nightly basis, and also risks social alienation. Yet as the story continues, it develops along interesting, parallel lines. The work itself may be oppressive, but the money it provides opens up new possibilities for Yun-jeong. She finds herself coming face-to-face with new possibilities... a potential freedom from the incessent strain of worrying about money, even freedom from her husband. (In a nice twist, the camera never shows us the face of the husband -- we only ever see him from behind) She also meets a man who, compared to her other customers, is unusually considerate.
Grounded in a realist aesthetic, Love is a Crazy Thing (with its misleadingly cheerful English title) is hardly the first Korean film to tackle this subject. For the past four decades Korean cinema has displayed a somewhat morbid fascination with stories about nice girls who end up as prostitutes. But this film by veteran director Oh Seok-geun (The 101st Proposal) -- his first feature in twelve years -- is refreshingly clear-headed and thoughtful, and avoids the predictable trajectories of movies like Im Kwon-taek's Downfallen (1997). Its open-minded approach, combined with a great cast of actors and a strong sense of place, make this largely overlooked effort worth seeking out.
This film is also special in that it represents the first opportunity for talented actress Jeon Mi-seon to take on a leading role. In the past she has largely appeared as "the hero's girlfriend" -- for example, Song Kang-ho's companion in Memories of Murder or Han Suk-kyu's ex-girlfriend in Christmas in August. Put into the spotlight, she turns in a restrained but engaging performance that draws us in, but also keeps us guessing as to her deepest, innermost feelings.      (Darcy Paquet)
Typhoon certainly seemed like a good bet to bring in the cash. It's directed by Kwak Kyung-taek, who electrified the nation in 2001 with his smash hit Friend. It stars Jang Dong-gun, who took the lead not only in Friend, which sold 8 million tickets, but also in Taegukgi (2004) which topped out at over 11 million tickets, a modern-day record. The film's central theme, like that of virtually every major blockbuster of the past five years (Taegukgi, Silmido, Welcome to Dongmakgol, JSA, Shiri), considers the relationship between North and South Koreans. The film featured location shooting in Thailand and eastern Russia to provide for a distinct backdrop, and plenty of gunfights, explosions, and special effects. It was practically a mathematical formula: 1 + 2 + 3 = millions.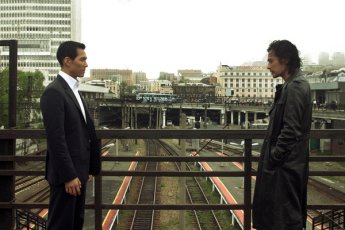 But is it a good movie? Well, here the math gets more complicated. Typhoon centers around a character called "Sin" (Jang) who leads a band of highly-trained outlaws who we first witness hijacking a ship. It soon becomes clear that this wild-eyed fanatic has major emotional issues with both North and South Korea, and he plans to resolve them with a catastrophic terrorist attack on the entire peninsula. Meanwhile, South Korea catches wind of the plot and sends a star navy lieutenant (Lee Jung-jae) to intercept Sin.
From a technical perspective, Typhoon is impressively constructed (as well it might be -- at an officially stated $15 million, the film's production budget is the highest in Korean history). Fans of the director should be warned in advance, however: rarely does the film display the personality of Kwak's previous works like Friend, Champion, or Mutt Boy. With strong appeals to patriotism, Typhoon feels at times like a recruitment video for the military. At other times, the chest-thumping male melodrama drags on for far longer than seems necessary. This film will be released in North America by DreamWorks, and they are reportedly planning to make a "US version" together with the director. Asian film fans often complain loudly (with good reason) when US distributors re-edit Asian films, but in this case a few judicious cuts and some re-worked voice overs could result in a better film.
It's instructive to compare Typhoon to another looming disaster flick like DreamWorks' The Peacemaker (1997). The latter work also features a villain whose troubled past leads him to plot a massive terrorist act, but it focuses much more on how the attack is to be carried out, rather than why. Although we are given a flashback that explains the reason he wants to destroy an American city, the film is far more concerned with the suspense derived from watching his plan develop and move frighteningly close to fruition.
Typhoon in contrast pays much more attention to the "why" than the "how", and in that sense it's more of a melodrama than an action film. The film hinges on our ability to partly empathize with the main character, but outside of the film's most effective scene -- midway through the film, when Sin is reunited with his sister (played by Lee Mi-yeon) -- we rarely see him as a living, breathing human being. This seems to be more of a problem with the screenplay than with Jang's acting, which is effective enough. Furthermore, in spending less time on the "how" of Sin's plot, there is little suspense contained in the pyrotechnic final confrontation. Ultimately, Typhoon may provide sporadic bits of entertainment, but once it ends, it fades quickly from memory.      (Darcy Paquet)
The big-budget Blue Swallow opened in December opposite King Kong and the monster hit King and the Clown, promptly disappearing from screens after collecting only 600,000 tickets (approximately 5 percent of King and the Clown's total performance). Even before its theatrical release, the biopic was mired in a controversy over its allegedly "pro-Japanese" content. One internet "reporter" accused the film of whitewashing its protagonist, the pioneering female aviator Park Kyung-won, of her collaborationist activities toward the Japanese empire. Soon accusations began to fly thick and hard, including rumors that the film was "secretly" funded by Japanese corporations and that Koizumi Matajiro, the curly-haired Japanese Prime Minister's grandfather and Minister of Communications in the late 1930s, bought Park her beloved biplane Blue Swallow as a "gift" (For those non-Koreans wondering what Koizumi has got to do with any of this, a recent internet poll asked Koreans "Who in your mind is the Great Satan?" The runaway victor was Koizumi, outdistancing Our Shining Leader Dubya. I am not making this up). Even though Park Kyung-won's biographer pointed out factual errors in these accusations, the internet became overrun by vituperative denunciations of the film and its creators. Blue Swallow's financial under-performance cannot be all blamed on the mudslingers on the internet, but the producers and director acknowledge that they badly hurt the film's box office chances.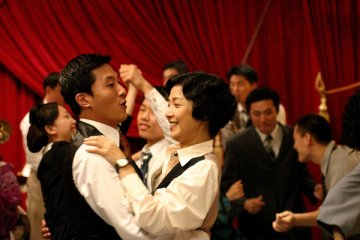 Put simply, these accusations are beyond ridiculous. Blue Swallow, as anybody whose brainpan accommodates neural networks dense enough for the operation of a cell phone can plainly see, works hard to expose the collaborationist actions of Park Kyung-won instead of whitewashing them. Neither does it hesitate to graphically illustrate the viciously authoritarian nature of the Japanese militarist government (not that Korean nationalist-Communist "heroes" can claim moral superiority in this movie, with their Hamas-like terrorist tactics). In its approach to modern Korean history, Blue Swallow keeps things non-judgmental and level-headed, without diluting the human cost involved in Park's decision to become a pioneering aviator, in an empire built on and sustained by military conquest and the regimentation of everyday life. At the same time, the film's grandly romantic and sumptuously tragic tone, at least in the first half, may throw some younger viewers for a loop. In this respect, Blue Swallow is more of an authentic Old School Anglo-American Epic than any of the actual Hollywood movies released in recent years, close to a David Lean or John Huston epic in spirit if not in execution. Whether that is the best approach to dealing with the traumatic history of Japanese colonialism is open to debate, but it certainly captures the out-of-this-world allure that the very act of commanding flying machines had for a woman like Park (Director Yoon Jong-chan astutely likens being an aviator in 1930s Korea to being an astronaut in today's world).
American studio executives who watch Blue Swallow and do not immediately think of recruiting director Yoon for their next big-budget project should go back to their bean-counting jobs in oil companies. It achieves a level of production values and technical wizardry unequalled by any Korean film I have ever seen, and by most (so-called) Hollywood blockbusters, at less than one tenth of their usual cost. I have admired some cool special effects in Taegukgi and witnessed a few amazing ones in Welcome to Dongmakgol, but Blue Swallow trumps them all. A good example is the meticulously and flawlessly conceived, edited and executed sequence of the biplane competition, which constitutes the major mid-point set piece. It is a sheer marvel, combining footages of specially constructed biplanes and CGI-rendered graphics into a heart-stopping race, culminating in Park's rapturous glimpse into the oxygen-depleted space above the clouds, filled only with light. DP Yoon Hong-shik (Tube, The Way Home), lighting director Choi Seok-jae (Sorum, The Turning Gate), CGI director Gang Jong-ik (Blood Rain, Friend, Libera Me), production designer Takeuchi Koichi and editors Ham Seong-won and Kim Hyung-joo (This Charming Girl) all rise to the challenge posed by Director Yoon. Composer Michael Staudacher (Double Agent) contributes a richly melodic, grandiosely symphonic score, a bit marred by the annoying intrusion of classical chestnuts.
Jang Jin-young, whose best film work was her riveting turn as a battered housewife in Yoon's Sorum (2001), does her best in the tough role of Park Kyung-won. But we cannot quite shake the feeling that Park's character is not fully fleshed out. We are perhaps spoiled by the likes of Martin Scorsese and expect more texture and nuance in the psychological portrayal of a protagonist in a biopic. In the end, we do not make much progress in understanding Park's desire to transcend her earthbound existence. A somewhat embarrassing prologue with Park as a little girl imagining levitating ninjas is no help. On the other hand, Kim Joo-hyuk (who previously teamed up with Jang in the delightful Singles) as Park's partner Ji-hyuk convincingly essays an upper-class Korean man, raised as a well-educated Japanese and basically comfortable in that garb, and yet haunted by the shadow of colonial reality, threatening to erupt and dismantle his identity. For me, the film's emotional highlight is reached when Ji-hyuk, betrayed by his adopted "fatherland," Japan, still encourages Park to "sell out" to the Japanese military, so as not to lose the once-in-a-lifetime chance for a long-distance flight. He whispers, "Korea hasn't done anything for you either." I confess to having cried my eyeballs out during this scene, so much did I identify with Ji-hyuk's despair, defiance and love for Park. Korean-speaking Japanese actress Fueki Yuko and the amazingly pretty Han Jee-min (Daejanggeum), as fellow women who oscillate between antagonism and friendship toward Park, and Nakamura Toru (2009 Lost Memories) as a sympathetic flight school instructor provide solid supports.
Blue Swallow is not a rollicking fun picture that passes from your memory one day after you have seen it. It is a challenging film that dares to buckle the unreflective nationalism of mainstream Korean culture and to show us characters who attempted to live as individuals pursuing their dreams, in a cruel, hypocritical world that eventually crushed their puny hopes in the name of ethnos/nation (minjok) and empire. Was Park Kyung-won a worthy subject for a big-budget opus that consumed the lives of all these talented Korean filmmakers for three years? You bet your Dae~ hanminguk red shirt it was, pal. If you think a quixotic, insubordinate British soldier named T. E. Lawrence, deluded that he could become an Arab, was fit material for one of the greatest screen epics ever made, then Park's story is certainly a worthy subject for Blue Swallow, a sincere and intelligent movie whose honor and reputation must be rehabilitated.      (Kyu Hyun  Kim)
The closing days of 2005 saw the debut of a rather different sort of Korean blockbuster.  King and the Clown, with its lack of star casting, its period setting, its focus on the traditional arts, and an obvious gay subtext, did not seem to fit the mold of an event film like Tae Guk Gi or JSA. Yet despite screening at the same time as big budget films Typhoon, Blue Swallow and King Kong, this was the movie that got young viewers excited and talking during the winter vacation. It seems there are two stories to tell about King and the Clown: the story of the film itself, which though not a masterpiece represents an interesting and engaging take on a creative subject; and the account of how and why this film turned into a popular phenomenon -- a story that can tell us interesting things about the Korean audience.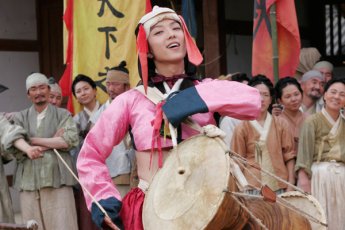 The film, by director Lee Jun-ik (Once Upon a Time in a Battlefield) focuses on a pair of clowns who perform comic plays, songs, and acrobatic tricks for aristocrats or commoners during the Chosun Dynasty. Jangsaeng, played by Gam Woo-sung (Spider Forest), possesses a disarming self-confidence and disrespect for authority that seems likely to get him into trouble one day. Konggil, portrayed by Lee Joon-ki (Flying Boys), plays the woman to Jangsaeng's man in the comic skits they perform. Konggil also possesses a certain self-confidence and grace that turns him into an object of fascination and desire for the pair's aristocratic patrons (not to mention modern-day Korean schoolgirls). In contrast to his later relationship with the insane King Yonsan, romantic feelings between Konggil and Jangseung are strongly implied, but never stated explicitly.
After the two arrive in the capital Seoul (or Hanyang, as it is called at the time), the entrepreneurial Jangseung hits upon the idea of performing a skit that satirizes the king and his famous concubine Noksu. The somewhat lewd and hilarious parody brings them quick fame and piles of cash, but before long it lands them in chains at the feet of the king himself.
Like Welcome to Dongmakgol and Memories of Murder before it, King and the Clown is based on a local play (titled Yi), and the film makes good use of its source's rich narrative material. Although the second half, centered in the palace, lacks the energy of the first, the slower pace is not inappropriate given the film's darkening tone. Jeong Jin-young (Hi, Dharma) is quite interesting as King Yonsan, one of Korea's most famous and notorious monarchs who possessed concentrated power but lacked the sanity to use it effectively. Apart from a well-formed plot, however, the film's real highlight is the play-acting by the two clowns. Both actors are mesmerising in their verbal sparring and their enthusiasm for performing, and one wishes there were even more of these scenes to enjoy.
If King and the Clown had possessed a visual and cinematic sophistication to match the skills of its actors, then it may have emerged as a breakout international hit, like an earthy version of Chen Kaige's Farewell My Concubine (a film with clear plot parallels, that King seems to reference in a parody of Chinese opera in the second half). Alas, Lee's direction is capable but rather plain in a visual sense, despite the colorful costumes and set.
The original Korean title of this film is "The King's Man", which references much more directly the erotic current underlying this film. And indeed it is Lee Joon-ki as the King's man who is credited with enabling this film to sell 10 million tickets. Virtually unknown before the film's debut -- although his simultaneous appearance in the TV drama My Girl gave his popularity a twofold boost -- Lee has become an instant sensation, a perfect example of a film creating its own star power. (Supposedly Jang Hyuk was originally cast in this role, until he was shipped off to the army after being found to have illegally dodged his military duty)  Amidst Lee's burgeoning popularity, news stories have proliferated about how teenage Korean girls are supposedly less interested in muscular, alpha male types compared to adrogynous or outright feminine-looking boys such as Lee or Kang Dong-won (Duelist).
Yet it's also notable that a society which is commonly believed to be strongly homophobic has so embraced a film that -- let's face it -- contains a highly charged if largely implied homoerotic tone. This is not because attitudes and prejudices have changed overnight, rather it seems that the filmmakers have been extremely skillful in their portrayal of Konggil. Like many other instances of discrimination in modern-day Korea, aesthetics or appearance can sometimes write over prejudicial, ideological attitudes. This may not represent any progressive advance, but it wouldn't surprise me if many young men who saw this film with their girlfriends spent time thinking about their inner reaction to Konggil.      (Darcy Paquet)