2007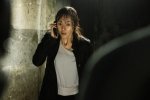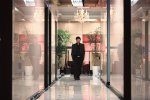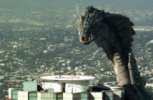 "Seven Days",  "Secret Sunshine",  "The Show Must Go On",  "D-War"

   A sense of gloom covered Korean cinema in the year 2007, with fewer strong films than in previous years, local audiences beginning to cool on Korean film, exports showing a continued decline, and the film industry suffering through a recession of sorts. The first half of the year was particularly tough, with hardly any Korean films stirring up any excitement among viewers. The one bright point was Lee Chang-dong's fourth feature Secret Sunshine, which earned a Best Actress award at the Cannes Film Festival for the fearless performance of its lead Jeon Do-yeon. Although long considered one of Korea's top actors by the local press, this was the first opportunity for Jeon to really shine in an international spotlight. The film itself too was widely praised, and for most Korean critics it represents sort of an obvious choice for the year's best feature.
Two blockbusters punctuated the middle part of the year. May 18, based on the infamous Gwangju Uprising of 1980, took the same sort of blockbuster approach to history ushered in by Tae Guk Gi and Silmido in 2004. The film ended up with a massive 7.3 million tickets sold. Even bigger was Shim Hyung-rae's English-language monster movie D-War, shot in Los Angeles with American actors and a mostly American crew. Although to international viewers it may look like any other really bad Hollywood B-movie, for many Korean viewers it became a source of national pride, since former comedian Shim Hyung-rae was the writer/director, the digital effects were all done in Korea, and the song "Arirang" is played at the end of the film. Critics who trashed the film in the Korean press for its obvious faults (myself included!) were subjected to the online wrath of a small group of passionate fans. Later, the film flopped in its US theatrical release, though by some accounts it is doing better on DVD.
The latter part of the year might be considered a recovery of sorts, although producers and investors continued to fret about sinking profitability. Comic book adaptation Le Grand Chef sold over three million tickets, though it might have been able to sell more if it had been better directed. Meanwhile thriller Seven Days emerged as a true word of mouth hit, boosted by the fast tempo of its story and an electric performance from Kim Yun-jin. Independently-produced films also injected a bit of energy into the autumn and winter, although perhaps not to the same degree as in 2006. Milky Way Liberation Front, in particular, seemed to win over a large number of critics with its quirky charms. Nonetheless, year-end statistics showed that Korean films only accounted for a little over half of ticket sales in 2007 -- its lowest level since 2002. Clearly, the Korean film industry was in need of a boost in 2008.
     Reviewed below:    The Old Garden (Jan 4)  --  Before the Summer Passes Away (Jan 18)  --  Pruning the Grapevine (Feb 22)  --  Beautiful Sunday (Mar 29)  --  The Show Must Go On (Apr 5)  --  Paradise Murdered (Apr 12)  --  Driving With My Wife's Lover (Apr 26)  --  Bunt (Apr 26)  --  Secret Sunshine (May 23)  --  The Evil Twin (May 23)  --  Hwang Jin-yi (Jun 6)  --  The Wonder Years (Jun 14)  --  Never Forever (Jun 21)  --  Black House (Jun 21)  --  The Cut (Jul 11)  --  Muoi (Jul 25)  --  D-War (Aug 1)  --  Epitaph (Aug 1)  --  HERs (Aug 2)  --  Wide Awake (Aug 8)  --  Someone Behind You (Aug 22)  --  The Happy Life (Sep 12)  --  Happiness (Oct 3)  --  Resurrection of the Butterfly (Oct 11)  --  Going by the Book (Oct 18)  --  Shadows in the Palace (Oct 18)  --  M (Oct 25)  --  Desert Dream (Nov 8)  --  Fantastic Parasuicides (Nov 8)  --  Seven Days (Nov 14)  --  Our Town (Nov 29)  --  Rainbow Eyes (Dec 27)  --  Hansel and Gretel (Dec 27).
The Best Selling Films of 2007 

| | Korean Films | Nationwide | Seoul | Release | Weeks |
| --- | --- | --- | --- | --- | --- |
| 1 | D-War | 8,426,973 | 2,098,438 | Aug 1 | 8 |
| 2 | May 18 | 7,307,993 | 2,009,666 | Jul 25 | 8 |
| 3 | Voice of a Murderer | 3,143,247 | 826,287 | Feb 1 | 4 |
| 4 | Le Grand Chef | 3,037,690 | 913,989 | Nov 1 | 7 |
| 5 | Miracle on 1st Street | 2,750,457 | 697,439 | Feb 14 | 5 |
| 6 | Paradise Murdered | 2,259,511 | 647,717 | Apr 12 | 6 |
| 7 | Going by the Book | 2,190,250 | 672,381 | Oct 18 | 6 |
| 8 | Love | 2,123,815 | 547,926 | Sep 19 | 4 |
| 9 | Seven Days | 2,096,137 | 703,325 | Nov 14 | 6 |
| 10 | Sex is Zero 2 | 1,925,504* | n/a | Dec 13 | 4 |
| | All Films | Nationwide | Seoul | Release | Weeks |
| --- | --- | --- | --- | --- | --- |
| 1 | D-War (Korea) | 8,426,973 | 2,098,438 | Aug 1 | 8 |
| 2 | Transformers (US) | 7,440,531 | 2,300,866 | Jun 28 | 4 |
| 3 | May 18 (Korea) | 7,307,993 | 2,009,666 | Jul 25 | 8 |
| 4 | Pirates of the Caribbean 3 (US) | 4,966,571 | 1,481,077 | May 23 | 7 |
| 5 | Spider-Man 3 (US) | 4,935,660 | 1,444,270 | May 1 | 6 |
| 6 | Harry Potter 5 (US-UK) | 3,475,000 | 1,134,747 | Jul 11 | 4 |
| 7 | Die Hard 4 (US) | 3,380,800 | 990,440 | Jul 17 | 4 |
| 8 | Voice of a Murderer (Korea) | 3,143,247 | 826,287 | Feb 1 | 4 |
| 9 | Le Grand Chef (Korea) | 3,037,690 | 913,989 | Nov 1 | 7 |
| 10 | 300 (US) | 2,929,400 | 1,076,005 | Mar 14 | 6 |
* Includes tickets sold in 2008.  Source: Korean Film Council.


Seoul population: 10.42 million
Nationwide population: 49.1 million

Market share:   Korean 50.8%, Imports 49.2% (nationwide)
Films released:   Korean 112, Imported 280
Total admissions:   158.8 million
Number of screens:   2,058 (end of 2007)
Exchange rate (2007):   935 won/US dollar
Average ticket price:   6247won
Exports to other countries:   US$12,283,339 (Japan: 27%)
Average budget:   3.7bn won including 1.2bn p&a spend

A socialist student activist named Hyun-woo and his colleagues are on the run from the police in the months after the Gwangju Massacre. Showing themselves in Seoul would surely result in their capture and arbitrary prosecution on some trumped-up charge, so they split up and go into hiding, with Hyun-woo being put up in a remote cabin by a woman named Yoon-hee. Yoon-hee is more than hospitable, and very soon the two are sharing a bed and falling in love. But in this dark era in Korea's history, politics and the state not only limit their freedoms, but ultimately push into their private lives as well.
An unusual mix of politics and melodrama that ranges from 1980 up until the present day, The Old Garden represents a collaboration between two generations of anti-authoritarian artists: young director Im Sang-soo, known for his filmmaking talent and taste for controversy; and novelist Hwang Seok-young, a prizewinning author who spent the 1980s in exile and then served five years in prison in the 1990s for an unauthorized visit to North Korea.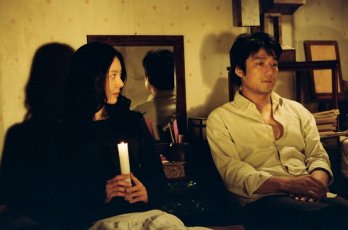 Im's adaptation of Hwang's novel of the same name boasts some very strong casting, with Ji Jin-hee maintaining a nice air of unpredictability around the character of Hyun-woo, and Yeom Jung-ah being given the best opportunity to showcase her acting abilities since A Tale of Two Sisters. The depth of talent in the large cast of supporting characters, many of whom are Im regulars, is also impressive.
The film as a whole has been warmly received by local critics, but it has generated some negative reviews abroad, and its festival career has not matched that of its predecessor The President's Last Bang. Im admits to embracing a more mainstream archetype in this film, which may partly account for its mis-matched reception, but there are other issues here as well.
Director Im's rebel streak -- which has given us bold sexual talk in Girls Night Out, teenage delinquency in Tears, family scandal in A Good Lawyer's Wife and political intrigue in The President's Last Bang -- manifests itself here in quieter ways: in the cat-who's-eaten-the-goldfish sparkle of Hyun-woo's eyes, or in the way the director toys with viewer expectations and sets up striking but awkward contrasts in mood. True to form, the narrative is also spiced with sudden eruptions of violence that you really feel in the pit of your stomach. There's one sickly disturbing and heartbreaking scene in particular that viewers won't be able to shake from their memory, even if they try to.
It may be presumptuous of me to say this, with my imperfect knowledge of Korean, but there's a real elegance to the dialogue in The Old Garden that one may not feel when watching the film in translation. Every character in the film speaks with his or her own, absolutely unique rhythms and inflections, and so there's a pleasure in hearing characters interact that goes beyond the words themselves. In terms of the narrative, Im is also quite graceful in the way he leaps forward and backward in time, only touching down on what is essential to the characters' memories.
Yet despite all its strengths, the film began to lose me as it moved towards its conclusion. As it progresses, The Old Garden becomes steadily more self-conscious and obvious about its own creativity. It's as if at times it steps back to admire itself. From a logical or analytical standpoint, this admittedly makes for a more complex and interesting work. Its refusal to provide cathartic release is also admirable, given that the film bills itself as a melodrama. But there is a magic in the first half -- a sense of everything clicking together in harmony -- that evaporates in the latter reels, and I don't think this was the filmmaker's intention. I still like the film, and consider it a valuable addition to Korean film culture, but thinking back on it produces in me a twang of regret.      (Darcy Paquet)

    Before the Summer Passes Away
Perhaps it's because So-yeon took the same trip I did to attend the 11th edition of PIFF, from Seoul to Busan via the bullet train, and even stopped in at the same perfume/cologne store I did that ennabled me to relate so well with Sung Ji-hae's debut film, Before the Summer Passes Away. Or perhaps it's because I've had recent conversations with friends about desiring that person who, in all intense intents and purposes, is wrong for you. Because Sung's debut explores that very conundrum with a refusal to victimize or punish the woman who, for a summer while, chooses the bad man.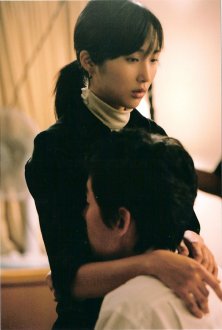 So-yeon (Kim Bo-kyung) is taking a break from studying in France and juggling two men at home in the interim. Min-hwan (Lee Hyun-woo) is the man for whom she'll reschedule at the last moment, the man for whom she'll lie to rearrange those plans and to keep their affair from negatively impacting his position as a diplomat. Hyun-jae (Kwon Min) is the 'nice guy' who waits for her, opening up his days for whenever she can slip in time for him. Without demanding caricatures of her characters, Sung (who also wrote the screenplay) has created complex emotions within each one. So-yeon behaves differently when with Min-hwan and when with Hyun-jae. She is malleable in Min-hwan's hands and does the folding and molding of Hyun-jae. But it's not as if she is 'two different people'. Both these ways of being are a part of her. She is vulnerable to being manipulated and being the manipulator.
Lover Min-hwan is as diplomatic in his romantic relations as he is in his job. Yes, he's an ass, but he's not out of control. He's in control, presenting an understanding about how 'comforting' a wrong partner such as he might be. To me he's paternalistic, but just like some guys like Jae-moon in My Friend & His Wife want to be mothered, the fatherly instructions passed on by Min-hwan can be desirable by some. And as much as I hate his paternalism, his advice to So-yeon as she leaves for Paris is, well, good advice, which is what's so frustrating about this particular type of bad guy.
The 'nice guy' Hyun-jae does all the Mr. Right things. These behaviors, and his beauty, impress So-yeon's friend who mentions again and again how she has such an 'eye for men'. At least this is what she says in between her bickering with her husband. So-yeon knows Hyun-jae is a nice guy and that her friend is correct in her evaluation of Hyun-jae, but her friend is also wrong. Those who claim she can't see can't see that Hyun-jae just doesn't work for who So-yeon is right now regardless how nice he is. Eventually, So-yeon will hopefully see this mean streak in her as what it is, a sign that either something in the relationship needs to be addressed or she needs to close that chapter on the relationship.
And I want to close this chapter on another important South Korean film for me by coming to So-yeon's statement about what is and isn't "Korean" that caused such laughter to arise in the screening I caught at PIFF. The actual phrase is yelled at Hyun-jae who thinks he's doing the right thing by accompanying her to see her off at the airport. It was translated as roughly 'It's so Korean dropping off at the airport! I need time alone to reflect!' This dialogue is an example of much of the dialogue in Before the Summer Passes Away, you are ambivalent with it like you are the characters. First there's the emotion behind it. She doesn't want Hyun-jae there because he'll ruin her replanned plans, causing her to replan yet again, to lie yet again. So she lies to avoid yet another lie. And it is this practice of lying that one hopes she will address during her moments of reflection. Hopefully she will become aware that in such a practice of lying she isn't lying for Min-hwan, but lying for herself. Or better yet, she is lying to herself. (One of her more interesting lies is to say she's "Korean-American" in order to acquire morning-after pills from a pharmacist.) Still, saying dropping off at the airport is 'so Korean' speaks a truth that resonated with Koreans in the audience at Busan. And yet by having the character elaborate that she needs time alone to reflect, Sung underscores for me why I have kept my focus on South Korean film.
It is exactly these moments alone with the characters that allow for reflection on my life, how it affects those around me, and how their lives affect mine. The coda at the end of this film was perfect for me. Like So-yeon, I was alone in a coffeehouse writing this first draft. Summer loves are not meant to last. Their interim status frees them up to be something else, tests for ourselves to see what it is we really want out of our partners, to realize how we act and react with various types of partners. Regardless of the less than healthy decisions So-yeon has made, she is treated like an adult in Sung's hands, allowed to make her own mistakes. She is permitted the adult space to realize she is both strong and weak. She's a liar for now, but the truth isn't very far away.       (Adam Hartzell)

    Pruning the Grapevine
Soo-hyun (Seo Jang-won, The Unforgiven), a Catholic seminary student, is going through a personal crisis. About to take the vow of life-long celibacy, he has a bad break-up with his girlfriend Soo-ah (Lee Min-jung, Someone Special). He confesses to the dean that he wishes to leave the seminary, but the latter instead assigns him to a monastery in a remote countryside, supervised by the terse but warm-hearted Father Moon (Ki Joo-bong). He adjusts well to the austere monastic life, until one day he runs into Helena, a young nun who is a dead ringer for Su-ah (Lee Min-jung again).
Pruning the Grapevine is the third film directed by the Russia-educated Min Boung-hun. His previous feature films, Flight of the Bee (1999) and Let's Not Cry (2002), were set in Tajikistan and Uzbekistan, respectively, and were made with a local cast. This is the first time Min has directed a Korean cast with a screenplay written in Korean language (authored by the director and Yoo Dong-shik).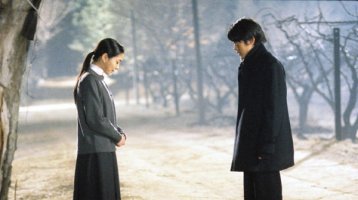 Grapevine is an overwhelmingly sincere film, well-mannered and respectful, that takes its subject, the quest for genuine faith in God, absolutely seriously. It rivals Secret Sunshine in its thorough immersion in the Christian Weltanschauung, so much so that non-Korean viewers who tend to think of, say, Spring, Summer..., festooned with the signs of chicly Orientalist, mock-Buddhist "spirituality," as representative of Korean cinema may well ask in befuddlement, "What is Korean about this movie?" The truth of the matter is that Korean cinema has a long tradition of Christian-themed films, and Grapevine compares favorably with the established canons in this lineage, such as Yu Hyun-mok's Son of Man (1980) and Kim Hyun-myung's Agatha (1984). I might add, too, that Catholicism has been around in Korea for 230 years and has produced 103 officially canonized saints: if Catholicism is not "Korean" then the pork-potato stew accompanied by shots of soju is sure as heck not Korean either. (Look up since when Koreans started eating potatoes)
Viewers who cannot quite accept the theological premise of the film might still be drawn in by Min's astute and patient directorial guidance that keeps the narrative humming, albeit on a low octave. He eschews overt dramatic gestures or button-pushing tactics but all the same extracts superbly nuanced performances out of not only the young leads but also veteran Ki Joo-bong, who invests Father Moon with his customary endearing qualities as an archetypical Korean patriarch as well as a measure of contemplative wisdom. Obviously an unassuming low-budget production, Grapevine still features strikingly beautiful cinematography by a team of young camera-men (Kim Jeong-won, Kim Jae-gwang, Lee Byung-hoon and others), particularly impressive in its use of sunlight.
Without giving anything away, I can report that the mystery of Soo-ah's Doppelgänger is resolved through the display of a kind of karmic symmetry, too strange to be a coincidence, too natural to be a deliberate act. (It is allegedly inspired by a similar true incident that took place in Armenia and was witnessed first-hand by the director) Has Soo-hyun just witnessed a miracle? Maybe. Whatever his interpretation of this experience may be, the film suggests, he is now happy with the knowledge that his faith has been tested and proven to be real.
Pruning the Grapevine, completely indifferent to the thematic obsessions and consumer fads that dominate mainstream Korean cinema today, is a richly rewarding film to open-minded viewers, dramatically powerful and authentically spiritual. I can hardly wait for Min Boung-hun's next project, supposedly a taboo-breaking love story, and only hope that we get to see it before 2011.      (Kyu Hyun  Kim)

    Beautiful Sunday
Jin Kwang-kyo's debut Beautiful Sunday tells two stories to tell one story. First we meet our police detective Kang (Park Yong-woo) an obviously troubled man, who has found himself in the predicament of sacrificing ethics in order to finagle the extra cash he needs to pay for his wife's rising medical bills. He reduces charges and siphons off evidence in collusion with crime syndicates for a price, financial and moral. We meet him at a time when he seems to have become aware that the excruciatingly existential price is no longer worth the financial gain. Reassigned to the case of a serial rapist, we learn that his base moral crisis has taken a toll on his body in the forms of alcoholism and insomnia.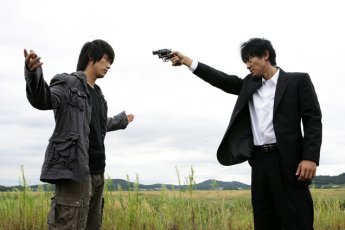 The other story nestled in is the possible subject in the serial rape case. A young, handsome law student named Min-woo (Namgung Min ?who played the film director in A Dirty Carnival) appears to suffer from a debilitating awkwardness around people. We discover that he is obsessed with a woman named Su-yeon (Min Ji-hye) in his neighborhood, a woman he eventually rapes. A few years following that incident, he meets up with her again. Able to hide his identity as the perpetrator of his horrible violation of her, he eventually schemes -- even though his character might be oblivious to this fact, he is in fact conniving -- her into trusting him to the point where she agrees to marry him.
This is not an easy film to watch due to its content. But as a debut, Beautiful Sunday shows tremendous promise, particularly demonstrated in Min-woo's storyline. Jin maneuvers the camera around Min-woo and his victim to stimulate disturbance in the audience. This is not a 'love at first sight' point of view. There is clearly something wrong with Min-woo's interest. His surveillance is not innocent in a late-bloomer-at-love kind of way, where such ineptness would be endearing. His tactics hint early on as those of a stalker. And it is Jin's choice to hint as opposed to bludgeon, that is so powerful here. When Min-woo finally announces himself to Su-yeon, we are as frightened as she is. Equally adept at arousing discomfort is the dialogue, at least as it is translated into English, demonstrating Min-woo's asocial leanings. One visit to the bookstore at which his former-victim/future-wife works is to make copies because his "office is down", that is, the copier at his office is down. An earlier visit had him telling Su-yeon ?'telling' in that Min-woo revealed a great deal about the unstable mind steeped inside, 'If you haven't done it yet, we can do it'. When asked for clarification, he claims the ambiguous antecedent is 'dinner'. All this leads up to the horrifying reveal we experience later. And continuing with this subtlety, Director Jin reveals his skills as a director by making this plot reveal truly terrifying without the assistance of violent graphics. Director Jin merely works from the violent memories he's placed in his audience and the unsuspecting character.
There's a 'twist' involved in the plot that I won't go into, but most will be able to pick up on it early within the film. Emotions of guilt and responsibility abound in our characters and our sympathies are clearly complicated by the narrative. Detective Kang and Min-woo are not likeable characters, but they are not cliched in their unlike-ability. I can't quite place why Beautiful Sunday is titled as it is. (And the Korean title provides no illumination since it's merely a Hangul phoneticization, or as I like to say, the Hangulification, of the English title.) And I'm sure once I've finally gotten a chance to see more 2007 films, I won't be able to place it amongst the best. But Beautiful Sunday has encouraged me to watch out for Jin Kwang-kyo in the future.       (Adam Hartzell)

    The Show Must Go On
Kang In-gu is an ordinary father and husband, at least in his own eyes. He worries about his estranged teenage daughter, who is doing poorly at school. He struggles to earn money, in the hopes of moving his family out of their drab apartment with its awful plumbing into a bigger home. Nonetheless, In-gu's profession -- he is a gangster -- ensures that most people would view him as anything but ordinary. Indeed, there are more than a few people who want to kill him.
Yet another Korean film that toys with genre, The Show Must Go On follows In-gu, played brilliantly by Song Kang-ho, through a series of ordinary and not-so-ordinary days. What we see is not particularly glamorous -- In-gu's work looks tedious and ugly, his disagreements with colleagues and rivals are petty. Nonetheless it is a means of bringing home the cash. When a crisis at work leads to disaster at home, however, he faces the prospect of losing everything, all at once.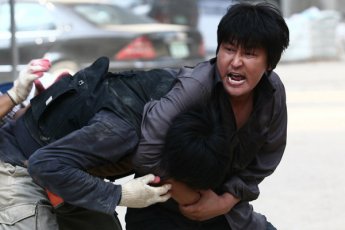 In his debut feature Rules of Dating, director Han Jae-rim transformed a relationship drama into something unexpectedly real and frank, while also exploring issues of power, gender and sexual harassment. There was an underlying tension in that film -- sexual, moral, aesthetic -- that propelled it forward. In the gangster film The Show Must Go On, it's not so much tension as a sense of irony. In the process of bringing In-gu down to a very human level, we find many of our expectations overturned and our viewer loyalties thrown off-balance.
In-gu's actions are familiar to us from any number of previous gangster films: he uses crude violence to force a hostage to sign a contract, he bribes people in positions of power, and calls in a group of stick-wielding thugs to break up a protest by striking workers. However, what works so smoothly in other gangster movies only seems to bring on further complications and embarrassment here. The methods are the same, but the results are slow in coming.
Most hilarious is the scene where In-gu decides to get tough with the striking construction workers -- who turn out to be at least as tough and twice as clever as the gangsters themselves (and with an attitude to match). It's perhaps the film's best showcase of Han's directorial skills: a deliciously funny, biting prologue followed by an intricately staged cauldron of chaos.
It's hard to imagine another actor in the role of In-gu -- not that it strains the imagination, it's just that Song performs it so well, it seems unfaithful to imagine anyone in his place. As usual, much of the drama and humor in his performance comes from the way he exposes his character's underlying vulnerability and incompetence, all the while covering it up with macho bluster. His role here is not as laugh-out-loud funny as in previous films like Memories of Murder (2003), The Foul King (2000) or his now-classic depiction of a gangster in No. 3 (1997), instead the jokes and quips have a pathos which sticks in the memory. The film also makes good use of character actor Oh Dal-soo as a friendly rival gangster, and of television actress Park Ji-young, who is unexpectedly good as Kang's wife.
Ultimately The Show Must Go On seems a bit noncommittal on the issue of organized crime, moving at the end to focus on In-gu's role within the family, rather than his effect on society. The conclusion itself is also more than a bit drawn out -- probably the film's greatest weakness. But it represents another memorable effort by an intriguing young director and one of Korean cinema's very top actors.      (Darcy Paquet)

    Paradise Murdered
1986. A group of men are fishing while listening to a live broadcast of the Asian Games. One of their poles snags on a big clamper, and the owner pulls on it delightedly. Splat! The decomposed head of a guy lands in the kettle where ramen noodles are boiling. The men scream their heads off. So begins the murder mystery Paradise Murdered, which was one of the surprise hits of the early summer season, selling more than 2.2 million tickets before being decimated by Spider-Man 3 and other summer blockbusters. Frankly this "funny" intro led me to expect nothing other than a usual high-concept mock-Hollywood "thriller" with bumbling cops, a lumbering sub-Michael Myers serial killer and gore galore. While clunky in certain respects, however, Paradise Murdered turns out to be a decent mystery, a rare Korean whodunit (in this case, also a whodunwhat) with the plot that actually makes sense, and good clues available for sharp viewers to put it all together before the curtain comes down.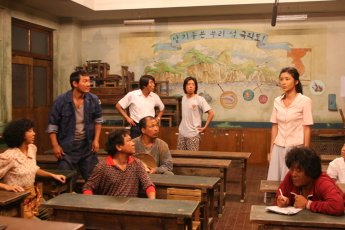 Essentially a variation on Agatha Christie's "Ten Little Indians" with a handful of supernatural red herrings thrown in, the film does a good job of playing with audience expectations. Writer-director Kim Han-min places various institutional activities of the tiny Paradise Island in the larger context of military dictatorship and political corruption, through subtle signs such as Sang-gu's arrogant behavior as a local "New Village Movement" leader, and provides the characters with realistic, non-over-the-top dialogue. The film's success owes much to the fine ensemble cast, most of whom do their best not to push their acting into the realms of exaggerated comedy or overt heroism, thus retaining the viewer's suspicion about their true motives.
The veteran Choi Joo-bong (Please Teach Me English), the always reliable Park Won-sang (R-Point, The Big Swindle) and the currently ubiquitous An Nae-sang (Marathon, Someone Behind Me, Desire) all provide solid supports as the village notables. Seong Ji-roo (unforgettable in A Good Lawyer's Wife) is appropriately menacing and pathetic in turns, although director Kim seems to largely leave him to his own devices by the slightly overcooked climax. Park Hae-il (The Host) was also an inspired choice for the ostensible protagonist, projecting fatigued compassion and cold calculation in equal measure, his obsidian pupils glistening with streaks of chilling obsession. On the other hand, the schoolteacher character played by Park Sol-mi (TV's Winter Sonata and All-in) is poorly conceived, and Park is simply awful in the role. Whenever she mouths her dialogue in that over-emphatic, strenuously earnest "I am in love with you, dammit" Hallyu-drama-beachfront-confessional style, the movie's fragile wall of believability comes crashing down. I must also say Kim Han-min is a much better writer than a director. Perhaps out of insecurities, he tries to lure the viewers in by adding some totally unnecessary John Landis-like buffoonery and comic "recreations" of the crimes in the early part.
Taken as a whole, however, Paradise Murdered is one of the best thrillers to come out of Korea in 2007, supported by solid performances by mostly talented actors and endowed with a real mystery plot and a satisfactory resolution. In these times of dreadful mutual cannibalization of ideas on a global scale, with endless remakes, retoolings, copycats, rip-offs and spin-offs colonizing not only movies but all creative media, even a little originality goes long way.      (Kyu Hyun  Kim)

    Driving With My Wife's Lover
What do you do when you suspect that your wife is having an affair? Tae-han, a shy, middle-aged man who makes a living engraving seals, decides to confront the issue as directly as he can. He leaves his seaside town and travels to Seoul where his wife's presumed lover, a taxi driver named Joong-shik, lives. Waiting for the right moment, he flags down Joong-shik's taxi and asks him for a long distance drive back to his hometown. Joong-shik agrees, and their journey begins.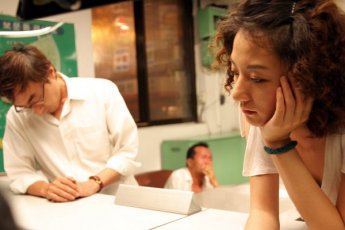 The pair are about as different as two personalities can be. Joong-shik chatters without pause, flirts with all the women he meets and believes that life is basically what you make of it. Tae-han feels disturbed and threatened by this youthful energy, particularly when it starts to get him entangled in various awkward and ridiculous situations. Soon enough, though, it sets him to thinking about his own life and marriage. Could this man and his wife really be in love? Not that such thoughts distract him from his goal of revenge -- after all, Joong-shik has a wife too.
Kim Tai-shik's debut film premiered at the 2006 Pusan International Film Festival before going on to screen at Sundance, Rotterdam, Buenos Aires, and other festivals. The creative energy of Driving With My Wife's Lover is most apparent in the first half, powered along by the lead characters' idiosyncratic quirks and various unexpected turns in the narrative. When the road trip ends and the film moves into its second half, a darker mood settles in and the film takes on a more realistic turn.
Great casting goes a long way towards making up for what is a fairly thin premise for a film. Park Kwang-jung, so memorable in his role as the poet Rimbaud in Song Neung-han's No. 3 (1997), expresses as much with his thin, lanky body as with his voice, and manages to make Tae-han sympathetic without being admirable. Jeong Bo-seok of Virgin Stripped Bare by her Bachelors hits just the right balance of charisma and deviousness in his portrayal of Joong-shik. However the brightest light in the film is Jo Eun-ji (The President's Last Bang), who plays Joong-shik's wife. Jo has an unusually lively screen presence, and we end up seeing much of the film's second half through her eyes. When she begins to tire of life and grow weary of her husband's antics, we feel ourselves being pulled down with her.
It's hard to say if Driving With My Wife's Lover achieves what it set out to do. Was I supposed to feel claustrophobic and grounded in the second half, after cruising along with the film's easy creativity in the first? If so, then I guess the film can be termed a success, but I'm not sure that will make me any more fond of it.      (Darcy Paquet)

    Bunt
Dong-gu is an eleven-year old boy with an IQ of 60. He goes to school every day, but the only task he is able to consistently fulfill is to fetch the other kids water during break time. The other students, not surprisingly, tease him to his face and mock him behind his back. But Dong-gu simply smiles back at them, and he seems to genuinely enjoy the classroom and his daily run to the outdoor faucets to fill up the water kettle.
The school seems less enthusiastic about having him around, however. On exam days, his teacher urges him to stay at home, so that he doesn't pull down the class's average score. When another student drops a frog in the water kettle and blames it on Dong-gu, parents are outraged and the principal tries to persuade Dong-gu's single father to send him to a special school. Dong-gu's poor father, who scrapes together a living by running a fried chicken restaurant, has only one wish, and that is for Dong-gu to graduate from a regular elementary school without any trouble. He refuses to budge, but Dong-gu's hopes of graduating appear to be at risk.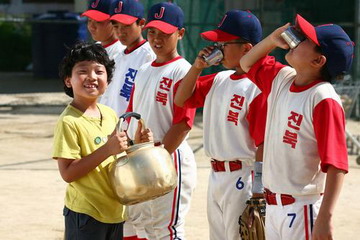 Dong-gu's father, played with eccentric charm by Jeong Jin-young (King and the Clown), has other worries too, including his landlord's intention to sell the house from under his feet. But at last a bit of good news shines through: the school's struggling baseball team, which will be disbanded if it loses any more students, has accepted Dong-gu. Although he has no understanding of the rules, Dong-gu enjoys his newfound hobby, and he will be allowed to continue attending school for as long as he remains on the team.
South Korea doesn't make many movies for kids, given the composition of its audience. However in recent years, trends in theatrical attendance have been changing, and it has become much more common to see families taking a weekend trip to the multiplex. Bunt is targeted at this audience, and it managed to sell about 400,000 tickets on its release in April 2007 (not a great score, but not bad either). Thankfully, the film provides enough vivid characterization, humor and effective storytelling to make it enjoyable for older viewers too.
Before making his debut with this film, director Park Kyu-tae was best known for being the screenwriter of the 2001 gangster comedy Hi, Dharma! He wrote the script for Bunt as well, with some assistance from screenwriting phenom Choi Seok-hwan (King and the Clown, Radio Star). The end result is surprisingly effective, even if it never attempts to transcend its genre. Choi Woo-hyuk, the child actor who plays Dong-gu, is especially convincing and natural in his role. Never pandering to the camera, it is his determined face - and that of his devoted father - which sticks in the memory after the closing credits are through.      (Darcy Paquet)

    Secret Sunshine
Look at what Secret Sunshine has done to me -- I'm quoting poetry!
"The Sea of Faith / was once, too, at the full, and round earth's shore / lay like the folds of a bright girdle furled. / But now I only hear / its melancholy, long, withdrawing roar, / retreating, to the breath / of the night wind, down the vast edges drear / and naked shingles of the world."   (From Matthew Arnold's "Dover Beach")
Victorian-era poets, tormented by doubts that life might hold no meaning, could at least turn to nature. The image of a roaring sea, withdrawing to its source and leaving behind a black void, has a pathos-filled beauty that can help to soothe the underlying pessimism. A century and a half later, director Lee Chang-dong spares us even that comfort. The natural images he employs are silent: sunlight streaming through a car window in the opening scene, and later, when even the sunshine has been discredited, an ugly square of earth to draw the film to a close.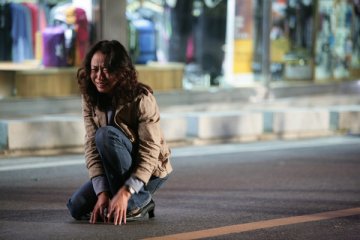 Secret Sunshine is about a woman named Shin-ae who moves with her young son from Seoul to Miryang, a nondescript little city in southeastern Korea. There, she lives through a horrible tragedy. The film is not so much about the tragedy itself, as about its aftermath.
What strikes you first about this film is how true to life it feels, even in the somewhat over-the-top second half. There is a strong realist tendency that runs through all of Korean cinema, but in Oasis and in this film (less so for Peppermint Candy and Green Fish, I'd argue) it seems to reach its peak. This may be Lee Chang-dong's greatest strength: he can create scenes that replicate "ordinary" Korean life in a way that is absolutely convincing and bereft of mannerisms. Of course, he is helped by having some of Korea's most talented actors to work with -- Song Kang-ho, for example, who plays the talkative owner of a car repair center who develops an interest in Shin-ae and ends up following her around for much of the film. Speaking in a strong accent, Song provides welcome moments of bittersweet humor but also gives us an added pair of eyes through which we can view Shin-ae.
Shin-ae is played by Jeon Do-yeon, and as I write this she is only a few hours removed from receiving the Best Actress award at Cannes. I've bowed at the Jeon Do-yeon altar in previous reviews, so I'll try to restrain myself, except to say that she thoroughly deserves the award, both for her stunning performance here and all the great work she has done in the past. Let's hope this propels her to greater stardom, and gives her the opportunity to appear in more and more high-profile films in the future.
I'm still not sure whether to call this her best performance to date. Certainly Secret Sunshine throws her talent into relief like no other film before it, with its abrupt transformations and wide emotional range (though it seems to me she's at her best in the beginning, before the tragedy strikes). From all accounts she went through hell shooting it. Jeon largely accomplishes what she does not by mimicking extreme emotions, but by living through them. Lee is also known for the somewhat heartless (some would use stronger language) manner in which he treats his actors on the set, pushing them to extremes in pursuit of the perfect shot, but also providing them with very little guidance.
For viewers too, watching this film can be an intense experience. Shin-ae suffers more than any one person should ever have to suffer in life, and we're there next to her as it happens. In some films the elegance of the filmmaking acts as a salve against the wrenching subject matter; in this case, it's more of a temporary pain killer that soon fades away. One Korean viewer noted that it was the following day when the film's impact really hit her with full force. For myself too, I found myself waking up at night after seeing this film. (I have to say, since Jamie was born I find it increasingly difficult to watch movies like this)
Considering its subject matter, the film's theme would seem to be about despair, and the process of working through that despair. Yet Lee Chang-dong is so hands-off in presenting his themes that I'm not sure this is an accurate claim. The film's slightly abrupt and, for many viewers, unsatisfying ending more or less tells its audience, "Work out the significance of these events for yourselves, I'm not going to do it." If there's any philosophy to be found in Secret Sunshine, it's a faith that, in presenting a story as close to "reality" as possible, something worthwhile will emerge. It's a belief in honesty -- honesty in filmmaking, in facing life with no illusions. It may sound like a lofty ambition, but in practice it's not much to hang onto. We traverse several circles of hell together with Shin-ae, and then emerge with empty hands.      (Darcy Paquet)

    The Evil Twin
The film is set in the Joseon Dynasty period. So-yeon (Park Shin-hye, Love Phobia), a teenage daughter of a moderately powerful yangban family, awakens from a ten-year coma, following a drowning accident that took the life of her twin sister Hyo-jin. So-yeon's mother (veteran TV actress Yang Geum-seok) is ecstatic, and aggressively orchestrates a marriage with Hyun-shik (Jae Hyuk, 3-Iron), the twin's childhood friend and So-yeon's betrothed. The village community, however, is soon plagued by mysterious deaths: So-yeon also seems to suffer from strange memory lapses and mismatched recollections of the drowning. Her childhood rival Seon-young (Han Yeo-woon) is convinced that So-yeon not only killed her own sister but is behind the recent murders as well. It is up to Hyun-shik to uncover the shocking truth about the twins' relationship...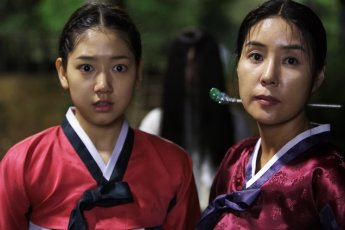 Hoo boy, did I just write "shocking truth?" Let me speculate: I venture to guess that at one point The Evil Twin was supposed to be a straightforward retelling of a traditional ghost story, usually a young virgin wronged by the Confucian family system and blamed for sins she did not commit. Alas, the only carryover from that type of classic Korean ghost story is the long-haired, white-clad visage of the vengeful spirit. Nearly everything else has been updated disastrously. The film borrows its Korean title from the extremely popular TV program, Jeonseor-eui Gohyang ("The Heartland of Myths"), virtually the only anthology horror show in '70s and '80s Korea (and recently revived with better special effects but not necessarily better teleplays), but do not expect any purposefully retro look or gently satiric take on old things-that-go-bump-in-the-night cliches.
Instead, Evil Twin is yet another lugubrious, preachy genre film that takes itself way too seriously and loses sight of its primary objective: to scare and entertain its viewers. Director-writer Kim Ji-hwan seems to think that his film has some serious moral lessons about motherly love and sibling jealousy to impart. Sorry, but no dice. The dialogue is atrocious, sub-TV drama-level stuff, the pace is as slow as a cart pulled by a grazing mule, and the occasional outbreak of para-MTV editing hustle-bustle miserably fails to camouflage the fact that the story sucks like a leech lying in a flooded rice paddy. There is zero creativity in the way the ghost is presented, too: despite her traditional Korean imprimatur, she is just another PSC (Pointless Sadako Clone), complete with the awkward, in-need-of-a-chiropractor choreography.
The young actors and TV veterans work rather well together (one of the film's few pleasures is to spot recognizable veteran faces among the cast, such as Yang and Hong Seong-min, who has a brief cameo as So-yeon's physician) but they are mostly defeated by catatonia-inducing dialogue and characterization. And what's with the verbal catfight between So-yeon and Seon-young? They talk like 8th-graders enrolled in a chi-chi South-of-River junior high arguing over who's got the cooler-looking cell phone. Park and Han are reasonably cute, and the latter has at least a chance to run around fetchingly dressed as a young man: on the other hand, Han also has to suffer the humiliation of having to act enraged while covered with open sores and black sesame seeds?Eeew, don't even ask what I am talking about. To cap it all off, the film rips off the finale of the dorky Macaulay Culkin (remember him?) vehicle The Good Son (1993) and splashes it all over the audience as if it were a big, original plot twist.
Given such enervating examples as Evil Twin, even a die-hard horror film fan like me must take the news that the 2008 summer season will be devoid of the usual glut of K-horror as a positive development. This movie is a particularly galling experience, since a simple, no-bullcrap retelling of a Tale of Two Sisters-like classic ghost story would have been many times superior to it. Why give a film a Korean title like Heartland of Myths, if you are not going to live up to the expectations it brings?      (Kyu Hyun  Kim)

    Hwang Jin-Yi
Hwang Jin-yi, who allegedly lived in mid-16th century Korea, is probably the most famous courtesan in Korean history, but aside from several works of (high-caliber) poetry and a few episodes involving her legendary wit, pride and glamour, nothing much is known about her life. This lacuna has allowed modern artists to creatively re-imagine her in many different ways. Not surprisingly, she has proven to be a popular subject for cinematic and TV adaptation, from Do Geum-bong's quasi-burlesque turn in the 1957 version, to Jang Mi-hee's prim and proud interpretation in Bae Chang-ho's 1986 take, and to the athletic and supermodel-like one embodied by Ha Ji-won in the 2006 TV drama. This latest cinematic incarnation, played by the popular TV actress Song Hye-gyo and directed by Jang Yoon-hyun (Tell Me Something, Some), is also noted for its collaboration with North Korean filmmakers, which included location shooting in the hitherto verboten regions.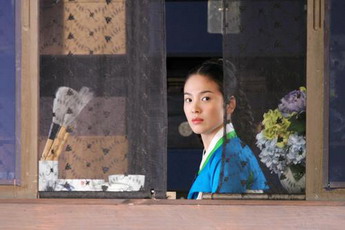 Unfortunately, Hwang Jin-Yi, while not a hideously self-righteous train-wreck like Hanbando, is still a chore to sit through. Surprisingly, the movie's problems can be reduced to essentially two issues: its incomprehensible decision to make the sub-standard (and completely fictional) character of Nomi (Yoo Ji-tae, Oldboy) into its de facto protagonist, and its terrible miscasting of Song Hye-gyo in the eponymous role. Nomi's disastrous intrusion into what should have been Hwang Jin-yi's own narrative might owe its origin to the honored North Korean writer Hong Seok-joong's novel, on which this film adaptation is based: he is clearly conceived of as a proletarian bandit-hero in the mold of Im Kkeok-jeong (Hong was the one who completed his grandfather Hong Myeong-hee's massive, unfinished novel about the famous bandit). Even then, I find it difficult to believe that Hong's source novel might have portrayed Hwang as such a passive, boring, rescue-me-I-am-only-a-woman dullard as presented here. Aside from the very occasional flashes of literary acumen and haughty attitude, this Hwang Jin-yi demonstrates little reason for anyone, a drunken yangban clientele or not, to find her enticing, much less admirable. More seriously, by making Hwang's descent into sexual servitude, her subsequent tug-of-war with the Governor of Song-do (a Jang Jin regular Ryu Seung-ryong) and her death all consequences of her (semi-) unrequited love with Nomi, Jang deprives her of agency as the protagonist in her own film. As it stands, the movie really should have been titled Nomi and His Courtesan Girlfriend.
Compounding the problem is Jang's second great mistake, i.e. casting Song Hye-gyo as Hwang Jin-yi. Song is a radiantly beautiful actress, captivating and attractive in her various TV drama roles, but her sensibility and looks are nearly totally mismatched to this role: it's like Mila Jovovich being cast in the role of Desdemona in Othello. To be fair to Song, the hopelessly lugubrious screenplay gives zero room for her to display wit, charm or any hint of joie de vivre. Indeed, it's even worse when she has to weep or swoon in despair, often in dreary slow motion: such antics merely emphasize the clumsy artifice of the melodramatic setups.
On the plus side, Hwang Jin-Yi is attractively filmed by DP Choe Young-taek (Volcano High, Hanbando) and carefully designed by art director Kim Jin-cheol and costume supervisor Jeong Jeong-eun (Red Eye, TV's Coma). The film's uniquely dark and subdued color scheme that eschews primary red and blue and envelopes the characters in shades of damson, dark olive and ashy-black has received some criticism for being too dour but I found it rather striking. Production quality is very high, and the climactic vista of Diamond Mountains is indeed breathtakingly majestic, some obvious CGI tweaking notwithstanding.
I am not sure why Hwang Jin-Yi's rather obvious problems had escaped the veteran Jang Yoon-hyun's notice: perhaps he let his better judgment slip, excited by an opportunity to closely collaborate with North Koreans and to show his film to the Northern viewers. My unsolicited opinion is that, if he had wanted to make a movie that North Korean viewers could truly enjoy, he should have made a comedy with an early '60s sensibility. It is too bad this particular telling of the famous courtesan's life ended up being the kind of highly intellectualized, deadly serious and ultimately soporific "literary" adaptation that the real-life Hwang Jin-yi would have had a laugh at the expense of.      (Kyu Hyun  Kim)

    The Wonder Years
The Wonder Years (another misguided English title—this movie's about as remindful of the popular-in-Korea, Fred-Savage-starring '80s TV series as Twyla Tharp is of Michael Flaherty in Lord of the Dance) is a debut feature from director Kim Hee-jung, an alumna of the Lodz Film School and winner of the Wide Angle Prize at PIFF for the short Once, Someday (2001). Thirteen-year-old Soo-ah (the original Korean title), played by Lee Se-young (the childhood Geum-young from Daejanggeum), is a shy, borderline-autistic girl living in a small Cholla Province town. Deeply unhappy, she believes that a popular singer Yoon Seor-yeong (Kim Yoon-ah, a real-life vocal artist) is her real mother, to the bafflement of her working Mom, Young-joo (Choo Sang-mi, A Smile, Turning Gate). When her junior high school life turns out to be more of the same, i.e. peer abuse and indifference, Soo-ah resolves to travel to Seoul and confront her real mother.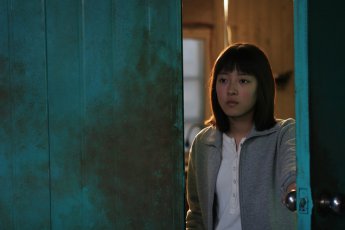 One thing Korean cinema has done rather well in the last fifteen years is its continued support for, and introduction of, female directors with strong personal visions, beginning with Lim Soon-rye (whose Forever the Moment is shaping out to be 2008's first big Korean hit), Jeong Jae-eun (The Aggressives) and Byun Young-joo (Flying Boys). Kim Hee-jung is the latest in this roster of talented Korean female directors. Her Wonder Years is a gentle, composed character study that will probably bore viewers expecting either a well-heeled, cliche-bound melodrama wherein copious amounts of tears are shed, or an adolescent phantasmagoria with surrealistic flights of fancy. The movie truly excels when director-writer Kim observes the seemingly mundane details of Soo-ah's life with a compassionate gaze, letting the girl's slouched, awkward walk or her disappointed expression at a broken VCR player -- rather than spurious narration or distracting mise en scene -- speak for the character's feelings.
It would surprise no one that Lee and Choo are two principal reasons for anyone to check out The Wonder Years. Lee Se-young's portrayal of Soo-ah is remarkable in its subtlety and restraint. It is to her (and director Kim's) credit that the latter's terse (but often amusing) responses to the efforts by the adults to "make conversation" with her never once strike us as "precocious." Choo Sang-mi, one of the most skilled and naturally talented actresses working in Korea today, is brilliant as usual, conveying, for instance, Young-joo's lifetime of remorse and pain, but also the spiritual courage mustered by her to overcome them, in the brief moment of hesitation regarding where to hang a mirror. Truth to be told, both actresses are so ridiculously beautiful that we at times have trouble seeing Soo-ah and Young-joo with the contemptuous eyes of other characters in the movie. Indeed, Lee's face positively glows whenever the camera focuses on it: she is like a Winona Ryder going on 18 trying to play Ugly Betty. When one of the characters grumbles, "Boy, not only is she ugly but?" my only possible reaction is "You need an eye exam, kid."
The Wonder Years is not without serious weaknesses. The story arc is rather predictable and ends in a disappointingly conventional resolution regarding the identity of Soo-ah's real mom. More seriously, director Kim's interpretations of Soo-ah's imaginary universe are surprisingly lackadaisical. In particular, the musical interludes, featuring Kim Yoon-ah belting out torch songs amid confetti and amber floodlights, look rather cheap and poorly choreographed. (I wish director Kim had employed some other tactic, like, say, Persepolis-like minimalist animation) While not an exciting and powerful debut feature comparable to, say, This Charming Girl or Take Care of My Cat, The Wonder Years is a solid character study with its own sense of integrity, as well as an excellent vehicle for the young actress Lee Se-young to showcase her considerable talent.      (Kyu Hyun  Kim)

    Never Forever
Korean-American Andrew and White-American (of nondescript ethnicity) Sophie are a married couple who live a life of upper-class signifiers. However, there is one sign of their class that they have been unable to produce, an adoring child. We learn that low-sperm count is the primary cause of this couple's infertility, and apparently Sophie (Vera Farmiga - The Departed) has kept this information from Andrew (David McGinness - Typhoon), which seems to be what Andrew prefers since he doesn't present himself searching for knowledge. With his subscription to the belief that lack of a child leads to lack of a reason to live, further complicated by the death of his father whom he could never present with the obligatory grandson, Sophie steps over a different ledge than her husband, deciding to access alternative pregnancy methods beyond the medical industry and beyond many peoples' morals.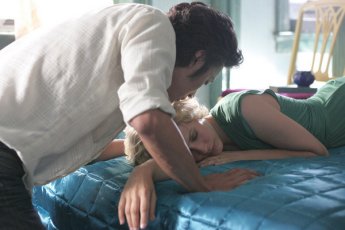 Stumbling upon Ji-hah (Ha Jeong-woo - The Unforgiven, Time), a Korean immigrant in financial straits after overstaying his visa, Sophie takes advantage of his predicament and proposes a verbal contract. For a price, she seeks his seed. What director Gina Kim presents in Never Forever is a triangle where each seeks something unspoken in the verbal contracts that brought them together. These particular unspokens later risk tearing them each apart.
Although always happy to see portrayals of non-Asian-American women involved romantically with Asian-American men since my U.S. media rarely shows me what I see on the streets of San Francisco everyday, the relationship between Sophie and Andrew stumbles in parts, particularly due to McGinnis' line delivery. (Although his character's depression might somewhat justify his flat delivery.) Their relationship is enhanced when director Kim utilizes her strengths, such as her direction of bodies. Where the delivery of lines is forced at times to get the ideas across, the delivery of bodies motioned towards and within each other clearly denote the intended passions. The placement of sound director Kim so expertly displayed in Invisible Light is here as well when we first share witness to a tryst between the wife and husband. It happens amongst the crunching of crystal beneath their feet from a broken wine glass, underscoring the undercurrent emotions of the act in which they are engaging. As if reminiscent of that disturbing sex scene in David Cronenberg's A History of Violence, this husband and wife at this moment are not making love.
One of the more interesting aspects of the film outside of the secrets that secrete their way above the surface is the presence of Christianity in the form appropriated by a subset of Korean-American churches. What's particularly fascinating is that Sophie's White subject-hood is not awkward when surrounded by 'Korean-ness' but when dropped into groups of Christians. It is actually Ji-hah's Animist methods of prayer that Sophie connects with, spiritual practices that have a longer history in Korea. As much as Korean Christianity has taken on a syncretic form that is very much its own, it is still an example of Westernization of Korean culture. Therefore, Sophie's awkward moments are arguably, and ironically, due to a Western intrusion of Christianity, not of the Korean Other. I'm not claiming what I see here is what director Kim intended. I am saying that it is what most resonates with me. The presence of this vibrant aspect of the Korean-American community also allows for a nice depiction of how networks in this particular immigrant community work. They look out for each other by connecting members of the community, such as how a pastor refers Ji-hah for a job. But they can also exclude each other, since it's this very same network that is partly responsible for Ji-hah's troubles later on.
Gina Kim's previous film, Invisible Light, is one of my favorite films. I didn't expect Never Forever to be more of the same. It's a different direction, more devoted to dialogue and a more fluid, tight story line rather than the slow breaths of holding images and emotions of Invisible Light. Of course, the forced dialogue will limit the impact Never Forever can have, but if you can let that go and simply watch the bodies move and appreciate the intricate flows from node to node of the network that makes up the Korean-American community, you just might enjoy the film in the end as I did.       (Adam Hartzell)

    Black House
A Kadokawa-CJ Entertainment co-production, Black House is based on the Japanese writer Kishi Yusuke's award-winning early hit, concerning an insurance claim adjuster who gets sucked into a terrifying web of deceit, mutilation and murder spun by a psychopath who makes Norman Bates look like Sponge Bob Squarepants. The novel has already been filmed once in 1999 by the star director Morita Yoshimitsu (Family Game, Lost Paradise), a not-bad adaptation with a rather strange, serio-comic tone featuring a bravura performance by Otake Shinobu and unusual tools of bodily harm such as a yellow bowling ball covered with glass shards. Overall, it was not a bad thriller, but apparently neither the original author nor Kadokawa honchos liked it. Realizing that they had good source material that could be exploited further, Kadokawa decided to hand the tale over to CJ and producer Yu Il-han (himself a horror writer) for a Korean take.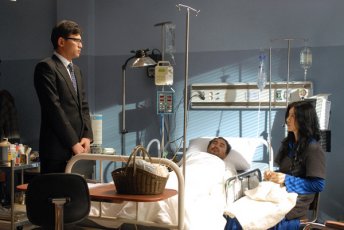 Let me get this out of the way first: as an adaptation of Kishi Yusuke, whom I am a big fan of, the Korean version Black House leaves much to be desired. Especially in its first half, the movie tastes too much like processed cheese: indeed, in some aspects it has the outlook of a Hollywood remake of an Asian genre film, with the level of gore and violence cranked up but much of the appeal of the original's characters and twisted narrative turns compromised. Lee Young-jong's screenplay invents a rather hackneyed childhood trauma for the protagonist Jun-o (which predictably gets resolved in a cliffhanger finale), while reducing one of the novel's most fascinating and complex characters, the company "enforcer" Miyoshi, into a crude thug with fondness for dental floss. Director Shin Terra, previously responsible for the ultra-low-budget sci-fi Brainwave (2006), is clearly an inventive filmmaker but has some way to go before mastering storytelling skills. Those who have not read the novel might be befuddled by sequences that are in turn confusingly presented, inadequately explained, or simply illogical (Why does the dead boy's father bite his thumb off in one scene but is shown to have chopped it off in another?). Others, such as a major scene where the protagonist discovers the hanged body of a young boy, lack both the shock value as well as the kind of phlegmatic, deliberately paced terror that we see in high-end Japanese genre literature or film.
Despite these weaknesses, however, Black House works as an effective psychological horror film, miles ahead of the usual PSC (Pointless Sadako Clone)-infected summer season drudgery. Like, say, Blood Rain, the movie's power is greatly enhanced by its superb production design (supervised by Jo Hwa-sung and others) and competent cinematography/lighting (Choe Joo-young, Fly Daddy Fly, and Lee Sung-jae, The World of Silence). The psychopath's lair, with its makeshift abattoir-operating room ambiance, smeared with blood and filth, is impressively frightening and gives the actors ample room to realistically portray their ordeals at the hands of the villain. Hwang Jeong-min, one of the most reliable character actors working in Korea today, makes for a thoroughly believable and sympathetic hero, even when he seems to function as a mouthpiece for (again) a Hollywood-style liberal faith in the essential humanity of the monster. Yoo Sun, who previously starred in the interesting misfire The Wig, was a surprise choice for the handicapped mother of the dead boy, but is very convincing as a woman with an eerie emptiness in her gaze that men mistake for numbness induced by grief or emotional exhaustion.
The film culminates in a series of rather preposterous but extremely suspenseful Grand Guignol confrontations, which, to my surprise and sigh of relief, do not lead to surreptitious "rehabilitation" of the main villain through the intrusion of melodramatic conventions. The monster remains the monster to the bitter end, and there is no sexual abuse, Freudian complex or the "unrequited desire to be loved" to explain away why it became the way it did. By honoring Kishi's pitch-dark conclusion and putting the utterly conscienceless (but not unattractive) monster at the center of the movie, Black House ultimately manages to recover much of the good will initially lost by the rather slapdash way it chose to adapt his novel.      (Kyu Hyun  Kim)

    Cadaver
Seon-hwa (Ha Ji-min, Swallow, Daejanggeum) is a new student at an elite medical school. Along with a typical bunch of slasher-flick's-potential-victim cast members, including Ki-beom the Boyfriend (O Tae-gyung), the Nerd (Soy), the Fatso (Moon Won-ju), the Slut (Chae Yun-seo) and the Weirdo (On Joo-wan), she is initiated into a harrowing dissection class, overseen by arrogant hard-butt Dr. Han (Jo Min-ki), nicknamed the Engineer. She notices an attractive cadaver with a rose tattoo on her breast, but thinks little of it, until her classmates begin to be murdered one by one. Apparently the perp is highly skilled in surgical techniques (the victims are discovered with hearts removed). Soon it is uncovered that Seon-hwa's friends are sharing a nightmare involving a really ticked-off-looking one-eyed surgeon. Convinced that the dead woman with the rose tattoo has something to do with supernatural goings-on, Seon-hwa and Ki-beom start an investigation to uncover her identity.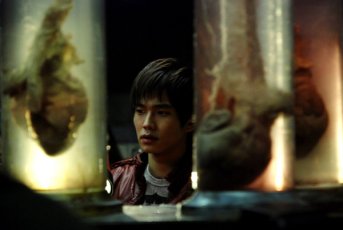 Cadaver, scripted by Jeon Sun-wook (Vampire Cop Ricky), and adapted and directed by Son Tae-woong (best known as the co-screenwriter for Bong Joon-ho's Barking Dogs Never Bite), is a fairly ambitious horror film that traverses several sub-genres: medical thriller, slasher film, ghostly horror and even a bit of Cabinet of Dr. Caligari-like psychological creep-out. Son demonstrates directorial sensibilities attuned to visual flair and economical presentation of character traits via sharp dialogue. As per recent Korean genre films, technical aspects are pretty impressive. Special makeup on the actors playing cadavers are not grossly overdone, and meticulous replicas of dissected bodies are sufficiently realistic, although not as graphic as in, say, Anatomie (2000). There are a few nimble and imaginative sequences, including the long take with swishing camera movement that captures the outbreak of psychological panic in the med school dorm, capped by an explosive fit suffered by one character, and Seon-hwa facing a dream-vision of the mysterious cadaver in broad daylight.
Unfortunately, Cadaver crashes and burns in the last third, never recovering from a "plot twist" revelation that establishes a blood relation between two seemingly antagonistic characters. The story performs several gymnastic feats of bodily contortion, until it shakes the audience's emotional investment loose like a medicated mutt would do with fleas. Yeah, we do find out what the ghost's slow gesticulations are supposed to mean, or who the heck that one-eyed surgeon is, if we are patient enough: I seriously doubt anybody would care by that point. The film's thin narrative simply cannot sustain all the things-go-bump-in-the-night stuff that also must double as clues for the viewers to piece together the "mystery" plot, which does not make any sense anyway, except on a literary-symbolic level. (To claim Cadaver has plot holes is like saying a velociraptor has really big toenails) The result is a movie that succeeds neither as a brainless spook show nor as a brain-teasing thriller. (It might have worked frankly better as a remake-slash-variant of Dr. Caligari, completely dispensing with any attempt to "rationally" explain why certain things happen to whom)
Like Antarctic Journal, (2005) another misfire with a clearly talented director at the helm, Cadaver leaves the viewers in the dust, so busy trying to spin its yarn that wrapping itself up into an inert cocoon by the last reel.      (Kyu Hyun  Kim)

    Muoi: Legend of a Portrait
Yun-hee (Jo An, Wishing Stairs), a writer who got her big break with a viciously gossipy "novel" about her party crowd, has run out of ideas. She is contacted by Seo-yeon (Cha Ye-ryun, Bloody Aria, Voice), her old friend now living in Viet Nam, and is told of a local piece of folklore involving a cursed portrait of a woman named Muoi (Anh Thu). Intrigued and more than a little desperate, Yoon-hee decides to stay with Seo-yeon to further research the story. What she does not realize is that there are creepy parallels between Muoi's tragic life and that of a certain friend of hers. Vengeance is best served cold, like a spring roll wrapped around mint leaves and fresh shrimp, no?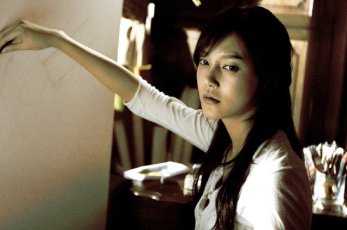 Finally Koreans, now comfortably ensconced in one of the most consumerist nations in the world, not to mention Asia, are getting themselves into making the kind of "exotic" horror-fantasy films that the British used to make about their old colonies: in this case, the exotic foreign land of choice is Viet Nam, presented as a luscious tropical paradise, overflowing with beautiful young women dressed in the magnificently figure-flattering ao dai, where a barely-out-of-her-teens Korean heiress can keep a spacious, majestic villa all to herself. Director Kim Tae-kyung, responsible for Ryung aka Ghost (2004), one of the lamest Korean horror films in recent memory, is thankfully not so all-thumbs with Muoi, which is not to say that the latter does not display that unrefined, beat-the-audience's-head with-a-blunt-object sensibility of his. Some of the gags in the movie are so artlessly done they become unintentionally hilarious or simply just annoying (How about the wallpaper that peels off with a noisome bubbling sound? When the Coen Brothers used the trick in Barton Fink, it was at least intentionally funny. Or the strangling-by-silk-scarf-caught-in-a-bike-wheel death that may or may not be a reference to Isadora Duncan?). The best part of the movie is actually the substantial flashback sequences involving Muoi's back-story, which provides the necessary frisson as well as a sense of emotional involvement, missing in the sections set in present day.
Jo An and Cha Ye-ryeon try gamely to muddle through the crudely concocted screenplay by the director and Ji Jak (Soo). Jo An is very attractive in a tomboy-ish get-up and as usual emotes with great enthusiasm and conviction. Unfortunately, her character is obviously engineered to placate internet-obsessed young girls among the viewing demographic and is about as intelligent or perceptive as a plastic bottle of Corn Whisker Tea. You certainly don't buy that she is a professional writer who gets paid for her scribbles, but then again, would you buy that from any among Korea's "internet novelists?" Ah, it must be a cultural thing: let's leave it at that. Cha Ye-ryeon comes off much better, looking decidedly otherworldly, with her cat-who-ate-your-canary-and-goldfish-too smile and preternaturally thin limbs swathed in the white ao dai, even though she is saddled with reams and reams of utterly boring expository dialogue. The Viet Namese actress Anh Thu and newcomer Hong So-hee (My Friend & His Wife) also leave strong impressions in their generally underdeveloped roles.
Muoi is a serviceable horror film with two or three effective jolts, but the real reason for any viewer to watch it to the finish is to gawk at its two incredibly beautiful lead actresses. Don't expect anything like a thoughtful, self-reflexive take on the (potentially ironic) position of Koreans now exploiting Viet Nam as an exotic land of the ghosts with unrequited love.      (Kyu Hyun  Kim)

    D-War
I could talk about the long delay of D-War's eventual release, increasing its ledger to the point of becoming the most expensive South Korean film. I could focus on director Shim Hyung-rae's intent to conquer the U.S. market with a primarily English-language film with primarily U.S. actors and how he obtained the over 2,000 screens he desired to practically guarantee a significant box office take. But ever counter-narrative, I'll focus on how D-War supports Martin Kevorkian's thesis put forth in Color Monitors: The Black Face of Technology in America.
But first, the plot. "Imoogi" is not the Korean word for 'dragon' as the title might suggest, but refers to a mythical large snake. There are good and bad Imoogi. Apparently every 500 hundred years there's a woman, the most recent incarnation being LA resident Sarah (Amanda Brooks - Flightplan), who has a spirit (called Yuh Ui Joo) that helps an Imoogi become 'celestial'. The bad Imoogi spends way more time hunting this woman than the good Imoogi and the woman has a companion, recent manifestation being Ethan (Jason Behr - TV show "Roswell"), who's supposed to protect her long enough to die instead for the good of the good Imoogi. If you don't get it, don't worry, early on it's explained to you twice and believability doesn't really matter because the film is really just a vehicle for computer animation prowess.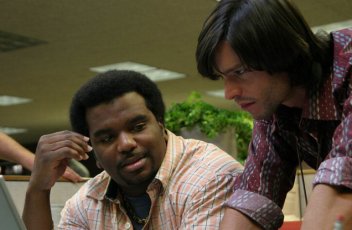 Some of the computer imagery is decent, such as the King Kong moment or the speedy, street-slithering. And such is partly responsible for the first weekend gross that put D-War at #5 in the U.S., staying in the top ten for one more week. But as for lasting impact, intriguing dialogue and well-orchestrated acting and editing would have helped, but like Sarah, such was sacrificed in order for the dragons to slide on screen. Those with whom I shared witness to the spectacle vocally cringed at much of the forced dialogue and plot propulsion. Poor pacing is the main problem. Many scenes are so quick they end up dampening the impact of the images. What should generate awe, say, when the Imoogi or the massive Atrox Army is introduced, end up uneventful. In a past life, Director Shim was a comedian, and although there are bits that could work, this same poor pacing, following a storyboard like it was a power point presentation, hinders the impact of much of the humor as well.
I'm left to look around for something in which to engage. What I found was further evidence for Kevorkian's argument about how black characters are being placed behind the computer screens of our movie screens and what this says about technology and race.
This cinematic practice has reached cliched proportions in Hollywood. It's one of those things you don't notice, but once someone like Kevorkian points it out to you, you no longer can not notice it, like the negative space generating an arrow in the FedEx logo. Die Hard, Terminator 2, Jurassic Park, Mission Impossible 2, Transformers etc., and now D-War, all cast black actors as computer operators. Although this partly represents a well-meaning effort to replace past stereotypical portrayals of blacks as ignorant with portrayals of them as highly intelligent, Kevorkian finds evidence that the black body is being placed in front of these machines to protect the white body from the contamination of technology, from the fears and anxieties spawned by technophobia.
In D-War we call him Bruce (Craig Robinson - Knocked Up). He searches for the information (touching the data), while the processing of the information (exploiting the data) is Ethan's domain. Heightening Kevorkian's argument further, Bruce's other job is driving Ms. Yuh Yi Joo and Ethan around the streets of LA. And the only time that Bruce actually freely acts on technology outside of Ethan's instruction is when he gives Ethan a gun. This is contextualized within the film as a bad choice, implying that Bruce doesn't have the capacity to exploit technology like our hero Ethan. (This questioned gift is then dropped from the plot like it's hot.)
Let me state explicitly that I am not implying here that Shim's Bruce is a consciously racist portrayal. (At least Shim doesn't have Bruce die first like Michael Bay smashes the black voice in Transformers.) The placement of the black body as a technological interface seems to me more evidence of structurally racist industry practices, audience genre demands, and a problematic genre trope than conscious politics. However, now that Kevorkian has pointed out the invisible arrow resonating in the negative space, we can't ignore it. It's up to us to change direction.
In the end, D-War is more valuable as pedagogy for globalization than as entertainment, demonstrating how the new Hollywood stereotype of the black body in the black box has returned to LA in the form of a monster movie from South Korea. Globalization is a thing of the past that is here to stay. The considerable success of D-War in South Korea, where it reached the all-time top ten of ticket sales, and its reasonable success in the U.S should have us looking at what we want, and don't want, to keep traveling to and fro our respective lands.       (Adam Hartzell)

    Epitaph
An old doctor, circa 1979 (the year President Park Chung-hee was assassinated: Park's Japanese moniker, Takaki Masao, is the same as that of the doctor), discovers that the Ansaeng (Safe Life) Hospital, one of the most modern medical facilities in the colonial period, is about to be demolished. This sets off reminiscences of his internship days at the hospital in 1942, when he got caught up in a number of supernatural episodes. Epitaph, the debut film of the Jeong Brothers (Jeong Beom-sik and Jeong Sik -- "Jeong Brothers" is how they prefer to be listed in the credits), is a refined, intelligent and surprisingly effective Gothic horror. Well cast and acted, Epitaph is particularly notable for its close family resemblance to the slightly pale and artificial exquisiteness of certain Japanese genre films: it in fact can be favorably compared to the high-end Japanese adaptations of the willfully perverse but sparingly beautiful Edogawa Rampo mysteries (Tsukamoto Shinya's Gemini, Kawashima Toru's The Man Who Travels with Picture Relief).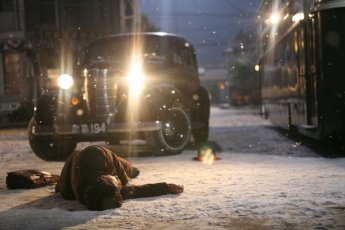 Epitaph has a convoluted (but currently fashionable) multiple flashbacks-and-time lag structure, but does not devolve into a confusing mess, which is a huge relief. The story is roughly divided into three segments. In the first, the young Jeong-nam/Masao (Jin Ku, who played Jo In-sung's young punk lieutenant in Dirty Carnival) finds himself attracted to a stunning-looking young girl's dead body, allegedly a victim of a failed double suicide. The second segment, flagrantly influenced by Oldboy (it even repeats a key line of dialogue, "I love you, Ajjeossi" -- a generic Korean word for a man some years older), is a tale of Asako (Ko Joo-yeon, Blue Swallow), the only survivor of a fatal car crash. Asako is haunted by the awful ghost of her mother, and Doctor Lee (Lee Dong-gyu, Desire, To Sir with Love/Bloody Reunion), convinced that this is the working of her survivor's guilt, attempts to cure her. Finally, the hospital's surgeons Dr. Kaneda (Kim Bo-gyeong, Friend) and Dr. Kim Dong-won (Kim Tae-woo, Hypnotized, Woman on the Beach) find themselves wrapped up in some serial murders of Japanese soldiers.
In my opinion the second episode, while expertly directed and most effective as a horror film, seems to play at a different emotional pitch, and interferes with the integration of all the other elements into a coherent whole. The key to the Jeong Brothers' success is that they do not overreach: they are ambitious--aesthetically and dramaturgically--but only within the confines of a world carefully molded to retain its artifice. Unlike Black House or The Cut, there is little here that reminds one of a Hollywood blockbuster or a mainstream action thriller. In contrast, quite a few scenes evoke the milieu of an old RKO studio production or a modern Japanese theater, dressed with the state-of-the-art visual effects only when needed. Production design by Lee Min-bok, Kim Yoo-jung, Hae Jae-min and others, in its quasi-minimalist way, is impressively detailed and textured. The sound design by Lee Sang-wook also deserves mention. Yoon Nam-ju's cinematography carefully maintains the faded-photograph tone, while playing with the viewer's vision via deliberately out-of-focus visuals and other techniques.
The cast, including reliable supporting players like Kim Eung-su (a super-veteran somehow typecast as a Japanese these days) and Ye Soo-jeong (the mother in Save the Green Planet), deliver good to terrific performances for the most part. Jin Ku as the young protagonist is perhaps a little too subdued to carry the film, but Kim Tae-woo has little problem conveying the happiness, anxiety and eventual terror of a mild-mannered neurosurgeon married to a talented and devoted wife. Nonetheless their acting thunder is stolen by the ridiculously pretty Ko Joo-yeon, another Korean child actress who we dearly hope continues her film career.
While Epitaph does engage in the requisite Tale of Two Sisters-like "plot twist," it is at least done in a way that makes some sense in terms of the characters in question. Most important of all, unlike most Korean horror films of recent years, Epitaph is genuinely scary, without resorting to the usual PSC (Pointless Sadako Clones) tactics: one sequence in particular, in which Asako's dead mother, looking like a Barbie squished by a steamroller, gargles and screeches what may have been intended as a lullaby to her frightened-out-of-her-mind daughter, made me want to hide under the seat.
Epitaph, while not quite as grandiloquently entertaining as Black House, nonetheless will make a significant contribution to rehabilitating K-horror's international reputation. With this fastidious, refined yet emotionally satisfying Gothic horror piece, the Jeong Brothers have successfully proven that they are talents to watch out for in the future, their debt to Park Chan-wook notwithstanding.      (Kyu Hyun  Kim)

    HERs
Some films just lend themselves to hours of discussion after watching them. Films like David Cronenberg's Naked Lunch, Vera Chytilova's Sedmikrasky or David Lynch's Eraserhead can continue to captivate you for hours or days after viewing while you try to sort through what you just saw. To this list, I would like to add HERs.
That is not to say that HERs is in any way as surreal as the above-mentioned films, but it will lead to long conversations with friends about the most basic of questions... "Who was this story about?" The enjoyable confusion regarding the answer to this question was exactly what director Kim Jeong-joong was hoping to achieve as reflected in the title of this movie. Is this story about one woman named 'Gina' at various decades in her life, or is this the story of four different women with similar destinies and unfulfilled dreams?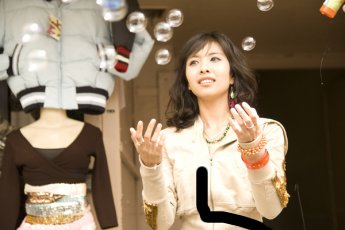 The film is divided into three distinct chapters taking place in Los Angeles, Las Vegas and a remote village in Alaska with an opening and closing scene in the countryside of Korea. The Gina(s) that we meet are each filled with hopes of impossible dreams and with a quirky love of ice cream. The first Gina that we spend any amount of time with is Gina Los Angeles (Kim Hye-na) whose naivety and lack of English have led her into a hard life of abuse and sex, but still continues to have great expectations in this new land of opportunity she finds herself in. The fact that her dreams are unrealistic is represented by her hope to witness coconuts growing on the palm trees of LA--even after she is told that they are the wrong kind of trees. When we first meet her, she seems to be wandering aimlessly and innocently around the dark city streets and we get the impression that she has just arrived in the country. That impression is destroyed when her ex-boyfriend, an LA gang boss (Tyler Tuione), puts a hit on her for running away from him. He contracts a shady Korean-American man named Lucas (Will Yun Lee) to locate her. Lucas does so with relative ease, but he finds himself strangely attracted to this unusual young woman whose experiences have not destroyed her hope in finding true love.
Gina Las Vegas, or a thirty-something year old Gina (Elizabeth Weisbaum), is much more hardened but still holds onto some impossible dreams. The fantasy element of her dreams is shown in how she waters her long-dead roses with the most unusual liquids in the hope of restoring them to life. She also, supposedly, longs to be a fashion designer but we never see her working towards that end. Instead, she earns her money as a prostitute. She is hostile to anyone and everyone she encounters but this seems only to be a defense mechanism against her own shame and self-loathing. We know she is ashamed of herself when she refuses to meet a man, called only 'K' (Karl Yune), who professes to have fallen in love with her. He, however, knows her only as a student of fashion and not for what she really is.
It would be equally fascinating to watch a movie about the character of K as it is to watch Gina struggle through her life. K is seemed to be full of dreams but in his case he is clearly on the verge of abandoning them and the torment of his life is causing his character to change in a direction he does not want. K wanted to be an artist but has nearly given that dream up due to a lack of confidence in his old work. He is a romantic, but disappointment in love has been turning him bitter and his encounter with Gina may have been the final straw. What is most interesting is that he professes to be in love with Gina, waiting hours for her to show up, but when they finally meet he does not know who she is, simply assuming that she is one of the many prostitutes that work in Las Vegas.
Gina Alaska (Susie Park) is a woman in her forties who has traveled as far north as she could in the hopes of seeing the Aurora Borealis. She seems to be doing this for self-validation as she claims the aurora will only appear to those who are pure. We know for a fact that the alcoholic woman staggering through the snow is anything but pure as she posts her business card depicting a beautiful, half-naked woman all over town--including on the door of the church. She comes to the bitter conclusion that the days of selling her body are over when one client asks where the hot, Asian woman is upon meeting her. However, what she also fails to realize is that her would-be client (Chris Devlin) appears to really care about her and wants to be her friend and viewers will quickly come to the see that what he is offering could be more as the tattoo he on has on his arm is exactly the same as one Gina Los Angeles saw on a man she expected to be her soulmate.
HERs may not be for everyone. It is intentionally full of stereotypes and some of the most non-politically correct statements come out of the most surprising places. However, it is also a movie of lost souls and broken dreams that will leave you with a lasting impression.      (Tom Giammarco)

    Wide Awake
Wide Awake takes one of the real-life medical mysteries -- patients who remain fully conscious (and responsive to pain) but paralyzed during operations, called "intraoperative awareness" -- and weaves a revenge-motivated mystery plot around it. (According to experts this happens shockingly more often than we think -- approximately 20,000 to 40,000 surgery patients in North America every year suffer through this experience, among whom about 30% can feel acute pain) The film opens with a young boy completely traumatized by his heart operation, the experience of feeling a scalpel cutting into his chest, a bone saw whine-grinding into his sternum (ick!), and doctor's fingers rummaging through the insides of his body. Adding insult to injury no one believes his story: it's 1980s Korea, after all. 25 years later, the doctors and nurses who had operated on him begin to die mysteriously. Ryu Jae-woo (Kim Myung-min, Sorum, Into the Mirror), a conscientious surgeon happily married to the beautiful Hee-jin (Kim Yu-mi), begins to suspect the operation-traumatized boy from his childhood is behind these deaths. The prime suspects are Lee Myeong-suk (Kim Roe-ha, Memories of Murder), stalking Dr. Ryu for failing to save his wife, and the seemingly unhinged Uk-hwan (Yu Jun-sang, Tell Me Something's second victim). The hypnosis specialist Oh Chi-hoon (Kim Tae-hoo, Epitaph) also seems to be on to some information about the culprit.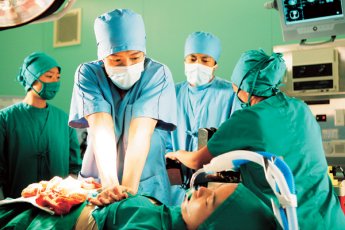 Even though a similar-themed Hollywood film (Awake, with Jessica Alba) was released a few months after it, the long shadow cast on Wide Awake is in fact that of the ultra-popular, Japanese-novel-based medical drama White Tower, through which Kim Myung-min was finally launched into the stardom that he had so far found elusive. It is not accidental, therefore, that the "medical drama" aspect of the movie is many times more fascinating than the murder mystery.
The filmmakers, including newcomer director Lee Gyu-man and co-screenwriter Lee Hyun-jin, spin their yarn as a straightforward whodunit: a crime has been committed, we are given clues to the possible motive, a load of technically complicated but authentic-sounding information regarding the exotic methods of murder are provided, and all this is nicely resolved at the end with the minimum of "what the heck?" confusion. Unfortunately, pacing is rather slack and the mystery is not as well thought-out as it should have been: the climactic big revelation especially is not handled well, relying on the considerable talents of the film's stars to get by (I must say, too, that hypnotism is definitely being over-used by Korean thrillers as a plot device). It should be said in the film's defense that, like Black House's gutsy Grand Guignol finale, the film does feature one act of revenge, which, like the more famous one in Oldboy, makes instinctive logical sense and is truly devastating in its supreme cruelty.
But all this would have been for naught had director Lee chosen the wrong actors. None of the leads are asked to do anything extraordinary but they inhabit their frankly two-dimensional roles with admirable professionalism and requisite conviction. In particular, few people will doubt Kim Myung-min's ability to carry a whole picture after Wide Awake: he does a superb job of conveying the self-doubt of a doctor whose faith in his medical skills is being eroded, and makes us believe in the soul-shattering agony of a decent Hippocratite who learned that his surgical prowess was deviously manipulated as a tool for evil.
Wide Awake is not as powerful as it could have been, (I kept thinking while watching it how a straightforward medical drama in the mold of White Tower could have been so superior to all this whodunit stuff) but it is certainly a step in the right direction, in that it doesn't pretend to be smarter or more important than it is. The film is definitely recommended to fans of White Tower, which probably would be its biggest constituency in East Asia, at least for the time being.      (Kyu Hyun  Kim)

    Someone Behind You
Ka-in (Yun Jin-seo, Oldboy) is a high school student, adept at fencing, with loving parents, a pretty younger sister and a hunky med-student boyfriend (Yi Ki-woo, Tale of Cinema). Everything seems to be perfect, until one day her aunt suffers a terrible accident on her wedding day. She is then graphically stabbed to death by another aunt while hospitalized. Reeling from shock, Ka-in soon finds herself the target of the inexplicable murderous rage of her friends and even family members. To figure out what is going on, she enlists the help of a creepy classmate Seok-min (Park Ki-woong, The Art of Fighting).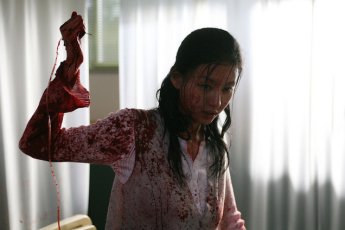 Someone Behind Me is based on a comic book by Kang Kyung-ok, which apparently is a straightforward supernatural thriller, attributing the cause of Ka-in's horrendous situation to a family curse (naturally, the curse descends down through the agnatic lineage, this being a Korean one). The movie version dabbles with that premise, then abandons it altogether and turns itself into a far-fetched murder mystery, finally resolving into a yet another rip-off of Tale of Two Sisters, with a chunk bitten off from Death Note thrown in for a good measure.
To put it charitably, Someone's screenplay is a mess. Penned by five scribes including the director, Lee Shin-ae, who previously wrote Fox Stairs, and Lee Hyo-chul, responsible for Hanbando (?!), it is a dreadful mishmash of different agendas and styles, without any coherent sense of what it's groping for. Adding insult to injury is Oh Ki-hwan's (Last Present, shudder? lugubrious direction, which tiredly follows one set-up after another. Particularly harebrained is the character of Min-seok: the last-minute revelation regarding him is totally predictable but is nonetheless a hoot. I can easily imagine Korean moviegoers rolling their eyes and hurling insults at the close-up of him grinning sinisterly in that eyebrow-obscuring gappa hairstyle.
Nearly wasted are two excellent actresses, Yun Jin-seo as Ka-in and Kim So-eun (The Show Must Go On) as her sister. Yun is basically given an impossible role to play, a young girl against whom the whole world has turned murderous, but she pulls it off without ever relying on histrionics, even under the overtly melodramatic direction given by director Oh. Kim is ridiculously cute but shows a lot of potential. The interactions between these two actresses are frankly the only believable part of the movie. While Someone gets a few goodwill points by staying away from long-haired Sadako clones, as a thriller or horror film it is simply lame, not even unintentionally funny to qualify as camp entertainment. Should be of interest only for those fans of Yun Jin-seo and Kim So-eun who don't mind their favorite actresses put through the wringer in almost sadistically unimaginative ways.      (Kyu Hyun  Kim)

    The Happy Life
The combination of director Lee Joon-ik and screenwriter Choi Seok-hwan has been golden, not only with their record-breaking smash hit King and the Clown but also with mid-sized hits like like Once Upon a Time in a Battlefield (2003) and Radio Star (2006). Their films are sometimes clever, but never flashy or trend-chasing. More than anything else, it is storytelling skill that drives their works. They create believable, real-life characters and make us care about them.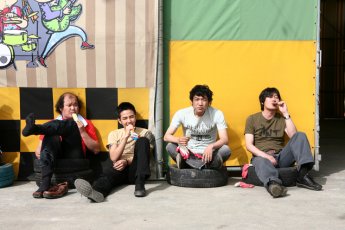 The Happy Life is their latest release, a smaller-budget project made before taking on the Vietnam War-era Sunny (scheduled for release in summer 2008). The film's story first picks up at a funeral, where three middle aged friends sit down together and start to reminisce about the past. Twenty years earlier, the deceased had been the lead singer in a university rock band called "Active Volcano", and the other three men had played lead guitar, bass and drums. Currently, the three are plodding through life without much enthusiasm or sense of meaning. Then Ki-young, the guitarist, bursts out with a crazy idea: "Let's re-form the band!"
As a basis for a film, this setup seems neither particularly unique or commercially appealing, but Lee and Choi are able to turn this into an unusually fun movie, thanks in part to vivid characterization. Ki-young (played by Jung Ji-young from King and the Clown) has accepted early retirement and has grown used to life as an unemployed father. His wife Seon-mi (the supremely talented Kim Ho-jeong, Nabi) works as a teacher and so the family is able to scrape by. But she and their daughter Ju-hee (Ko Ah-sung, the little girl from The Host) pay him hardly any attention as they go about their daily lives.
Seong-wook (the bassist, played by Kim Yun-seok who has been catapulted to fame by The Chaser) has recently been laid off. With a smart son, and a wife eager to give him the best schooling and private lessons possible (which in Korea will cost a small fortune), he has taken to working several menial jobs at a delivery service and designated driver program. Meanwhile Hyuk-soo (the drummer, played by character actor Kim Sang-ho) runs a car dealership in Seoul in order to support his wife and two kids who live in Canada -- a not uncommon situation in contemporary Korea.
In truth, it's insane for any of these three to be actively entertaining the idea of starting a band. Urgent real-life problems beckon, and their families are unlikely to be very understanding. But crazy ideas sometimes gather momentum and lead us in unexpected directions.
The Happy Life manages to be both entertaining and uplifting without papering over any of the economic issues that ground the film in reality. Although the broad plot of the film remains fairly predictable, the meat of the story lies in the many smaller dramas and twists that take place along the way. Hyuk-soo the drummer in particular becomes a fascinating character as the story progresses, and sure enough he won a best supporting actor award at Korea's Blue Dragon awards ceremony for his engaging performance. But all of the extended cast is great, giving an even greater boost to this modest story that surpasses expectations.      (Darcy Paquet)

    Happiness
Looks like in the case of my experience with the films of Hur Jin-ho, the fourth time's a charm. Rather than rehash what has kept me from fully embracing Hur Jin-ho's films, I'll just refer you to my review of his third film, the Yonsama vehicle April Snow, where I summarize my ethical battles with his narratives. I am happy to say Happiness has appeared to have tossed that tarnishing trope aside and I can now relinquish the ethical axe that too many narratives force me to grind. Whether or not this excision was conscious on Hur's part, I thank him anyway, because now I can join hands with the joy and despair that is a walk in Hur's characters' shoes rather than part ways along irreconcilable political paths.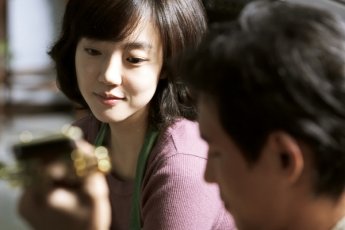 Young-su (Hwang Jeong-min) works in a nightclub. Exactly what he does is never clear, but he is obviously dissatisfied with his work and relationships. We witness him lie to a woman who appears to be his girlfriend with a story about going abroad. He gives the same story to his mother. (Bringing up another major change in a Hur film, this is his first main male character with a present mother. In this case, the son's the absent one.) Yet Young-su doesn't head abroad, but to a health community of some kind nestled somewhere in a South Korean village where those with terminal illnesses go in hopes to diet, stretch and laugh their illnesses away. Taking his nightclub work home with him, Young-su's drinking has resulted in his acquiring cirrhosis of the liver. (One of the nice subtle beats of humor is struck by Hur having one of Young-su's fellow stricken campers refer to Young-su not by his given name, but by his given illness, "Good Morning, Cirrhosis!")
It is at this recuperation center that Young-su meets and loves and . . . (well, you'll see) the lung-disease-stricken Eun-hee (Lim Soo-jung) in the go-away, come-here, rinse and repeat way that we have come to expect of Hur's characters. Although not at the expert levels of Christmas in August and One Fine Spring Day, the romance is still patiently developed and you will find yourself resonating with the film's title and dissonating just as strongly as Hur's ironic, yet not, title reveals itself. Hur's films are refreshing in how he executes the relationships between his two characters. As film critic Kim Ji-mi puts it in Korean Film Observatory magazine (No. 23), Hur "shows the outstanding talent of being able to grasp the sensitive moments of the beginning and ending of a love between a man and a woman" (p. 22). Think of what you hate about the overly melodramatic and reflect on what it would be like to see a director get ever so closed to the too cute but to turn away just at its palatable peak and that's Hur. Think of the histrionics you don't like about Korean TV serials and imagine a director who holds the sorrow tenderly enough to make the cries cleansing rather than cringing and you have the baby bear porridge of Hur's emotional competency.
Particularly lovely here are Young-su's tears and the comforting words (at least in translation) of Eun-hee. She lets him know that she didn't show her hurt before because nobody cared about her. She promises to show her hurt now and she expects him to care. In this wonderful mix of dialogue and soft action, Eun-hee says this not as she breaks down but just as Young-su does. She gives him what he's asking for by asking for what he wants to give her. (Eun-hee's is a strong voice in Hur's oeuvre, speaking confidently and maintaining self-respect despite the brief lapses of self-pity.) And his tears do the same for her. Both Young-su and Eun-hee are guarded individuals who eventually let their mutual armor down in order to receive each other completely. This means they will get hurt, but we can only hurt when we lose something that matters to us. I'd rather hurt than never care about something so much that pain never comes into the picture. It is in this way that Hur's ironic titles always circle back again to erase the irony we placed upon them. Happiness is what a Hur film can be when realized in all its ethical splendor.       (Adam Hartzell)

    Resurrection of the Butterfly
I don't require a film to be completely inspiring and profound. I prefer it to be, but when a film provides a lackluster or non-existent impact, I encourage myself to see what significance might remain for the film in the course of a review rather than focus exclusively on the critical slam. That prefaced, Resurrection of the Butterfly requires that I look for something flickering on the screen outside of entertainment and/or enlightenment value.
Competing in competition at the 11th PiFan, Resurrection of the Butterfly (the Korean title translates as "Shadow") was a project coupling a student director (Kim Min-sook) with a more experienced director (Lee Jung-gook). This is something to salvage from the film. I would encourage more such projects regardless of the less than succulent fruits born of this particular seedling.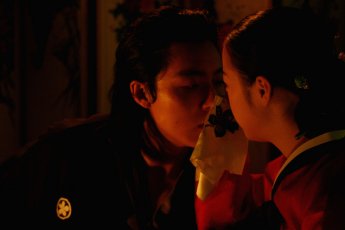 The film connects the three primary actors through roles across two stories of similar love triangles, one taking place well in the past and the other taking place in the present. Director Kim's story works off the historical character of Non-gae, a kisaeng known for remaining loyal to the Joseon dynasty by killing the Japanese commander who conquers her village rather than transferring her services as a prostitute/performer to the Japanese. (There is a shrine to her near Chokseongnu called "Uiam" or "the rock of righteousness.") Liberties are taken with this historical character's story that might upset the purists in the audience, but no claim is made by director Kim to be revisioning the history, in that she doesn't seek to claim her vision as truth. This is merely speculative history, a 'what if' scenario to play out the possibilities if Non-gae had failed to kill the Japanese commander. In this version, Non-gae still remains within the spirit of her legend by becoming a spirit, one that haunts the Japanese commander.
The second story, overseen by director Lee, finds a man whose head injury limits his recall into the events that preceded his appearance deep into the mountains, where a mountain ranger has found him. Only a diary leads to clues about who this man is and what he's done. We discover from the diary that he was brought to the mountains with his girlfriend, a botany enthusiast, in search of a rare plant. On this journey they stumbled along the path of a young guide. As the story unfolds, we begin to question this man's position in this story relayed in the diary.
Ironically, it is the student's first half that shows greater promise than the veteran's second half. Veteran director Lee happens to have directed what is perhaps my least favorite of all South Korean films, The Letter. What I found unpalatable about The Letter was the excruciatingly drawn out, and falsely felt, melodramatic emotions. I understand that Korean culture allows for a greater expression of sadness, loss, and grief. (And I understand my opinion about The Letter is at odds with the audience that made it the most popular South Korean film in 1997.) What in the West we might determine overzealous might be more acceptable emoting in South Korea. But several South Korean directors and actresses/actors are still able to take this 'excess' of express and allow even the most cynical of viewers to find such expressions believable. Director Lee demonstrates in his half of this project that he still can't handle the truth of these extended emotions in the incredibly poor way the wounded hiker's terror is presented in the second half of this film under his control.
My impression of Resurrection of the Butterfly may have been affected by the poor audio and visuals of the screening I attended at PiFan that was noted by, if I recall correctly, producer Byun Jang-wan. But I don't think even better sound and clearer and more vibrant colors could have saved this film. I commend the idea of coupling a neophyte with a veteran and don't find myself turning away from hope for better things from student director Kim Min-sook just yet. (I hear she directed a very compelling short called "Apple" of which others speak highly.) But director Lee Jung-gook's half further demonstrates that his cinematic letters are ones I'd best leave unopened, if not have returned to sender. (Hey, I didn't say I don't submit critical slams, I only said I don't like to center on them exclusively.)       (Adam Hartzell)

    Going by the Book
Do-man is a low-ranking traffic cop with an unusual personality. Soft-spoken and seemingly a bit shy, he is nonetheless unbending when it comes to rules and the law. His quiet stubbornness makes him the butt of other officers' jokes. Occasionally it also gets him into trouble, as when he pulls over his new boss, the newly instated police chief Lee Seung-woo, and issues him a ticket.
The police chief, played here by the dependable character actor Son Byeong-ho, is surprised and a bit annoyed at the unexpected fine. But he has other things to worry about at the moment. The town of Sampo is in a panic over a string of bank robberies, and as a means of reassuring them, he decides to carry out a highly realistic drill to demonstrate the police force's professionalism and resolve. Officers will be stationed throughout the city, and without warning, someone pretending to be a bank robber will stage a holdup, taking hostages if necessary. The chief announces the plan, and then later in secret, he tells Do-man that he is to act as the bank robber.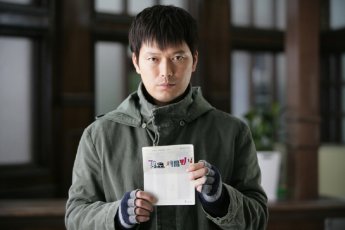 The chief may have been chuckling to himself at the irony of having a man so committed to obeying the law play the part of a criminal. But for Do-man, this is no laughing matter. Devoting himself to the task at hand with his usual fastidious attention to detail, he prepares to commit the perfect crime.
Filmmaker/playwright Jang Jin has carved out a niche all his own in the film industry these past several years, and although he participates on Going By the Book as a screenwriter and producer -- not a director -- his contribution is unmistakable. His comedy is both character-based and situational at the same time, or in this case, it is the clash between Do-man's endearingly subdued character and the outrageous situation that he finds himself in that gives the film its biggest laughs.
Director Ra Hee-chan, like Welcome to Dongmakgol director Park Kwang-hyun before him, worked as an assistant director under Jang before making his debut with one of his mentor's scripts. Ra displays less of a personal style than Park, and Korean critics have questioned his sense of comic pacing (sadly, the film's biggest weakness), but he still managed to turn the film into a solid commercial hit of 2.2 million admissions. Indeed, the film considerably outperformed Jang's own feature My Son, released earlier in the year (which is admittedly one of his lesser works).
Any review of this film would be incomplete without mentioning the performance of longtime Jang collaborator Jung Jae-young in the role of Do-man. Although he was best known earlier in his career for playing slightly unhinged, violent characters as in No Blood No Tears or Silmido, he has since proven himself in films like the wonderful Someone Special (2004) to have a much wider emotional range. Do-man is a man who does not express his emotions very clearly (if at all). Jung is able, with mumbled sentences and a deer-in-the-headlights stare, to make him appealing and memorable, and in that sense he is a major contributor to this film's success.      (Darcy Paquet)

    Shadows in the Palace
The Joseon Dynasty palace is divided into parts, like the chambers of a heart. One part belongs to the women (Gungnyeo, meaning "palace woman," is the Korean title of the film). Sworn into secrecy, submission, and celibacy, the women of the palace officially devote their lives to the well-being of the king and his young heir. Behind closed doors, of course, the dynamics are much more complicated.
Shadows in the Palace is the debut work of writer/director Kim Mee-jeung, who served on the production team of King and the Clown and Once Upon a Time in a Battlefield. Shooting on a comparatively low budget using pre-existing sets from King and the Clown and other productions (not that you can tell: the imagery is dazzling), the film can be considered a fusion of genres: part costume drama, part mystery, part J-Horror.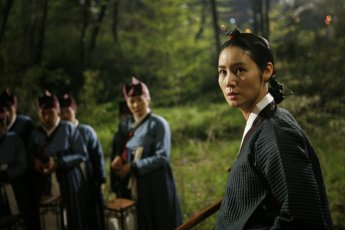 Keeping track of all the names and plot twists is a challenge, but here is a plot summary: the king (who rarely appears onscreen) has no heir by his queen, however a royal concubine Heebin has given birth to a son. The queen mother is pushing to have the child officially adopted by the queen, but Heebin resists, correctly sensing that she could be easily disposed of after the adoption. Amidst this tense standoff, Heebin's most trusted maid is found dead, a suicide. Or was it? Chun-ryung, a royal medic, discovers that she was actually strangled. What's more, there are signs that the maid had given birth at some time in the past, which would have been absolutely forbidden under palace rules. Ignoring orders to wrap up the case quickly, Chun-ryung sets off in search of answers.
Aside from its almost completely female cast, Shadows was also crafted primarily by women, including the director, producer, and executive producer. (The film was shot apparently with none of the late-night drinking that characterizes the sets of many male-directed Korean films) However viewers expecting a kinder, gentler movie are due for an awakening -- Shadows contains medieval cruelty to rival any of its genre contemporaries (pulled fingernails, needles in flesh, severed hands). The violence underlines the cruelty of a system where the women and their bodies are mere cogs in a wheel. The psychological toll can be seen on the women's faces -- even for those few who manage to claw their way to the top.
The wide cast of characters, most of whom are well-known but not stars in Korea, contain an equally wide spectrum of performances. Most prominent is Park Jin-hee (Love Talk) in the lead role of Chun-ryung. I'm a fan of Park's straightforward, accessible style, though here I wonder if she may have been miscast. Chun-ryung's internal drive -- her need to know the truth, even if it puts her in danger -- is the film's key narrative engine, but here I found it not quite convincing. Still, many of the other performances are quite effective, especially Kim Seong-ryeong (pictured above) as a fearsome supervisor who has adopted completely the ruthless strictures of palace discipline.
Shadows moves at a fast clip, and as it progresses towards its conclusion,, the fantasy/horror elements that were merely hinted at earlier begin to creep out of the closet (and yes, there is long black hair). At the same time, though, the film's broader themes regarding oppression and power begin to come into focus. I'm particularly fond of the last scene, with the palace women all dressed in white mourning robes, witnessing power being taken up by a new set of hands. We've been led to believe that the strict set of rules which govern the palace are an insurmountable force, but events may tell us otherwise.
It may not be possible to ever completely understand what life was like for people who lived in centuries past, given the lack of records and the vast cultural gap between our era and theirs. Films set in the past usually end up telling us more about contemporary society than about the era on the screen. But is there anything wrong with that? Cinema is an act of imagination, and setting a film in a little-understood historical setting allows room for the imagination to extend itself. More than anything, it's the conceptual energy and narrative momentum of Shadows in the Palace that makes it an exciting discovery among this year's Korean films.      (Darcy Paquet)

    M
Midway through M, the novelist Min-woo types a repeated phrase on his computer, not unlike Jack Torrance in The Shining: "more specific, less poetic. more specific, less poetic..." I'm not sure what Min-woo thinks of this advice (he does subsequently press the delete button), but if the completed film is any indication, director Lee Myung-Se seems not to hold it in very high regard. M is a film filled with gorgeous imagery, flights of fancy, and bursts of color. However it makes very little effort to tie these images down into the world of people and things.
I wonder: are the "specific" and the "poetic" mutually exclusive? Many poets seem to go out of their way to immerse themselves in the specific and the concrete, and to my ears at least, it makes their work more poetic. Min-woo mentions James Joyce at one point in the film: perhaps the labyrinthine, complex architecture of a novel like Ulysses (or Finnegan's Wake) is what Lee Myung-Se is after. Still, M feels to me like a sad contradiction: the imagery beckons with sensual force, but the film throws up so many riddles and mind games that you're too preoccupied to feel its beauty.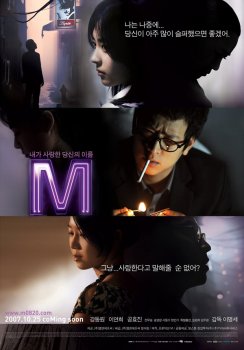 There's none of Fritz Lang in M -- this is not an homage to the 1931 classic. Lee claims instead that the film's genesis came when Alfred Hitchcock visited him in a dream, presenting him with a book marked "M" on the cover. But I don't think even Hitchcock ever indulged himself so fabulously as Lee does here. M feels like the dream sequences that you sometimes see in other movies, except that it lasts for the entire film.
It's customary in a film review to introduce the plot, though even after watching M I'm still a bit in the dark. Let me offer up some observations instead: there is a novelist named Min-woo, who is feeling pressure to write his next book, though the words seem slow in coming. There is a young woman named Mimi, who may or may not exist, who pursues, and then is pursued by, Min-woo (is she his muse?). There is also a woman named Eun-hye who is engaged to Min-woo. They live together in a gorgeous apartment.
Gong Hyo-jin (Family Ties, Conduct Zero) plays the role of Min-woo's fiancee Eun-hye. Gong is a truly exciting actress -- her strength lies in the knife's edge to her voice, her "don't give me any bullshit" attitude, and the way that her characters always sound so grounded in reality. Yet in M her fiance, and indeed the film itself, seems to resent her for these qualities. If so, it's a particularly cruel bit of casting -- to choose an actress for her strengths, and then to make them seem like faults. Lee Yeon-hee's Mimi, by contrast, is the "poetic" to Gong's "specific". I'm a big fan of Lee as well -- her strength is her natural charm and screen presence, rather than her acting per se. Some actors just need to put themselves in front of the camera in order to make an impression. While watching this film, unable to make sense of what I was seeing, I spent most of the time simply waiting for Mimi to show up again in her purple dress.
But perhaps I'm being unfair to Gang Dong-won, who plays Min-woo. At the start of his career, I had a hard time understanding why many Koreans considered him so attractive (especially in his debut film, Too Beautiful To Lie). But he's looking pretty fabulous here, in his small, dark glasses and black jacket. It can't have been an easy role to play, either, with his character often flitting back and forth between dreamy romanticism and absurdist outbursts. Whatever you think of his performance here, Gang is establishing himself as a key actor of his generation.
With this film, I find myself on the unfamiliar side of a common debate. I'm generally not the kind of person who fixates on plot or tight narrative, in fact I often find it refreshing when filmmakers -- such as Lee Eung-su in Desire or Lee Myung-Se himself in First Love or Nowhere to Hide -- toss the plot aside for a while to focus on the image, all by itself. Still, despite the best efforts of its actors, much of M feels like an inside joke. In the films I mention above, the images pull emotions from the viewer, but here it's like I'm watching someone else's feelings on the screen.
M has not gone over particularly well in Korea. Walking out of the theater, I overheard a middle school student in front of me saying, "I tried to get some sleep, but the music kept waking me up." Viewers posting on the internet have called Lee a "swindler" for disguising a very personal, idiosyncratic film in such commercial trappings. That's perhaps unfair -- I think that Lee did genuinely hope to connect with his audience this time. But sadly, due to runaway ambition, miscalculation, or perhaps some other reason, M took a wrong turn and never made it home.      (Darcy Paquet)

    Desert Dream
As we creep towards the opening credits, Desert Dream fades to dusty yellow before it fades to black. If you are ever in East Asia in the spring/summer and notice the people wearing surgical masks, don't be worried about a returning SARS outbreak. Be worried about yellow dust. Yellow dust storms originate primarily from the deserts of Mongolia, northern China, and Kazakhstan thanks to an erosion of barren land similar to that of the Dust Bowl that occurred in the U.S. in the 1930's. These storms end up carrying pollutants in their wake to cities halfway around the world, exposing neighboring countries to lung-damaging particles, hence the surgical masks. In China, as Patrick Alleyn notes in his article "The Chinese Dust Bowl" in the October 2007 issue of the Canadian monthly The Walrus, besides government 'ecological refugee' relocation programs, efforts are being taken to renew the land to a fertile state to hold off further erosion, such as planting a Great Green Wall of China to protect the land from wind, or fining shepherds who allow their flocks to graze indiscriminately. But Zhang Lu's film is void of such collective political action in Mongolia. In Desert Dream (Mongolian title - Hyazgar), one man is the Johnny Appleseed of stories that make up the Mongolian section of The Steppes. That man is Hungai (Osor Bat-Ulzii).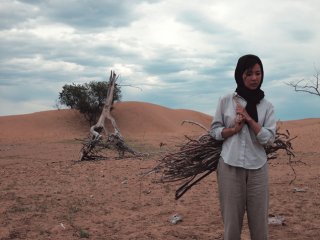 When Hungai's daughter's illness demands his wife take her to the capital of Mongolia, Ulan Batar, he is left with just his saplings and the few familiar faces that pass through his little nook of The Steppes. But soon some new faces appear at his door, two North Korean refugees, pre-teen Chong-no (Shin Dong-ho) and his mother (Suh Jung). Slowly these two get to know each other and trust each other as they assist Hungai in his tree-planting, cow-milking, dung-gathering, and goat-birthing. Although the dialogue explicates some themes, the majority of the plot is supported by silent actions since only two of the three in this triad can verbally communicate with one another. (But such linguistic limitations do not stop Chong-no's mother from clearly informing Hungai to keep his grimy hands off her body.) Such persistent silence enhances the effect of the stories told in the folk songs sung in Desert Dream.
Each Zhang film I've seen depicts lost characters seeking something and someone to hold on to, only to be disappointed by eventual betrayal. Desert Dream follows a similar path as it spins us around as we seek an elusive holding place, which presents the viewer with a tiny fraction of the disorientation experienced by many of the refugees of the world. The film is slow-paced, taking time out to appreciate the vast expanse of space making this film perfect for the cinema, and leaving me disappointed that my only option for viewing it was my computer screen.
As my friend Brian Darr has noted over at his blog Hell on Frisco Bay, the San Francisco International Asian American Film Festival is lately staying loyal to particular directors and I'm happy they found fidelity with director Zhang Lu, or otherwise who knows when I might have had a chance to check out Desert Dream after its screening in official competition at the 57th Berlin International Film Festival, even if that chance is only on my computer via the privileges of a reviewer's copy. Zhang's decision to focus on the displaced, be it North Koreans in China (Grain In Ear) or in Mongolia, is a welcomed and refreshing presence on the world cinema stage. Much is made about the money lost in South Korean cinema in 2007, but not enough is made about the other losses, those films deserving of greater exposure that stay in the film festival ghetto. But in this case, the marginalization of Zhang's films in theaters parallels the lives of his characters. Perhaps the fact that Zhang is a third-generation Korean-Chinese explains why he empathizes so much with the status of his characters. Thankfully, as Tom Giammarco informs me, he has two more films set for release in South Korea. It appears Zhang will continue on with his work like that of the characters of Desert Dream. In spite of the obstacles, each continues to walk onward in the face of all the dust in the wind that seeks to impede their progress. Occasionally each finds oases of beauty along the way.       (Adam Hartzell)
I am sure you have all experienced a case where you have been looking forward to a movie but when you see it you are disappointed. Well, I am happy to report that this is definitely NOT the case here. The movie had a lot of expectations to live up to: I had heard good things about it when it was released as part of the Pusan International Film Festival and then I could not locate the DVD for many years. After finally watching it I can say that this movie was well worth the wait and one viewing will not be enough to satisfy me.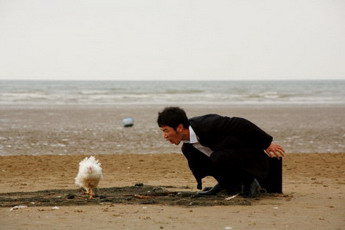 Fantastic Parasuicides is an omnibus film composed of three short films, all involving people attempting to commit suicide but not quite able to pull it off. The first of these goes under the English title Hang Tough. It was directed by Park Soo-yeong whom I see has made numerous short films starting around 2003 but yet to helm a feature length movie. That is disappointing. If the quirky style of Hang Tough is anything to go by, I definitely want to see more of Park's work in the future. In it, a young school girl misses an important exam because she fell asleep in the library. Deciding that she does not want to live any longer, she throws herself from the top of the school¡¦ only to wake up on the ground. She picks herself up and walks away confused only to find that things are not quite the same as before and she is about to embark on a surreal adventure. This short features some excellent and surprising performances including roles played by Tablo (a lead singer of the Korean hip-hop band Epik High) as a high school boy planning to blow up the school with a homemade bomb. Park Hwi-soon (of KBS2's Gag Concert) plays the girl's teacher: a man so afraid that one of his students is going to kill him that he is willing to kill himself first. Kim Ga-yeon plays the school's nurse intent on declaring her love for the young school girl, now trying to stop everyone else from killing themselves. This is a funny mix and the whole film feels like a blend of Alice in Wonderland and It's a Wonderful Life.
The second story, Fly Chicken, features Kim Nam-jin (Shadows in the Palace, released the same year). Kim plays a special agent (Or soldier? The film remains unclear on this point) who, disgusted with the horrors he witnessed in battle, decides to go to the coast and shoot himself in his hotel room. He prepares three bullets, one for his heart, one for his soul and one for his life. But fate has arranged several interruptions that when combined may prevent him from carrying out his plan. This segment was also good, but much more somber than the first. The generous amounts of comedy are carried out in a deadpan fashion, resulting in more of an air of the bizarre than laugh-out-loud humor. Once the film got started, I enjoyed it but I wound up turning the volume on low for a couple of minutes during the 'talking to the chicken' part. No, Kim was not shouting at the chicken. He was talking to the chicken in chicken language. His clucks and crows were subtitled in Korean, and of course in English too. While it was initially amusing that Kim's character knows chicken-speak without any explanation given¡¦it did grate on my nerves after about a minute. Fortunately, that does not last too long.
The final story, Happy Birthday, was also good. It is about an old man who has been living alone for six months after the death of his life partner. He wakes up one day, realizes it is his birthday and suddenly feels more alone than ever. He decides he is going to jump off something but along the way meets a young man, carrying a satchel full of gold teeth, standing on the train tracks. He learns the man is being chased by a couple of gangsters and decides to help him out even if it means his own life will end.
This is a great collection. I was surprised how quickly the 92-minute running time seemed to fly by. If you can track it down, don't hesitate to buy it. I know I will be watching it again soon.      (Tom Giammarco)

    Seven Days
A hotshot defense lawyer Yu Ji-yeon (Kim Yun-jin, TV's Lost, Shiri) learns to her horror that someone has kidnapped her daughter. Instead of a ransom, the kidnapper demands that Ji-yeon defend a vicious rapist-murderer and win an acquittal at an upcoming trial. She has only seven days to locate her daughter, or conversely, to prove that the prosecuted murderer is innocent. The only help around is a thuggish cop friend (Park Hee-soon, Boss X File, Antarctic Journal), while a corrupt prosecuting attorney (Jeong Dong-hwan) and the victim's headstrong mother (Kim Mi-suk, Marathon) stand in her way.
Seven Days was the second big hit of the 2007 fall season right after Le Grand Chef, raking in more than 2.1 million tickets in the theaters. Critical response has been mixed, most reviewers acknowledging undeniable power of the movie's adrenalin-pumping pace and command of sophisticated cinematic techniques, while taking points off for its cliched characterization and artificially flavored mystery plot.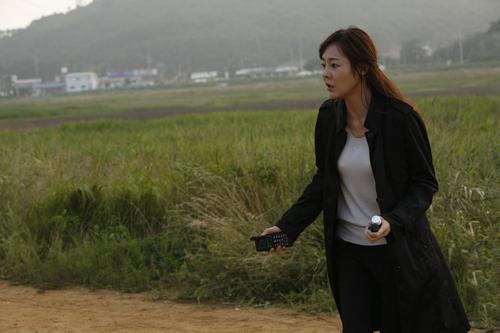 Unlike for some Korean critics, the film's MTV-on-speed editing style and narrative rhythm did not bother me that much. I don't agree with the type of knee-jerk criticism that slams movies like Seven Days just because it allegedly emulates Hollywood blockbusters or American TV dramas or "mi-deu," as the latter are colloquially known in Korea. Should director Won Shin-yeon (The Wig, A Bloody Aria) have copied Oliver Assayas and made something like Boarding Gate or Demonlover instead? Perish the thought. Besides, Seven Days is genuinely well put-together: its technical proficiency is never in doubt, right down to the strikingly realistic makeup effects on the victim's dead body. It certainly is director Won's best film so far.
Unfortunately, the movie is riddled with illogical plot points, a few of which threaten to negate the entire premise. For one, given the "loophole" in the Korean legal system revealed in the climax, there was no real reason for the culprit to kidnap Ji-yeon's daughter, since he/she had the key evidence allowing Ji-yeon to activate that loophole in his/her possession all along. Why not simply mail the damn thing to the pro bono defender? And of course, the culprit's motivation for putting Ji-yeon through that much ordeal is, charitably put, crazy. Oh, I forgot, the culprit is insane. As the Church Lady would say, how convenient.
As a Kim Yun-jin vehicle, it presents an interesting companion piece to Bystanders, another genre-bound thriller which ended up blaming everything on the mother. Seven Days is not quite that awful but still retains at its core a conservative, androcentric message about how Sacred Motherhood should easily trump rule of law or due process.
If there ever was a God-given antidote to macho Korean directors who think they are left-wing social critics, it's Kim Yun-jin. Even though Ji-yeon's character arc is written, by director Won and the scribe Yun Je-goo, in such a way to illustrate her "re-discovery" of "motherhood" over the course of the film, Kim, through her radiant charisma and super-charged but finely tuned acting, blows all this ideological claptrap into smithereens and establishes Ji-yeon in the viewer's eyes as a warm, caring but sensible professional woman from the get-go. Even more so than in Bystanders, Kim carries the film on her shoulders like a female Atlas and makes sure that it appears a lot better than it actually is. (I do think it is about time, though, that she demands something other than these I-am-so-sorry-I-was-less-than-a-good-mother roles from Korean producers) In this she is ably assisted by an excellent supporting cast, including Kim Mi-suk, Park Hee-soon, Choi Myeong-soo (memorable in Les Formidables), as the pathetic and disgusting murderer, and Oh Kwang-rok (Spring Bears Love), as Ji-yeon's humorously genteel gangster client.
Seven Days is a slick and calculated thriller, all right, so those constitutionally unable to enjoy this kind of movie need not bother. It's really not as clever or poignant as its makers probably think it is, but it may make a surprisingly strong impression for ordinary fans of Korean cinema, and is, needless to say, a must for Kim Yun-jin fans.      (Kyu Hyun  Kim)

    Our Town
A gruesomely murdered body of a young woman is found hanging from an elementary school gym iron, in the form of a crucifix. Exhausted cop Jae-sin (Lee Sun-gyun, Sakwa, R-Point) realizes that a serial killer is lurking in his neighborhood: the victims range from an eight-year-old girl to a middle-aged businesswoman. He gets unexpected help from his game designer friend Kyung-joo (musical actor Oh Man-seok, popular from the Korean stage version of Hedwig and the Angry Inch). But nothing is what it seems: Kyung-joo drops in a stationary store run by child-like and strangely-named Hyo-yi (Ryu Deok-hwan, Like a Virgin), and receives a text message that reads: "Sir, I know you are the murderer."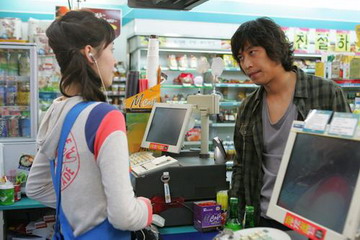 Our Town was a rather risky proposition for a Korean film. Korean filmmakers tend to have trouble portraying unapologetically evil characters, always making excuses for them in their sad backgrounds (a fate that befell, to be fair, even Hannibal Lecter) or turning them into cartoonish abstractions, usually a reified Pinata calculated to draw the sticks and rocks of class resentment (A classic example is the fund-manager psycho in Kang Woo-suk's Public Enemy). There are indeed successful examples of giallo-like mysteries with a hard edge among Korean films (Tell Me Something comes to mind), but more often than not a serial killer tends to function as a handy symbolic presence for the dehumanizing forces of Korean society.
Seen in this light, Our Town's screenplay by Mo Hong-jin shows considerable hutzpah by directly delving into the social psychology of serial killing, not afraid to grapple with numerous cliches permanently associated with them (for instance, that they must always look "normal," even bland). Newcomer director Jeong Kil-young displays an assured hand in stitching together various strands of narrative and generating suspense without relying on post-production gimmicks or cheap shock tactics. Typically for a KNUA graduate, Jeong's best scenes are those not directly related to the central plot, such as an extremely natural interaction among Jae-sin and other cops filmed in a long take, or a weirdly witty third-person dream sequence about two sisters and a dude with black fingernails.
Both Oh and Lee deliver excellent, restrained performances, the former believably manipulative and conflicted when required and the latter high-strung but never histrionic. Unfortunately, Ryu, while a talented young actor, is not quite believable. Jeong does not help the matter by making him flip his eyeballs and fairly foam at the mouth in the overcooked climax, which does not quite sink the film but nonetheless brings it a notch and a half down in my estimation. As per recent Korean films, makeup effects, production design (Kim Hye-jin, Rough Cut) and cinematography/lighting (Lee Gang-min, Yellow Hair 2, and Kim Yu-sin, Beautiful Sunday) are all first-rate.
Our Town, even though it ultimately capitulates to the lugubriously Korean-style jeremiads on the decline of communal spirit and the evil effects of money on social relationships, is a rather decent mystery thriller that avoids insulting the viewer's intelligence and manages to hold its own against flashier crowd-pleasers like Seven Days.      (Kyu Hyun  Kim)

    Rainbow Eyes
Darlings, it's your refulgent raconteuress (So I am mangling my French. ¢¯Que vas a hacer al respecto, amigo?) and contrarian cinema-gabber, Yuhn Mikuk again! Professor Kim has many deadlines to tackle, over which he's tripping left and right at this right moment, I am sure.
In any case, watching this slick-as-combustible-fuel thriller, called Rainbow Eyes, or simply Mask (Gamyeon, or, in tune with the film's ?ber-pretentious attitude, "Persona," as in that Ingmar Bergman movie) in Korean, was like eyeballing a two-hour, non-stop parade of automobile, cell phone and men's fragrance commercials. But really, who am I to criticize the film's indolently indulgent, insouciantly intoxicant visual style, all those under-cranked, over-cranked, extreme-contrast, fuzzy-clutzy cinematography and shuffled-card-deck editing, all-so-fashionably wrapped up in smoky lighting and cool colors, if all that fuss does serve to tell an engaging story? Well, mis amigos, you know dang well if Rainbow Eyes had succeeded in doing that, I would have brought that up right in front.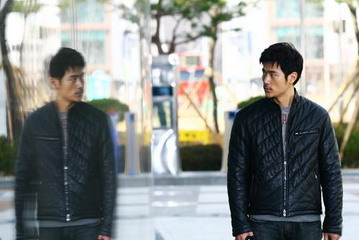 Rainbow Eyes' screenplay, penned by Han Jeung-ae and director Yang Yoon-ho, is cheesy enough to have been an enjoyable campfest had someone like Paul Verhoeven tackled it. Unfortunately, the filmmakers, headlined by Yang, an industry veteran responsible for a wide range of films, including Libera Me (Good), Fighter in the Wind (Bad) and Holiday (Bad, bad, bad, bad), give every indication that they take its insultingly laughable premise-leading to another laughable "twist ending"-seriously. The result is a lugubrious mess.
It's all related to the sexual abuse suffered by a pretty boyhood friend of Detective Jo (Kim Kang-woo, The Aggressives) during the former's military service, whose tormentors are now being carved up bloodily by an unknown assailant. Meanwhile, Detective Jo has a singularly dull romance going on with a nail artist Su-jin (Lee Soo-kyung, Tazza: High Rollers), who reminds him of somebody he used to know.
There, I just told you the movie's plot twist. Just put together the craziest, most ludicrous "surprise" scenario from the two sentences above and you most likely have nailed it.
Rainbow Eyes is one of those Korean films that claim to be addressing homophobia, and then populate themselves with the grossest and ugliest gay stereotypes. In this movie's hysterically macho portrayals, gays are not only "abnormal" but also not quite "Korean" either, peppering their preening, queen-y dialogues with snippets of broken English. I was willing to forgive the let's-reborn-as-a-hetero-couple "romantic" bullcrap of Bunjee Jumping of Their Own to a certain degree-after all, people didn't know any better then, did they?--, but not this.
Kim Kang-woo and Kim Min-sun (Memento Mori) are for all we know talented performers but Rainbow Mask really cuts them down to size. Kim's Detective Jo is a scowling idiot with an IQ of a dust mite. Kim's female detective is a total paper cutout: Olivia Benson from Law & Order: SVU or the crazy detective's former wife in Mad Detective (Mmm, now there's a real female cop!) will probably snap her like a twig with bare hands. To steamroll over a dried squid, two Kims share one truly embarrassing scene inside a closet, in which they literally act like a couple of eight-year-olds playing a doctor. I mean, hell-o? How did these two dunces ever get hired by a police department, much less Korean police?
What else have I missed? The God-awful expository dialogue? The big tear-jerking climax that's practically abusive to the poor Lee Su-kyung's integrity as an actor? How about the utterly incomprehensible coda, that seems to have been added for the sole purpose of killing off an annoying supporting character? If you get paid a dime for every "huh?!" moment in this film, you can probably buy an extra iPod with the change earned.
After everything is said and done, Rainbow Eyes is a total dud as a thriller, and is not even entertaining in a campy way. I suppose it might be enjoyed in the way glossy photo-spread magazines can, you know, the kind that consist entirely of advertisements, some fluff pieces, advertisements, photos of grinning celebrities, and more advertisements: in other words, as sheer eye candy. Some of you might be able to. I just couldn't, sorry. For the record, the technical specs are impressive, with DP Baek Dong-hyun (another No Comment alumn and responsible for Lump Sugar) and Production Designer Lee Jeong-woo (Open City) displaying their chops.
While we are at it, can I post a warning to future Korean filmmakers here? Under any circumstance, don't have your hero drive a motorbike without wearing a helmet (Jeong Woo-sung doing it once in Beat long time ago was enough already). He doesn't look cool, he doesn't look macho, and he doesn't even appear suicidal, which may have been the intent here, God knows. He just looks stupid. Very, very, very stupid. (Mikuk  Yuhn)

    Hansel and Gretel
Eun-su (Cheon Jeong-myung, The Aggressives, Les Formidables), a young man with a troubled relationship, has a car accident on the way to see his ill mother. Waking up, he is guided by a strange girl dressed just like Little Red Riding Hood to a fairy-tale-like country house. It turns out to be inhabited by three children, two girls and a boy, with a nerve-wracked couple who they claim to be their parents. Eun-su discovers, however, that something is seriously wrong. The home environment is either grotesquely saccharine or kitsch-surrealistic: everyday meal, for instance, consists of cupcakes, cookies and Jell-o puddings buried in the mountains of cream and sugar (Yuckiddy yuck!). Not only are the parents appear to be in mortal fear of the kids, the house's attic and a separate cottage appear to have some inexplicable, extra-dimensional qualities, like Dr. Who's TARDIS. The situation decisively turns toward the worse when the existing couple mysteriously disappears and another middle-aged couple arrives: the new "father," a church deacon (Park Hee-soon, Boss X-File, Seven Days), may be harboring terrifying secrets of his own.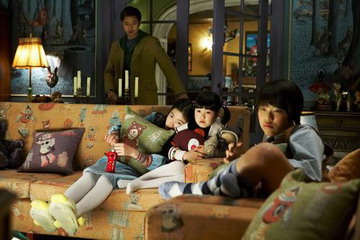 Hansel and Gretel is the sophomore effort by director Yim Phil-sung, whose Antarctic Diary was a commercial failure despite evincing considerable visual talent and mastery of genre idioms. Here, Yim turns the tables on the usual family-in-jeopardy thriller cliche and present the children as possible monsters of the piece. He has some fun with the conventions of the haunted house genre, and a few set pieces are both technically well-executed and horrifically imaginative, such as the slow calcification of a character into a living doll, complete with cracks and discolorings on the skin.
However, the central premise of Hansel and Gretel, children endowed with supernatural powers oppressing and punishing adults, is not carried to its fullest potential. This becomes clear when we compare it to the movie's one obvious model, the old Twilight Zone episode "It's A Good Life," written by Rod Serling. The show's blond kid, played by Bill Mumy, is one of the TV histories' most frightening monsters, precisely because he is so feckless and beguiling and yet is utterly, inhumanly ruthless in exercising his power. Hansel and Gretel, despite its rather high-quality special effects and efficient direction, cannot scale the height of excruciating terror found in this classic TV episode.
This may be partly due to the director's genuine desire to make a "fairy tale for adults," that has something meaningful to say about the abusive treatment of children as well as the hypocrisy of Christian institutions. But it is not easy to strike the right balance between the children's view of the harsh, destructive real world and the dream world of magic and innocence, as Guillermo Del Toro did in Pan's Labyrinth did. Yim Phil-sung instead plots a compromised, middle course. It is not helpful that the child actors in Hansel and Gretel are made to preen, chirp, scrunch their faces and otherwise overact. Some of the writing is simply awful: Eun-su's long-winded exposition of his background "in the mold of a fairy tale" (casting himself as a prince, and so on) is particularly embarrassing. The film does have spots of vitality, such as a scene where the children use their psychic power to shove an adult into a burning fireplace, but the overall impression is that Hansel and Gretel plays it too safely, turning what could have been a dark, powerful horror film into a quirky fantasy.      (Kyu Hyun  Kim)