2019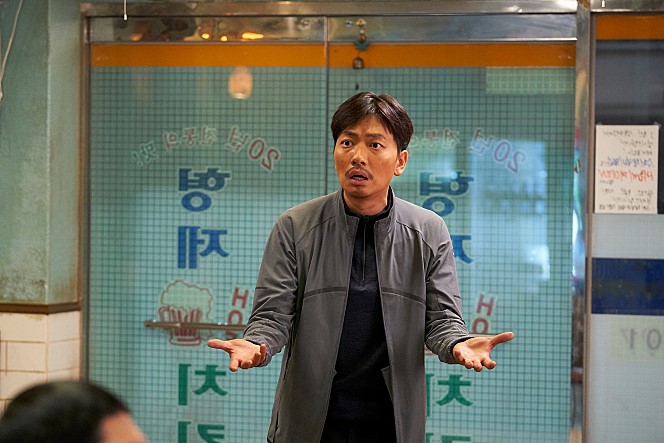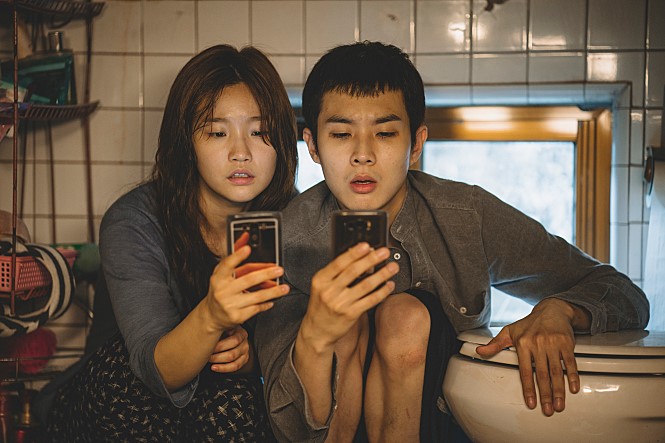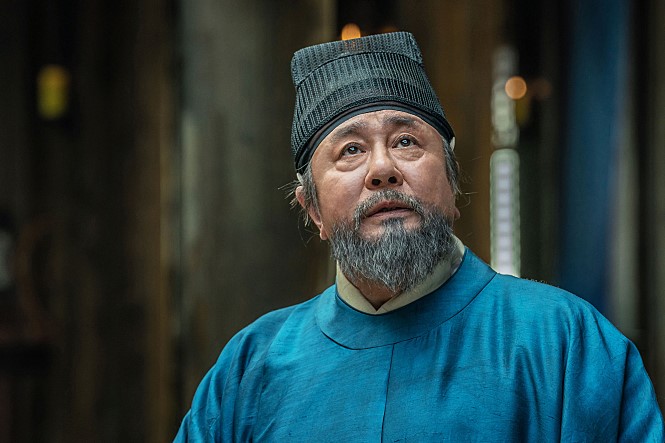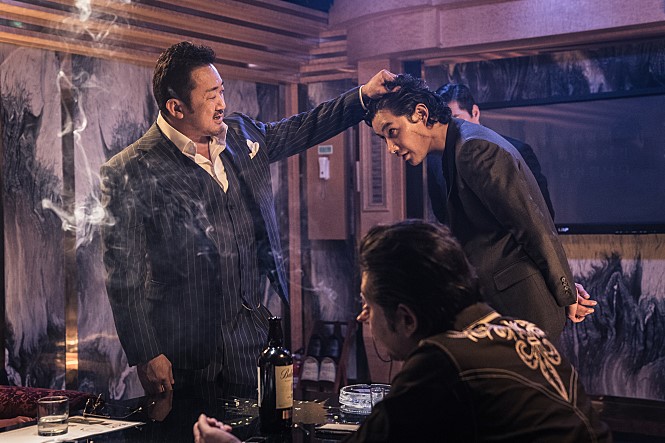 "Extreme Job",  "Parasite",  "Forbidden Dream",  "The Gangster, the Cop and the Devil"

   Despite opening the year with the massive hit comedy Extreme Job, which racked up the second highest number of admissions in Korean cinema history, things were not looking good for the film industry as a whole at the start of 2019. An unprecedented string of big-budget box office failures in 2018 had rattled the nerves of investors, and suggested that the big studios were beginning to lose touch with audience tastes. Although viewers had not turned their backs on Korean film entirely (the success of Extreme Job was proof of that), an overall sense of frustration was palpable among audience members in online forums and review sites.
As for the big-name auteurs, only one was scheduled to release a new film in 2019: Bong Joon-ho with his dark social drama Parasite. Selected for the competition section at Cannes, the film features an ensemble cast headed by Song Kang-ho and looked poised to leave a big impression both domestically and internationally. Also stirring up anticipation was the period drama Forbidden Dream by director Hur Jin-ho, featuring the veteran stars Choi Min-sik and Han Suk-kyu. A release is expected in the second half of the year.
Korean independent film, meanwhile, continues to struggle, with a promised boost in government support yet to materialize. Although large numbers of independent films continue to be made, often at great personal sacrifice, the challenge of finding an audience for these works grows more and more difficult by the year.   (Written on May 8)
     Reviewed below:     Innocent Witness (Feb 13)  --  Svaha: The Sixth Finger (Feb 20)  --  Birthday (Apr 3)  --  0.0MHz (May 29).
The Best Selling Films of 2019  (updated August 11)

| | Korean Films | Nationwide | Release | Revenue |
| --- | --- | --- | --- | --- |
| 1 | Extreme Job | 16,264,806 | Jan 23 | 139.6bn |
| 2 | Parasite | 10,076,019* | May 30 | 85.8bn |
| 3 | EXIT | 5,784,979* | Jul 31 | 48.7bn |
| 4 | Money | 3,389,035 | Mar 20 | 28.9bn |
| 5 | The Gangster, The Cop, The Devil | 3,364,360 | May 15 | 29.1bn |
| 8 | Svaha: The Sixth Finger | 2,398,519 | Feb 20 | 20.0bn |
| 9 | The Battle: Roar to Victory | 2,034,506* | Aug 7 | 17.5bn |
| 10 | The Dude in Me | 1,916,930 | Jan 9 | 16.3bn |
| | All Films | Nationwide | Release | Revenue |
| --- | --- | --- | --- | --- |
| 1 | Extreme Job (Korea) | 16,264,806 | Jan 23 | 139.6bn |
| 2 | Avengers: Endgame (US) | 13,934,372 | Apr 24 | 121.8bn |
| 3 | Aladdin (US) | 12,440,964* | May 23 | 106.0bn |
| 4 | Parasite (Korea) | 10,076,019* | May 30 | 85.8bn |
| 5 | Spider-Man: Far From Home (US) | 8,015,870* | Jul 2 | 69.0bn |
| 6 | Captain Marvel (US) | 5,801,070 | Mar 6 | 51.5bn |
| 7 | EXIT (Korea) | 5,784,979* | Jul 31 | 48.7bn |
| 8 | The Lion King (US) | 4,684,781* | Jul 17 | 41.1bn |
| 9 | Toy Story 4 (US) | 3,393,832 | Jun 20 | 28.7bn |
| 10 | Money (Korea) | 3,389,035 | Mar 20 | 28.9bn |
* Still on release.  Source: Korean Film Council (www.kobis.or.kr).


Seoul population: 10.4 million
Nationwide population: 50.9 million


Soon-ho (Jung Woo-sung, Steel Rain) is a lawyer who, in the early part of his career, established his reputation working for a progressive legal association. After years of defending ordinary citizens against large corporations, he has decided to accept a well-paid job at a leading firm. His new boss admires his talent and skill, but is concerned that Soon-ho's squeaky-clean image will make his rich corporate clients uncomfortable. "You need to get some dirt on you," the boss suggests. Meanwhile outside of work, Soon-ho leads a quiet life with his elderly father, who has Parkinson's disease. The one close friend he has is a former colleague at the legal association who is raising a school-aged daughter. But now that Soon-ho has, in effect, gone over to "the other side," she no longer feels as comfortable with him, either.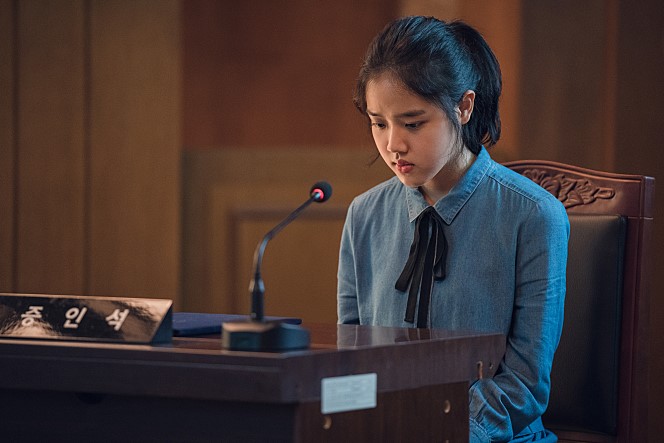 Soon-ho's first major case at his new job is one that the firm takes on for the sake of its image, rather than a big payoff. A housekeeper has been accused of murdering her employer, but she insists that she was simply unsuccessful in preventing a suicide. It seems like a straightforward case, but with one complication: the incident was witnessed by a school-aged autistic girl (Kim Hyang-gi, Along With the Gods) who lives in the same neighborhood. The girl, obviously traumatized by what she has seen, has given a statement to the police that supports the murder charge. But she refuses to meet with Soon-ho. Hoping to find some way to discredit her testimony, he starts coming to her school each day at the time she gets off, and walking home with her.
Innocent Witness could easily have been a forgettable, or even a very bad film. In recent years a number of Korean movies have depicted autistic characters, but not all of them have handled these depictions with sensitivity. In addition, the setup and overall plot structure of this film looks suspiciously predictable. In the hands of another director, it might have been a chore to sit through.
But one thing that director Lee Han has clearly demonstrated over the course of his career is that he is a gifted storyteller. Beginning with his breakout hit Punch (2011), he has specialized in works that are centered around well-drawn, three-dimensional characters while also gently introducing a contemporary social issue, like multiculturalism or (in the case of his well-reviewed low-budget drama Thread of Lies) teen suicide. His most recent work before Innocent Witness was the ambitious A Melody to Remember (winner of the Audience Award at the 18th Udine Far East Film Festival), which is based on a true story about a children's choir formed during the Korean War.
More than anything, Innocent Witness succeeds because of its memorable, well-drawn characters. Jung Woo-sung's Soon-ho comes across as much more than simply a lawyer torn between idealism and material success. He has a natural generosity of spirit that, in a very human way, can sometimes cross into overconfidence, leading him to overreach or say the wrong thing. His rival attorney in the case, played by Lee Kyu-hyung, is marked by a charismatic blend of determination, awkwardness and inexperience. And Kim Hyang-gi is convincing as the autistic Jiwoo, whose idiosyncratic means of expressing emotion masks a determined intelligence within. The end result is a film that is effortlessly comfortable to watch, respectful of the autistic character at its center, and steadily more emotional as it reaches its final act. The film's warmth, in this case, feels earned.      (Darcy Paquet)

    Svaha: The Sixth Finger
The film begins with what appears like the birth of the Anti-Christ in a rural Korean setting: in 1999, a disfigured, fur-covered creature is born as an elder twin to a pair of girls, nourishing itself on the flesh of her sister's leg while floating in her mother's womb. Their parents perish, but both children survive and grow up to become teenagers. Geum-hwa (Lee Jae-in, Horror Stories III, Our Body) and her religious-nut grandmother reluctantly have cared for her beastly sister confined in a warehouse for sixteen years (the film is set in 2015). Meanwhile, Pastor Park (Lee Jung-jae, Assassination, Along with the Gods series), a somewhat sleazy investigator of dubious religious organizations and practices, is recruited by a group of Buddhist abbots to look into a pseudo-Buddhist cult calling itself "Deer Hill." Park, partnered with his earnest assistant Joseph (David Lee, The Fortress, Swing Kids), starts investigation expecting an open-and-shut case, but he soon learns to his increasing alarm that some grandiloquently horrifying scheme has been set into motion by the cult, with the circumstantial evidence pointing to genuine supernatural presences among its members. Will the fast-talking Pastor and his naive assistant be able to unlock the mystery surrounding Deer Hill in time and save Geum-hwa, targeted by a tormented serial killer Na-han (Park Jung-min, Tinker Ticker, Psychokinesis), already responsible for murdering several young girls?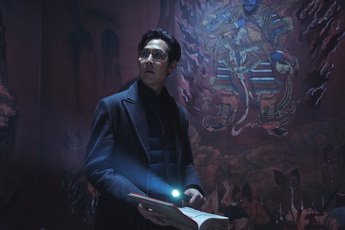 An RnK (Weyu Naegang) Production (Director Ryoo Seung-wan and his wife Producer Gang Hye-jung's company), Svaha is the sophomore film written and directed by Jang Jae-hyun, whose The Priests (2015) was one of the most enjoyable Korean horror films of recent years, a thoroughly authentic (although garnished by very welcome sprinkles of droll, knowing humor) yarn of Catholic exorcism, that took its genre conventions seriously yet cleverly localized them to generate its own distinctive flavor. The Priests was a big sleeper hit of 2015, collecting 5.4 million tickets and making horror fans (such as yours truly) sit up and take notice of its director. If anything, his follow-up film is even more ambitious and almost defiant in its willingness to immerse itself in all manners of occult arcana, including quite a handful of Buddhist mythology (the Four Deva Kings, the prophesized advent of the Maitreya Buddha, and so on). Despite lacking the surefire commercial ingredient of Jang's previous film, namely Gang Dong-won smartly decked in Catholic priest's frock, Svaha still managed to be a moderate hit during the 2019 winter season, selling approximately 2.4 million tickets, just enough to break even commercially.
Svaha faithfully follows many conventions of supernatural horror-thrillers, instantly recognizable to the filmgoers of practically any nation, yet, like The Wailing, serves as an example of uniquely South Korean genre cinema. Its central conceit of an investigator of the supernatural running into a case that severely tests his rational skepticism is altogether familiar from countless films and even TV series, such as Kolchak: The Night Stalker. Yet, Svaha feels entirely fresh in its theological or metaphysical eclecticism. Throughout the film, Pastor Park accepts at face value the supernatural phenomena of the quasi-Buddhist type he confronts, but more importantly, his attitude turns out to be resolutely humanistic. Park fights against not so much against the situations that chafe against his Christian beliefs as against those characters arrogant and callous enough to engineer sacrifices of "little people" for what they believe to be a grand divine purpose. What is interesting is that the heterogeneity of cosmological schemata (karmic destiny versus God's will, for instance) accepted by Pastor Park in the course of his search for the truth ends up reaffirming his (Christian) faith in God, instead of subverting it. The memorable and surprisingly somber final scene of the film has him uttering a heartfelt entreaty to God, asking the latter to save us mortals from our own hubris and blind will to power.
Fascinating theological-religious questions raised by the present film aside, director Jang expertly wrangles horror set pieces, although the droll humor is a bit subdued this time around, and at two hours and two minutes, the motion picture is somewhat, though not fatally, overlong. The cast is dependably good: Lee Jae-in proves her gumption in a tricky dual role (although perhaps not quite as endearing as The Priests' Park So-dam), and Yu Ji-tae (Oldboy, The Swindlers) is excellently cast as an enigmatic custodian of the Deer Hill properties, charismatic and creepy in equal measure. DP Kim Tae-soo (Collective Invention, Microhabitat), Lighting Director Jeon Young-seok, Production Designer Seo Sung-kyung all do credible jobs, believably assembling together such realistic yet fantastic settings as the Deer Hill prayer rooms with striking murals of wrathful Deva Kings.
Svaha is perhaps a tad more difficult to approach than The Priests, especially for Euro-American viewers unfamiliar with its (non-Zen) Buddhist mythology, and some may also feel that the film throws in one too many surprise revelations and expository dialogues to tie up all the loose ends in the latter half (which it does satisfactorily, no mean feat in my opinion). Nonetheless, it ultimately shapes up to be an extravagantly entertaining red-meat horror flick that refuses to condescend to its genre thrills, and to treat them as baits for allegorical ruminations about the dark side of human existence, as some "artistic" horror films are wont to do. Jang Jae-hyun scores a solid hit again, and I for one would be looking forward to his next project, all but certain to be another intriguing, sui generis genre opus.      (Kyu Hyun  Kim)

    Birthday
The Sewol Ferry sinking on April 16, 2014 stands as the biggest collective trauma leveled on South Korean society in the past decade. Of the 304 people killed in the accident, 250 were students and teachers from Danwon High School in Ansan City, who were traveling on a school trip. Not only did the tragedy devastate a community (and the rest of the nation, who watched helplessly on TV as the ship went down in real time), it produced a flood of unanswered questions: Why did the ship sink? Why wasn't a fast and effective rescue operation carried out? Why did the government try to cover up key details about the accident? What should be done to ensure that such an incident will never happen again?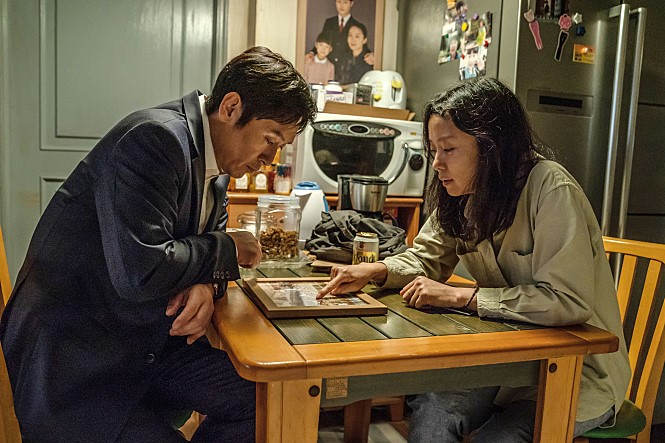 In the years since, quite a few films and documentaries have been made to grapple with these and other lingering questions. The politics surrounding the incident have grown only more bitter and divided with time. Now, exactly five years after the sinking, the film Birthday has emerged with a very focused objective. Avoiding overt references to politics or to the cause of the sinking, Birthday simply aims to give voice to the grief of the bereaved families.
The plot centers around Jung-il (Sul Kyung-gu), the father of one of the victims, who returns to Korea after years spent running a factory in Vietnam. His return causes a bit of a stir. He needs to be introduced to his young daughter Ye-sul, who doesn't recognize him. It also soon becomes clear that his wife Soon-nam (Jeon Do-yeon) does not want anything to do with him. One only needs to look at Jung-il's face to understand that he is suffering, and haunted by the death of his son. But the process of reconnecting with his family is complicated, and takes time.
Soon-nam, meanwhile, is only barely hanging on. Her son's room remains exactly as it was when he left to go on that school trip. In her community, she sometimes runs into other parents or classmates of the children who died, but for the most part, she tries to avoid them. At this point, a member of a volunteer group arrives and makes a suggestion. Her son's birthday is approaching, and the volunteer offers to organize an event in his memory. It will be a birthday celebration, of a kind, where people who knew him gather to share their stories.
The Korean film industry is known for turning out a lot of tear-jerkers, but that term feels wrong as a description of this film. Debut director Lee Jong-un, who worked on the production team of Secret Sunshine and Poetry by Lee Chang-dong (who serves as a producer on this film), takes a nuanced approach to extremely emotional material. The hugely accomplished leads Sul Kyung-gu and Jeon Do-yeon take care not to exaggerate or embellish the parents' grief. But it's because of this measured approach that the film becomes so devastatingly sad by the end. Watching it is an intense, exhaustive and cathartic experience. Stories abound of strangers bonding in movie theaters over shared packs of Kleenex.
It may be that some viewers, particularly outside of Korea, feel alienated by the raw, communal expressions of grief in the film's final half hour, which depicts the birthday event of the film's title. But they do seem true to life. Director Lee based the script on her own observations while volunteering with bereaved families in the aftermath of the tragedy. In the coming years she became close to many of the families, and also attended events such as the one depicted in Birthday. Such gatherings, it seems, have been effective in helping families cope with their grief, and perhaps this film might serve a similar role, too.      (Darcy Paquet)
    0.0MHz
So-hee (Jung Eun-ji of the k-pop girl group A-pink) is a sullen-looking member of a college extracurricular club called "0.0MHz," allegedly referring to the moment when the human brain-wave signals zero activity and thus could invite the supernatural presence to declare itself. Led by the suave Han-seok (Shin Ju-hwan, Hit-and-Run Squad), the gang, consisting of the irritable and sleazy Tae-soo (Jung Won-chang, The Battleship Island), the foxy Yoon-jeong (Choi Yoon-young, Horror Stories) and the rookie Sang-yeop (Lee Sung-yul of the k-pop boy group Infinite), decides to investigate an isolated haunted house in which a young woman had hanged herself (and already caused the death of a shaman in the prologue), clearly not taking its notoriety too seriously. So-hee reluctantly joins them, hiding from them her maternally-inherited ability to actually see the spirits of the dead. Sure enough, the vengeful ghost of the suicide victim appears for real and takes possession of Yoon-jeong, forcing So-hee to revisit her dormant skills as a medium-exorcist in order to save the lives of her college friends.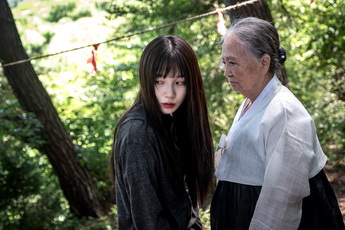 Yet another thriller based on a webtoon series, a popular debut comic by Jangjak, whose Gwishin (Ghost) is a rare item, a straightforward horror story set during the colonial period (hopefully a cinematic adaptation is in the works?), 0.0MHz quickly does away with the gimmick of using medical technology to spot the moment of supernatural advent, and focuses on the confrontation between So-hee and the ghost, who eventually manifests herself as a decapitated head using her locks like tentacles to grab hold of her victims and infiltrate their brains. Adapted for screen and directed by Yoo Seon-dong (Death Bell 2: Bloody Camp, The Quiz King, although he seems to be doing better these days as a mystery writer. His novel The Purloined Book won accolades and was adapted into a play and, yup, a webtoon), the film covers familiar territories for a mid-range budget summer horror. It evokes both classics of the genre such as Evil Dead as well as a few well-known tropes of J-horror such as Ito Junji's Tomie series and Sono Sion's Exte: Hair Extensions (2007), generating an almost comfortable sense of déjà vu.
The production design team headed by Lee Si-hoon has done a fine job of creating an atmospherically decrepit country house, while the SFX staff including Lee Sang-min (Jeil M.S.), MOMOTO and Robofix Digital, along with the special makeup effects crew headlined by Lee Joo-hwan (FXLab), provide adequate, if not exceptional, visuals, perhaps reined in by the limited budget. To be a bit hair-splitting (pun unintended), the coarse, wiry texture of the ghost's tresses is rendered very nicely, while its actual visage looks disappointingly goofy. To be fair, the source webtoon itself, like many of its kind, relies on good characterization and complex narrative rather than innovative imagery, so the filmmakers could not exactly rely on it for rendering the ghost convincingly cinematic. I would also like to give high points to composer Kim Woo-geun (House of the Disappeared), whose pulsating score makes knowing references to a few genre staples, such as Michael Oldfield's tubular bells for The Exorcist. The young cast proves game to the demands of a horror thriller, Shin, Jung and Choi doing thespian heavy-lifting while Sung-yul appears appropriately shy and cute. I feel that So-hee's morose characterization is a mismatch to Jung's natural charms, but she proves a trouper nonetheless, and has a good chemistry going with the fellow k-pop idol Sung-yul.
0.0MHz did receive some positive reviews but overall box office performance was lukewarm at best, collecting approximately 137 thousand tickets in its two months of theatrical runs. It is in the end a rather conventional horror film, not advancing the Korean horror much beyond the template established in early '00s. For what is its worth, I found the film's twist ending moderately interesting, in the sense that it seems to betray its premise and question the efficacy of shamanistic rituals at the center of the film. In other words, the movie appears to acknowledge in an underhanded way that the (anti-misogynistic) rage of a contemporary Korean (female) ghost is way too powerful (too real?) to be contained or exorcised by the shamans who berate and scold the dead spirits as if they are drill sergeants bullying rookie recruits, as the cultural convention dictates. Perhaps the Korean exorcists should have attempted to sympathetically listen to the ghost and even help the latter go after those who had driven her to death? That might have struck the female viewers as at least refreshing, and could not have hurt its box-office fortunes either.      (Kyu Hyun  Kim)