2017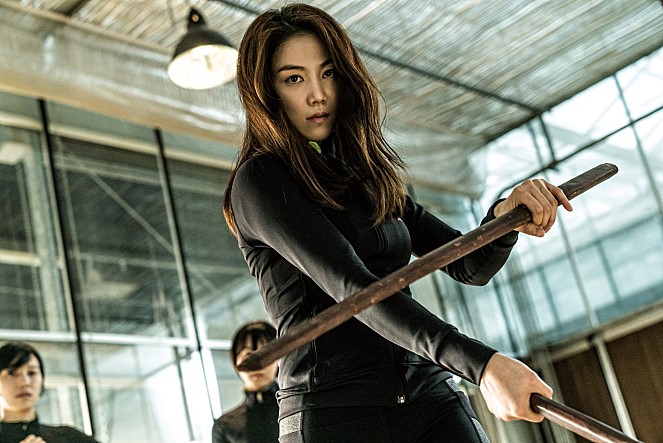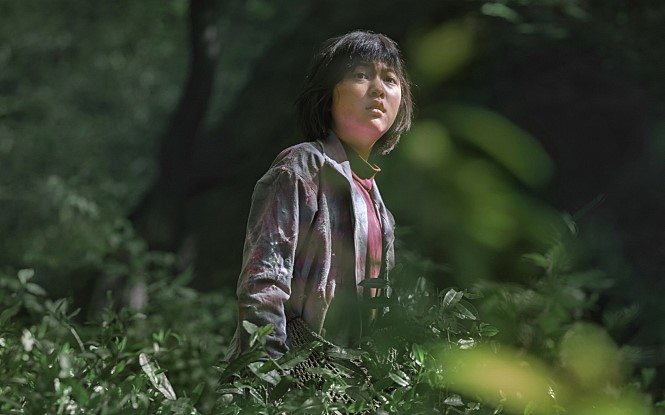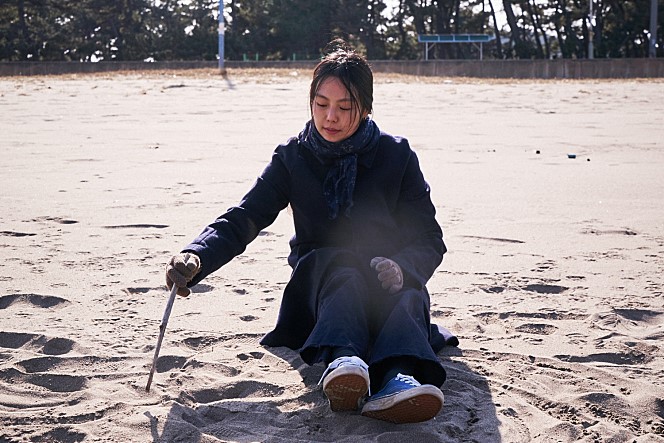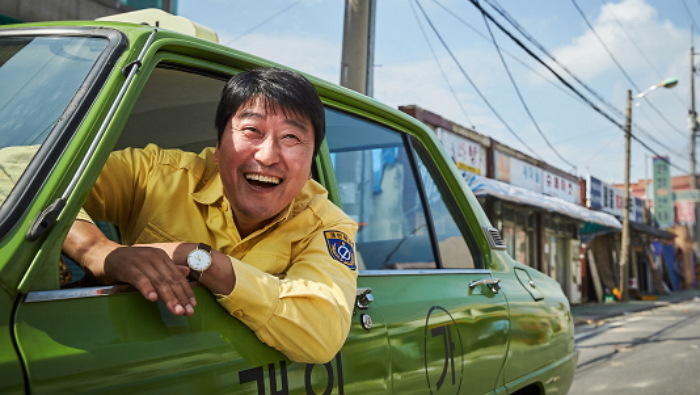 "The Villainess",  "Okja",  "On the Beach at Night Alone",  "A Taxi Driver"

   After the heights scaled in 2016, it seemed inevitable that there would be some sort of return to earth in 2017. The early part of the year has bourne this out so far, although the film industry did manage to turn out a couple of hits. Korean films have also made their presence felt on the international film festival circuit, thanks in large part to Hong Sangsoo.
At the opening of May (the time of this writing), there have been two films so far to pass the 5 million admissions mark: the well-packaged Confidential Assignment -- sort of like Rush Hour but with North and South Korean detectives -- and the ambitious star vehicle The King, about corrupt prosecutors. Nonetheless The King was widely considered a disappointment, considering the high expectations surrounding its release. By contrast the mid-budget The Prison and New Trial, both of which feature heroes who try to bring down characters who see themselves as above the law, are more widely viewed as surpassing expectations.
On the festival circuit, Hong Sangsoo is presenting no less than three new features. On the Beach at Night Alone premiered in competition in Berlin and won a Best Actress award for Kim Min-hee. Then just a few months later, both The Day After and Claire's Camera premiered in different sections at the Cannes Film Festival. This officially wipes clean the backlog of unreleased Hong Sangsoo features, though one can expect that he may shoot another one this fall. Cannes also hosts the premiere of the Netflix-financed Okja by Bong Joon-ho -- the most heavily anticipated Korean film of the year -- and two more genre films in the Midnight section: The Villainess starring Kim Ok-bin and The Merciless with Sul Kyung-gu and Im Si-wan.   (Written on May 3)
     Reviewed below:     Fabricated City (Feb 9)  --  New Trial (Feb 15)  --  Bluebeard (Mar 1)  --  The Prison (Mar 23)  --  The Villainess (Jun 8)  --  Okja (Jun 29)  --  The Battleship Island (Jul 26)  --  The Mimic (Aug 17)  --  Heart Blackened (Nov 2)  --  Room No. 7 (Nov 15)  --  The First Lap (Dec 7)  --  Along with the Gods (Dec 20).
The Best Selling Films of 2017 (updated on Feb 11, 2018)

| | Korean Films | Nationwide | Release | Revenue |
| --- | --- | --- | --- | --- |
| 1 | Along with the Gods | 14,334,153 | Dec 20 | 115.1bn |
| 2 | A Taxi Driver | 12,186,684 | Aug 2 | 95.9bn |
| 3 | 1987 | 7,218,372 | Dec 27 | 58.1bn |
| 4 | The Outlaws | 6,880,503 | Oct 3 | 56.3bn |
| 5 | The Battleship Island | 6,592,151 | Jul 26 | 50.5bn |
| 6 | Midnight Runners | 5,653,270 | Aug 9 | 44.4bn |
| 7 | Steel Rain | 4,451,156 | Dec 14 | 35.5bn |
| 8 | The Swindlers | 4,018,341 | Nov 22 | 31.3bn |
| 9 | The Fortress | 3,849,087 | Oct 3 | 31.2bn |
| 10 | I Can Speak | 3,280,243 | Sep 21 | 25.5bn |
| | All Films | Nationwide | Release | Revenue |
| --- | --- | --- | --- | --- |
| 1 | Along with the Gods (Korea) | 14,334,153 | Dec 20 | 115.1bn |
| 2 | A Taxi Driver (Korea) | 12,186,684 | Aug 2 | 95.9bn |
| 3 | Spider-Man: Homecoming (US) | 7,258,678 | Jul 5 | 59.1bn |
| 4 | 1987 (Korea) | 7,218,372 | Dec 27 | 58.1bn |
| 5 | The Outlaws (Korea) | 6,880,503 | Oct 3 | 56.3bn |
| 6 | The Battleship Island (Korea) | 6,592,151 | Jul 26 | 50.5bn |
| 7 | Midnight Runners (Korea) | 5,653,270 | Aug 9 | 44.4bn |
| 8 | Beauty and the Beast (US) | 5,138,330 | Mar 16 | 42.1bn |
| 9 | Kingsman: The Golden Circle (US) | 4,944,902 | Sep 27 | 41.0bn |
| 10 | Thor: Ragnarok (US) | 4,857,152 | Oct 25 | 39.2bn |
* Still on release.  Source: Korean Film Council (www.kobis.or.kr).


Seoul population: 10.4 million
Nationwide population: 50.9 million


There's a sense of mischief in the air from the very opening scenes of Park Kwang-hyun's Fabricated City. Despite its dark visual tone and the mood of foreboding that hangs over just about every scene, there's also a playfulness at work just below the surface. But you wouldn't necessarily pick that up just from reading the synopsis.
Our protagonist Kwon Yoo (TV star Ji Chang-wook, in his film debut) is a heroic online gamer, displaying resourcefulness, leadership abilities, and a willingness to sacrifice himself for the good of his fellow players. In real life, however, he is an unemployed loser who was kicked off of the national taekwondo team for fighting with a teammate. Living with his mother, his life seems to be going nowhere, until it unexpectedly gets much worse. After receiving a phone call and following through on what seems like an ordinary request, he suddenly finds himself accused of rape and murder, with forensic evidence that seems irrefutable. Kwon Yoo is baffled, both at how he ended up being framed this way, and why anyone would bother to target an ordinary guy like him.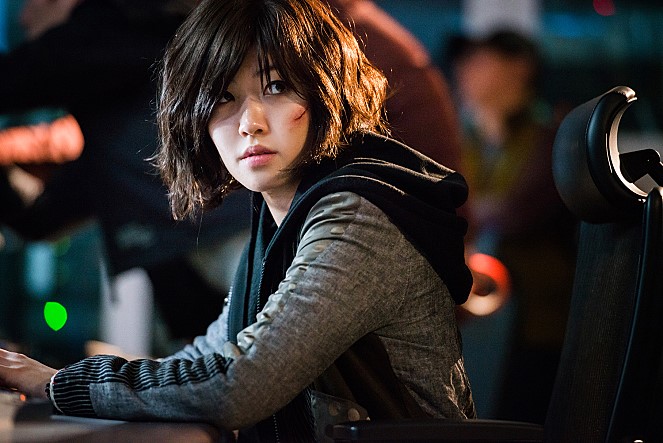 His confusion will only grow deeper as he finds himself painted as a monster in the press, then swiftly sentenced and thrown in jail with a life sentence and no parole. But the plot of Fabricated City is only just getting warmed up. With each breathless escape, plot twist and betrayal more outlandish than the last, Kwon Yoo finds himself on an adventure far more dramatic than the games he loves to play.
It should probably be emphasized from the start that in order to enjoy Fabricated City, you have to watch it in the right frame of mind. (This film has a lot of haters.) Its hyper-kinetic energy and cyber-punk attitude are probably more naturally suited to the young, but most of all, it needs to be watched with an appreciation for the tongue-in-cheek rebelliousness that lies at its heart. Like many recent Korean films, it is a story about power and social injustice, but instead of the usual heavy, despairing tone and urgent moralizing we've come to expect, Fabricated City simply lifts a big middle finger to the 1%.
Director Park Kwang-hyun has been away a long time since releasing his hugely popular debut film Welcome to Dongmakgol, which was scripted by Jang Jin and which sold over 8 million tickets. Over the next decade Park's intended follow-up, the big-budget SF action project Kwon Bob, looked ready to enter production on several occasions before falling through each time for various reasons. Fabricated City is perhaps an unexpected comeback for the director, with a very different tone than we've seen in his previous work. It has its weaknesses, including an at-times imprecise control over the film's tone. But Park retains his gift for creating interesting and funny characters, such as the genius hacker Yeo-wool who has some unusual communication issues (played by Shim Eun-kyoung, who voiced the robot in Sori: Voice from the Heart) and the central villain played with knowing irony by Oh Jeong-se (How to Use Guys With Secret Tips). It's these sort of colorful and unpredictable characters that ultimately prove to be Fabricated City's biggest strength.      (Darcy Paquet)

    New Trial
In recent years there have been a number of successful Korean films based on real-life court cases, such as Chung Ji-young's Unbowed, in which a professor threatens violence against a judge he believes is biased; and FEFF Audience Award winner Silenced, about victims of sexual abuse at a school for the deaf. New Trial too is based on a real life court case that has received considerable attention in the Korean press, particularly after being highlighted in a popular investigative TV program. But what makes this a particularly unusual situation is that as the film was being developed, written and shot, the trial was still ongoing.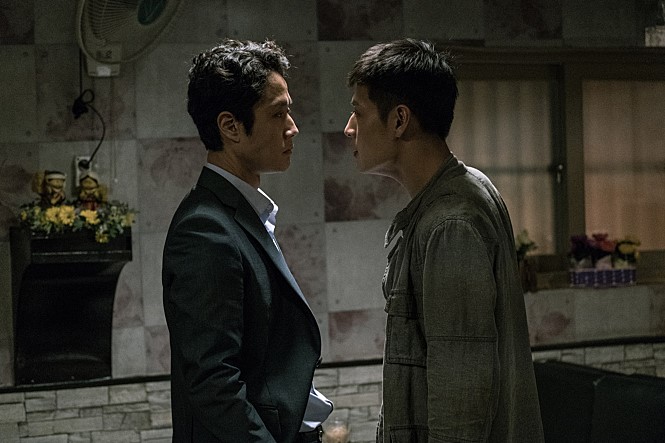 The "Yakchon Intersection murder case" took place in August 2000 in the southwestern city of Iksan. A 15-year-old high school student working as a delivery boy came across a taxi driver who had suffered repeated stab wounds. After testifying to the police, the boy was arrested as a suspect, and ultimately confessed to the crime. He then served 10 years in prison before being released in 2010. However the story did not end there, with the government demanding that the boy's family pay the equivalent of $90,000 in indemnities. Desperately poor, and outraged at the way he had been treated, the defendant then filed for a retrial, asserting that he was innocent and his original confession had been forcibly extracted by the police with threats and violence.
New Trial is not meant to be a documentary retelling of what actually happened. It's a character-based drama that alters some of the specifics, and sometimes tips over into melodrama, but stays true to the core issues of the case. The main character in the film is not the defendant - named Hyun-woo and played by the popular actor Kang Ha-neul (Dongju: The Portrait of a Poet) -- but the lawyer who represents him. As the film opens, Joon-young (film/TV star Jung Woo) has hit rock bottom, losing a major class-action lawsuit. With his family life in crisis and his public reputation shattered, he begs a friend to help him find work. But it's clear that Joon-young has an attitude problem. It's with great reluctance that he agrees to take on some pro bono work, through which he meets Hyun-woo's mother and begins to learn about their situation.
Actually this is not the first time that director Kim Tae-yun has adapted a controversial real-life case into a commercial film. Another Family (2013) is a thinly-veiled reference to a notorious Samsung Electronics semiconductor plant where workers contracted a wide range of life-threatening illnesses including leukemia. It is the story of the father of one of the victims, who in the course of working through his grief and demanding that the company accept responsibility, gradually transforms into an activist. It was a daring film to make, given Samsung's outsized influence in South Korean society, but he managed to strike an effective balance between social criticism and entertainment.
New Trial too is, at its heart, the story of one man's inner transformation. And as with his previous film, Kim tries to accomplish two things at once. He presents a dramatic story that pulls the viewer in and makes us care about the fate of its characters, but he also embeds the work with a streak of idealism (although it is not Ken Loach by any means). In the end, I felt that Another Family was a bit more successful in walking this tightrope.
Because this screenplay was written before the retrial even opened, New Trial lacks the sort of grand courtroom finale that many viewers might be expecting. To be honest, the ending feels abrupt and a bit unsatisfying, particularly for those who weren't familiar with this case before watching it. But Korean audiences didn't seem to mind, with decent word of mouth pushing New Trial proved to an unexpectedly strong 2.4 million admissions. In a weak winter season, it was a comparative standout.      (Darcy Paquet)

    Bluebeard
Seung-hoon (Jo Jin-woong, The Handmaiden) is a physician working in an up-and-coming clinic open in a newly developed Gyeonggi Province city. Quiet, bookish and somewhat neurotic, he turns out to be a recent divorcée, renting a small flat above the neighborhood butcher shop run by the openly creepy Sang-geun (Kim Dae-myung, Pandora). One day, Seung-hoon runs a colonoscopy operation by himself on the butcher shop's half-senile grandpa (Shin Goo, The Foul King), and overhears the latter unconsciously mumbling something about chopping up and discarding a human body. It then turns out that as the ice begins to melt around the Han River, a headless torso of a woman is found floating near the city. Seung-hoon becomes increasingly nervous, and begins to suspect that his erstwhile patient grandpa and Sang-geun may be a pair of Bluebeards who murdered their respective spouses and dispatched their bodies like racks of beef. He finally panics when he locates what he believes to be the severed head of the butcher's missing Filipino wife, first in the butcher shop and then in the refrigerator in his own flat (with no memory of how it got in there). The only person who seems to believe his cockamamie story is Jo Kyung-hwan (Song Young-chang, Veteran), a retired cop looking into a series of unsolved murder cases in the area.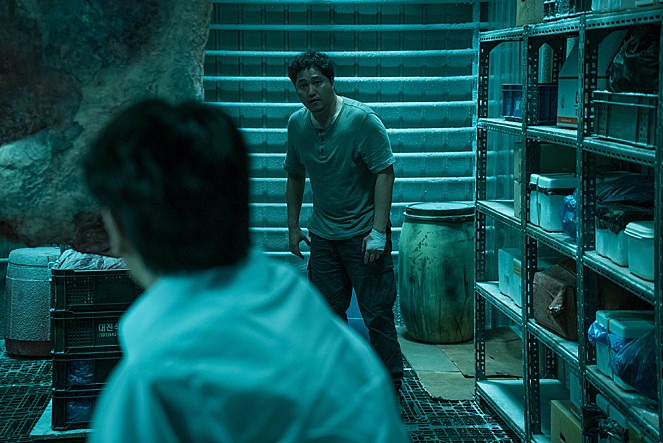 Bluebeard, the Korean title of which is "Ice Melting," a more apt metaphor for the process by which the film's weird mystery is resolved, like a block of ice that slowly melts to reveal a fetid, forbidden substance encased within it, marks the return after 14 years of director Lee Soo-yeon, whose long-form debut The Uninvited (2003) is considered one of the creepiest Korean horror films of the new millennium. Lee's personal touches are easy to spot in Bluebeard: sharp observations-- through DP Uhm Hye-jeong's (one of the few female cinematographers in the South Korea movie scene) lens and LS Jeong Hae-ji's lighting-- of the clinically modern urban environment, punctuated by gruesome and surreal visions such as the blood-soaked abattoir, slimy close-ups of the innards of human body, and a headless torso twitching as fragments of ice dissolve around it. There is also a certain pathological quality to the main characters, who explode into violence at the moment of reckoning with their long-suppressed desire or guilt; jagged flashbacks and other editorial tricks that play with the viewer's perceptions of the diegetic reality; all ably supported by a subtle, minimalist music score (Jeong Yong-jin, Hong Sang-soo's favorite composer) and superbly wrangled performances by the main cast.
Happily, Lee has lost none of her thriller-maker's acumen: Bluebeard holds its interest as an intriguing mystery, even when we recognize that there are a few major potholes in the narrative path. For The Uninvited, she has squeezed out of Jun Ji-hyun (Gianna Jun) one of the latter's best performances, and does not disappoint with either Jo Jin-woong or Kim Dae-myung. Jo can play uproarious, high camp (A Hard Day) or timid and petty-bourgeois-endearing (Hwayi: A Monster Boy), but his Seung-hoon is a much more complex portrayal, low-key yet laced with the suppressed senses of equal parts remorse and hostility. The emotionally raw scenes of Seung-hoon and his divorced wife (Yoon Se-ah, Shadows in the Palace, also excellent) attempting a reconciliation is a case in point: one usually does not get to witness such powerful scenes of acting in a flashback sequence in a mystery thriller. Kim Dae-myung is also effectively subdued as the poker-faced butcher, never quite revealing the real thoughts going on behind his beady-sleepy eyes, all the while eloquently going through the motions of being a friendly landlord.
Nonetheless, Bluebeard is marred by its needlessly meandering narrative-- the movie could have been trimmed of about 25 minutes, especially in the second half-- and the extended coda, probably meant to comment on the ubiquity of surveillance tools in a modern society, but which in the end feels like a concession to one of the conventions of the genre. One cannot blame Lee for not playing fair with the mystery fans among her viewers, except that those familiar with early '00s horror films might find her ultimate key to the puzzle something of a disappointing retread (not of her own film, to be sure), if not a total wash. One of the reasons that we feel a measure of disappointment at the later half is that Jo and director Lee have sculpted Seung-hoon's character into an intriguingly ambivalent figure, putting him on a skillful balancing act between the viewer's sympathy and disgust. Regardless of whatever fate he "deserved" morally, the film really should have ended at the point where his story was finished. On the other hand, Lee handles the tangential social issues such as prejudice against non-Korean ethnicities as well as the emotional toll a divorce takes on children with admirable degrees of sensitivity and equanimity. Despite surprisingly gruesome visuals (in a particularly bloody fantasy sequence, Seung-hoon witnesses Sang-geun and his father exsanguinating a headless corpse of a middle-aged woman hanging from a meat hook) the movie never really ends up feeling exploitative or sleazy.
Bluebeard is a welcome return to form from a New Korean Cinema director thought for many years as one of those unfortunate "Forced to Become One Hit Wonder" figures. Thankfully, while the film was not a big hit, it managed to recoup its production budget with more than 1.2 million tickets sold in the winter season of 2016-17. Here's hoping that director Lee Soo-yeon comes back with another intriguing thriller or fantasy (hopefully the long-gestating "mermaid monster" project that she has been trying to mount for years) sooner rather than later.      (Kyu Hyun  Kim)

    The Prison
The runaway box office success of A Violent Prosecutor in early 2016 spoke to the popular appeal of prison movies. One year later, The Prison took another crack at the genre, and once again it seems to have paid off. Long time screenwriter Na Hyun's directorial debut is darker and more claustrophobic than many of its predecessors, and the methodical way in which it reveals the power structures within a notorious high-security prison make for engaging (though in no way groundbreaking) viewing. The general public responded fairly well to the film, turning it into a mid-sized hit.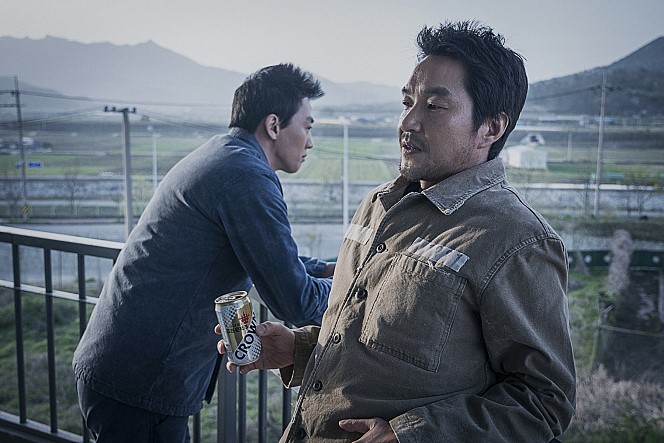 A brief prologue depicts the carrying out of an unusual crime. The CFO of a large conglomerate is in a hotel room, on the day before he is to be summoned by prosecutors in a tax evasion case. Just then a group of men walk into his room, subdue him, and inject a lethal dose of drugs into his blood. Careful not to leave any fingerprints or other traces of their presence, they make it look like he overdosed by accident. It's what happens next that is unexpected: the men return to their vehicle, make their getaway, and then drive through the gates of a prison. Inside, they change back into their prison uniforms and go back into their cells. It's a perfect crime, virtually untraceable. Who would think to suspect a criminal who is already in jail?
Such an operation cannot be planned by just anyone, and sure enough, within the prison there is a man whose power and connections are extraordinary. Jung Ik-ho (Han Suk-kyu, Tell Me Something) is a long-term prisoner who not only exerts absolute control over his jail, but through a combination of bribes and intimidation maintains a vast network in the outside world. With the warden in his pocket, he is able to do pretty much whatever he wants, and in some ways being in jail is an advantage to him.
Into this cruel environment arrives Yu-gon (Kim Rae-won, Gangnam Blues), a former police lieutenant who at one time was famous for his stubborn pursuit of criminals at all costs. After a hit and run accident, which he then tried to cover up with bribes and destruction of evidence, Yu-gon finds himself on the other end of the criminal justice system. His arrival at the prison is greeted with glee by some of the inmates who ended up there because of him. But Yu-gon is no dupe, and their plans to exact revenge are not so easily realized. When it becomes clear that there is a new, unusually ruthless fighter in the prison, Ik-ho takes notice.
The Prison is mostly solid and unremarkable, but it does have its strengths, including its acting. Han Suk-kyu has a long career stretching back to the 1990s, when he was arguably the most popular actor working in the industry. His experience is highlighted in a role like this, where he projects a menacing power even in the scenes where he chooses not to use it. Kim Rae-won too is convincing as someone whose obsessive drive carries him far beyond what you would expect him to do.
Whether The Prison is memorable is another question. I have a feeling that in five years I'll be struggling to distinguish the plot of this film from other prison dramas. (I suppose that's true of most of the films Korea is putting out these days) But if nothing else, I'm sure I'll remember the image of Han Suk-kyu, because he took a familiar character type and gave it an unusual energy.      (Darcy Paquet)

    The Villainess
The film barely opens before an unseen assailant spectacularly shoots, stabs, slices, smacks and strangles to death more than two dozen hoodlums in a back-alley of Seoul, showering the screen with geysers of blood. To the viewer's astonishment, the assailant turns out to be a pretty young woman, Suk-hee (Kim Ok-vin, Thirst): exhausted and seemingly having lost the will to live, she surrenders to the police. However, instead of being tried as a murderer, the Yanbian native finds herself forcibly "recruited" as a member of an elite female assassin team working for the South Korean government. After plastic surgery and vocal training, Suk-hee starts a new life as a stage actress with her toddler daughter, under the tight surveillance of her supervisor Kwon Sook (Kim Seo-hyung, Forbidden Floor) and "caretaker" Hyun-soo (Seong Joon, excellent in the indie film Pluto), now married to her after approaching her disguised as a friendly neighbor. Of course, the government reserves the right to task her with a wet-girl job anytime they want. She dutifully performs these assassinations, but one day she recognizes one of the assigned targets. It turns out to be her former husband, Lee Joong-sang (Shin Ha-kyun, Room No. 7), the gangster who had trained her to be a human lethal weapon in China, and whose supposed death she was meaning to avenge in the opening sequence.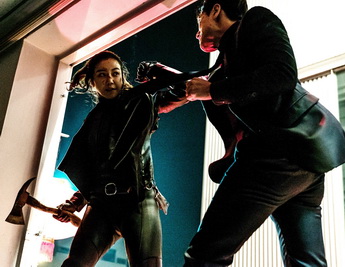 The Villainess, co-written and directed by Jung Byung-gil, who debuted with the well-received documentary Action Boys (2008) but received mixed notices for the second feature Confession of Murder (2012), garnered spotlights when it was invited to Midnight Screening section of the 2017 Cannes Film Festival, in addition to being a rare Korean actioner toplining an actress, in this case the svelte and foxy Kim Ok-vin. The movie belongs to one of the currently fashionable sub-genres in the R-rated "action and adventure" category that relentlessly focuses on the mind-blowingly intricate architecture of hand-to-hand combats and the creative ways to inflict bodily damages. Typically in these films the viewers are bludgeoned with progressively impossible action set-pieces, such as a one-take shot of two actors falling through three stories to a parked van below-- which must believably crunch on the impact, ouch!-- all the while frantically slashing at each other with sharp knives and, of course, drenched in tropical downpour. This bare-knuckles aesthetic has become a notable component of "Extreme Asian Cinema"-- Iko Uwais and Gareth Huw Evans's The Raid films (2011 and 2014) are premier examples--, as well as of Hollywood, resulting in relatively high-profile projects such as John Wick (2014) and its sequel (2017) with Keanu Reeves as well as Atomic Blonde (2017) starring Charlize Theron (There is also an intriguingly self-reflexive, self-consciously "laid-back" variant of this sub-genre, such as Steve Soderbergh's Haywire [2011], but let's not get carried away).
Depending on where you are coming from, The Villainess is just what the acupuncturist ordered to cure your cinematic doldrums, or a vicious waste of celluloid wallowing in pointless gore and heedless violence. Not that The Villainess actually looks ugly. Given its medium-high budget (around at 4:5 million dollars, still dirt-cheap compared to a regular Hollywood fare), the motion picture is all surface slickness, with primary-colored, cartoon-like set pieces held together with a needlessly complex flashback structure. DP Park Jung-hoon who, perhaps surprisingly, cut his teeth in quiet indie dramas such as Snow Paths [2015], nonetheless does a man's job, managing to sheathe the quieter scenes in gorgeous hues of gold and deep blue, while trying his best to capture delicate gleams in the eyes of Suk-hee and other characters in extreme close-up.
The overlong plot is a mess, a whirring-blender cocktail of Korean and Hollywood action film clichés (Can we please ban the "who can put together a dismantled gun first" test from a Korean thriller forever? Kim Ji-woon having had a good laugh at that irritating cliché in A Bittersweet Life was enough already), elements obviously culled from other movies (most notably Kill Bill and Le Femme Nikita) and character dynamics reminiscent of '60s Japanese boy's manga (or even more artless contemporary Japanese examples like Kitamura Ryuhei's Azumi [2003]), but that's hardly a surprise. On the other hand, the action scenes are indeed impressive, including the opening massive physical assault that for the most part assumes Suk-hee's first-person POV and the three-way motorbike fight-chase following her first mission. It is also true, nonetheless, that, by the climax, tiresome video-game-like shaking and rolling of cameras as well as excessive gore threaten to diminish the impact of these actions.
As far as I am concerned, whenever Kim Ok-vin and Shin Ha-kyun (this is their third pairing following Thirst and The Front Line) are on screen, they seem to be essaying characters far more complex and interesting than their video-game-avatar-like ones in the rest of the film. Kim goes through some effective makeup transformations, first presented as a rounder-faced country girl prior to plastic surgery, yet conveys well the despair and hesitation of a woman deceived and exploited throughout her life. It is too bad that Suk-hee is far from a well-written character, especially compared to the genuine femme fatale Kim played in Park Chan-wook's Thirst. It is particularly disappointing when the lady assassin goes literally insane faced with the ultimate betrayal, rather than displaying cold resilience of a survivor. Shin Ha-kyun has played villains before (most notably in a bizarre SF movie The Game [2008]) but here he is clearly letting Kim be the prima donna in the original sense of the term, teasing the viewers with deceptively gentle smiles but revealing a frightening void behind his twinkling eyes. As he did with a similarly overwritten scene in Room No. 7, Shin gives a real heft to what could have been a set of cringe-inducing, pseudo-profound dialogue that spells E.V.I. L. in broad brushstrokes. He doesn't quite make it work, but he at least confers it some level of dignity: without his contribution, I might have burst out laughing at the film's predictably nihilistic, "did we just watch a slasher horror film?" denouement.
Again, like many Korean thrillers of the last half-decade, The Villainess has more than a few virtues, the least of which are its technical ingenuity and performative gumption, if not originality. For me, though, it ultimately proved disappointing. Do not misunderstand me, I am not expecting an art-house film with Oscar-caliber performances: my criticism is that the film undermines its own affective power by refusing to shake off the hyper-masculine clichés. Suk-hee never grows into a truly strong protagonist, capable of taking charge of her own life course. To be honest, I think the movie would have been a whole lot more cathartic if she went off and killed all "good" government agents, including her insufferable supervisor (It is no fault of Kim Seo-hyung that Kwon comes off so blithely hypocritical. And what are those male surveillance agents who act like a bunch of horn-dog schoolboys, snickering and hooting at Suk-hee's bedroom footage?), in addition to, or even rather than, the Korean-Chinese gangsters, who are apparently such a threat to national security that the secret agents have to be mobilized to illegally kill them (this agency must be run by the ROK equivalent of Joe Arpaio).
I had little expectation that The Villainess would turn out to be an overtly feminist vehicle, but at least I had high hopes for it being a step in the right direction in presenting a genuinely powerful female lead. As I reiterate, the beautiful and charismatic Kim Ok-vin has zero trouble cutting such a figure, but Suk-hee is again one of those "sad" female heroines without true subjectivity, stuck with sob-sob father issues, overseen by a kindly male protector (who of course is too incompetent to actually make her life easy), burdened with a child that needs to be protected at all cost, and antagonized or impeded by other female characters who should have been her allies and supports. This is all rather retrograde not to mention predictable, the fact accentuated by the film's loud, aggressive stylistics.
Since director Jung Byung-gil has proven his genre-cinema skills with The Villainess beyond any investor's doubt, my hope is that for his next project he should start with a more thoughtful and character-oriented screenplay, preferably not written by himself.      (Kyu Hyun  Kim)

    Okja
It is an alternative earth, year 2007. The platinum-blonde CEO of the global conglomerate Mirando Corporation, Lucy (Tilda Swinton), unveils her ambitious plan to introduce to the worldwide consumers the next generation of genetically engineered super-pigs. The most adorable yet meaty piglets picked out of the first litter have been distributed among twenty-six farms throughout the world, from whom one will eventually be selected as the winner during a massive publicity event to be held in New York City. Flash forward to 2017, deep in the mountains of the Gangwon Province, Korea: the super-piglet has grown into an enormous, SUV-sized sow with floppy dog ears and hippo-like maw, affectionately named Ok-ja by her caretakers, twelve-year-old Mi-ja (Ahn Seo-hyun, Monster) and her grandfather Hee-bong (Byun Hee-bong, The Host). Mi-ja's life with the grandfather and Ok-ja is rough but idyllic. Unfortunately, the Mirando Corporation intrudes into their lives, led by their PR front-man Johnny Wilcox (Jake Gyllenhaal), a former nature-documentary program host now gone to seeds, quickly declaring Ok-ja the winner of the contest and shipping her to New York. Aghast at her grandfather's betrayal, Mi-ja bravely follows Ok-ja's trail to Seoul, but is intercepted by a group of hooded young men and women claiming to be members of the Animal Liberation Front. The latter's leader, Jay (Paul Dano), attempts to convince her that Ok-ja should be enlisted in exposing Mirando's hideous animal rights abuse records. Meanwhile, Lucy's ruthless twin sister Nancy (Swinton again) working with a suave corporate shark Dawson (Giancarlo Esposito) plans to chuck the former's "sentimental" publicity stunt and send Mi-ja's animal friend to the industrial abattoir as soon as she could. Will our intrepid pre-teen heroine be able to save Ok-ja from becoming packets of processed pork, caught as she is between Mirando and the ALF, neither of which may have the best intentions for the lovely super-pig at their hearts?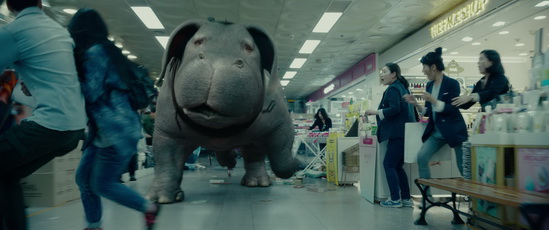 Bong Joon-ho's (Snowpiercer) sixth feature film courted much controversy since its inception in 2015 when Brad Pitt's Plan B Production and the video rental/streaming giant Netflix came on board as its production company and worldwide distributor, respectively. The production budget estimated at approximately 50 million dollars, Okja is not a blockbuster production by the U.S. standard, but Netflix's decision to simultaneously release it online and in select theaters in South Korea has rubbed the theater-chain giant CGV wrong way, who, along with CJ, Lotte, Megabox and other domestic distributors resolved to boycott the film. Consequently, despite the explosive anticipation regarding the film as well as Bong's proven track records as one of Korea's biggest hit-makers, Okja was shown at only 111 screens as opposed to 1,000 and upward number of screens usually reserved for such a highly anticipated production (for a comparison, The Transformers: The Last Knight opened in 1,739 screens in its opening week). The good news is that, for a week of its initial run in the theaters, Okja scored very impressive 42 to 56 per-cent attendance rates (again, for a comparison, The Tranformers in its second week is scoring approximately 24 per-cent), boosted by excellent words of mouth. We can tentatively conclude that Okja's availability through a VOD streaming service has done little to dampen the enthusiasm among South Korean movie fans to catch Bong's latest projected on the big screen.
The movie itself certainly does not disappoint the director's domestic and foreign fan base. It draws upon some familiar themes and motifs found in his previous works (the audacious mingling of a gargantuan CGI beast and live actors as in The Host; a young girl fighting to protect animals from heartless human predators/abusers as in Barking Dogs Never Bite; and so on), and non-coyly attributes homages to the sources as diverse (and wacky) as My Neighbor Totoro, Chaplin's Modern Times, George Franju's Le Sang de bête and the long-running Korean TV series Animal Farm. Like Bong's other films, Okja maintains a remarkably steady tone throughout its running time, never quite deciding to become an out-and-out dark satire, nor a para-Disney fable for contemporary adults, nor a Dark Knight-like urban action film with jaw-droppingly creative stunts, while incorporating into itself elements of all of these. As was the case with Snowpiercer, some viewers might feel nicked by Bong's refusal to smooth out sharp edges of his film in the manner of Hollywood blockbuster productions: he pulls no punches, for instance, from displaying the nightmarish vista of Mirando's meat processing plant. Others might take issue with the film's ambivalent message, as it were, as the Animal Liberation Front, led by the serenely self-absorbed Paul Dano, are not exactly portrayed as good guys. There is a giddy but disturbing undercurrent of obsessive zeal in their behaviors that serves as a counterpoint to the frazzled paranoia of the Mirando executives (One of the film's most intriguing sidebar plots involves serious consequences of the linguistic miscommunication between Mi-ja and her so-called allies, based on the Korean-American member K's [The Walking Dead's Steven Yeun] deliberate misinterpretation of a key dialogue from Korean to English).
The technical aspects are top-notch, as one would expect from a Bong Joon-ho film. Darius Khondji's (The Immigrant, Amour) cinematography is pure magic, contrasting misty yet intimate splendor of the Gangwon Province mountain-scape to the aggressive golds and blues of the concrete- and steel-bound NYC. In other departments, South Korean and U.S. talents collaborate seamlessly to weave together the flamboyant tapestry of clashing cultures-- Kevin Thompson (Birdman) and Lee Ha-jun's (The Thieves) production design stuffs the viewer's field of vision with glittering and gluttonous details, while Choi Se-yeon (Coinlocker Girl) and Catherine George (Jane Got a Gun) run with the visions of Swinton swathed in a cream-colored hanbok dress and Dano in a natty bell-boy uniform. The CGI effects employed to render Okja realistically "alive," supervised by Eric De Boer (Life of Pi) and other artists, are superior by leaps and bounds to those used to portray the amphibian beastie in The Host; I almost felt that Bong was using the early portions of his motion picture as a demo reel for the technical prowess of his effects crew.
The performances are equally intriguing but perhaps more likely to split the viewer opinions, especially among the American constituency. Ron Johnson's English dialogues (Having worked on, along with Mr. Editor, translation of the original Korean-language screenplay of Snowpiercer, I would love to find out how the English and Korean language division of labor was determined for Okja: one thing I can be sure is that no detail, however small, would have escaped Bong's eyes or ears) are a tad overtly satirical, and I wish Gyllenhaal's animal-show host had been more fully developed as a character (By the way, I do not find Gyllenhaal's alleged "overacting" a serious problem; his performance-- like Swinton's-- is fascinating in the sense that its pitch is held at the level that would be considered "normal" for a Korean actor, say, Hwang Jung-min or Yu Hae-jin, in a genre film of this type). On the other hand, Ahn Seo-hyun is perfect, an action-figure kokeshi doll with huge, soulful eyes, who nonetheless works beautifully together with a CGI creature and stands her ground against the teeth-baring Swinton in her scariest black-witch mode.
Okja is nothing if not adventurous; it has its shares of grotesqueries and black humor threatening to veer off into bad taste, along with the scenes of lyrical, heart-stopping beauty and thought-provoking poignancy. The film also refuses to pander to either the superficial breast-beating of American political satires or the self-importantly loud barking of the South Korean leftist social criticism directed at "neoliberal capitalism" but has little real bite in terms of actually challenging the complacency of the (Korean) hands that feed them. During the startling climactic confrontation between Mi-ja and Nancy Mirando, the Korean girl speaks a sentence of English dialogue that not only satisfactorily resolves the Gordian knot of the film's plot, but also cuts to the very core of the workings of the global capitalist system, exposing to us its monstrous, circular logic that feeds on itself like an Ouroboros worm. Heady stuff, this is; it is not something you will ever get to see in a Marvel superhero franchise film. In the end, Okja is truly a parable for our times. As I'm a Cyborg But That's OK was supposedly for Park Chan-wook, it might have been intended as a "breather" for Bong after making such "serious" works as Mother and Snowpiercer, but it will be your loss if you are fooled by its fairy-tale imprimatur and miss such an intelligent yet powerful critique of the crazy "real" world we live in.      (Kyu Hyun  Kim)

    The Battleship Island
1945, several months before Japan's unconditional surrender to the Allied Powers: in Gyeongseong (Seoul), a jazz band, led by a womanizing cad Gang-ok (Hwang Jung-min, The Wailing), and featuring tap-dancing and singing routines by his pre-teen daughter So-hee (Kim Soo-an, Train to Busan), narrowly escapes being busted by the police, sicced on them by an irate, cuckolded Jungchuwon (Privy Council) member. They are mistakenly shipped off to a coal mine in an island called Hashima, otherwise known as Gunkanjima (Battleship Island) due to its unusual shape as well as its harsh natural environment, almost entirely deprived of vegetation. Put to hard labor in the mine are impoverished Koreans from various backgrounds, including Chil-seong (So Ji-seop, A Company Man), a Seoul gangster, Mal-nyeon (Lee Jung-hyun, Juvenile Offender), a former "comfort woman" relocated from China, and Yoon Hak-cheol, a political activist now serving as an unofficial representative of Korean miners (Lee Kyeong-yeong, who appears in thirteen Korean movies released or to be released in 2017 and whose tiresome typecasting in these films serves as a total spoiler for Yoon's character arc).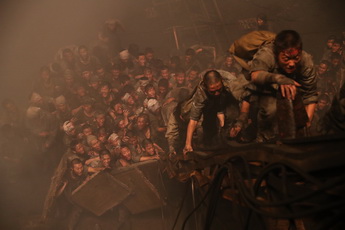 The conditions in the mine are terrible, with Gang-ok having to deal with not only the brutality of the psychopathic Japanese supervisor Yamada (Kim Joong-hee) but also entirely unwelcome lechery of the mining company president Shimazaki (Kim In-woo) directed toward So-hee, but when the real prospect of losing the Pacific War looms above, things turn even direr. Adding further wrinkles to the plot is a Korean independence movement agent Moo-yeong (Song Joong-gi, A Werewolf Boy), who, working with the OSS operatives from the U.S., had infiltrated the island in order to rescue Yoon. His arrival, and his reluctant team-up with Gang-ok, however, uncovers some dastardly secrets about the betrayal of Korean miners and Shimazaki and Yamada's secret plot to eliminate the "evidence of war crime" in the island. Could the hundreds of Korean miners and working women overcome their mutual distrust and escape the island together?
Ryoo Seung-wan's follow-up project to Veteran (2015), currently third most successful Korean film of all time with 13.4 million tickets sold, had probably been the most hotly anticipated motion picture of 2017. Press releases about the 2.2 billion won production (more than two and a half times bigger than his previous film) generated a huge viewer interest in its meticulous recreation of the island setting as well as casting of youth-market and TV stars such as Song and So, along with reliable acting powerhouses such as Hwang and Lee. Unfortunately, the film, upon its release in July 26, became mired in a series of controversies. First of all, the financier and distributor CJ Entertainment chose to release it in whopping 2,027 screens across the nation, out of 2,575 screens nationally available. This was excessive even by the standard of usual screen monopoly by big companies: something like two thirds of all available movie theaters were showing a single motion picture. Coming at the heels of CGV, CJ, Lotte and other big distributors/theater chains banding together to blackball Okja, this gluttonous act of monopoly naturally sparked much dismay and criticism. And then the internet wags began to attack the movie itself for being "pro-Japanese" and "distorting" the "reality" of the forced labor suffered by Koreans during the last phase of the Pacific War. Most web "attacks" of this type I have personally encountered have been intellectually lazy or viciously stupid, but again, the CJ Entertainment bears at least some responsibility for this brouhaha: their marketing campaign, including a trailer patched together from the most sensationalistic, anti-Japanese images and shots in the feature, failed to accurately convey the movie's wildly swinging tone from realistic wretchedness to generic war-action-spy movie thrills to literally apocalyptic devastation.
Despite all these controversies The Battleship Island has many virtues. I would defend it against the claim that Ryoo Seung-wan, a talented maverick conversant with both the obscure and neglected tradition of Korean genre cinema and the genealogy of the sub-Hollywood and non-elitist Euro-American exploitation films, sold his souls to the devils with this outing. In fact, Ryoo's personal style-- aggressively genre-bound, even archly conventional, dialogues and sequences nonetheless punctuated by surprisingly ironic, creative directorial touches-- comes through more or less intact. The technical accomplishments are nothing to sneeze at, either. The Hashima coal mine set is indeed impressive, Lee Hoo-gyung (The Wailing)'s production design highlighting the intensified misery of the confined space overrun by black soot, grey concrete and excrement-colored mud. DP Lee Mo-gae (Asura: The City of Madness), working with Lighting Supervisor Lee Seong-hwan (The Tiger), swathe the nighttime island set in pitch-black darkness and poisonously gorgeous amber flames. The first two thirds of the film feature more than a few set pieces that showcase Ryoo's action-meister skills, if not conceptual originality: for instance, a bathtub fight between Chil-seong and a Korean Kapo foreman, while clearly inspired by a similar bout in Eastern Promises (2007), is one of the best scenes of its kind in recent memory.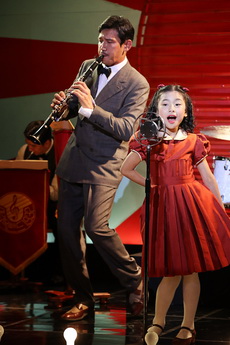 Some characters surprisingly transcend their archetypal origins to declare themselves to the viewers. Hwang Jung-min's band leader is neither somberly idealistic nor entirely amoral: he is quite unlike the righteous-macho cop in Veteran, and in fact much closer to the survival-minded protagonists of Ryoo's earlier films such as Die Bad and Crying Fist. He has a terrific chemistry with the young Kim Soo-an, practically a leading lady of this opus, who sings, dances, cartwheels, and grabs the viewer's attention with equal measures of pretty sincerity and frightened desperation. Like Dakota Fanning in Steven Spielberg's War of the Worlds, So-hee as played by Soo-an appears horrendously vulnerable and at the same time strikingly aware of the hypocrisies of the world she inhabits: her moments of tearful "acting" to save her and her father's skin from the Japanese authorities are some of the most effective scenes in the movie. Likewise, Lee Jung-Hyun, whose Mal-nyeon initially appears as if inserted into the movie for the single purpose of condemning Japanese males as sexual predators, turns out to be anything but such a cipher, as her emotional denunciation of the Korean pimps displays (No doubt for the hate-Japan crowd this sequence is one of their evidences that Ryoo has turned "pro-Japanese").
The film, however, is seriously problematic in other ways ensuring that its best intentions are bound to be misunderstood and come out offensive for both nationalistic Koreans and liberal Japanese. Let me try to explain the reasons, as much as the space allows. To begin with, it seems that Ryoo did not understand that making a 70's Hollywood style prison-escape action film with the subject as sensitive as the forced Korean labor in wartime Japan was a highly risky prospect. The problem here is not, as many viewers argued, his allegedly inadequate understanding of colonial-period Korean history. I do not think Lee June-ick (Dongju, Anarchist from Colony) or Choi Dong-Hoon (whose Assassination is praised to the hilt by some professional Korean historians as "historically accurate," despite the flagrantly fictional and melodramatic plot devices it employs) is particularly better than him in this regard. I believe him when Ryoo says he put as many efforts as humanly possible to realistically capture the living and working conditions of Hashima. I also appreciate Ryoo's effort to address the Korean complicity to Japanese exploitation of the under-privileged members of their own ethnic group, although there is little subtlety in the way he does it. Truth be told, The Battleship Island dutifully rolls out hideously stereotypical and prejudiced portrayals of Japanese characters-- and those include portrayals of villains, I am not arguing bad guys should not be depicted as bad, for God's sake--, but this is what almost all recent colonial-period pieces do, and hardly a major concern among Korean internet "critics" swarming over these movies like Tse Tse flies over a dying cow. Even though the Japanese laborers greatly outnumbered Koreans in the real-life Hashima mine, the former come across in the film as innately racist, skulking around in literally torch-carrying mobs looking to identify Koreans for collective abuse or lynching. We at least get a Japanese villain who speaks like a real Japanese in Kim In-woo's Shimazaki, the third generation Korean-Japanese actor increasingly specializing in mustachioed, bespectacled Japanese villains with a prep school president diction, having essayed similar roles in Anarchist from Colony and The Last Princess. Kim seems to be a fine actor: it is too bad Shimazaki as written is barely above the level of Colonel Klink in terms of the richness (or thinness) of characterization.
The real issue with The Battleship Island is actually more to do with genres than with history. The kind of films Ryoo is presumably drawing upon as models, The Great Escape, Where Eagles Dare and Stalag 17 are products of the era in which the experiences of the Second World War are safely positioned within the triumphant narrative of the Allied victory. These films do not try to evoke the Holocaust or even massive scales of civilian deaths during the Second World War, except as sidebar notes: portraying Nazi evils or sufferings of the Jews and other victims of the fascists "accurately" are not the point of these pieces of entertainment. Usually Ryoo's aggressive fusion of divergent cinematic traditions and conventions results in something creative, at least fascinating, but in The Battleship Island, all the efforts to integrate the genre-bound elements from these existing cinematic models into the tragic story of the coal mine produce exactly wrong chemical reactions. He could not prioritize these genre elements and ignore the "suffering Koreans" conventions of a colonial-period blockbuster, yet he also refuses to give up the former, either. The consequence is as if a motion picture that starts out as Schindler's List abruptly turns into Mission Impossible, yet dour and sullen, utterly devoid of any sense of "fun."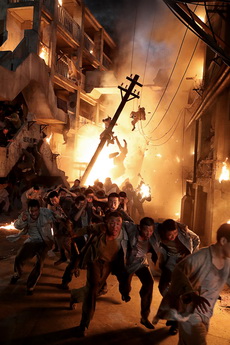 Once the narrative shifts to the overtly genre-bound, "made-up" sections, spearheaded by Song Joong-gi's "Liberation Army" agent, the movie entirely dispenses with its steady observation of the human foibles and resilience, and becomes progressively hysterical, with the levels of violence and carnage reaching alarmingly out-of-control levels. The B-52 bombing sequence already looked biblically hellish, akin to the conflagration of Rome in Quo Vadis, but that still did not prepare me for the extended climactic massacre of Koreans by the Japanese soldiers, which again openly references Saving Private Ryan (for God's sake, why?) and vituperatively kills off sympathetic characters, left and right, all set to an Ennio Morricone tune from The Good, the Bad and the Ugly, of all things. This whole sequence is, instead of moving or shocking, merely grotesque and exhausting, and the apocalyptic coda with which Ryoo ends the movie, which I shall not reveal here, solidifies one's impression that the director is by then really punishing the viewers (presumably representing the mankind, not just Koreans) from the furious divine perspective. More alarmingly, this climax displays a dangerous sign that his indulgence in pure spectacle and money-drenched, large-scale production-- all justified in the name of nationalism-- is threatening to scuttle the filmmaker's true assets, including his unassuming affection for the unprivileged, common folks. It is dominated by a quality that I have always feared would someday explode like a Chestburster out of his cinema: the desire for an excess spectacle of agonistic bodies-- showering geysers of blood, bullets felling personages in blinking instances, and flames enveloping a screaming, twisting man in a slow motion dervish-dance-- overwhelming any form of rational restraint and fuming with the macho celebration of "cool" destruction and denigration, like the worst aspects of Chang Cheh and Tarantino DNA-combining into a mutant Action Troll.
I will reiterate that The Battleship Island is not an impersonal, generic blockbuster that only seeks to cater to the largest common denominator among the viewing public. I do not know how much the CJ studio and other outside forces intervened to ultimately influence the film's contents, but it does look like most of Ryoo's personal designs have been realized, one way or another. Yet, by the end the film feels like a superbly athletic and tough soccer player who dashes around the field, does all kinds of snazzy tricks with the ball and gets into brutal, bone-breaking fights with his opponents, and fails to score a single goal. There is no catharsis, not even the chauvinistic kind of seeing Japanese villains getting just desserts, and no real historical lessons either, since most Koreans already know that this heinous massacre depicted in the movie is fictional. It serves no dramatic or thematic purpose: it only exists as the equivalent of a long, drawn-out scream at the end of a metal band performance.
The Battleship Island would have worked better, if it had been from the get go conceived as a critique of the ugly, horrific war initiated and pursued by the Japanese state and capital, with Koreans and Japanese laborers finding common grounds for resistance, or, for that matter, tragically unable to overcome ethnic prejudices toward one another (in other words, a film that truly explores the nature of Japanese colonial exploitation of Korean laborers, driven and abetted by class distinctions, ethnic chauvinism/racism and wartime mobilization). Conversely, it could have been a bona fide action thriller that merely used the Hashima setting as an exotic background-- for instance, designed as a "treasure hunt" mystery thriller focusing on a McGuffin hidden in the mine during wartime confusion and taking place some time after Japan's defeat, with the coal mine's sad history told through vivid flashbacks, perhaps. In actuality, a viewer expecting either a thoughtful reflection on the experiences of Korean laborers in Japan, or an enjoyable action film with some unobtrusive, but not-too-serious historical lessons on the side, might come out of the theater feeling punched in the face. Perhaps either alternative version might have come off as an unacceptable compromise for Ryoo, but there is no denying that, in the film as it stands, he failed to satisfactorily integrate these disparate elements into an emotionally balanced, dramatically coherent whole.
I still believe Ryoo's heart is in the right place, and I hope The Battleship Island represents an isolated incident of miscalculation. My wish is that, given the traumas he had to go through due to this project (Even though as of August 11, 2017, the motion picture raked in the ordinarily impressive 6.2 million tickets, there is now a concern that it might not earn back the production plus marketing expenses, its break-even point pegged at around 8 million tickets), for his next project he turn away from studio-bound mega-productions and return to the smaller, more intimate filmmaking that explores quirky and unusual characters like the father-daughter team of Gang-ok and So-hee. I wanted to stay with their colonial adventures rather than the oppressively tragic saga of the Gunkanjima coal mine, which, after all the pontification and emotional hostage-taking, does not even tell the "real" story of its inhabitants anyway. Ryoo should by now realize that the Korean "ethnic nation" (minjok) as ideologically constructed by the mainstream Korean viewers (and therefore not identical to the "real" Korean minjok out there in the world, far more diverse and open), does not really desire his services, nor does it appreciate his talents. It is God of Cinema who does, and it is His voice he ought to follow.      (Kyu Hyun  Kim)

    The Mimic
Hee-yeon (Yeom Jeong-ah, A Tale of Two Sisters) moves with her husband (Park Hyuk-kwon, A Break Alone), her young daughter Joon-hee (Bang Yoo-seol) and her mother-in-law who suffers from dementia to Jangsan (a district in Busan not far from the Haeundae beach). Settling down in an isolated villa, she first stumbles on a strange, abandoned shack that seems to have been bricked off to keep something or somebody from escaping. And then she "rescues" a prepubescent girl (Shin Rin-ah, Ode to My Father), who is seemingly amnesiac and initially speaks only by mimicking Joon-hee's voice. Drawn to the little girl, partly due to the devastating memory of having lost her son five years ago, Hee-yeon soon realizes that the girl is connected to a dreadful, supernatural presence responsible for a slew of missing persons in the area. And that presence seeks to reclaim the girl.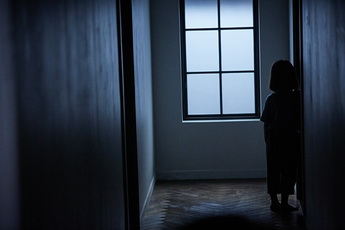 The Mimic's Korean title Jangsan-beom, literally the Jangsan Tiger, refers to a mythical creature who mimics the voices of loved ones to lure unsuspecting humans to its lair and consume them. I am not sure if such a local legend actually exists in the Jangsan area (the Jangsan region is densely populated and urbanized today, so much so that the location filming had to be done in the mountains of Gangwon Province), but the campfire story sets up the basic approach of this 2017 summer horror entry: to mount a supernatural horror without explicitly showing its monster, by suggesting its terror through voices in the dark. The idea, while not as original or daring as the marketing people made it out to be, certainly raises one's hope for the kind of subtle, slow-burn terror that must have been a refreshing turn for the domestic viewers. Garnering its share of critical praise, with a few critics seeming to overpraise it on the account of its admittedly ingenious premise, The Mimic ultimately sold approximately 1.2 million tickets nationwide, a considerable success considering its non-bombastic approach.
The Mimic takes its time depicting Hee-yeon's guilt-induced neurosis, and does it in such a way that viewers might become suspicious of her perception of "reality." Yeom Jung-ah, used to playing sharp-tongued, stiletto-eyed termagants, gives a expertly modulated, painful portrayal of a mother obsessed with her missing child to the degree that she risks neglecting her living one. Her strange bond with the lost girl manages to evoke a good deal of sympathy for both characters, although we all know that this relationship cannot end well. Director Huh Jung, responsible for the uber-creepy urban thriller Hide and Seek, one of 2013's biggest hits, does a great job fostering the atmosphere of oppressive dread without relying on standard shock cuts or bad CGI effects.
It is too bad, then, that in the end the movie never transcends the hoary trope of Motherhood as Ultimate Sacrifice that Korean cinema has exploited for decades, and refuses to either turn Hee-yeon into an active agent capable of besting the man-eating monster, or openly confront the process of her descent into insanity, with the Jangsan Tiger more explicitly designated as her fantasy creation. Director Huh tries to have it both ways, to keep baiting the viewers with the possibility of psychosis on the part of Hee-yeon, yet dangling before the viewer's nose a promise for a deeply frightening, perhaps even transgressive, monster-show that would reveal the true nature of the beast lurking in the darkness. The Mimic, therefore, inevitably turns anticlimactic when viewers sense that the latter is not going to happen, and that the Jangsan Tiger, even when existing independently from Hee-yeon's imagination, is more of a metaphoric, literary entity than a full-fledged cinematic threat. Sure enough, there are great horror films that refuse to show the monsters, such as Robert Wise's The Haunting (1963), but in these cases cinematic techniques and mises-en-scenes themselves become "monsters," as in an unforgettable (and super-scary) scene wherein the camera seems to plummet directly into Julie Harris's screaming face. In any case, I found The Mimic's ending, faithfully following the logic of the Motherhood as Ultimate Sacrifice ideology, utterly predictable.
I agree that The Mimic deserves respect for its effort to overcome tiresome summer-horror clichés, but in other ways it is just as conventional. When all is said and done, I cannot quite put it among the ranks of great recent Korean horror films such as The Wailing and Train to Busan. For a horror film enthusiast, however, it is definitely worth a look, and I concede that Yeom Jung-ah's heart-aching portrayal, going against her usual image, almost (but not quite) elevates the film to another plane of quality.      (Kyu Hyun  Kim)

    Heart Blackened
Jang Tae-san (Choi Min-shik, The Tiger) has an awkward dinner meeting with his rebellious teenage daughter Mi-ra (Lee Su-kyung, Coin Locker Girl) and his prospective new wife, a popular singer Park Yu-na (Honey Lee, Tazza: Hidden Card), during which the former clearly indicates her disapproval of her father's impending marriage. One night, Mi-ra, wasted and spiteful, calls the singer to a dance club, after discovering a sexually compromising video of the latter in the internet. Next morning, she has no memory of what happened, but the CCTV seems to indicate that she has deliberately run over and killed Yu-na with her car. Jang retains the services of Choe Hye-jung (Park Shin-hye, The Royal Tailor), Mi-ra's former teacher and now a defense lawyer, to prove that Mi-ra might have been framed by one or more among other suspects, the roster of which includes the creepy and rude hacker Dong-myung, lecherously obsessed with Yu-na (Ryoo Joon-yeol, A Taxi Driver), her explosive-tempered former manager (Jo Han-cheol, Papa Zombie) and, as Choe increasingly comes to realize, Jang himself.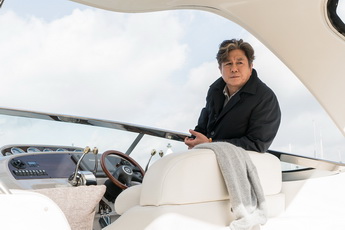 Heat Blackened is the latest film from the veteran Jung Ji-woo whose low-budget 2016 entry Fourth Place won much critical acclaim thanks to its gentle yet precise portrayal of the process through which the inhumanly competitive Korean society squashes the lives of children beneath its iron wheels. Considering the success he had scored with the resolutely small-scaled previous film, it was somewhat surprising to see him back at the helm of a glossy commercial project, even a remake of a Hong Kong film at that. The original, Silent Witness (2013), directed by Fei Xing and starring Sun Honglei in the tycoon role, is a fast-paced courtroom thriller that relies on its Rubic's Cube plot turns and twists to keep the viewer interest going. Jung, and the screenwriting team consisting of Lee Chung-hyun, Hong Yong-ho and Ha Goo-dam, do very little to tinker with mechanics of the plot, not trying very hard to plug rather glaring holes in the original narrative (For one, any American lawyer worth his or her salt is likely to work toward "proving" the initial "murder" was technically an accident, which negates the very premise of the "murder mystery."). As such, those who have liked the original for its mystery-novel intrigue might find the remake either strangely subdued or even lackadaisical.
Well before the investigation into the film's McGuffin, the CCTV footage that purports to show who really killed Yu-na, goes underway, it becomes pretty clear that Jung's agenda as a director lay somewhere else from the conventional thrills and suspense. Heart Blackened, as its English title surreptitiously indicates, is really about broken relationships, dehumanizing effects of personality-consuming, media-saturated modern life on such relationships, and desperate and sometimes wrong-headed efforts by the characters to mend them, even at the terrible personal cost. Jung, in the manner reminiscent of both his earlier (possibly) magnum opus Happy End as well as his more recent Fourth Place, carefully examines the deeply entrenched unhappiness underlying social relations of Koreans, rich and powerful or overworked and unprivileged, arrogantly committed to their value systems or confusedly flailing around, stewing in directionless resentment. Many of his dialogue scenes, usually filler material or little more than devices to plant clues that pay off later in a thriller like this, have emotional weights that call attention to the character's true motivations rather than their designated roles in the chess play.
It is not surprising, therefore, that in Jung's version of this story, Tae-san, the main character, Yu-na, the victim, and Mi-ra, the suspect, all manage to emerge as more than mere stereotypes, if not daringly original creations. The director plays fair to them by patiently laying out their temperamental as well as moral complexities before the viewers, and it is in the end these nuances and shadings to their characters that remain the most satisfying element of the film. Anchoring it is Choi Min-shik's admirably restrained performance, collaborating with Jung for the first time in eighteen years since his star-making turn in Happy End. Jang Tae-san's polite, reasonable demeanor initially presents a vexing contrast with his almost archetypically crude, sub-capitalist faith in the power of the money. As the film peels off its layers of intrigue, we realize that we are more interested in figuring out his positionality in the moral calculus, or to be a bit old-fashioned, his soul, rather than whether he has indeed murdered Yu-na, whom he at one point confessed to have loved more than his own daughter. Honey Lee, often cast in light, confectionary femme fatale roles in other films, leaves a striking impression in the opening section as a glamour goddess with just a hint of deep fatigue and irritation at the world. Jung sets it up in such a way that, despite her relatively short appearance, her presence continues to haunt the rest of the film. Lee Su-kyung also rises to the occasion, portraying with conviction an affluent teenager equipped with a bountiful amount of vocabulary to hurl hostility, anger and contempt at other human beings, but little resources to construct meaningful relationships.
One unfortunate casualty of the directorial focus on these three figures is Park Shin-hye's defense lawyer, who is supposed to be the investigator of the mystery yet is ultimately overshadowed by them. Counsel Choe pretty much disappears from the final section of the movie, which seems to confirm that Jung was not really invested in the resolution of the mystery, nor in its legal-ethical implications. Instead, he stages the film's climax in a fascinatingly self-reflexive manner, essentially calling attention to the movie's own identity as a motion picture, and inserts a "cinematic" reconciliation between two characters that had never taken place in "real life." It is to the credit of both Jung and his chosen cast that this scene does feel emotionally authentic despite its flagrantly "artificial" texture. I actually was greatly intrigued by Jung's approach in this section, but I also felt that it frankly would have worked better without the mystery-thriller trappings that served as its raison d'etre.
Production quality, beautifully lensed by DP Kim Tae-gyung (The Beauty Inside, 26 Years) and Lighting Director Hong Seung-cheol and designed with austerity but a sense of expansiveness by Production Designer Lee Ha-joon, (The Face Reader) is top-notch. Music score by Yeon Ri-mok, the keyboardist for the indie rock band Nunco (short for "Nuntteugo Kobein," derived from the traditional proverb "[Seoulites] slice your nose off while your eyes are wide open," but also a riff on the Nirvana frontman Kurt Cobain), is suitably minimalistic yet elegantly affecting.
Heart Blackened is a high-quality piece of sophisticated and thoughtful filmmaking, with excellent performances spearheaded by Choi Min-shik, essaying a deceptively complex character thoroughly unlike those he portrayed in, say, Oldboy or Lucy. On the other hand, it is something of a bust as a mystery thriller, not really improving on its Sinophone model that had its own share of problems. Regrettably, the mid-budget thrillers relying on smart wrangling of the plot increasingly seem to be one of the more obvious casualties of the South Korean obsession with "ten-million-ticket blockbusters."      (Kyu Hyun  Kim)

    Room No. 7
Doo-sik (Shin Ha-kyun, The Villainess) is a fortysomething owner of a scuzzy DVD-bang ("bang" as in "room") in a corner of the supposedly wealthy Apgujeong streets in Seoul. A DVD-bang, in case you are wondering, is sometimes deployed as a poor man's "love hotel" (if you have never heard of a "love hotel," I don't know where to even begin, buddy, sorry), a place wherein a couple could rent a movie and enjoy two hours' worth of sexual tryst, with or without seeing the movie. Doo-sik, previously a green grocer who had seen his marriage dissolve due to his business failure, is desperate to sell off his property to another clueless sucker who wants to open a shop in the area, believing (erroneously, as it turned out for Doo-sik and many others) that the Apgujeong-dong's aura automatically means a huge business and quick money. His only employee, Tae-jung (Do Kyung-soo, a.k.a. D. O. of the K-pop sensation EXO), an aspiring music artist, is sullen and misanthropic. When Doo-sik hires a Korean-Chinese migrant worker Han-wook (Kim Dong-young, The Age of Shadows), he sniffs at the latter's naÏveté. However, to his surprise and delight, the latter's sincerity and diligence manage to turn things around for him. Not only does the business suddenly pick up, a former high school president (Kim Jong-gu, Pandora) with a voyeuristic streak agrees to purchase the property at a reasonable price. Unfortunately, as you could expect in a satire like this, a tragic accident takes place to throw Doo-sik's plan haywire. His impromptu plan to keep the problem at bay, until the day of signing off the property, centers on the room no. 7, which he proceeds to lock up. What Doo-sik does not know is that Tae-jung has been working as a courier for a band of drug dealers and had already stashed a box of "goods" in the room that needs to be retrieved by a designated day as well.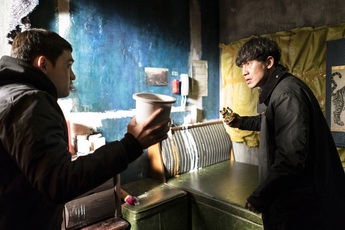 Room No. 7, the sophomore effort by Lee Yong-seung, whose debut feature 10 Minutes (2013) garnered some critical notices for its sympathetic portrayal of the Korean youths trampled underneath the wheels of capitalism, treads a familiar territory in terms of the plot: the McGuffin hidden in the room no. 7 is in the end not that significant. What Lee is truly interested in appears to be ethnographic details of young and middle-aged Korean men making do at the outer perimeters of the tourist-ready, high-rise-filled metropolitan Seoul, desperately trying not to slip and fall into the abyss of abject poverty. Doo-sik's warm relationships with his natal family-- it is nice to see Hwang Jung-min, who co-starred with Shin as the circus-bred Soon-yi in the cult classic Save the Green Planet, cast as his sister-- as well as the interactions between him and a bizarrely style-conscious detective get as much coverage as the main plot: for the viewers who savor this type of character-driven, locally-grounded flavors in a movie, Room No. 7 provides some honest, non-nasty chuckles.
Much of the film's humor derives from Doo-sik's hilariously bipolar responses toward his shifting fortunes, as he in turn cajoles, pleads, threatens and spectacularly blows up at his family members, real estate brokers and Tae-jung. Shin Ha-kyun, one of the most reliable Korean actors and could play beatific and earnest in one film and pathetic and unstable in another, dominates the screen as the hapless DVD-bang owner. He is fully energized and spry like a nervous cat, yet effortlessly conveys through slapstick antics the inner sense of existential fatigue at having to compete full throttle in the rat race despite having had his butt kicked once. Shin is such a sincere actor that he makes the movie's climactic "sudden burst of tears" scene work: had it been played by another, merely competent thespian, it would have come off as obvious or even mildly hypocritical. On the other hand, Do Kyung-soo is merely okay as Tae-jung. Frankly, I felt a more seasoned young actor (Veteran's Yoo Ah-in, for instance) could have brought more of his own quirks and colors to this rather generic character.
There is nothing seriously wrong with Room No. 7: it is an amusing and even occasionally moving diversion, and director Lee's humanistic disposition comes through clearly. The movie simply lacks the hutzpah to leave a strong impression through outrageous displays of creativity or aggressive manipulation of the viewer's sentiments. It is primarily recommended to the students of the social geography of Seoul (admittedly a fascinating topic) and fans of Shin Ha-kyun (nothing useful for the EXO fans worldwide from me, sorry).      (Kyu Hyun  Kim)

    The First Lap
Kim Dae-hwan's sophomore work, The First Lap, is, like his debut feature End of Winter (2014), a story of characters struggling outside the comfort of a warm homestead in the cold winter season. The protagonists Su-hyeon (Cho Hyun-chul, TV drama Argon) and Ji-young (Kim Sae-byuk, The Day After) are living together, in a steady relationship going on for seven years. Ji-young is a sub-contractor at a TV broadcasting agency. Su-hyeon teaches fine art. Neither has a secure employment that would alleviate the concerns about their financial future together, nor is particularly good at working social connections or manipulating the human resources around them. They are not even shameless enough to take advantage of their parents. Compounding their anxiety is Ji-young's suspicion that she is pregnant. The entirety of the film traces the couple's journey from visiting Ji-young's parents in Inchon, and to meeting Su-hyeon's family in the snowbound Samcheok.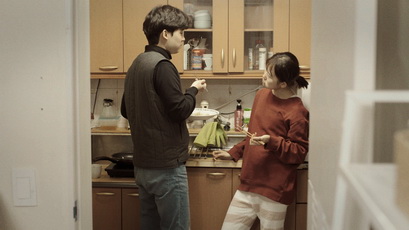 The First Lap has no sleight-of-hand tricks hidden in its sleeves. All elements of the film, its characterization, plot and theme, are conveyed with extreme clarity and precision. The two youngsters are scared of getting married and settling down. They are scared of becoming parents, especially the parents resembling their own. The future is murky, displaying few signposts for the right direction. Their trip to the parent's abodes merely exacerbates their uncertainties, rather than resolving the latter.
As you might have guessed, in this film the plot is not nearly as important as realistic and persuasive portrayals of the anxieties and terrors about the future felt by the two protagonists. Director Kim chooses to explore these emotions by closely following their trip on the ground level, rather than pouring the sentiments on the figures in the usual top-down manner. Not surprisingly, a considerable proportion of the film is constituted of improvised performances by the actors, organically responding to the environments they found themselves in without prior design. These environmental factors range from such happenstances as the unexpected pouring of heavy snow on a location site, or a dove flying across a running car giving the cast members an unanticipated jolt, to the so-called Candlight Demonstration of winter 2016 that had brought down the previous President, rendering the film an intriguing documentary feel, closely recording the political atmosphere of South Korea in 2016. So does the Candlight Demonstration inspire the protagonists to find answers for their dilemma? Of course not. Things are not that easy in real life.
And so, we know that The First Lap takes real life seriously. By this, I do not mean the kind of "realism" indulged by a typical Korean macho film claiming to expose the "dirty reality" of the Korean society by jamming the viewer's throats with insults and violence. In fact, there are no scenes involving insults or violence in this motion picture, with the exception of one or two minutes near the very end. The protagonists are simply too shy and sensitive to callously spread around their resentments, in any case.
The First Lap is meticulously, exquisitely put together. It works closely with its talented cast to capture the small echoes lost in the midst of loud roars and screams, one by one. Never self-indulgent, the film is instead merely honest, touching and beautiful.       (Djuna, translated by Kyu Hyun  Kim)

    Along with the Gods
Ja-hong (Cha Tae-hyun, Scandal Makers) is a heroic firefighter, who, as the movie opens, saves a young girl but tragically falls to his death in the process. As soon as his heart stops beating, however, he is accosted by three black-clad figures, Grim Reapers sent to collect his soul: the handsome and svelte Gang-rim (Ha Jung-woo, The Handmaiden), also serving as the defense attorney cum case worker for the befuddled firefighter, the cynical Won-maek (Joo Ji-hoon, Asura: The City of Madness), Gang-rim's assistant, and the young and perky Deok-chun (Kim Hyang-gi, A Werewolf Boy), a sort of telepathic paralegal. The three Reapers are tasked with taking Ja-hong through Seven Circles of Hell, each Hell specifically designed to address the sins committed by the deceased: murder, sloth, lying, vices, betrayal, violence and defilement of filial relations (A very Confucian Hell, this). Ja-hong being such an obsessive do-gooder, the trio are initially quite confident that he will pass through the judgments of the Hell's tribunals with flying colors and earn them credits to be spent on being reincarnated as humans again (Apparently this is the best thing that can happen to a soul in this universe. You gotta be kiddin', right?). However, they soon discover that Ja-hong's life holds some mysteries that threaten to put him in a bad light, especially regarding his mute mother (Ye Soo-jung, Train to Busan). Meanwhile, a new complication arises, when Ja-hong's brother Su-hong (Kim Dong-wook, The Cat) dies while serving his military duties, and turns into a Vengeful Spirit. Gang-rim must investigate the hidden truths behind Ja-hong's family relations, and hunt down Su-hong before the latter could derail his brother's case.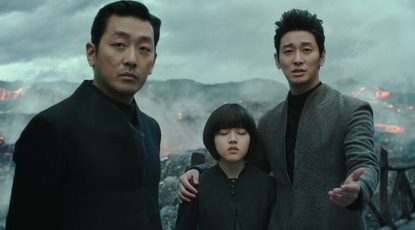 Along with the Gods is yet another recent Korean motion picture based on an online comic series. First serialized in 2010 by Joo Ho-min, the series was popular enough to have been adapted into a Japanese-language version, a radio drama and a musical (!). The original, which incorporates various Korean folklores and myths into its storyline, is heavily satirical, notorious for its droll, fatalistic humor. The motion picture adaptation, long time in gestation, was originally slated to be directed by Kim Tae-yong (the Late Autumn remake starring his wife, Tang Wei, Memento Mori), but eventually was taken over by Kim Yong-hwa, a dependable crowd-pleaser with Take-Off and Mr. Go in his resumé. The commercial instincts of the producers proved correct, as Along with the Gods beat other New Year season competitors to claim, as of early February 2018, the position of the third all-time biggest domestic hits, with more than 14.2 million tickets sold.
The film's tremendous box-office success is actually not that difficult to understand. It is a slick, if not altogether sensible, commercial extravaganza streamlined to do just two things: plunk the viewers down through the amusement-park ride of disposable thrills, and also wring as many teardrops out of their eyes as humanly possible. Whatever satirical intent that Joo's original comic originally contained had largely been cleansed out of the palette. Screenwriter-director Kim and the production team reduce the Hell-scape into a series of CGI-dominated fantasy vistas both overly familiar and pointlessly busy. None of the Seven Circles of Hell, as visualized by Production Designers Lee Mok-won (Train to Busan) and Park Jae-wan (Tazza: The Hidden Card) as well as the SFX crew, has the genuinely disturbing power of the technically crude but conceptually nightmarish depictions of the torment visited upon the sinners in, say, The Great Hell (1972). The impressions of light amusement are reinforced by comedic performances delivered by the actors playing prosecutors and judges in the Hell's courts, ranging from the ubiquitous faces like Oh Dal-soo and Lim Won-hie to bizarre cameos like the voice actor Jang Gwang (Silenced) and the child actress Kim Soo-an (The Battleship Island). All this is mildly amusing but hardly innovative, suspenseful or genuinely involving.
For me, the most technically impressive and, relatively speaking, most interesting portion of the movie depicts Gang-rim's investigation of Su-hong's death in the military camp. In these sequences Ha Jung-woo is in his elements, speeding up or rewinding the time flow to locate clues, teleporting himself like flying bullets across the night sky, and nonchalantly blending in with the living population (modest running gags in this section, like a hospitalized old man who can see and recognize Gang-rim as a Grim Reaper, are in fact a lot funnier than the broad comedies displayed in the Hell-set sequences). In the end, unfortunately, all this CGI-buffeted blockbuster action amounts to little, as it becomes clear by around two-thirds of the running time that the film is plunging headlong into the anticipated Great Tear-jerking Climax, in which the firefighter's long-suffering mother will be apotheosized as the Ultimate Self-Sacrificing Korean Matriarch. It is difficult to determine which is more depressing: that a talented actress like Ye Soo-jung is yet again stuck essaying a profoundly retrograde, emotional button-pushing narrative device (I would not deign to call this a "character"), Mother Who Cannot Speak (except when allowed to do so by her Male Heirs), or that this kind of heavy-handed tear-jerking tactics worked like gangbusters for most of the contemporary Korean viewers.
Along with the Gods is, in stark terms, the latest money-making model put together by the Korean movie studios in their efforts to replicate the Hollywood tent-pole franchise blockbusters, and sure enough, the movie cheerfully promises more adventures of the Grim Reaper trio to come. I suppose congratulations are due to Kim Yong-hwa's Dexter Studios, Realize Entertainment and Lotte Entertainment for successfully "localizing" the commercial model of tent-pole franchise movie-making for Koreans. And to think all those struggles to protect the Screen Quota were for this. For me, Along with the Gods has the flavor of something like a '90s Jerry Bruckheimer "action blockbuster" remake of a classic film blanc such as Here Comes Mr. Jordan, wherein Mr. Jordan would be played by machine-gun-toting, one-liner-spewing Bruce Willis. And that project would have made money in the US, too, probably (Sigh).
Well, in any case, do not bother to sign me up for the sequel. And dear Korean filmmakers, please, please, let's not use a Mother Who Cannot Speak as a shinp'a device ever again.      (Kyu Hyun  Kim)