2011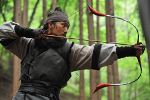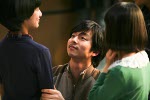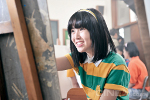 "War of the Arrows",  "Punch",  "Silenced",  "Sunny"

   Very big and very small films are likely to dominate headlines in the year 2011, as the recent polarization of the Korean film industry continues. At the big end of the spectrum, Kang Je-gyu (Shiri, Taegukgi) is preparing a massive World War II blockbuster budgeted at upwards of $30 million. Featuring Jang Dong-gun from Korea, Odagiri Joe from Japan, and a minor role for China's Fan Bingbing, My Way is envisioned as a pan-Asian film modeled after the success of John Woo's Red Cliff. A local release is scheduled for the end of 2011. Other ambitious, big budgeted films include 3-D monster movie Sector 7 and Korean War film The Front Line from up and coming director Jang Hun (Rough Cut, Secret Reunion).
Meanwhile, Korea's most internationally acclaimed commercial directors Park Chan-wook, Bong Joon-ho, and Kim Jee-woon are all engaged in preparing their English-language debut films, which are likely to be released in 2012. At the time of this writing, Park and Kim were close to finalizing plans to shoot films based on screenplays from Hollywood, while Bong's original screenplay Snow Piercer, based loosely on the French comic Transperceneige, will be shot mostly in English with an international cast.
However small-scale films are also managing to draw significant attention, with a trio of works from the beginning of the year (all of which premiered at the Busan International Film Festival in October 2010) performing quite respectively on limited release. Re-encounter, about a woman forced to revisit a painful experience from her past; Bleak Night, about a suicide at a boys' high school; and The Journals of Musan, about a North Korean defector, all enjoyed widespread critical acclaim and a certain degree of popular success. Low-budget films from big name directors will also be in the news, with new films from Hong Sang-soo and (if rumors are to be believed) Kim Ki-duk in the works. Finally, 2011 will also mark the long-awaited return of director Lee Jeong-hyang, whose 2002 film The Way Home was a popular phenomenon.
     Reviewed below:     Night Fishing (Jan 14)  --  GLove (Jan 20)  --  Re-Encounter (Feb 17)  --  Children... (Feb 17)  --  The Showdown (Feb 24)  --  End of Animal (Mar 17)  --  Romantic Heaven (Mar 24)  --  The Journals of Musan (Apr 14)  --  Sunny (May 4)  --  The Cat (Jul 7)  --  The Front Line (Jul 20)  --  Leafie, A Hen into the Wild (Jul 28)  --  Blind (Aug 10)  --  Sector 7 (Aug 4)  --  War of the Arrows (Aug 10)  --  Dance Town (Sep 1)  --  The Day He Arrives (Sep 8)  --  Silenced (Sep 22)  --  The Client (Sep 29)  --  Always (Oct 20)  --  Punch (Oct 20)  --  Moscow (Dec 1)  --  Perfect Game (Dec 21).  --  List (N/A)
The Best Selling Films of 2011 

| | Korean Films | Nationwide | Release | Revenue |
| --- | --- | --- | --- | --- |
| 1 | War of the Arrows | 7,470,633 | Aug 10 | 55.83bn |
| 2 | Sunny | 7,362,657 | May 4 | 54.04bn |
| 3 | Punch | 5,309,982 | Oct 20 | 38.53bn |
| 4 | Detective K | 4,786,259 | Jan 27 | 35.84bn |
| 5 | Silenced | 4,662,822 | Sep 22 | 35.57bn |
| 6 | Quick | 3,125,069 | Jul 20 | 22,96bn |
| 7 | The Front Line | 2,945,137 | Jul 20 | 21.97bn |
| 8 | Spellbound | 2,777,998 | Dec 1 | 20.29bn |
| 9 | Dangerous Meeting | 2,595,625 | Mar 31 | 19.17bn |
| 10 | The Client | 2,393,086 | Sep 29 | 17.80bn |
| | All Films | Nationwide | Release | Revenue |
| --- | --- | --- | --- | --- |
| 1 | Transformer 3: The Dark of the Moon (US) | 7,784,944 | Jun 29 | 74.84bn |
| 2 | Mission:Impossible - Ghost Protocol (US) | 7,552,324 | Dec 15 | 57.63bn |
| 3 | War of the Arrows (Korea) | 7,470,633 | Aug 10 | 55.83bn |
| 4 | Sunny (Korea) | 7,362,657 | May 4 | 54.04bn |
| 5 | Punch (Korea) | 5,309,982 | Oct 20 | 38.53bn |
| 6 | Kung Fu Panda 2 (US) | 5,062,722 | May 26 | 44.30bn |
| 7 | Detective K (Korea) | 4,786,259 | Jan 27 | 35.84bn |
| 8 | Silenced (Korea) | 4,662,822 | Sep 22 | 35.57bn |
| 9 | Harry Potter and the Deathly Hallows: Part 2 (US) | 4,400,298 | Jul 13 | 34.51bn |
| 10 | Real Steel (US) | 3,579,666 | Oct 12 | 26,57bn |
* Includes tickets sold in 2012.  Source: Korean Film Council.


Seoul population: 10.2 million
Nationwide population: 50.7 million

Market share:   Korean 51.9%, Imports 48.1% (nationwide)
Films released:   Korean 150, Imported 289
Total admissions:   160.0 million
Number of screens:   1974
Exchange rate (2011):   1108 won/US dollar
Average ticket price:   7737 won
Exports to other countries:   US$15,828,662 (Japan: 23.1%)
Average budget:   2.3bn won including 0.7bn p&a spend

Many people around the world will be familiar with this work as "Park Chan-wook's iPhone movie." Sure enough, the fact that this 33-minute film was shot on an iPhone (or eight iPhones, to be precise) has proven to be one of the most effective marketing tools in recent film history. News stories about its creation have appeared in magazines and newspapers around the world, not because editors care very much about the film itself, but because the concept seems so trendy.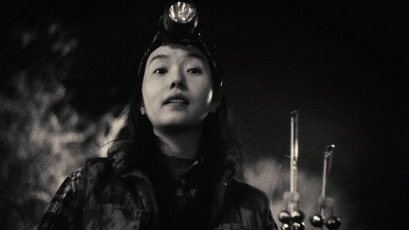 Dig a little deeper, and it's unclear what the ultimate meaning of this project was supposed to be. If the idea was to demonstrate that it is now possible for ordinary people to shoot feature films on easily accessible, inexpensive equipment, well, this is hardly news. It's been possible to do just that with consumer digital cameras for years. This message is also undercut by the fact that Park's budget for this film (financed by KT, network carrier for the iPhone in Korea) was $130,000, and he used a crew of 80 people. If the purpose was to showcase the technical capabilities of the iPhone 4's digital camera, then that makes a little more sense -- but this too is undercut by the fact that Park's crew attached lenses to the phones, and the resulting footage went through a pretty intense retouching process in postproduction, including digital color correction, CGI and the like. The images we see onscreen could not have been created by the iPhone alone. In the end, I think, the phone was nothing more than a clever marketing ploy.
The good news is, about five minutes in you stop caring whether Night Fishing was shot on an iPhone or a pinhole camera. It's simply a fascinating work of art, regardless of how it was made. The shorter length means that Park Chan-wook and Park Chan-kyong, his younger brother who joined him in the director's chair, can adopt a relatively static and abstract narrative that, despite being so simple, never feels stretched too thin. Instead, the focus is on the emotions of the story -- and the creative ways in which the filmmakers translate these emotions into sound and images is breathtaking.
The film takes its time in getting started, giving the screen over to the UhUhBoo Project, an experimental music group that provided the sparse, creepy soundtrack to Sympathy for Mr. Vengeance back in 2002. The music here is much more enveloping, and its otherworldly quality is a good complement to the story proper, which opens with Park Chan-wook regular Oh Gwang-rok doing some fishing at a remote lake. After the sky grows dark and the screen turns to black and white, something big hits his line. Improbably enough, it turns out to be a young woman (pop singer Lee Jung-hyun [A Petal], in a fantastic performance). The fisherman is even more stunned when she begins talking to him about his long-lost daughter. It only gradually becomes apparent that she is a shaman who has come to him as a bridge between the worlds of the living and the dead.
Making ample use of shamanic imagery and symbols (viewers who have seen the documentaries Mudang or Between may get more out of this film), Night Fishing explores one of the most fundamental and heart-rending aspects of human existence: the loss of a loved one. The focus on shamanic rites may point to the influence of Park Chan-kyong, an acclaimed visual artist whose short films have incorporated similar subject matter in the past. Indeed, looking at this film within the context of Park Chan-wook's filmography, it feels familiar, but subtly different. It is the smooth melding of two cinematic styles: sober-minded, ethereal, and sad.      (Darcy Paquet)

    GLove
Nora Ellen Groce's book Everyone Here Spoke Sign Language focuses on Martha's Vineyard in the 17th century to the early 20th, where there existed a concentrated population of deaf folk due to genetic factors and childhood diseases. As a result, many hearing folk learned this region's sign language in order to communicate with family and friends. Plus, it was found useful to communicate with ships off shore, since yelling often didn't cut it.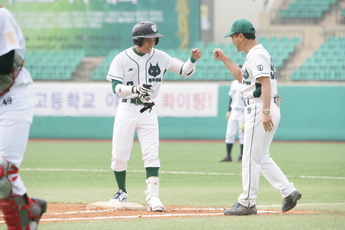 As the folks of Martha's Vineyard learned, communicating with signs can be as helpful to hearing folk as it can to the deaf. Certain environments practically call for sign pidgins if not an actual sign language. Take baseball. There are signs made by the umpire, pitching signs made by the catcher to the pitcher, and signs made by the third base coach to steal or bunt. Although the great deaf baseball player William Ellsworth Hoy, (although considered offensive now, he told folks to call him 'Dummy'), is often credited with causing or developing the hand signals used by umpires, there is neither any documentation to verify this nor did Hoy himself make such claims. Hoy was such a great baseball player and everyone knew he was deaf, so it's likely the story started by some teller of tall tales and it made sense to everyone that a deaf guy would come up with the signs. In GLove, the first film I can actually say I liked by director Kang Woo-suk (Two Cops, Two Cops 2, Public Enemy, Another Public Enemy), three deaf high school players develop their own sign for a throw to first to pick off a base runner. But we need to keep in mind this has little to do with their being deaf since hearing high school players would do the same. It has to do with the fact that they are baseball players.
GLove, (the English title spells it with the 'G' and 'L' capital since it's used for a cheezy 'there-is-no-'I'-in-team' moment to tell us that there is 'love' in baseball), is about the dedicated ball players at a deaf high school and their new coach, a star professional pitcher who needs to begin controlling his antisocial behavior like he controls his curveball. We first meet our out of control professional pitcher for the LG Twins in the Korean Baseball Organization, Kim Sang-nam (Jeong Jae-young, Someone Special, Our Sunhi), after the cops have arrested him following a drunken brawl. Kim's agent (Cho Jin-Woong, another baseball movie Perfect Game, A Dirty Carnival) comes to his rescue and has arranged a gig for Kim as the coach of this deaf team to clean up his bad image. Kim begins as an arrogant jerk, but you know he will be turned around by the perseverance of the high school athletes. Kim even takes a shining to a kid who has yet to try out for the team, Jang Dae-gun (Kim Hye-seong, Gangster High), the young boy who we witness losing his hearing at the beginning of the film. Kim convinces Jang to join the team after noticing his talent. The team has dreams of participating in the national high school baseball tournament, so the film provides two primary arcs. We witness the ups and downs of the team's efforts and we wonder if Kim will ever confront the fact that the KBO might not want him and his antics back in the league.
As I said before, I'm not a fan of director Kang's films. That said, he is a director to be reckoned with since many of his films have done well financially, having an impact on the industry and the career trajectory of various stars. GLove works because the story is engaging without too many wild pitches to the backdrop of over-the-top dramatics. Jeong is excellent at establishing the right touch of jerkiness while still letting his character's change of heart come off as believable. The drama on the diamond is well played. We are invested in each game. Breaking up the dramatic elements are clever moments of comedy, such as when Kim forces the catcher to take his heat and the catcher signs his pain after each pitch. As sports dramas go, this is a decent one. I found myself wanting to watch it again not just for research, but for the genuine pleasure found in the narrative. If I have to gripe about something, it would be how better development of the music teacher Na Joo-won (Yoo-sun, The Big Swindle, Moss) is sacrifice bunted for the obligatory love interest. She could have been better utilized as solely a respected peer to Kim.
Based on a real school's baseball team, Chungju Sung-Shim's located in Chungju City, North Chungcheong Province, I would be curious to read where director Kang and writers Kim Ki-bum and Shin Dong-ik stayed on script and where they curved away from the historical plate. I would also be curious to know how many, if any, Deaf Koreans were a part of the production. (Here I am using the capital 'D' Deaf to represent culturally Deaf, not just physically deaf.) More of an effort needs to be made in South Korean cinema (and other national cinemas like my own) to incorporate space for disabled actors. GLove could have been a fine opportunity for such inclusive casting and director Kang's influence could have started a rally in the industry. But no major roles were cast with Deaf Koreans, and I'm not sure if any fill the minor roles.
Still, it's nice to have this film about capable deaf folk come out in the same year as another true story about a deaf school, Silenced. Silenced is a powerful movie and it inspired efforts for political change following its release. But it's a horror film about the physical, emotional, and sexual abuse of deaf children. Much of the suspense of that film works off fears hearing folk have about being deaf specifically and disabled more generally. Silenced was an important story to be told, but if it's the only story about deaf folk being told, it further contributes to fears of the disabled. And fear brings with it further isolation. If we don't have other alternatively-focused portrayals of deaf folk, if we don't have portrayals developed and portrayed by Deaf folks, we are left with our cultural touchpoints solely feeding from our fears of deafness. In this way, GLove presents counter-cultural touchpoints. Although the signing by hearing actors playing deaf characters looks like signing by hearing actors playing deaf characters, at least GLove refuses the hearing savior narrative that abounds in the "cinema of isolation" of disability portrayals, a phrase I take from film scholar Martin F. Norden's excellent book of the same name. In GLove, Coach Kim learns as many lessons from his students as he teaches them.      (Adam Hartzell)

    Re-Encounter
Time for another public service message. Here we go: children, let's use condoms. Why do you turn away from this great example of modern convenience? Does gambling away your future enhance your sexual pleasure?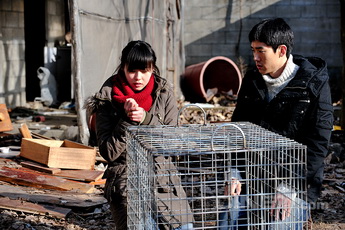 But of course, this no-brainer warning goes unheeded by two Korean teenagers, Hye-hwa and Han-soo. Hye-hwa was forced to quit her studies due to pregnancy, but after the delivery she was told that the baby died. Jump to five years later. Hye-hwa works as a beautician for a vet clinic, developing emotional bonds with the abandoned dogs she takes care of. One day she gets a surprise visit from Han-soo, on a medical discharge from the military, who drops a bombshell on her: their child is still alive, having been adopted to an academic couple.
Now it is fully understandable that the audience take a dim view of Han-soo at this juncture. Come on, where were you when Hye-hwa was struggling with the consequence of you kids' so-called romance? Oh, studying abroad in Canada, is that right? So, just when Hye-hwa is getting ready to lead a stable life years later, you had to show up and mess it up with this news. Dear me, what a timing. So, the first surprise of the movie is that the viewers cannot run off with this natural reaction: for all the trouble he is causing, Han-soo is neither a dimwit nor an insensitive bastard. If anything, his trouble is his excessive sensitivity. Not that it helps other characters a bit in ameliorating their suffering.
Re-Encounter jumps back and forth between the past, when the couple were at age 18 and the present, when they are 25, gradually spooling their story. Hye-hwa is the central character but the key to the mystery behind their motivations and actions is held by Han-soo. In other words, it is still a story of a girl who has to clean up the mess made by her boy-friend. So there is a clear limitation to how much we could feel protective and understanding toward Han-soo.
Even then, and while acknowledging that there is nothing really fresh about this set-up, we remain concerned about Hye-hwa and Han-soo. The skillful way in which their story is told, as well as the mystery and suspense generated by the unfolding drama, keep our attention riveted. We are intrigued by the X-factors that remain tantalizingly hidden until the just right moments, which suffuse their story with an element of anxiety and thus motivate us to follow it until its true objective and meaning are revealed. By the time the climax comes around, the movie emanates an impressive degree of sweat-in-your-palm suspense. Of course, the protagonists seldom breach the fences of the intimately-scaled world they inhabit, even though there is a sense that keeping that intimacy was purchased at the expense of over-complication of certain plot points.
Characters are well illustrated, too. Han-soo is the kind of the walking trouble who nonetheless attracts sympathy and interest. Hye-hwa is a genuinely fully-rounded character, the sort we associate with a heroine of a classic novel. She is the kind of beautiful young woman, so richly endowed with emotions and grace that she cannot help being in the center stage of a great story no matter whatever bum deal the universe throws at her. Yoo Da-in and Yoo Yeon-seok are all appropriately cast for their roles. Yoo Da-in in particular is a pleasant surprise in terms of her nuanced performance: Da-in, thou art hereby forgiven for the sin of appearing in that lobotomized turkey Mandate.
Finally, Re-Encounter is a socially conscious film dealing with the issue of animal companions, an increasingly important one for Koreans, young and old. According to director Min Yong-geun, the initial idea for the movie came from a real-life helper for the abandoned dogs he met while making an unrelated documentary. The canine friends around Hye-hwa not only serve as excellent metaphors for her life situations but are themselves wonderful supporting characters. The movie is an exemplary record of the evolving relationship between people and animal companions in contemporary Korea.       (Djuna, translated by Kyu Hyun  Kim)

    Children...
Dramatization of real-life murder cases has become a sub-genre of its own in Korean cinema since the runaway box-office hit of Bong Joon-ho's Memories of Murder . Children... deals with the 1991 disappearance near Daegu of five little boys, having departed home supposedly to catch frogs (actually salamanders): all kinds of speculations had been bandied about regarding their whereabouts, until eleven years later their remains were uncovered in a distressingly proximate area. The case was eventually ruled a collective homicide (and a particularly vicious one: the bodies revealed signs of sustained torture and multiple impacts by an unusually shaped deadly weapon, something of a cross between a spike and a mallet). Unlike the Hwaseong serial rape-murder case that served as a basis for Memories of Murder, the account of the missing five boys (colloquially came to be known as "the frog-hunting boys case") from the very beginning was extensively publicized through private-sector news media. SBS's popular investigative journalism show, We Want to Know That, initially hosted by the actor-activist Moon Seong-geun, was one of the TV programs that aired several segments devoted to the case, contributing to keeping it alive in public consciousness.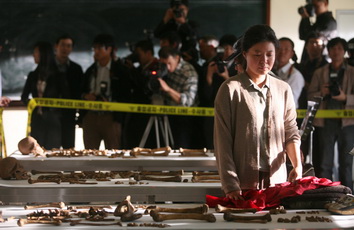 Children... starts off nicely. It puts Kang Ji-seung (Park Yong-woo, Handphone), a manipulative, arrogant TV documentarian known to distort facts to get at high ratings, at the center and charts the developing collaboration between him and Hwang Woo-hyuk (Ryu Seung-ryong, Possessed), an ambitious psychologist who comes up with a controversial theory that father of the one of the missing boys (Seong Ji-ru, Paradise Murdered) had murdered the children and hidden their bodies. This part of the film is both riveting and suspenseful, not to mention disturbing, as the mock-Sherlock Holmes-Dr. Watson relationship between Professor Hwang and Producer Kang taps our familiarity with thriller-genre conventions to draw us into their spins, so much so that we end up rooting for Dr. Hwang to solve the case, despite the unchecked assumptions and prejudices behind his conclusions, openly laid out before our eyes. It almost becomes a self-reflexive treatise on how a fictional representation like the very film we are watching could easily distort the murky, ambiguous and therefore deeply frustrating truths about a real-life crime.
It is too bad then that Children... does not follow through this premise to its logical conclusion. Instead, screenwriter Lee Hyun-jin and director Lee Gyu-man (Wide Awake) resort to the standard murder-mystery plot, fabricating an obnoxiously crazy fictional suspect for the hokey climactic showdown: in other words, doing exactly the things they accuse the news media of having done to sensationalize the case. By then, it is difficult to avoid the feeling that director Lee and his crew have propped up the (bourgeois/elite) "experts" like Dr. Hwang as straw men to be knocked down, as a substitute for a genuinely meaningful reflection on the case, which is not exactly forthcoming.
The delicate acting supplied by the cast is Children...'s chief asset. Park and Ryu are both dependably strong, although the latter's role is critically underwritten and basically no more than an elaborate red herring. Seong Ji-ru and Kim Yeo-jin (The Uninvited) as the accused parents do a great job of illustrating the vapors of devastated minds, sliding from benumbed silence to torrential explosions of anger and sorrow without resorting to obvious melodramatics. A special mention should be made of Park Byung-eun, whose brief, jarring turn as the hypothetical perpetrator near the end of the film is pretty impressive, despite the utterly artificial nature of the character he plays. Equally effective are the unglamorous but meticulous production design that captures the exhausted and wan flavor of the abodes of the victim's parents, supervised by Park Il-hyun (The Servant) and Lee Mok-won (Modern Boy).
Children... is a fitfully rewarding viewing experience, but in the end is neither hot (committed to a definite political or intellectual stance, genuinely attempting to shed some light on the still-murky areas of the case at the risk of offending some parties) nor cold (satisfied in being a well-made thriller open and honest about its own fictional and, yes, sensationalistic nature). It is merely lukewarm, demonstrating that good intentions are not enough for one to make a truly powerful film based on a real-life tragic mystery.      (Kyu Hyun  Kim)

    The Showdown
Northeast China, circa 18th century: after a clash with Qing (Manchu) forces, a platoon of Joseon dynasty soldiers suffers a devastating loss. The commanding officer and career soldier Myung-heon (Park Hee-soon, Seven Days, The Client) manages to rescue his friend Do-young (Jin Gu, Mother, A Dirty Carnival) but they soon find themselves stranded and nearly frozen to death amid a barren, snow-shrouded wasteland. Miraculously, they run into a ghostly, abandoned trading post built for Ming merchants. Later, a commoner deserter, Doo-soo (Go Chang-seok, the Vietnamese boss in Secret Reunion), joins them. Calculating five days of trip to reach the Korean border, Myung-heon wants to leave the station at once. Unfortunately, things begin to go wrong. Do-young turns sullen and hostile, flipping sarcastic comments to his friend and verbally abusing the commoner. Meanwhile, Doo-soo' s anxiety and anger are stoked by the two yangban (aristocrat) officer's arrogance and manipulative attitude. Soon enough, three survivors are at each other's throats, espirit de corps and the Qing troops in pursuit be damned.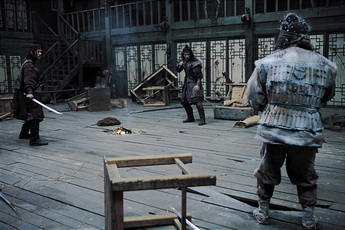 The Showdown (the Korean title may be more accurately rendered in English as Bloodbath) is one of those moderately-budgeted, quirkily-scripted, non-star vehicle Korean films that get ignored by critics and international festival organizers as well as by importers of commercial hits, but are sometimes far more interesting than the latest self-indulgent pieces by name directors or pushy suckers-watch-this-it's-important-Korean-history blockbusters (My Way, anyone?). Intriguingly, The Showdown recalls the "psychological Westerns" of '50s and '60s America. These films often sidestep what many would consider the raison d'être of the genre, a good-versus-evil shoot-'em-up, and pay a good deal of attention to the complex and ambivalent mental states of the protagonists played by such notable screen saddle hands as James Stewart (The Naked Spur), Gregory Peck (The Gunfighter) and Glenn Ford (Fastest Gun Alive). The readers expecting some sort of a wu xia pian action extravaganza should take a hint at this point: nothing remotely like that happens in this film, although the short bursts of vicious violence that actually do take place are joltingly effective.
The film's "meat" lies in the elaborate and conjunctive flashbacks the main characters have throughout the movie, in which their hidden motivations, desires and traumas are gradually revealed. Writer-director Park Hoon-Jong, the scribe for The Unjust and I Saw the Devil, handles these tricky, cross-referencing narratives rather well, aided by solid performances from three leads and veteran supporting player Kim Gap-soo (A Tale of Two Sisters) as a Machiavellian politico. As it stands, though, Park does not quite have either the cojones or cold discipline to push The Showdown into the territory of a truly gripping drama; the film remains intellectually involving but not emotionally galvanizing or, ultimately, satisfying.
Like so many period pieces recently made in Korea, The Showdown tries too hard to make its content resonant with contemporary politics. Jin Gu's Do-young sounds and acts too much like a spoiled rich kid living in 2000s Korea, for one. And even though making the invading Qing soldiers a kind of Greek chorus is a refreshing idea, Park cannot resist putting in their mouths a neat summary statement of what the viewers are supposed to get at the end of the movie (and why are they dressed and coiffed like members of a Japanese electronica band?).
Still, The Showdown is well worth checking out as a twisted Western-film noir hybrid, complete with requisite cynicism and sweaty, combat-mode desperation masking a deep sense of class resentment. Just don't expect a Tsui Hark film going in.      (Kyu Hyun  Kim)

    End of Animal
You are about to enter another world that is the film End of Animal. Or is it a dream, and if that, more like an apocalyptic nightmare? Whatever it is, it's a world that has signifiers that you know, but anything powered by electricity is cutoff. This means mobile phones as well. Even though cellular phones rely on a battery, they also rely on an infrastructure that relies on electric power sources in order to function. Plus, a certain sense of direction is lost, amongst the people roaming outside their cars and trains as if we've evolved to be completely dependent on GPS, because even when following maps, many characters find themselves further away from the very places they are headed.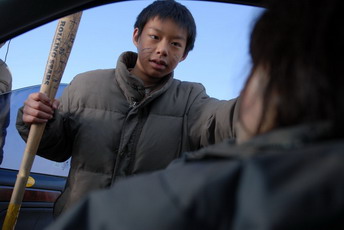 The folks populating this End of Animal Planet begin acting in weird ways. There's the strange little boy (Park Se-jong), a fifth-grader who portends to be able to beat up any sixth-grader. He is prone to disturbing fits of anger when not crying about missing his mother. There's the pregnant young lady, Soon-young (Lee Min-ji), who at first seems like a push-over, yet her need to feed the child in her belly causes her to wander off rather than staying put in the stalled cab she was taking to deliver her baby in her mother's home. And then there's the young man in the baseball cap (Park Hae-il). Is he an angel, a devil? It's played ambiguously, but he is definitely someone mysterious, someone supernatural, who has a mission that requires our young pregnant lady to stay safe, at least temporarily.
Funded through a graduate grant from the Korean Academy of Film Arts, Jo Sung-hee's debut is a held breath of fresh air. It has just the right subdued amount of eerie-ness to keep us anxious throughout the film, while having enough turns of character temperament to disenable any sense of hope we might have for pregnant Soon-young. Jo paints a lonely landscape outside the bustling metropolises that are Seoul, Daegu, and Busan. (He even seems to have taken us back to the bridge that ends and begins Lee Chang-dong's Peppermint Candy. I can't confirm if it's the same train bridge over a river that Soon-young stumbles into on her way back to Sagok-ri, but it sure does look, and feel, like it.) Each character has their own anti-social reactions in response to the disaster that has left them fairly isolated without a government infrastructure to assist them. They are placed in a stressful situation where they may not act as they normally do when their basic needs aren't threatened. In some ways, since there is no reliable energy source in this world, it's as if they are beginning 'The Long Emergency" of post-peak oil living for which James Howard Kunstler and others have been trying to get the world ready.
Jo, who wrote the film as well, found critical praise and awards for his horror short Don't Step Out of the House! at festivals in Cannes, Dubai and Jeonju. KAFA's following up this praise with financial assistance for a feature film allowed for Jo to show he could take that promise he showed in the short form and go long. What most impresses me about End of Animal is how it's not 'frightening'. It's a perfect constant tone of dis-ease, something being just not right about this world and everyone within it. It's a constant suspense for which there isn't really any release. Jo ever so gently pulls us along his narrative arc. He doesn't seem to rely on tropes of cinematic fear. Jo creates his own world with its own mood and he won this viewer over. End of Animal was a KAFA grant well spent.      (Adam Hartzell)

    Romantic Heaven
Well-known director Jang Jin reached a milestone in 2011 with the production of his 10th feature film. Having been active in both film and theatre circles since his debut in 1998, Jang is known for a particular style of comedy: a distinctive blend of understated wit and melodramatic pathos, of reflective calm followed by madcap bursts of cacophony. He particularly delights in upending our ordinary conception of people and things, for example in his unusually heartfelt portrait of a band of assassins in Guns & Talks (2001), or in highlighting the hidden emotional lives of top politicians in Good Morning President (2009). His distinctive style can be hit or miss at the box office (Romantic Heaven was a miss), but his influence extends wide. In a recent Cine21 poll of Korean film students, which asked respondents to identify their role models in the local film industry, Jang placed third (6.2%) behind Bong Joon-ho (10.5%) and Park Chan-wook (10%).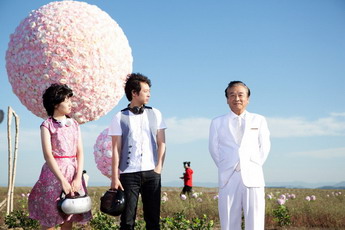 This new film finds Jang in a particularly reflective mood, perhaps because it was the first screenplay he wrote after settling down and getting married. It's a film about dying, but in a characteristic reversal he shoots it from a particularly sweet and earnest perspective. It's a look at death through rose-colored glasses.
Romantic Heaven tells several stories at once, although the various characters all occupy more or less the same space, and sometimes interact with each other. Part one, "Mom," focuses on the character of Mimi, played by promising debut actress Kim Ji-won. Mimi's mother is battling cancer, and needs a bone marrow transplant if she is to have any hope of surviving. With great difficulty, doctors identify a potential donor, but then the man goes into flight after being accused of murder. Hoping to find him, Mimi becomes acquainted with the police detectives assigned to his case. Part two, "Wife," concerns a lawyer named Min-gyu who has recently lost his spouse. Amidst his grief, he is distracted by the fact that he can't find a bag that she had brought with her to the hospital, and which contained her personal diary. In the meantime, he is visited by an ex-convict who has a score to settle. Part three, "Girl," focuses on Ji-wook, a taxi driver whose grandfather is on the verge of death. One day his grandmother tells him that for all of his life, her husband has been unable to forget a young woman he met in his youth.
It is in part four, "Romantic Heaven," that the various threads are brought together and ultimately resolved. Sometimes in multi-strand stories of this type you can sense the hand of the director in tying up loose ends, but in this film God himself appears and pulls a few strings. Dressed in a white suit and portrayed in typically classy style by veteran actor Lee Soon-jae, God is not what you might expect for an all-powerful being, and neither is heaven. One of the most striking aspects of this film is the creative depiction of the afterlife, bathed in white but otherwise much simpler and more approachable than you might expect. (It compares favorably with Peter Jackson's conception of heaven in The Lovely Bones, with its fantastic landscapes and blinding colors that are so overwrought, they tip into ridiculousness.)
This is not Jang Jin at his peak -- although some of the sequences are quite funny, the film as a whole feels a bit disorganized and lacking in focus. The various stories are resolved perhaps too neatly and sweetly to give the work any true sense of gravity. But in the end what you remember from Romantic Heaven is the imaginative and good-natured metaphysics of the work. It strikes you as a pretty good place to die, or else merely to inhabit for a couple hours.      (Darcy Paquet)

    The Journals of Musan
The Journals of Musan is the second South Korean film reflecting on the lives of such refugees that I've seen in the past two months, (the other being Jeon Kyu-hwan's Dance Town), that brings table tennis into the plot like it's as common a cultural signifier for North Korean refugees as the '125' that brands their ID cards. This leads me to wonder as well if the fashion misstatements worn by the main character, Jeong Seung-chul, his little Dutch Boy haircut, rumpled clothing, and even his gait, slumped shoulders, head-down deference to everyone, are also signifiers of his liminal status. Sitting this far away without immediate access to a history and study of North Koreans in South Korea, I can't make definitive statements about the real world in director Park Jung-bum's realized world in The Journals of Musan. I can only tell you that Park has given us a poignantly pessimistic portrayal of what life is like for those who escape to the false fantasies of the South.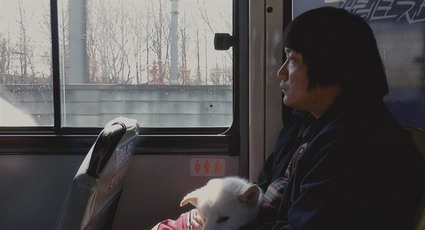 The Journals of Musan follows North Korean refugee Jeong Seung-chul through his struggle anchoring himself to his new port of call, South Korea. He lives in a ramshackle apartment (one that appears not to be finished) with his friend Kyung-chul. Whereas Seung-chul is self-effacing, obsequious to everyone he meets, Kyung-chul is a hustler, trying to get cash however he can, be it making anti-North-Korean speeches, stealing clothes at a department store, or illegally funneling money back home for other North Korean refugees with a hefty surcharge. Seung-chul wants none of this, which will adversely affect the sole friendship Seung-chul has. Sure, there is a detective trying to help him obtain a job, but he seems more like a leader than a friend. And then there is the choir woman, Sook-young, whom he stalks early on in the film. His surveillance enables him to not only place himself in the pews of her church, but also in the bowels of a karaoke bar where she surreptitiously works. Her job is a secret because she doesn't want anyone from her judgmental church to know she works in such a sinful place. She works there as a night manager to cover her mother's hospital expenses. To compensate for the ethical quandary of a 'Christian' woman working in a place where she partly manages escorts, Sook-young brings the judgment she fears from her church on to the escorts, and later onto Seung-chul for his 'lies'. As a result of all these cold relationships, Seung-chul is left holding onto a dog as the only example of tenderness in an otherwise cruel world.
Seung-chul is played as a constant sad sack, which can makes the film wear on the viewer a bit. His sunken posture symbolizes a beaten man. Yet, this film is based on a real life friend of director Park's. The Journals of Musan is an extension of Park's short 125 Jeon Seung-chul, which was also based on Park's North Korean refugee friend. Park is asking us to empathize with the plight of the refugee in South Korea and how the many dehumanizing trials they face leads some to shut-off their own empathy as a survival mechanism. Park's insistence to take on the very role of Seung-chul himself is further evidence of this effort to break the fourth wall for South Koreans who may watch, and judge, North Koreans from a distance. (A Park of all trades here, along with being the director and lead actor, he is also the producer and screenwriter.) Everyone Seung-chul meets is shown to have insincere intentions. Even Sook-young's transition of solidarity with Seung-chul is tempered with doses of skepticism.
Like Lee Chang-dong, for whom Park was an assistant director on Poetry, Park is focusing The Journals of Musan on the life of a South Korean outcast. It is unfair to compare Park to a master such as Lee, so I won't. What I see in Park's debut, for which he won a whole slew of awards (the New Currents and FIPRESCI at Busan, the Golden Star at the Marrakech Film Festival, and the Tiger Award at Rotterdam), is promise, which is more than we can say for what he leads us to believe about the society that surrounds Seung-chul.      (Adam Hartzell)

    Sunny
Nami lives in a nice apartment with her businessman husband and teenage daughter. To outward appearances, she is fortunate, but in reality she passes much of her time feeling lonely or desperate. One day, while visiting her mother in the hospital, she runs into one of her old high school classmates, Chunhwa. Overjoyed to see each other, they begin talking and reminiscing about the past, and soon enough they begin to wonder what has become of the other five members of their high school group, which had been called "Sunny." Energized by their reunion, they decide to track down the other women.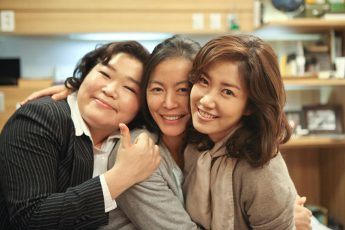 With this, director Kang Hyung-chul takes us on a journey, both across Seoul in the search of old friends, and into the past in an extended flashback that shows us how they all became acquainted in 1986. The scenes set at Jindeok Girls' High School, warm and colorful in tone, make for a sharp visual contrast with the scenes set in the present. They center around the young Nami (played by Shim Eun-kyung, a young actress who is quickly gaining recognition for her talent), a shy transfer student, and Chunhwa (Kang So-ra), the self-confident leader of Sunny who invites her into their circle.
The flashback sequences are, to a certain extent, a humorous coming-of-age story, but even more than that, they are about how the bonds of friendship help the girls to overcome the challenges in their lives. The seven-member group is made up of diverse personalities, and they all face different problems at home or at school, but in each case it is their developing friendship that gives them the confidence to face down their troubles. In other hands, such scenes might come across as overly sentimental, but director Kang's natural gift for storytelling and humor keeps us thoroughly engaged.
Meanwhile as we watch the flashback scenes, it starts to cast the scenes set in the present in a new light. Seoul in 2011 feels more sterile and forbidding, and the challenges that face our protagonists seem more serious. Our protagonists have changed too -- it's not just that the confidence and energy of youth have left them, but they have matured in ways we wouldn't have expected. But something happens when these long-lost old friends reunite. Gradually we start to pick up hope that, even 25 years later, their friendship can once again come to their rescue.
Films about women, which center around friendships between women rather than romance, are hard to get produced. Investors see them as having low potential at the box office, and there are few success stories to point to from the past. In the case of Sunny, investment flowed in because second-time director Kang Hyung-chul's previous film Scandal Makers earned $50 million at the box office. It seemed a reasonable gamble, despite the fact that Sunny was to feature a large ensemble cast and no major stars. In the end, not only was it a popular smash hit, but it sold more tickets than the three most expensive Korean films of 2011 (My Way, Sector 7, The Front Line) combined. It's hard enough to make a hit film, but when you succeed so spectacularly in a genre such as this, that's an unusual accomplishment.      (Darcy Paquet)

    The Cat
So-young (Park Min-young) is a shy young girl working as a pet shop beautician. She takes a liking to a white-haired cat named "Silky," and reluctantly agrees to be a temporary custodian for her when her owner dies under mysterious circumstances. Soon, she learns that the cats picked up around a particular apartment complex and later adopted by various people seem to have the ability to call upon a terrifying ghost of a little girl (Kim Ye-ron) in order to avenge their mistreatment.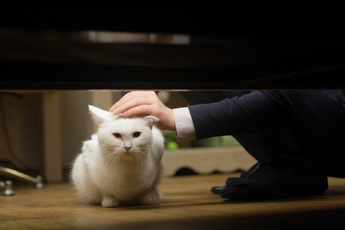 The Cat initially peaked my interest as there was a rumor that Lee Chang-dong had some input into Jang Yoon-mi's screenplay. (Director Byeon Seung-wook was an assistant director for Lee in Peppermint Candy) A Lee Chang-dong-style horror film? It certainly sounds interesting, doesn't it? Well, The Cat is competently made but disappointingly turns out to be one of those scare flicks that appeal to the people who essentially don't like the genre. You know, those who think that a horror film must "mean" something, otherwise it is not worth their time.
In fairness I must say I am sympathetic to the filmmaker's political stance. They have listened to the pet peeves (double entendre intended) of Korean cat lovers, and harsh criticisms are reserved for the NIMBYs living in high-rise apartments who consider stray cats no better than vermin to be exterminated. Having learned just how tough it is to manage the cat actors (probably an oxymoron), I am impressed with the ways Byeon wrangles them, the climactic reliance on CGI effects notwithstanding. Park Min-young and her love interest Kim Dong-wook (Romantic Heaven) are adequate if you don't mind their TV-drama-scaled presences. And the film does manage a few decent jolts, including a delectably overdone sequence in which a nasty cat pound owner gets barbecued alive.
Yet, The Cat fails to elevate itself to the level of a satisfying entertainment, much less a genre classic. It is just too well-behaved and formulaic. Most disappointing is the fact that the film lacks any sense of mystery and sensuality one expects from a movie focused on felis catus. As the great Japanese feline-horror movies such as Kaneko Shindo's Kuroneko (1968) amply demonstrate, the frightening qualities of a cat cannot be separated from its beauty, grace and ability to approximate human beings (its baby-like yowl, its slinky, feminine walk, its gem-like staring eyes, its selective ties to its "owner" and capacity to bear grudge, and so on). With a title like The Cat that promises to exploit all these traits the species possesses, the least the filmmakers could do was cast Cha Ye-ryon (cruelly wasted in the dumb-butt movie of the season, Sector 7) and/or Choo Sang-mi in the role of a vengeful cat. As it stands, there is no compelling reason for this movie to have chosen the cats as its subject: dogs or parakeets would have served the same (political) purpose.
Good, but not good enough, meowl.      (Kyu Hyun  Kim)

    The Front Line
The Korean War lasted from June 1950 to July 1953, but all of the dramatic advances and retreats across the peninsula took place within the first year. From July 1951 until the end of the war, a stalemate took hold and almost no territory was exchanged. This doesn't mean, however, that there was no fighting: even as armistice negotiations dragged on, soldiers stationed on the front line battled desperately to secure even small amounts of territory, because everyone knew that when the armistice was signed, the line of battle would form the new border between North and South Korea.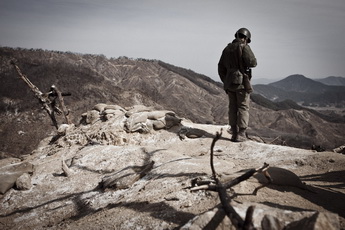 The Front Line takes place on one of the many hills that were fiercely contested by the opposing armies during this two-year period. While many war films take place across broad stretches of territory, in this film the soldiers go up and down the same hill, advancing and retreating amidst scenes of bloody carnage until the whole endeavor starts to feel pointless and absurd. It's an appropriate setting for a film that focuses on depicting the human costs of war, with little emphasis on nationalist themes or masculine bravado.
Gang Eun-pyo (played by the versatile Shin Ha-kyun, No Mercy for the Rude) is a first lieutenant sent to Aero-K Hill to investigate some suspicious activity among the Southern soldiers. The previous company captain appears to have been shot by his own troops, and furthermore, a letter delivered by a North Korean soldier to his mother in the South appears to have been sent from this location. With his superiors suspecting the work of a communist sympathizer, Gang arrives and discovers a motley crew of weary and disillusioned soldiers. He is also reunited with his college friend Kim Soo-hyuk (Ko Soo, Haunters), who appears drastically changed after spending time as a captive among the Northern army.
The Front Line is by the up-and-coming director Jang Hun (Rough Cut, Secret Reunion), and based on a screenplay by Park Sang-yeon, who wrote the novel that formed the basis for Park Chan-wook's JSA (2000). One of the strengths of this film is its reluctance to take sides, and its tendency to embrace the moral complexities of war, rather than pull the viewer in with melodramatic twists and turns.
The ensemble cast also gives an opportunity for an exceptionally talented group of actors to make an impression. Shin Ha-kyun is one of the best actors working in Korean cinema today, and although the narrative function he takes is primarily that of an observer, he anchors the film with his steady presence. Ko Soo, currently at the height of his popularity, imparts a dangerous and slightly unsteady bravado to the character of Soo-hyuk. Up and coming actor Lee Je-hoon (Bleak NightM) won multiple local awards for his portrayal of the morphine-addicted teenage leader of the company. Ryu Seung-ryong (Possessed) makes an imposing figure as the commander of the North Korean soldiers, and although the casting of young starlet Kim Ok-vin (Thirst) as a lethal North Korean sniper feels a bit unnatural, her performance can't be faulted.
As one of the highest profile releases of summer 2011, The Front Line fell short of expectations at the box office, although 2.9 million admissions is hardly a bomb. It's not hard to guess why -- despite its star power and technical brilliance, the film's downbeat mood and relentless, soul-draining battle sequences hardly make for escapist fun at the multiplex. The lengthy 133-minute running time came under particular criticism, and it's a shame director Jang didn't make the film a bit tighter. Nonetheless, among the crop of recent war movies from Korea including My Way (2011) and 71: Into the Fire (2010), this is clearly the work that viewers will remember.      (Darcy Paquet)

    Leafie, A Hen into the Wild
Among the 2011 sleeper hits that sucker-punched industry insiders and casual moviegoers all the way to the bank, the least expected and most astonishing of them might have been Leafie, based on a well-respected and extremely popular children's book authored by Hwang Seon-mi. Undaunted by the knowingly discouraging prognoses from industry insiders, the film went on to rake in more than 2.2 million tickets, trouncing The Last Godfather and Sector 7, while recouping its production budget in just four weeks.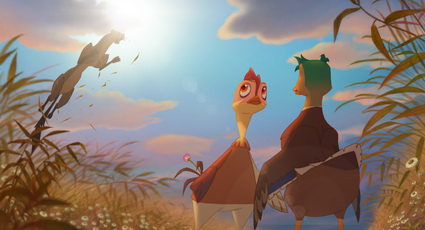 It is no secret that contemporary Korean viewers don't like animated feature films. The old fans of Robot Taekwon V need not get riled up: I am one of them myself, but the cold statistics is not on our side. The Korean reluctance to watch an animated feature in a theater (beware that I am not talking about the medium of animation per se, as anyone familiar with the global mega-popularity of Poporo the Goggled Penguin would readily concur) is not limited to domestic products. Latest hits from Pixar and Disney have time and again proved themselves no match for numbskull Hollywood franchises like Transformers and Mummy in grabbing hold of the purse-strings of the Korean "family" viewers. For the production side, a huge number of animators and would-be animation directors still toil under the circumstances ranging from acutely frustrating to abjectly horrible, grasping for a practically non-existent opportunity to produce and theatrically release their dream projects. Leafie's director O Seong-yoon is all too familiar with this situation, himself having struggled for more than twenty years as an animator under adverse economic circumstances before finally debuting with this feature film. Not helping the matters is the delusion I suspect entertained by many figures in policy-making positions, that Korean animation somehow has to "catch up" with the Japanese anime, hence forever on the look-out for a candidate for the imagined seat of "Korean Miyazaki Hayao."
Given this situation, it is indeed great news for the Korean animation industry that Leafie garnered substantive support from the native viewers. Did the film deserve it, though? My answer is yes, but this does not mean that Leafie breaks unprecedented grounds or even that it is an unjustly neglected gem.
The film, seven years in making under the expert husbandry of the ace producer Shim Jae-myeong (JSA, A Good Lawyer's Wife), is in many ways a product of (commercially calculated) compromises. The filmmakers cautiously nipped, tucked and otherwise smoothed out the more explicitly feminist, thought-provoking and locally grounded aspects in Hwang's source material. Leafie herself is much more of a "good mother" in the film than in the book, tugging at our heartstrings instead of letting real emotions take over. The non-sentimental approach of the original toward the harsh "realities" of the nature, such as animals locked in a food chain of predators and preys, is somewhat softened (although not entirely expunged). The flight contest in which Leafie's adopted son, Green, seeks to prove his mettle to a migrating tribe of ducks, is relocated to the climax and beefed up with the X-Fighters-in-the-Death-Star-canals action-movie pyrotechnics.
All this is not necessarily a bad thing for a casual viewer, but consequently Leafie at times feels caught between a lyrical, ecologically conscious fable, not shirking away, for instance, from graphic and disturbing depictions of the country egg-factory as a "concentration camp" for chickens, and a rousing, rambunctious "boy's adventure" replete with macho heroics (Green's father Wanderer being the premier offender). Yet, like its main character, the movie somehow manages to overcome its many obstacles and hold our attention. Helping matters greatly are the superb voice acting cast, headed by Moon So-ri (Forever the Moment), instantly recognizable and articulating the gumption and touching naivete of the eponymous hen with great conviction. Moon is ably supported by Park Cheol-min (Cyrano Agency) as a real-estate-dealing otter and voice actress Kim Sang-hyun as One-Eye, the predatory weasel, whose character arc is the most interesting in the movie and, despite the real threat she poses to Leafie and Green, is not presented as a hissable villain. Only Choi Min-shik (I Saw the Devil) as Wanderer is prevented from bringing his all to the rather boringly conceived role of a loner duck.
Visually, Leafie is pleasingly sumptuous, if not altogether resplendent: much background animation is rendered in the watercolor-like clean hues with impressive details, and the vistas on occasion attain the simple but unassuming beauty of the best illustrations for modern children's literature. The "local color" the filmmakers strives to present-- an expansive, blue lake flanked by man-made concrete structures, for example, where the young ducks compete for championship-- adds to the movie's distinctive look. Character designs are good, too, staying away from excessive anthropomorphism. With all the technical sophistication that went into constructing them, the characters still retain just enough of a slightly hand-drawn, crude quality to render them endearing rather than chintzy.
Leafie is a personal triumph for producer Shim of Myung Films, whose excellent commercial instincts as well as a nose for quality have resulted in three unlikely box office winners in a row (Cyrano Agency, Leafie and the currently playing Architecture 101). It is premature to expect some kind of system-shaking impact on the position of animated features in the Korean market from this little motion picture that could, but its seemingly foolhardy attempt to be both fish and fowl remains, if not downright moving, plenty admirable.      (Kyu Hyun  Kim)

    Blind
Soo-ah (Kim Ha-neul, Ryung: Dead Friend, My Tutor Friend) fought her way up to police academy from orphanage. Tragically, while trying to discipline her adopted younger brother, she is caught in a traffic accident and is blinded. Undaunted, she continues to pursue a career in law enforcement.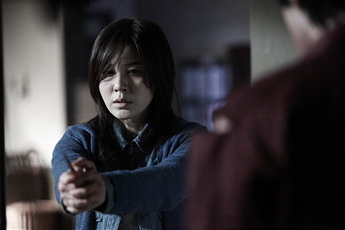 While waiting for a bus during a terrible downpour, she hitches a ride with someone she thinks is a taxicab driver. It turns out that he is a serial rape-murderer exclusively targeting young women. Soo-ah luckily survives the attack, but cannot convince the police or anyone else that she holds some relevant information about the killer's identity. Her case is not helped by a run-in with another witness, a cocky youngster Gi-seop (Yoo Seung-ho, the kid in The Way Home, all grown up), who insists that the abductor's car was not a taxicab. Soo-ah, however, presses on with the investigation of recent abductions, winning admiration and help of Detective Jo (Jo Hee-bong, the Japanese soldier in The Ghost Theater) and grudgingly forming a friendship with Gi-seop. Of course, the serial killer is aware that Soo-ah, despite her disability, is uncomfortably close to his tail; and he is planning to do something about it.
In terms of commercial performances, 2011 shaped up to be a rather interesting year, with the media-saturating would-be blockbusters (Sector 7, Hindsight, The Last Godfather) roundly kicked in the butts by smaller but adventurous or smarter films, each with its own risky, tough-to-sell element (War of the Arrows, with the two-thirds of its dialogue in a foreign language with subtitles: Sunny, starring seven female main characters played by fourteen different actresses: Silenced, a dark and angry movie that fearlessly tackles one of the ugliest and bleakest subjects-- child sexual abuse-- for a Korean film: and Punch, a quirky comedy-drama based on a quirky young adult novel about the travails of a half-Korean kid and his hangdog teacher, the very antithesis of a peppy drill sergeant). I hope Euro-American importers for the digital market do not make the mistake of ignoring these films in favor of the bad Korean clones of bad Hollywood movies, but what do I know? I already feel that Sector 7's position in the Region 1 and 2 DVD market is reassured while the true only-Koreans-can-make-'em movies like Punch and Sunny will be ignored. Prove me wrong, folks, please.
Blind turned out to be another unexpected over-performer in the box office. After playing as the closing film for the Pucheon Fantastic Film Festival, it enjoyed excellent words of mouth and proceeded to sell approximately 2.4 million tickets nationwide, just below the top ten moneymaker list of 2011, trailing The Client and the third sequel to Marrying the Mafia.
While director Ahn Sang-hoon's previous film, the lame Arang, does not exactly inspire confidence, Choe Min-seok's screenplay (modified by Ahn and Yoon Chang-eop [the producer of To Sir with Love] ) is several notches above the usual standard of the Korean thriller genre, complementing Ahn's restrained approach. Indeed, for me Blind's chief strengths lie in what its makers successfully avoid rather than what they do. For instance, Ahn, Choe and company refuse to turn Soo-ah into a female clone of Daredevil, with preternaturally enhanced olfactory and auditory senses. She is merely a sensitive young woman doggedly pursuing her goal, certainly not immune from misinterpreting her clues or being subject to crippling self-doubt. Supporting characters are equally believable. Detective Jo is obviously designed as a comic relief yet is surprisingly intelligent beneath his clownish veneer. Gi-seop remains realistically immature and never does anything fake like heroically rescuing Soo-ah from a crisis situation. Even the portrayal of the villain is spare and to the point; no torture-porn excesses in this film, although his characterization (and the annoyingly infantile-masculine view of Soo-ah's "virgin mother" status) does hint at director Ahn's conservative Catholic outlook (abortion is evil, etc.).
Blind also showcases several impressively constructed set-pieces that immediately grabbed the viewer's attention at the PiFan screening I attended. One such set-piece, a protracted chase in a subway station, makes an exceedingly clever use out of the two-way camera function of a smartphone, the kind of ideas you expect to see in a contemporary American thriller but seldom do. Kim Ha-neul's fans might want to know how she fares in the demanding role of a physically active blind woman. She is obviously not Audrey Hepburn in Wait Until Dark but neither does she preen like a princess or milk her disability for audience sympathy. Kim scores points by convincingly embodying a regular young blind woman struggling through daily life in a basically inconsiderate and discriminatory society, and not coming off as a movie star trying to "act" vulnerable.
Blind is hardly an eye-opening, neo-Hitchcockian masterpiece of modern suspense. It has more than a few problems, including the over-emphatic climax trying to get the viewers cheering on their feet yet succeeds only in deflating the tension (Ahn is at his weakest in finessing actively manipulative techniques a la Spielberg); yet the film is an undeniably efficient, crowd-pleasing concoction, superior to the usual, dreadful, post-'90s American horror-thrillers with brain-dead, inebriated, oversexed college students being wiped out by an irate life-begins-at-ejaculation Republican Teabagger or something.      (Kyu Hyun  Kim)

    Sector 7
'Sector 7' of this unbelievable stinker's title refers to a deep-sea mining site south of Jeju Island, publicized by the Park Chung Hee dictatorship in 1970s as a veritable treasure trove, in which several billion barrels of petrol were supposedly waiting to be dug up, instantly making South Korea Kuwait of East Asia. If you read the newspaper accounts from that period, along with the hard data available from the actual attempts to drill the location, you are likely to come to the conclusion that collective insanity in the form of obsession with the liquefied corpses of millions-of-year-old ferns, dragonflies and dinosaurs was gripping the brains of otherwise normal Koreans (and Japanese, for that matter). Ah, good ol' days of OPEC supremacy!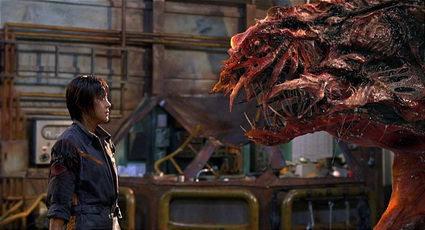 Anyway, this is the back story behind the lone and battered oil rig, named Eclipse, now facing a permanent closure. The motley crew, headed by Hae-joon (Ha Ji-won, Haeundae/Tidal Wave), consists of her lover-boy Dong-soo (Oh Ji-ho), a couple of comic reliefs played by Song Sae-byuk (Cyrano Agency) and Park Cheol-min (Leafie, Hen into the Wild), a prim female scientist (Cha Ye-ryeon, Little Black Dress) and a one-liner spewing medic (Lee Han-wi), among others. Later, Captain Jeong-man (An Sung-ki, Unbowed) joins them, supposedly to re-energize the drilling operation for one last time.
After perfunctory scenes of borderline offensive "comedy" and dreary buildup, the crew runs into some kind of a hostile creature, that very predictably begins to kill off crew members. The humans, isolated from the mainland, try to fight off the ugly, toothsome monster as best as they can. There is also some nonsense exposition about the man-made origins of the beastie involving Captain Jeong-man and Hae-joon's deceased father: this turn of events forces Ha Ji-won to make a somebody-took-my-candy crybaby face and holler at An Sung-ki, by which point the veteran actor might have been wondering exactly what kind of quicksand pit he had waded into.
Sector 7 had been the most anticipated blockbuster of summer 2011, but its poor performance caught even industry insiders and critics by surprise. Having cost nearly 13 billion won (approximately 11 million dollars), it suffered whopping 79 per-cent drop in pre-order ticket sales after a promising debut week, barely recovering its production cost in the end.
Now, I am the kind of horror and science-fiction fan who manages not only to stay awake during a 3 a.m. Netflix-streaming of the dorkiest SyFy channel creature feature, but also will shell out $30 to purchase a Blu Ray of Godzilla versus Megalon (without "funny" sidebar comments of the Mystery Science Theater variety, of course), or Gamera versus Zigra, for that matter. Yet I ended up dozing off during the press screening of this film (and judging from the reactions around me, I was not the only one having this somnambulist response). If Sector 7 was merely an incompetently constructed movie based on tiresome clichés, with terribly written characters, a nonsensical narrative, ridiculous situations and a badly designed and indifferently drawn monster, I could still have gladly defended its honor. After all, the reason Alien is considered a classic is not because of the originality of its setting or characterization. The oil rig backdrop was a fine idea, and the fact more than a few genre films had already used it was not a problem. Heck, I even paid to see Deep Star Six (remember that one?) in a theater, and kind of liked the mutated lobster in it.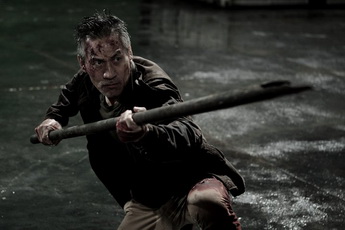 So where did it go wrong? Rather than repeating the obvious criticisms laid out in the preceding paragraph, let me limit myself to a few observations. The most obvious problem with this turkey is how poor Ha Ji-won and the rest of the obviously talented cast is (man)handled. I am not the only one alarmed that she is rapidly approaching the Nicolas Cage moment in her career: enough of horrible choices like this, viewers will soon forget that she was once a vibrant, charming (though, let's face it, never in the class of, say, Jeon Do-yeon or Kim Hye-soo) actress. Her Hae-joon is the worst "tough-cookie" female character I have seen in an East Asian film in a long time: this allegedly professional drilling engineer's mental age seems stuck at around nine, and Ha's performance alternates between a cool stare in the leather-jacket-clad power-drink-CF model mode and a horrifying blend of whining, cackling, hollering and weeping, all turned up to the nth volume. I feel bad for An Sung-ki, too, yet again rendering his skills and gravitas to a cause beneath him, and Cha Ye-ryeon, treated like a wall-mounted decoration and mouthing off some exquisitely dunderheaded "explanation" about the monster's biology.
As for the monster, it looks like a mutated canine fetus with thorns and spikes sticking out all over its hide, which already makes it sound more interesting-looking than it is. Truth be told, whatever modicum of impact it could have had was crushed by the filmmaker's decision to film Sector 7 in 3-D. I am not being ironic when I say that those of you who will watch this film in a flat screen might actually appreciate it more: nearly every scene is frustratingly murky and blurry, as if someone poured a bowl of water mixed with cornstarch into the screen. To add insult to injury, the "action sequences" involving this unconvincing CGI concoction inexplicably ape those of The Host, right down to good ol' captain plunging a metal pole into its gullet, pointlessly reminding the viewers of a recent superior example. To cap it all off, the filmmakers try to create a lump in the (Korean) viewer's throat by waving the drill-baby-drill developmental-nationalist flag: rather than being touched, I felt as if they shoved a big piece of coal into my throat.
This lobotomy-with-a-power-drill nationalist palaver that pervades Sector 7 clearly marks it as producer Youn Je-kyun's (Haeundae/Tidal Wave) baby, although this time Kim Ji-hoon (May 18, Mokpo, the Gangster Paradise) was the unlucky hired hand to take over directorial duties. The result shows that Kim was either clueless or actively disinterested in the film's premise, story or its genre identity: in fact, he pretty much admitted so in public, which did not go well over many SF/horror fans, to say the least.
I can't really say anything nice about Sector 7 (that I would rather watch it than Hanbando? Yeah well... that's like choosing between a splinter under your toenail and a bad case of athlete's foot), a total train wreck if there ever was one. Nonetheless, it might be argued that the movie contributed to the overall health of the Korean film industry through its failure, revealing that the R&D fund-gobbling, brainless 3-D craze as well as the auteur-huckster-masterminded summer blockbusters are not what they are cracked up to be, after all. There we go, it seems I actually managed to say something nice about it.      (Kyu Hyun  Kim)

    War of the Arrows
Nam-yi (Park Hae-il,The Host), the son of a military officer killed during one of the Joseon court's factional struggles, is living as a game hunter, adopted by his father's friend (Lee Kyung-young) along with his beautiful sister Ja-in (Moon Chae-won, currently starring in the big hit TV drama Princess's Man). Nam-yi is something of an archer prodigy, yet has turned cynical toward the world. His sister, however, is tired of leading a fugitive's life and decides to marry her step-brother Seo-gun (Kim Moo-yeol, Romantic Heaven). It just so happens that their wedding day turns out to be the day of the second full-scale invasion of Korea by the Qing Empire (1636). With both Ja-in and Seo-gun kidnapped by Qing soldiers as hostages, Nam-yi tracks them carrying his trusty bow and lots of arrows, while being pursed by a team of ace Manchu archers, led by Jushinta (Ryoo Seong-ryong, Children...), a beile (chieftain).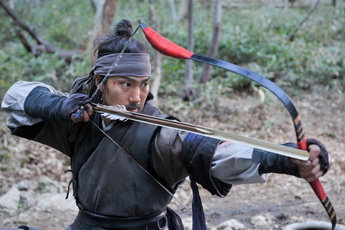 First, a little historical background: even though the favorite villains in Korean period pieces have always been the Japanese (see, for instance, Blades of Blood), considering that Hideyoshi's invasion of Korea (1592-1598) was a full-scale international war that permanently re-configured the structure of East Asian trade and diplomatic relationships, possibly bringing down the Ming Empire in the process, the Korean understanding of it has always been affected by the subsequent modern history of Japanese colonization (Few period works bother to mention the two-hundred-plus years of essentially cordial and peaceful relations between Korea and Japan following the invasion: I know peace is a boring subject for popular entertainment for sure, but still). In truth, the Qing invasions of the Joseon Korea in the seventeenth century arguably constitute the most humiliating defeat by a foreign force in the entire history of Korea, King Injo surrendering to the Manchus with a kowtowing ceremony only two months after the infiltration of the border and his own son, Crown Prince Sohyeon, taken as a hostage (his adventures in China and ultimately tragic fate would make a terrific movie as well). Indeed, more than half a million Koreans were forcibly relocated from their homes due to the second Manchu invasion.
Even though War of the Arrows is one of the few Korean period pieces I am aware of to directly deal with this touchy subject, it surprisingly forgoes any standard costume-drama set-ups, such as King Injo arguing back and forth with his bearded ministers on the best course of action, and focuses on just a handful of characters living in the border region. Moreover, director-scribe Kim Han-min (Handphone, Paradise Murdered) pulls a fascinating reversal on the stereotypes and gives the Manchu "villains" all the expected qualities of "good patriotic soldiers:" team spirit, bravery, tenacity and loyalty to their comrades. If Arrows were an old Korean War film, the role of the heroic South Korean soldiers would be played by Manchu warriors, fighting against a lethal but sneaky North Korean sniper. The film's atypical perspective is well represented by the fact that nearly two-thirds of the film's dialogue is spoken in Manchu language: a daring gambit that paid off, as Korean viewers did not mind reading huge chunks of subtitles for a domestic production, turning Arrows into the biggest sleeper hit of the 2011 summer season with over 7 million tickets sold.
Like most successful action films with a twist, Arrows relies heavily on its unorthodox but excellent cast. Park Hae-il, with his big, mountain-cat eyes with Stygian pupils and delicate features, is not an obvious choice for a super-skilled warrior but he gives the role exactly the right flavor, presenting Nam-yi as a complex mixture of emotional vulnerability, high-wire professionalism and cool intelligence, even a sprinkling of predatory cruelty. Ja-in's character is obviously tinkered to appeal to modern viewers, yet Moon Chae-won's portrayal is surprisingly level-headed and emotionally honest: neither is Kim Moo-yeol's Seo-gun wasted as dorkish comic relief. As for Ryoo Seong-ryong and other actors cast as Manchu warriors, they do acceptable to impressive jobs while saddled with the handicap of having to convincingly mouth a semi-extinct language.
Greatly helping matters are the scaled-down yet deceptively colorful production design by Jang Choon-seop (The Wig, Bet on My Disco) and Im Seong-mi, as well as the pragmatic yet exotic look of the characters created by Kwon Yoo-jin (The Good, the Bad, the Weird), Im Jeong-hee and Kim Jin-joo, although there has been some criticisms of the historical veracity of the military instruments, equestrian practices and other details (For example, all Korean and Manchu arrows should apparently sport three feathers instead of two to perform the kind of acrobatic feats shown in the movie).
In fact, War of the Arrows is so well designed as a lean and mean sprinter, almost like a classic '50s Western starring James Stewart or Gregory Peck at the height of their careers, its concessions to contemporary action-film aesthetics are rather disappointing. Despite the gushing praise of some Korean critics and viewers, Arrows hardly breaks any new ground in terms of the techniques and styles employed to illustrate pre-modern martial skills: shaking hand-held cameras, boring slow-motion shots and unconvincing CGI effects all inevitably show up. In addition, the film eventually adopts the "family ties are the only worthwhile thing" formula that Korean blockbuster-wannabes time and time again fall back on, abandoning the potentially much more interesting angle of expanding on the philosophical or spiritual aspects of Nam-yi's attachment to archery (in the manner that, say, Kurosawa Akira's Sanshiro Sugata does with judo) or of actively questioning the meaning of ethnic identity for Koreans (Both Nam-yi and Ja-in speak fluent Manchu throughout the movie even when not necessitated by the plot, and their birth-mother makes no appearance: kind of suggestive, isn't it?).
Not quite a landmark in the annals of the Asian action film genre, the film nonetheless significantly extends the perimeters of the Korean period piece and is another superior vehicle for Park Hae-il's acting skills and star charisma. It deserves the commercial success it's currently enjoying, demonstrating if anything that a highly concentrated character study can have just as strong box office muscles in a period setting as a court-and-bedchamber melodrama or a nationalist epic with a usual "hero" figure like Jang Dong-gun.      (Kyu Hyun  Kim)

    Dance Town
One of the many aspects of South Korean Cinema that is ripe for a PhD dissertation is the portrayal of North Koreans since the 1996 Constitutional Court ruling that declared the government could no longer censor films before their release. (Yes, like so many chronological demarcations, this one is hazy. As Darcy notes in his book New Korean Cinema: Breaking the Waves, 1997 had a series of censorship struggles. But as Darcy summarizes "the 1996 decision still stands as an important legal precedent and a symbolic milestone in the development of the Korean film industry.") Although I personally didn't find Shiri's portrayal of North Koreans all that sympathetic, it does advance North Korean portrayals when compared with what South Korea's former dictators and their censors required of previous films. Soon after Shiri, films such as JSA and comedies like The Spy and Spy Girl presented North Korean characters one could actually identify with, or in the case of the feature-length fast food company ad that was Spy Girl, a character South Koreans were encouraged to desire.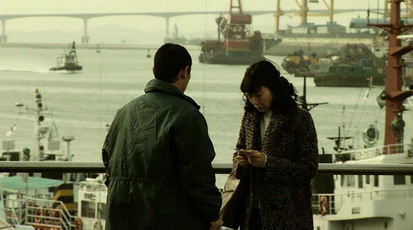 Particularly poignant in its portrayal of North Koreans is Jeon Kyu-hwan's fourth film Dance Town. In this film, we follow the ambivalent migration of former North Korean national table tennis player Jung-rim (Ra Mi-ran, who won Best Actress at PIFF for this role) as she heads to South Korea after her husband is abducted by North Korean authorities for crimes against the State. Finding herself alone in a strange land, she is basically at the mercy of the organizations set-up by South Korea, missionaries hoping to save her soul, and the ad-hoc community of other North Korean refugees, to re-orient every aspect of her life. There is the government official assigned to Jung-rim's case, which includes placing her on surveillance in order to confirm Jung-rim is not a spy. She is not harshly cold to Jung-rim as much as she is simply a professional doing her job. There are the missionaries who aren't overbearing, but Jung-rim knows enough, and such is hinted at by other characters, to be hesitant to completely embrace their assistance. And there is the policeman (Oh Yeong-tae, who is also in the two other films in Jeon's "Town" Trilogy - Mozart Town and Animal Town) whose interest in Jung-rim is as suspect as, well, the suspects he is supposed to be apprehending.
I used the word 'ambivalent' to describe Jung-rim's migration, because it's not a migration she initiated. One of the rare moments of joy in this film is Jung-rim's smile after sex with her husband. After which he proceeds to leave their apartment, unbeknownst to her and him, never to return again. This is Jung-rim's second marriage after escaping the in-law abuse and infidelity from her previous husband, her table tennis coach. She seems to be happy with him and appreciates his sincere affection for her. Yet geo-political circumstances intervene and she heads South hoping her husband will join her there. Similarly disorienting the viewer from expectations of how such topics are presented is the indifference she receives in South Korea. As much as an older generation of South Koreans still dream of a union of the two countries, the reality on the ground that director Jeon portrays is one of bureaucratic burden felt by South Korean authorities, and even resentment regarding the resources spent on the refugees. It is this refusal to over-romanticize the journey to 'safety' of North Korean refugees that I appreciate about Dance Town. Jung-rim's journey has not ended with her escape. In many ways, it has just begun.
And, of course, another aspect about Dance Town that I appreciate is the cameo of our very own Darcy as an American missionary who had come to South Korea to convert people and ended up staying after getting married. This is nice casting because Darcy's natural soft-spoken demeanor melds well with the role of a missionary. Plus, this role works metaphorically because Darcy has been on a (successful) mission in reverse - to introduce South Korean cinema to the world. But most importantly, Darcy is the first appearance of a Western actor in any South Korean film that works. It doesn't feel stiff, forced or awkward to the point of cringe-inducing embarrassment. Darcy flows in and out of his scenes without disrupting them.
Of course, the experience of surprise at seeing your friend in a film conjures up emotions counter to the over-arching mood of this film. Unlike how happy Darcy's cameo made me, Dance Town is a depressing film. So much so, Christine Kwon (Managing Director of SFIAAFF) mentioned in her program notes that she sees visions of Lars von Trier in here. Watching such gradual demoralization can be quite an ordeal and how this has anything to do with dancing is oblivious to me. (A reference to von Trier's Bjork-vehicle Dancing in the Dark, perhaps?) I will have to wait to see how it fits into the two previous films of director Jeon's 'Town' Trilogy, but my interest is piqued and await I will.      (Adam Hartzell)

    The Day He Arrives
One doesn't come to a Hong Sangsoo film to talk about narrative, but to talk about talking. And that talking to talk about is not limited to dialogue, but what is also expressed through ambivalent gestures, repetitions, actions, and inactions. What was said by a student about Director Ku in Like You Know It All can be said about Hong himself, Hong is more a philosopher than a film director. His films are less about the plots than about the ideas nesting within them.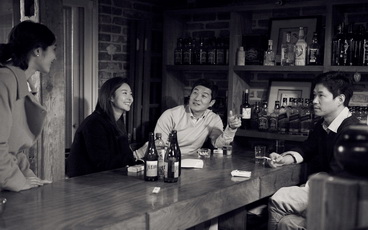 But for those who need a plot, The Day He Arrives follows Director Yu Seong-jun (Yu Jun-sang, returning from Hong's films Like You Know It All and HaHaHa), a director who is stuck in a stint of filmmaker's block, as he seeks to spend time with his friend, Young-ho (Kim Sang-joong). That's basically it. Initially he runs into some film students who either know of him or fake as if they know of him out of respect or awkwardness. One of them may even have seen one of Director Yu's films, but the words of Hong's characters are always suspect regarding their connection to truth. Eventually Director Yu meets up with his friend and returns regularly to a bar with his friend's friend and colleague Boram (Song Sun-mi). Each time they arrive at the bar, the owner is never there, so they help themselves until she returns. This bar serves up many moments of repetition, Director Yu's friend Young-ho always introducing Director Yu to the bar owner Kyung-jin (Kim Bok-yung) as if they'd never met. This is confusing but also believable in part due to the drunken state of the later introductions and the awkwardness that could restrain Director Yu from reminding his friend that he's already introduced them once, twice before. Perhaps intended for ironic effect, perhaps not, this bar is called 'Novel'. So beyond the obvious literary reference, the bar becomes anything but novel in the sense that they re-visit so many of the same conversations, procedures, and people there.
Unlike most of Hong's recent films which have acted alternatively as a travelogue of Seoul-less South Korea, The Day He Arrives finds our characters solidly in Seoul, specifically the Bukchon district. Jean Noh, in the May 2011 edition of Korean Cinema Today, informs her readers that the Korean title of the film translates to 'in the direction of Bukchon' or 'Bukchon-bound'. Noh also elaborates that the Bukchon district ". . . is known for its traditional Korean-style houses and artistic atmosphere which is filled with cafes, galleries and a public library" (28). The latter, Jungdok Library, is featured in the film as one of Director Yu and Young-ho's conversation spaces. Besides staying in Seoul, another difference from Hong's more recent films is that the women appear less strong in their characterizations. Part of this is the result of a point made by Director Yu's friend Young-ho that all one needs to do to impress women is to point out two contradictions in any woman and she will feel that you have pinpointed her perfectly. Even after making this argument with Boram present, Boram reacts as if Young-ho is some kind of shaman when he quickly demonstrates the technique on her. This single's bar philosophy is reinforced later in the film when Director Yu professes his love for the bar owner Kyung-jin by elaborating profusely on how good a person she is. Since he doesn't point out a contradiction to that inherent goodness, Kyung-jin responds by saying he doesn't really know her.
Although I see Hong's films as philosophical treatise, they are not Socratic dialogues or arguments presented through linear exchanges. The arguments are elusive in their repetitions and failures to be grounded in a solid truth. Nobody's going to win the argument since everybody is faulty in their delivery and sincerity. As Peter Nellhaus notes on his blog Coffee, Coffee and More Coffee, Hong's characters find 'the way to deal with the uncertainties of life is to remain uncertain'. Rather than latch on to a truth that will set you free, Hong's characters let go and, ironically, confront through escape.
The most poignant aspect of this film that underscores the Hongian confrontation with uncertainty is the final scene. I wouldn't consider it a spoiler to mention it, but I know some will, so I will refrain from saying exactly what happens here, but it definitely highlights the pathetic nature of all of Hong's characters throughout their journeys on the South Korean peninsula. Hong's characters never reach their goals but keep repeating their words, their actions, and their successes that are quickly sabotaged into their failures. They are directors and artists and writers and lovers that fail to consummate their works and relationships with any sense of fulfillment or completion. They are wounded souls reliving their scars. That is what the final scene reveals, without my revealing the final scene.
In spite of all that uncertainty, Hong's films do spark fulfilling dialogues and reminisces amongst those of us who find much to mull over in his works. My friend Brian Darr and I experienced our own Hongian coincidence when I called to tell him my wife and I were heading to Denver for the weekend to see The Day He Arrives. (Brian is the proprietor of the San Francisco film blog Hell on Frisco Bay where I often post my non-South Korean film musings.) Unbeknownst to me, Brian was in LA and had just stepped out of a screening of The Day He Arrives. And appropriate to the name of Nellhaus' blog, the amount of coffee I had with Peter before seeing The Day He Arrives at the Starz Denver Film Festival reminded me of how much alcohol flows within Hong's films. In both experiences, one random, the other planned, we were resonating with the chanced and not so chanced run-ins that happen in Hong's films. If there's any truth that one can hold onto in a Hong film besides uncertainty, it's the nature of the value such run-ins can have for us in spite of our faulty memories of such events.      (Adam Hartzell)

    Silenced
Sometimes, the drama surrounding a film's release overshadows the drama contained within the film itself. Usually this is a bad sign, but in the case of Silenced, it was exactly what the filmmakers had hoped for.
The movie opens with the main character In-ho (Gong Yoo) driving south to take up a position as an art teacher at a school for the deaf. He arrives filled with idealistic fervor, but is shocked at the state of his young students. With haunted, anguished expressions, they are withdrawn in his presence, and some of them have frightening bruises and cuts on their faces and bodies. When one night he witnesses another teacher locking a student in a washing machine, he intervenes and takes the student to a hospital. There he learns that the student, and many others, have been sexually abused over a period of years by the school's teachers and administrators.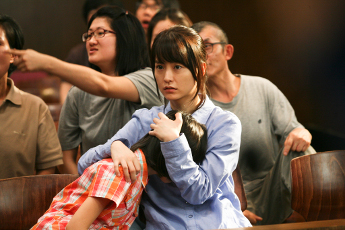 Silenced is based on a real-life incident, which makes its grim story far more chilling than it would be otherwise. But the work's focus is not so much on the unveiling of the crime, which had already been written about in the Korean press in the mid-2000s. The heart of the story lies in the victims' efforts to bring their aggressors to justice in the courts. In this they are helped by In-ho and a human rights activist named Yu-jin (Jung Yu-mi), who both make considerable personal sacrifices in order to devote themselves to this cause.
The combination of focused direction, heartbreaking subject matter and the fact that we know it is based on a true story makes Silenced a particularly intense viewing experience. It's not surprising that audiences should be unsettled by the work, but virtually all observers were caught off guard by the tremendous public interest and outpouring of emotion that greeted the film's release. To a certain extent, the film owed its runaway success (4.7 million tickets sold) to the online novel on which it was based. Written by one of Korea's most famous writers, Gong Ji-young, The Crucible (which is also the film's original Korean title) recorded 16 million hits when it was published in serial format on the internet in 2009. Many of these readers were the ones who saw the film early and helped to generate positive word of mouth.
But despite its wide readership, the novel did not have nearly the real-world impact on society as this film did. Perhaps this has something to do with the nature of the film medium itself, which draws in large crowds of people who sit and experience the film together in communal fashion. In its first 2 to 3 weeks on release, Silenced produced a storm of commentary on the internet, together with louder and louder calls for something to be done to address the issues raised by the film. Leaping to attention, local politicians quickly drafted and passed a bill to provide additional protection to the disabled and other people at risk of being sexually abused.
Credit for one of 2011's most heartening successes should be shared by director Hwang Dong-hyuk (My Father), who brought a particular dramatic intensity to the work (though one feels at times that he may have gone a bit too far), and its outstanding cast. Popular star Gong Yoo is an effective lead in what is by far his most interesting performance to date. His empathy for the children, and his struggles with self-doubt in his weaker moments, are wholly convincing. Although given a somewhat smaller role, Jung Yu-mi -- one of Korea's most talented and underappreciated young actresses -- imparts a strong sense of moral outrage and determination that serves as the film's backbone. Finally, one must direct applause towards actor Jang Gwang who, in portraying the diabolical twin administrators who head the school, became briefly Korean's most hated man. One hopes that the visceral emotions elicited by his performance won't adversely affect his future acting career.      (Darcy Paquet)

    The Client
The Client deals with a case of so-called "bodiless murder." A man named Han Cheol-min (Jang Hyuk, Volcano High, Jungle Juice) is arrested for the murder of his wife. The problem is, despite the blood-stained bed sheet, her body is missing. Han claims that he had been lost for hours in the mountains of Kangwon Province, due to a traffic accident he suffered during a business trip. The police suspects that he murdered his wife between the midnight and 1:00 am, disposed of the body and pretended that he had just returned from the Kangwon Province trip around 5:00 am.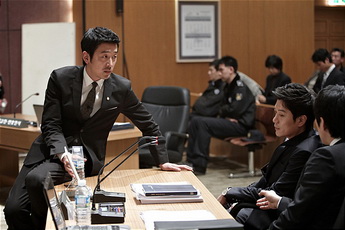 There are no viable suspects other than Han and the circumstantial evidence points to him as well. Yet, everything feels too rushed and predetermined. For one, Han lacks a clear motive, and most importantly, what did he do with the body? And where is the CCTV tape that would have captured him red-handed? As we watch the investigation unfold, we become aware of the prosecutor's unusual hurry to push through the Han-as-the-culprit scenario. Something is not quite right.
The Client does a superior job of keeping the viewer's curiosity piqued about what is really going on. Instead of merely throwing a mysterious setup at the viewer's lap and leaving it there, director Son Young-sung (The Pit and the Pendulum [2008]) and the crew keeps feeding us new questions and (possible) answers while on constant move, drawing us into the narrative.
It's too bad, then, the latter half where the mystery is resolved, including the real intent behind the prosecution team's behavior, cannot sustain the same level of excitement as the earlier portions. The keys to the whys and hows are uncovered less through the detective work of the protagonist, defense counsel Kang (Ha Jeong-woo, extremely busy recently), and more because the story has reached the point where they need to enter the stage in a prescribed order. Rather disappointing to a mystery fan like myself.
There are other problems too. Since the whereabouts of the victims' body remain such an important part of the intrigue, the filmmakers should have taken care to explain the trick behind its disappearance properly. Strangely and regrettably, neither the prosecutors nor defense counsel seem interested in this issue. We find out the truth eventually, but again almost inadvertently, largely unrelated to the agendas and efforts of the characters. The Client's characters do not make as much use out of their brains as its makers want us to think.
But despite these caveats, The Client in the end is an efficient and entertaining legal thriller, trimmed of excess fat. It refuses to waste time making up soggy back-stories for the characters and switches to the full-throttle gear from the get-go. Even better, all professionals portrayed in the film, from lawyers and cops to stock-brokers, look like real-life pros dedicated to their jobs. Of course they make mistakes and commit miscalculations but within the boundaries of believability. Neither is there a groan-inducing "twist ending" that would have sunk the entire movie. Finally, the legal philosophy behind the investigation and the trial, especially the legal grounds for criminal prosecution (as practiced in South Korea), is conveyed to the viewers with the minimum of fuss or gross distortion.
If Song and his team were aiming for a courtroom drama modeled after the recent American TV shows starring legal professionals, they have certainly pulled it off. The jury seems to be still out, however, on the question of whether the movie has made any successful move toward a "Korean-style" courtroom thriller.       (Djuna, translated by Kyu Hyun  Kim)

    Always
Director Song Il-gon's Always is a date movie. It primarily exists within the commerce of couples, providing opportunities for dinner and a movie or staying home and snuggling on the couch. It reinforces values of sacrifice between parties within romantic relationships and beliefs of lovers destined to be together. With the occasional disruptive narrative leaps, such as an out-of-nowhere plot point where Jung-hwa (played by TV star Han Hyo-joo) has her home suddenly scheduled for demolition, Always meets the demands of the romantic drama while making a concerted effort to reach out to the men who might avoid such films by including a bit of well-choreographed mixed martial arts. Yet, as a critic who seeks to incorporate what he's learned from disability studies, I find myself unmotivated to holla back when this film tries to lure me in to the trope-d up arms of this scripted romance.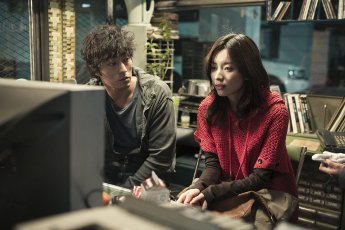 Chul-min (played impressively by model So Ji-sub) is a former boxer who gave up the sport for a secret I can't tell without spoiling the plot. In the interim of returning to the MMA-reformed ring, he stays fit by delivering water cooler bottles to offices and jogging to and fro his gig as a teller at a parking garage. It is in that teller booth where he meet-cutes Jung-hwa, a blind woman who is friends with the old man whose shift Chul-min has replaced. (Yet another problem with the story is that this apparently 'nice' old man never told Jung-hwa that he would be leaving.) Jung-hwa explains that she would bring the old man his dinner and they would sit and enjoy a TV drama together. Chul-min is quickly transfixed by Jung-hwa's beauty and he is equally curious why a blind woman would 'watch' TV, so he encourages her to stay. Her tradition with the old man eventually transforms into a gradual courtship between Chul-min and Jung-hwa. Besides the pleasure of witnessing a couple fall in love, the film is propelled by the tension behind the secrets they keep and the greater tension later when Chul-min needs to make a large sum of money fast for the cornea surgery to restore Jung-hwa's sight. (Yet another plot point, a stereotypical one at that, which is not revealed, at least in the English subtitles, until it is convenient to move the movie along.)
The weakly developed cornea surgery subplot is where we can bring up an interesting aspect revealed within a feminist frame. Although they are not married, the male Chul-min is provided information about female Jung-hwa's medical needs and progress from the doctor even when Jung-hwa isn't present. Yet, when Jung-hwa goes to report Chul-min missing to the police, she is quickly told her non-married status disqualifies her from officially filing a missing person's report. Still, I am not going to claim this is a completely patriarchal film. Even though there are moments where Chul-min rescues 'helpless', blind Jung-hwa, such as taking care of a stopped-up drain, remodeling her apartment so it is more blind-friendly, and saving her from an attacker, the film knowingly or not attempts to make up for this sexist and able-ist trope in a flip of the script I don't want to ruin for those who require spoiler-free reviews.
In choosing to pull the heartstrings played in a romantic drama through a blind character, Director Song falls into quite a few clichés that able-bodied directors and screenwriters (for which Roh Hong-jin receives co-credit) demand for able-bodied portrayals of disabled characters. For one, romantic couplings between a disabled character and non-disabled character most often involve the woman being the disabled character so that the non-disabled man, as mentioned above, can take care of her and often save her through his actions to restore the disabled woman's body to full able-bodied citizenship. One possibly emerging South Korean disability cliché in Always is how Jung-hwa needs Chul-min's help with that stuffed drain mentioned earlier. A similar plot point of water-overflow was used in another blind woman/lonely sighted-man cinematic Korean coupling, the romantic comedy Au Revoir, UFO. Yet, as stated above, there is an interesting twist to the able-bodied-savior-of-the-disabled trope found in Always that, again, I can't reveal without spoiling the ending.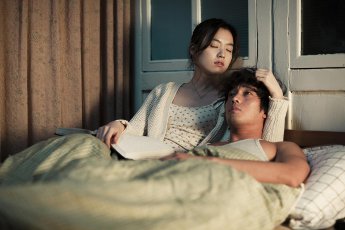 Thankfully, Song does step beyond some blind character clichés. The use of other senses in lieu of sight by Jung-hwa is not overly done. Sometimes this is portrayed in films as if blind folks have superhuman senses of smell, touch and hearing. Song and Roh receive high marks for presenting the heightened senses in more mundane ways. One of these nuanced efforts involves the fact that the South Korean government allows blind Koreans special access to the commercial massage service industry. Again, we run into a point where I could ruin the plot so I can't explicitly support my claim, but this aspect of the lives of blind Koreans is utilized in the plot in a unique way. Finally, the fact that Always has Jung-hwa 'watching' TV is a nice subtle push against stereotypes of the blind. Blindness, like other disabilities, exists on a spectrum. Depending on the severity of visual impaired-ness, a blind person may be able to make out blurred actions or vibrancy of colors. (For a deeper discussion of the diversity within the term 'blind' along with an excellent chapter on film criticism of blind characters and the scripts that create them, check out Georgina Kleege's excellent book Sight Unseen.) So to have Jung-hwa find so much enjoyment in TV is not a quirky part of the script, but legitimate. It commendably acts to normalize the lives of the blind.
In spite of these steps forward, my biggest complaint is the irony of such a film as Always. I understand the film needs to make money from its investments and economic insecurities encourage the use of certain celebrities. But the most striking disappointment is that Always seeks to utilize the audience's sympathy for a blind character by using a non-blind-actress to play that blind character. The irony is that with the exception of the tiny snippet of a few seconds of a real blind actress, (Jung-hwa's next door cubicle neighbor at work who at least gets some dialogue), there is no presence of real disabled actors or actresses in this film. It's not like there aren't venues from which they could recruit such actors and actresses. Kim Yeong-jin's film Never Say I Can't which features Kang Won-rae, the physically-disabled singer of the pop group Clon, focuses on a disabled acting troupe in South Korea, evidence that there are places where disabled Korean actors and actresses might be found. In the end, although director Song has made some intriguing films in the past, such as Flower Island and Spider Forest, this one is primarily a film trapped in the tropes of its genre and the constraints an industry can place upon itself and its disabled citizens.      (Adam Hartzell)

    Punch
Wan-deuk is a high school student who is basically a good kid, but who still ends up getting into trouble, partly because he can fight so well. He lives in a cheap rooftop home together with his dwarf father and adopted uncle, one building over from his most hated teacher Dong-joo. Exasperated that he has to endure Dong-joo's teasing both in class and then again after school, Wan-deuk goes to church and begs God to finish off his nemesis. One day, however, Dong-joo comes to Wan-deuk with an unexpected piece of news: he has located Wan-deuk's mother, who left home when he was just an infant. On top of this shocking revelation, Dong-joo delivers another jolt: his mother is not Korean.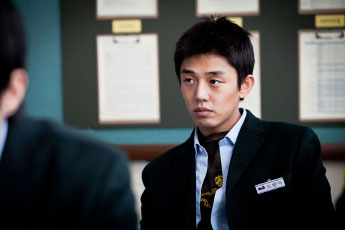 Punch, based on a best-selling novel by Kim Ryeo-ryeong that was also adapted into a successful stage play, is a loosely-structured story filled with interesting, well-drawn characters. Although a quick glance at its English title and promotional materials might lead you to think it's one of those "boy takes up a sport and overcomes adversity" dramas, it's actually not that at all. It's a film about a diverse group of characters, each of whom might be looked down upon by society in some way, who gradually draw closer and start to understand each other.
The primary relationship in the film is between Wan-deuk and Dong-joo, and director Lee Han's biggest coup was to pull off perfect casting for this pair. Kim Yoon-seok used to be considered a supporting actor, but in recent years he has racked up an incredible string of hits, including The Chaser (2008), Woochi (2009), The Yellow Sea (2010), and now this film, which sold an outstanding 5.3 million tickets. He portrays Dong-joo as a highly eccentric but persistent teacher who probably fails in all areas except the one that counts most: compassion. The part of Wan-deuk, a boy suddenly facing a crisis of identity on top of the usual challenges of growing up, was taken by rising star Yu Ah-in. Having started his film career in a series of roles in quirky mainstream and indie films including Boys of Tomorrow (2006), Skeletons in the Closet (2007) and Antique (2008), he won over a wide fan base in 2010 in the TV drama Seonggyun-gwan Scandal. Significantly, he never gives the impression of a pretty face temporarily adopting the guise of an outcast -- he really inhabits the role, and gives a convincing performance.
Punch has its weaknesses: its story is rather loosely structured, and doesn't come together to deliver much of a "punch" at its climax. But many viewers may not mind because they will be feeling such affection for the characters. Not only the lead roles, but also many of the supporting characters are funny and endearing to a surprising degree. Some of the standouts include Kim Sang-ho as a borderline psychotic neighbor, Park Hyo-joo as an aspiring popular novelist, and Jasmine Lee as Wan-deuk's mother, who can not only act but also speak Korean with a surprising degree of fluency.
Director Lee Han (Lovers' Concerto) has been known up until now as a specialist in love stories, but this change of pace (it's also the first time he's worked with someone else's screenplay) has served him well. Punch sold over 5.3 million tickets to rank as the third best-selling Korean release of 2011, and throughout its long run in theaters it was the one film that everyone was talking about. It's probably true that the films we remember best after years have gone by are not the most exciting or dramatic stories, but the ones with the most interesting characters. If so, Punch can look forward to a long afterlife.      (Darcy Paquet)

    Moscow
While watching Hwang Cheol-Mean's fourth feature, Moscow (an English title distinct for the international market since the actual title translates to an insomnia's tactic to lull themselves to sleep, One Sheep, Two Sheep), I recalled a post at The Evening Class blog where the blog's proprietor, Michael Guillen, muses about the superiority of the 'in cinema experience' as opposed to watching a film's transposition onto DVD through ones television. The bright light emanating in many of the scenes in Ye-won's office within Seoul's Digital City district enveloped me while sitting in the second row, an experience I could have never had if watching the DVD on my TV. Director Hwang, a film professor at Sejong University in Seoul, has a theory of Film as Messiah' that he briefly touched on during the Q&A after the screening I caught at the 53rd San Francisco International Film Festival. He mentioned that the artform of film appears to have come around at a time when people very much needed it to. He didn't have much of an opportunity to elaborate on this, but his use of celestial light in Moscow might be inspired by this theory as well. Film can seem as if it were a celestial being when it shines its light upon your face.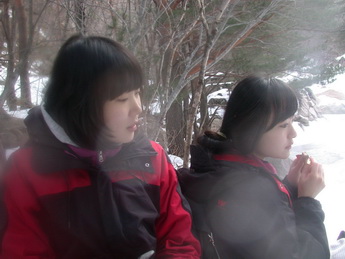 Moscow follows the re-acquaintance of junior high best friends who each had the same dream unfulfilled, to be actresses, yet each had different off mark trajectories. Jin-hee (debut performance by Song Soo-Jong) is a laborer whose comrades have been striking against their firing and the company' refusal to negotiate with their union, whereas Ye-won (Lee Hye-jin, also debuting) works at the service of a corporation, enabling her to maintain a single apartment in Seoul. Jin-hee's exhaustion from the hunger strike has her walking away from the protest as if drawn by a mysterious force at the beginning of the film. She eventually finds herself in the lobby of Ye-won's office.
Their reunion is full of playful, childish memories. This is the point of the film that is most unintentionally awkward, because this camaraderie seems slightly embarrassing in its over-exertion and forced intimacy. Yet as Ye-won over-plans activities for Jin-hee's stay and Jin-hee overstays her welcome, the awkwardness later becomes intentional, reaching a perfect peek of discomfort during Jin-hee's drunken monologue amongst a group of theatre actors.
Helping the film's impact is a knowledge of the work of Chekhov, the reason for the chosen English title of Moscow. (If you have a chance to see this film, read Chekhov's play The Three Sisters in preparation.) But even without that knowledge, the film's exploration of class was invigorating for its refusal to make either character a cliché through caricature, either overly evil or overly heroic. (In fact, Hwang's refusal to do the latter disappointed some labor group members for whom he screened the film because they wanted a rather heroic Jin-hee.) Instead, Hwang humanizes Jin-hee and Ye-won. Ye-won is overzealous in pursuit of their friendship, and Jin-hee is off-putting when she forces herself into situations with Ye-won's co-workers and thespian friend. Each characters is allowed to be imperfect, displayed with blemishes and all, literally, since the camera often zooms in on their pimples and other aspects of their complexions that mainstream Korean and Hollywood cinema (and agents) - would never allow. This is very much a part of what I appreciate about the film, along with the refusal to include a love interest to create tension between these re-found friends. Jin-hee and Ye-won are developing selves, which refreshingly includes how politics and economics partly form those selves. This is not a film where archetypes already wrote the script for Hwang, which is why some might find the film an unpleasant one to sit through.
Hwang's films have an ambiguous place in South Korean cinema. Although clearly not mainstream films, he finds his films equally difficult to place in the art cinema box. Although he received a FIPRESCI prize for Spying Cam (2004) at Rotterdam, Hwang is not on the pulse of the festival circuit as much as contemporaries Hong Sangsoo or Lee Chang-dong. Hwang is a film professor who appears to be making films to espouse his theories, not to make money, similar to the many writers who have day jobs to pursue their theories of the novel. As a film professor, he was able to tap into the actors and other looming professionals at Sejong University. The set of the play within this film was a colleague's production. Most of the actors are students at Sejong as well. Both actresses Song and Lee were recruited by Hwang partly based on their family backgrounds being similar to the characters they play. (Upon graduation, Song has gone on to be a labor reporter for a major broadcaster in South Korea.)
If Hwang fits anywhere into South Korean Cinema, it's as part of the emerging importance of low budget film that Darcy details in his article""The Future Is Low Budget" in the November-December 2009 issue of Korean Cinema Today. Any truly robust cinema needs to provide a space for these experiments in other avenues of what film can be, of what narrative can be. Hwang's films may not be breaking box offices, but they are making sure there are box offices to break in the future by contributing to the wider health of South Korean cinema as a whole.      (Adam Hartzell)

    Perfect Game
Park Hee-kon's Perfect Game is a perfect title. Besides playing off a term for that rarest of baseball moments, when a single pitcher retires 27 consecutive batters in a game, it alludes to how baseball has often been described by its loyal fans as the perfect game of summer strategy while still providing bursts of excitement. (It's detractors would disagree, finding boring the very things diehard fans find compelling, as expressed hilariously in the episode of The Simpsons where Homer temporarily gets sober - "I never realized how boring this game is!") The loyalist of fans will be recognized by their appreciation of the pitching duel, and that is how the Perfect Game presents baseball at its height of perfection. Based on real-life protagonists, the battling pitchers here are bespectacled Choi Dong-Won (Cho Seung-woo - YMCA Baseball Team, Marathon), who played for the Busan-based Lotte Giants and ardent drinker Sun Dong-Ryul (Yang Dong-geun - Fighter in the Wind, Grand Prix), who played for the Gwangju-based Haitai Tigers (now the Kia Tigers).
?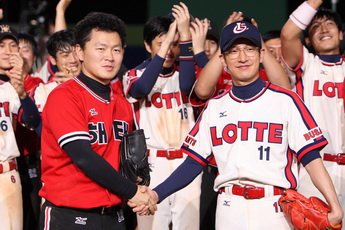 There is much to appreciate in this film, such as how Choi and Sun are not portrayed as 'enemies'. Initially, the closest thing to an enemy of Choi is a fellow player, Kim Yong-chul (Cho Jin-woong - A Barefooted Dream, Glove). Kim doesn't like how Choi gets all the glory; whereas, Sun looks up to the elder Choi and aspires to be like him. But Sun's coach (Lee Do-kyeong) thinks Sun has much to learn about the dedication and perseverance that makes Choi the great player he is. When Sun begins to exceed Choi in accolades from the press and fans, Sun starts to take his talent for granted. To remedy Sun's cockiness, Sun's coach sees to it that 'lessons' are taught, such as when Sun is certain he won't pitch in a game so he shows up drunk, only to be brought in hungover on the hot day by his coach as a closer.
If there's anyone who wants to see them as enemies, it's the press and the government. The press to sell papers, the government to keep Busan and Gwangju focused on hating each other instead of the government's civil liberties squelching strategies at this time in South Korea's history. Whether or not the press represents actual people or composites from the time, the presence of female reporter Kim Seo-hyung (Choi Jung-won) keeps this film from wallowing completely in testosterone like a juiced-up power hitter. Although this film won't pass the Bechdel Test, it is refreshing to see her character have agency along with her not requiring a romantic relationship for screen time. As for the subplots in the film, I found myself totally rooting for Jang Chae-geun (Cha Hyeon-woo) as a poorly-paid, and played, journeyman whose son is embarrassed of him and whose wife has reached her breaking point with his passion superseding his family's finances. In the case of this minor character, it is one of those times when watching a mainstream film where I let myself be manipulated. I was practically begging for Jang's character arc to take aloft.
Yet, as much as I let myself ride the melodramatic wave that ebbs and flows in this film, I do have to sit back and look at it critically. The fact that I was working on my draft during Super Bowl XLVIII of the U.S. National Football League helped me put some perspective on where I was being pulled. The NFL's hegemony in the US sportscape has been challenged recently by greater exposure of the concussion crisis looming over the NFL's future. (This crisis is not limited to the NFL, for the Australian Football League, the National Hockey League, and others are having to confront this issue in their league's as well.) As we learn more about what the body can withstand, we are discovering that even minor concussions might be leading to a future of brain disorders that carry symptoms of debilitating depression, serious memory loss, and violent outbursts. As much as professional players might be prepared to have 'bum knees' or aching backs, few were really thinking they'd be losing their minds.
There is a gladiator aspect to many sports that underscores one demand made of men by hegemonic masculinity, that men must be willing to destroy themselves and others to demonstrate they are men. In sports, this destruction happens on the field or through the means by which they manage the pain acquired from the field, be it through alcohol, illegal drugs, or even legal medications that can do harm with prolonged use. And this is presented in Perfect Game through Choi's shoulder. Choi is advised by his doctor to rest or stop playing to avoid a future of excruciating pain. Yet Choi's decision to 'fight' through the pain is lauded as what makes Choi great and what Sun should emulate. The fact that he is fighting through this pain with medications that he might be dependent on in the future points to the lie that is the belief that a characterization like Choi is a paragon of manly individual achievement. He is a man of medically-assisted achievement too.
Much of the writing I have seen on the strong pressure placed on young pitchers to over-extend their arms has focused on Japanese high school programs, such as 2013's US media discussions of 16-year-old sophomore Anraku Tomohiro who had a single 232-pitch game and threw close to 400 pitches in four days of the popular spring Koshien tournament. There are serious concerns about how a kid's future in baseball might be hampered, if not ruined, by such a regimen. Perfect Game shows what can become of over-pitching. Such a 'sacrifice' is lauded here. Just keep your focus on the field and numb yourself psychologically and medically to the present pain. Don't ever look to the future far afield, a future of pain by our unforgiving bodies caused by the excessive demands of a one particular trope of manhood.      (Adam Hartzell)

    List
Nathan E. Smith, who writes for websites such as Little White Lies and is part of a weekly film podcast called Cinematary, recently posted the following tweet - "Spoilers only tell us what happens, not HOW it happens, which is where the real pleasure lies."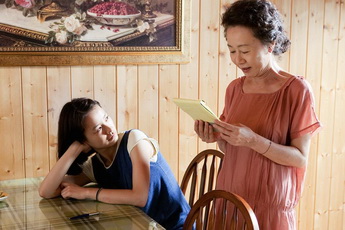 I wholeheartedly approve that message. And I think Hong Sangsoo would agree with this sentiment as well. When discussing the intertitles dispersed throughout Turning Gate, Hong has said that he placed them there to get the audience to pay attention to the how, not the what, of the scenes to follow.
And this showing after telling is on full display in Hong's short film List where Mihye (Jeong Yu-mi, Oki's Movie, In Another Country) writes down a list of 12 things she will do the next day. Knowing what will happen doesn't spoil anything since, as Smith reminds us, the pleasure is scouting out how each item on the list transpires.
Long inaccessible to Hong fans everywhere, the short film website Le CiNéMa Club answered the prayers of many by debuting the short online over 7 years after its screen debut at a short film exhibition. As the website notes from a quote by Hong, this short was made after finishing In Another Country. Isabelle Huppert had already left South Korea so the film features, along with Jung, the matriarch Yoon Yeo-jong (HaHaHa, Right Now, Wrong Then) and the suitor of Mihye's dreams, a film director played by Yu Jun-sang (Like You Know It All, HaHaHa). The short also stays in the seaside town of Mohang.
At the beginning, we discover Mihye's mother is lamenting the consequences of being the loan guarantor of a family member gone missing from his debtors. Soon after we are told this, Mihye makes the list and the audience gets to check it twice to see how nicely each item can be marked off in what we are initially led to believe is the next day. Thanks to the list, the audience finds itself anxiously waiting to witness such mundane activities as what Mihye's new method will be for brushing her teeth. (And, yes, I have tried this method since watching the short.) Only 29 minutes long, there isn't time for too many awkward verbal spats, but we still have trademark Hongian female resistance and male persistence. And like Hong's more recent films, List doesn't present 'real' scenarios but surreal, dream-like wishes and fears. As a result, the truth of what we witness is always in question, like in every Hong film. Yet at the same time, much of what is said can still resonate with wider truths, such as this exchange between Mihye and the film director. Mihye asks, "Why can't people see the good things in front of them?" To which the film director responds, "They think they have time for it later." This isn't new profound wisdom, but still, we need to regularly re-hear it. Repetition helps us recall what our daily routines often help us forget.
One interesting aspect of Hong's films List highlights is how his shot choices can underscore themes within the film. Heightened attention to how each item on the list transpires, led me to predict where I thought certain camera movements would take me. For example, Hong has this thing with focusing the camera occasionally on animals, such as the dog the character Sang-kwon is scared of in The Power of Kangwon Province or the bug stuck in the flower pot in, (I could be wrong here in that it might be a different movie), The Day A Pig Fell Into The Well. In List we see a shot focusing on a dog, then the camera shifts to Mihye and her mother looking at it. I expect a reverse of this set-up when we later see them looking at something and then they announce it's an old lighthouse. Recalling this scene from my second viewing, I thought the camera had moved to a static shot of the lighthouse. However, watching the short a second time, I was shown my memory of it was wrong. The camera actually moves past the lighthouse to stop at a boat in the water off the coast. Our memory can fill in narratives and Hong's camera choices can 'trick' me into recalling wrong pasts. I was led to believe I'd just see a static shot, but the how of the what was different. It isn't just the whats of the list that Hong wants us to pay attention to the how-ing of.
We can extend prioritizing the hows of the whats to the activities on our own lists of life goals, our wants, our desires. We have desires, but they might not pan out as we'd expect them too. Mihye dreams of a prince charming, but how he appears, how he happens, this will likely stray from her expectations. We desire a partner, but who we find might not be who we expected. We might discover we didn't know this person is who we wanted, or we might discover who we thought we wanted isn't really who we want. Many who make relationships last realize they have to change things about themselves, about their desires, not their partners. How we "settle our differences", something our film director character couldn't do with his wife, is how we form a successful, or unsuccessful, relationship. (I'm going to refrain from extending this to Hong's personal life, even though it is practically begging for such an interpretation.) From the sacred to the profane to the mundane, Hong's hows are more interesting than the whats. Hong's trajectories are constant disruptions of paths we thought were pre-planned.
Sadly, as of this writing, List is no longer viewable on Le CiNéMa Club because they only show one exclusive short film a week. I'm left to wonder if Mihye did indeed use the telescope because I have no means to check that anymore. Still, I'm delighted I finally got to check this gap in Hong's oeuvre off my own list. So if you are one of those people who missed this good short in front of them, we can only hope the short itself won't be as ephemeral as the fleeting bits of love in Hong's films, but will be shown somewhere later, again and again.      (Adam Hartzell)