1970-1979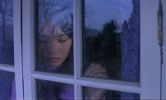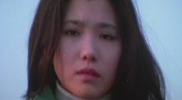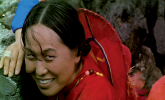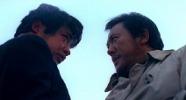 From left:   "Pollen",  "Youngja's Heyday",  "Iodo",  "Snow Falls on the Streets of Vengeance"


  Many people look back on the 1970s as the darkest era of Korean cinema. Under Korea's military regime, harsh censorship and constant governmental interference in the industry essentially destroyed the robust film culture that had grown up in the 1960s. Directors were given very little artistic freedom, pressured instead to produce a very limited range of genres and styles for the promotion of government policy. Over the decade, attendance levels plunged as audiences turned to television (MBC-TV first debuted on August 8, 1969) or other forms of entertainment.
In the midst of this harsh environment, the careers of several talented directors were abruptly suspended. Lee Jang-ho, who had made a sensational debut with Hometown of the Stars (1974), was arrested in 1975 for using marijuana, and banned from making films until the assassination of President Park Chung Hee in October 1979. Shin Sang-ok had his license to make films revoked by the government in 1975, and was subsequently kidnapped and taken to North Korea. Lee Man-hee, one of the leading filmmakers of his generation, died at the age of 45 in 1975. Perhaps the decade's greatest young talent, the US-educated Ha Kil-chong, died at the age of 38 in 1979.
The paradox of the 1970s is that, although it's true that the quality of the average Korean film fell to its lowest level in this decade, the best films of the 1970s display as much originality and force as those of any era. Despite working on limited budgets, with shoddy equipment and rushed production schedules, Korean filmmakers were able to accomplish something remarkable in the 1970s. Looking back now, the highlights of this decade feel just as modern and relevant today than they did in the era in which they were produced.


     Reviewed below:    Pollen (1972)  --  The Insect Woman (1972)  --  Youngja's Heyday (1975)  --  March of Fools (1975)  --  A Mad Woman (1975)  --  Flame (1975)  --  Wang Sib Ri, My Hometown (1976)  --  Night Journey (1977)  --  A World Without Mom (1977)  --  Iodo (1977)  --  Splendid Outing (1978)  --  The Shower (1977)  --  A Woman Chasing a Killer Butterfly (1978)  --  The Genealogy (1979)  --  The Divine Bow (1979)  --  Rainy Days (1979).
The Best Selling Korean Films From 1970-1979

| | Title | Seoul Admissions | Director | Cast |
| --- | --- | --- | --- | --- |
| 1 | Winter Woman (1977) | 585,775 | Kim Ho-seon | Chang Mi-hee, Shin Sung-il |
| 2 | Hometown of Stars (1974) | 464,308 | Lee Jang-ho | An In-sook, Shin Sung-il |
| 3 | The Woman I Ditched (1978) | 375,913 | Jung So-young | Lee Young-ok, Yoon Il-bong |
| 4 | Young-ja's Heyday (1975) | 361,213 | Kim Ho-seon | Song Jae-ho, Yeom Bok-soon |
| 5 | Hometown of Stars - sequel (1979) | 298,125 | Ha Kil-chong | Shin Sung-il, Chang Mi-hee |
| 6 | Miss O's Apartment (1978) | 281,726 | Byun Jang-ho | Kim Ja-ok, Han Jin-hee |
| 7 | The Man I Ditched (1979) | 239,718 | Jung So-young | Yu Ji-in, Yoon Il-bong |
| 8 | The Testimony (1973) | 232,762 | Im Kwon-taek | Shin Il-ryong, Kim Chang-suk |
| 9 | Do You Know Kkotsun? (1978) | 216,628 | Jung In-yeop | Jung Yoon-hee, Kim Chu-ryeon |
| 10 | Toward That High Place (1977) | 201,418 | Im Won-shik | Shin Young-gyun, Ko Eun-ah |
Industry Trends From 1970-1979

| Year | Local Films | Imports | Total Admissions | Ticket Price | Per Capita Adm. |
| --- | --- | --- | --- | --- | --- |
| 1970 | 209 | 61 | 166,000,000 | 73 won | 5.3 |
| 1971 | 202 | 82 | 146,000,000 | 80 won | 4.6 |
| 1972 | 122 | 63 | 119,000,000 | 83 won | 3.7 |
| 1973 | 125 | 60 | 115,000,000 | 88 won | 3.5 |
| 1974 | 141 | 39 | 97,000,000 | 104 won | 2.9 |
| 1975 | 94 | 35 | 76,000,000 | 168 won | 2.2 |
| 1976 | 134 | 43 | 66,000,000 | 207 won | 1.8 |
| 1977 | 101 | 42 | 65,000,000 | 307 won | 1.8 |
| 1978 | 117 | 31 | 74,000,000 | 389 won | 2.0 |
| 1979 | 96 | 33 | 66,000,000 | 715 won | 1.7 |
Source: Korean Film Council (KOFIC).

A rich industrialist named Hyun-ma owns a huge traditional Korean house on the outskirts of Seoul, where his mistress lives together with her younger sister Mi-ran. One day, Hyun-ma brings to the house a young man named Dan-ju, who serves as his secretary and also his occasional lover. The day's plans go awry when Mi-ran (played by the 21-year-old actress Yun So-ra) experiences her first menstrual cycle and, mortified by her sister's laughter, runs out of the house. Dan-ju chases after her, and the two end up spending the day together. As the young man and woman get to know each other, feelings develop between them. This will prove to be the spark that sets off Hyun-ma's jealous rage and turns the house into a hotbed of sexual tension.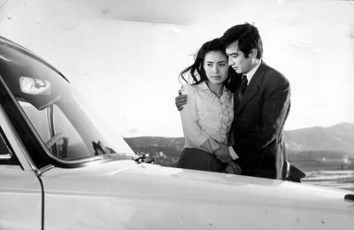 Pollen, based on a 1939 novel by Lee Hyo-seok, is the first film directed by Ha Kil-chong after returning from the US with a degree from UCLA Film School. As someone with keen political consciousness and a strong interest in cutting edge cinema, Ha sought to bring something new to the Korean film industry, even though he was well aware of the hurdles he would face from the censorship board. In the end, even with his creative freedom severely restricted, Pollen caused a scandal upon its release, particularly for the grotesque nature of its presentation. Inspired by the early works of the New Hollywood movement, Ha set aside the conventions of established film grammar in search of a new aesthetic. It was a film ahead of its time, and most critics felt alienated by it.
Much has been made of the fact that the residence in this film is referred to as "the blue house" (pureun-jip). This bears an unmistakable resemblance to the name of the president's residence in postwar Korea (Cheongwadae, literally "house with blue roof tiles" and referred to in English as the Blue House). It's tempting to think of the character of Hyun-ma, with his rapacious greed and cruelty, as a straight allegory of the military dictatorship, but Pollen is a more complex film than this simple reading might suggest. Ha is just as interested in examining power and authority - and our failure to resist it -- on an abstract level.
Pollen is often compared to Pasolini's Teorema (1968) for its similar portrayal of a household where tensions and repressed desires are unleashed by a visitor from the outside. But this is a work with a very different agenda. Growing progressively darker in its later reels, the film can be read as an attempt to depict the true, ugly face of authoritarianism, while at the same time giving us a candid glimpse into our inner selves. This is ambitious filmmaking, and even in its somewhat butchered form, it stands as one of the high points of 1970s Korean cinema.      (Darcy Paquet)


Pollen ("Hwabun (Kkott-garu)"). Alternate title: "The Pollen of Flowers". Written and directed by Ha Kil-chong. Based on the novel by Lee Hyo-seok. Starring Ha Myung-joong (Dan-ju), Namgung Won (Hyun-ma), Choi Ji-hee (Ae-ran), Yun So-ra (Mi-ran), Yeo Woon-gye (Ok-nyeo). Cinematography by Yoo Young-gil. Produced by Daeyang Film Company. 85 min, 35mm, color. Released on April 7, 1972.
"You should be a housemaid" proclaims the wife Oh Soo-ja (Jeon Kye-hyun) to Myeong-ja (Yoon Yeo-jung) in Kim Ki-young's The Insect Woman. This film further explores recurring Kim themes of ambivalent modernization first displayed in The Housemaid. But in spite of its similarities, The Insect Woman is not a remake of The Housemaid. (Those would be Kim's Women of Fire in 1971 and Women of Fire '82; whereas The Insect Woman would spawn its own Kim remake, Carnivore.) In fact, it's the differences from Kim's most internationally famous film that make The Insect Woman all the more fascinating.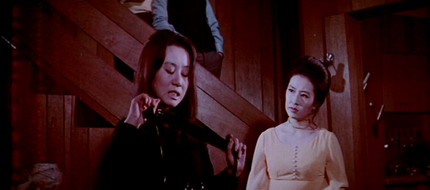 First major difference, this Myeong-ja has a back story. (Kim Kyeong refers to these recurring characters in Kim Ki-young's oeuvre as "the Myeong-ja's" since he often reuses that name for them.) The daughter of a mistress mother, we are shown the dire straits that lead Myeong-ja to become a bar hostess and later a mistress herself to Dong-shik (Namgung Won). (And, yes, this being a South Korean film of the 1970's, the clich? rears its ugliness - their relationship begins after he rapes her.) Second major difference, Dong-shik's wife Soo-ja isn't particularly threatened by Myeong-ja. The primary bread-winner for the family through her transport business, (the Sigmund-Kim-ian reason for Dong-shik's impotency that Myeung-ja cures), Soo-ja takes control of Dong-shik and Myeong-ja by providing them an allowance and a modern two-level house in which they can only spend days together, for the nights are Soo-ja's. And so are Dong-shik's testes, because Soo-ja drugs him in order to have his doctor perform a vasectomy to prevent Myeong-ja from thrusting a paternity wedge between Dong-shik and Soo-ja and their two children. The absurd complicity on the part of the wife in her husband's affair keeps this Myeong-ja from being seen as the sole evil temptress. As Kim So-young noted in her contribution to the book South Korean Golden Age Melodrama: Gender, Genre, and National Cinema (edited by Kathleen McHugh and Nancy Abelmann), contemporary female audience members screamed for vengeance to be taken upon the housemaid in The Housemaid. Yet, in The Insect Woman, the wife's surreal participation in her husband's affair deflects any attempt to temper moral unease with tempers flared through the fourth wall of the movie screen. And as a final difference, this being a Kim Ki-young film, there are rodents in the house, this time mice instead of rats. And this time, the Myeong-ja is scared of them and it's Dong-shik's daughter (Kim Ju-mi) who handles them without any fear.
Rather than ruin the surprise spectacle of one of the more memorable scenes in The Insect Woman, let me just say it involves psychedelic-colored candies. And again digressing from Kim's previous scenes of shock, this candy-covered cinematic capsule shocks more for its scandalous nature than for its morbid nature.
One of the more illuminating discussions of the work of Kim Ki-young is Chris Berry's chapter in Seoul Searching: Culture and Identity in Contemporary Korean Cinema (edited by Frances Gateward). Berry best sums up the extant oeuvre of Kim Ki-young by writing that his " . . . films can be both considered under the rubric of the horror film and an ambivalent response to the Korean experience of modernization as at once forced and desired. This paradoxical state that defies either realist representation or critical distance prefers direct somatic response and full ambivalence" (p. 101). This modernization was forced upon South Koreans by the Park Chung-hee dictatorship rather than emerging organically from a middle-class, such as in Western Europe, Canada, the USA and the Antipodes. Yet that doesn't mean modernization wasn't desired by South Koreans simultaneously. It is this ambivalence, this paradox that results in the anxious rush and thrill that Kim's films provided for South Korean viewers of the time. Rather than presenting this modernization through realism, Kim portrayed it through surreal horror, scenarios that couldn't possible be true, (although The Insect Woman, like The Housemaid, was inspired by a true story), yet still feel true through the anxiety it provoked. Though our anxieties may be different now, The Insect Woman's absurdities help us get an idea of how disconcerting that forced rush to modernism might have felt for the contemporary audiences.      (Adam Hartzell)


The Insect Woman ("Chungnyeo"). Directed by Kim Ki-young. Screenplay by Kim Ki-young, Kim Seung-ok. Starring Yoon Yeo-jeong, Jeon Kye-hyun, Namgung Won, Kim Ju-mi, Park In-chan, Lee Dae-geun, Park Am, Park Jeong-ja, Sa Mi-ja. Cinematography by Jeong Il-sung. Produced by Han Lib Corp. 115 min, 35mm, color, Cinemascope. Released on October 6, 1972. Total admissions: 162,024. Officially selected at the 5th Sitges International Film Festival. Winner of Best Director (Kim Ki-young), Best Actor (Namgung Won) at the 9th Korean Film & Theater Arts Awards.
In 1970s Korea, as the pace of industrialization reached its peak, huge numbers of young men and women moved from the countryside to Seoul. They came to work in factories, or textile mills, or to take up menial service jobs. Although many no doubt had dreams of a brighter future, the circumstances they faced were harsh, and they were vulnerable to being cheated or exploited. Among the countless stories of these young workers, many are tragic.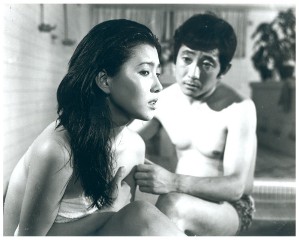 The ironically-titled Youngja's Heyday is the story of two such people, Youngja and Changsoo. Changsoo works in a factory, and Youngja is a maid at the home of Changsoo's boss. They meet cute, but Youngja is not interested in romance: she's come to Seoul to make money. Changsoo almost changes her mind. but then he is drafted for a three-year deployment to fight in Vietnam. He makes her promise to wait for him, but then they fall out of contact.
Three years later, when they run across each other in a police station, Changsoo is shocked to see how Youngja has changed. She has become a prostitute, and she has lost one arm. Perhaps out of shame, she showers Changsoo with insults and foul language, trying to push him away. The story of what happened to her during those three years, and of what transpires after their reunion, forms the central story of this sensational, garish, and bittersweet film.
This could have been a really bad movie, but director Kim Ho-sun managed to turn his second feature film into something remarkable. Although in its crazier moments it seems ready to jump the rails (and this is one of its endearing qualities), the film is held together by its deeply-felt sympathy for its lead characters. Youngja is not a typical movie heroine -- even before her cruel twists of fate, she is a lot freer with her emotions than the average woman. In this sense, she can be seen as a kind of My Sassy Girl of the 1970s. But then things go very, very wrong in her life, and a combination of shame and stress push her towards the breaking point. In this sense, she embodies all the pain and humiliation suffered by a generation of young women who fell victim to exploitation in Seoul.
For a story like this to work, it's especially important to find charismatic actors, and this is one of the film's key strengths. Song Jae-ho has remained active to the present day; contemporary viewers will recognize him as the second police chief in Memories of Murder. He has an everyman charm, and his devotion to Youngja comes across as completely genuine and touching. Yeom Bok-soon, by contrast, had a comparatively short career, and is remembered almost exclusively for her dazzling performance in this film. Yeom breathes life into the character of Youngja, making her fully engaging and instantly memorable. Together with Ahn In-sook of Hometown of the Stars, and Chang Mi-hee in Winter Woman, she is one of the popular icons of 1970s Korean cinema.      (Darcy Paquet)


Youngja's Heyday ("Yeongja-ui jeonseongsidae"). Directed by Kim Ho-sun. Screenplay by Kim Ho-sun and Kim Seung-ok. Starring Yeom Bok-soon, Song Jae-ho, Choi Bul-am, Lee Soon-jae, Do Geum-bong, Park Ju-ah, Yun Young. Cinematography by Jang Seok-jun. Produced by Taechang Enterprises. 107 min, 35mm, color. Released on February 11, 1975. Total admissions: 361,213.
One of the most talented Korean directors to work in the 1970s was Ha Kil-chong. Orphaned at age 10, Ha moved to Seoul and eventually entered the French Literature department at Seoul National University. He worked for Air France after graduation and then moved to the U.S. in 1964, where he supported himself by working odd jobs as a waitor or at gas stations. After finding his feet financially he entered the UCLA Film School, where he studied together with Francis Ford Coppola. Upon graduating he was one of four film students nationwide to receive the MGM Mayer Grand Prize and was reportedly offered a teaching position at UCLA as well as the opportunity to make films in Hollywood. However he decided to return to Korea with his wife and newborn son in 1970.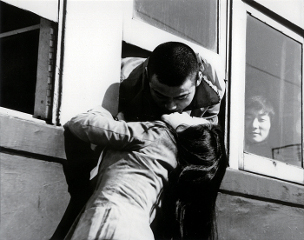 Ha took up work in the Korean film industry just as it was entering its most oppressive era. He made seven films from his debut work Pollen in 1972 to his last film Byungtae and Youngja in 1979, all the while struggling with governmental censorship and an industry in commercial decline. Nonetheless through his innovative films and thoughtful essays he earned great respect from many of his peers. Tragically, on February 23, 1979 he suffered a stroke and died. He was 38 years old.
Ha's most famous work March of Fools first premiered in 1975, and it would eventually acquire legendary status among the leading directors of the next decade. The film's plot centers around two wayward university students, Byung-tae (Yoon Mun-seop) and Young-chul (Ha Jae-young), who spend their time drinking beer, going on dates, and running away from the policemen on the "hair squad" (who dragged long-haired college students to the station for an involuntary haircut). One day on a blind date they meet two women named Young-ja (Lee Young-ok) and Young-sook (Kim Young-sook), who end up becoming an important part of their lives.
Much of the film is a lighthearted echo of a typical 1970s university student's experiences, set to memorable songs of that era. Some scenes are hilarious, such as when Byung-tae represents the Philosophy Department in a school drinking contest. Nonetheless, the mood turns subtly darker as the students confront questions about their future and their goals, living amidst a constrictive and sterile society.
Alas, the film itself would not escape unscathed from the oppression of those times. Prior to its release in 1975, close to 30 minutes were cut by government censors, including seemingly innocuous material that contributed to the downbeat mood of the film. Only later during the brief political spring of 1980 was a more complete version put together with excised footage, although there remain segments that were never able to be recovered. (For a heartfelt and illuminating account of March of Fools's struggles with censorship, I strongly recommend the second segment of director Kim Hong-joon's 2003 video essay My Korean Cinema).
Like many of the greatest Korean movies of the 1970s, March of Fools was shot by cinematographer Jung Sung-il, who these days is better known for his collaboration with director Im Kwon-taek. Jung's work in this film is a joy to watch, with its restless movement and unexpected camera angles reflecting the unsettled mood of its protagonists. The songs featured in the film by Song Chang-shik and Kim Sang-bae are also enjoyable and at times quite moving.
No one will ever know what Ha Kil-chong would have accomplished if he had lived a longer life. He would have been in his mid-sixties now, perhaps enjoying the same level of attention and prestige as Im Kwon-taek. Though it is painful to think of what has been lost, we still have March of Fools -- left behind as a singular achievement amidst the very worst circumstances faced by Korean filmmakers since the end of the war.      (Darcy Paquet)


March of Fools ("Babodeul-ui haengjin"). Directed by Ha Kil-chong. Screenplay by Choi In-ho. Starring Yun Mun-seop, Ha Jae-young, Lee Young-ok, Kim Young-sook, Kim Sang-bae, Jeong Se-gun, Park Kyu-hyun. Cinematography by Jung Il-sung. Produced by Hwacheon Corporation. 102 min (based on existing negative), 35mm, color, Cinemascope. Rating given on May 13, 1975. Released in censored version on May 31, 1975. Partially restored version first screened in 1980. Total admissions: 153,780.
The Korean Film Archive and the 15th Pucheon International Fantastic Film Festival are presenting in late spring and summer 2011 a series of genre programmers headlined by the quintessential '60s and '70s action star Park Nou-sik (1930-1995), who allegedly made 900 films (!) in his astonishing career spanning fifty years. The highlights among them are his directorial efforts: most of these screened by the KOFA deserve the reputation of instant cult cinema, in their eye-popping combination of bargain-basement hutzpah, outrageous macho preening mixed with heart-rendingly intense thespian endeavors from their director-star and ludicrously illogical yet somehow emotionally impactful mis-en-scene. And even among these para-auterist crackpot-masterworks guaranteed to blow Quentin Tarantino's pants off his legs, Quit Your Life (1971), Why? (1974) and A Mad Woman (1975) are truly sui generis.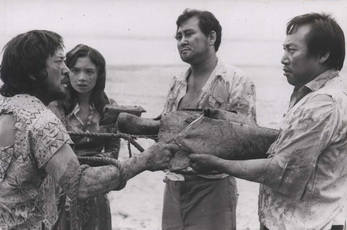 A Mad Woman is supposedly a revenge thriller about a band of independence movement activists qua bank robbers during the colonial period who escape from the Japanese prison and locate the loot, only to go separate ways. While Dong-sik (Park) had been exiled to Manchuria fighting the Japanese, the rest of the gang kill the family of their young compatriot (Park Geun-hyung) as well as a senior comrade named Old Man Song and drive the latter's daughter (Yeo Soo-jin) insane by gang-raping her. Dong-sik, of course, mad as hell, tracks the dastardly gang down, who are now working for North Korea (!), and exacts terrible revenge.
To begin with, there is a zero attempt to make any of the colonial period setups historically accurate. The movie then simply jumps from '40s to '70s chronologically, with principals barely aging more than five years. Dong-sik is so incongruously dressed either as an independence movement fighter or a revenge-driven enforcer of justice- decked out in shades, pantaloons and laced silk shirt-that his character, no matter how gravely he intones his elementary-school-ethics-textbook lines, is thoroughly impossible to take seriously. Even more bizarrely, this supposedly "action" film has maybe two or three scenes of actual fist-fighting: instead, a long, long portion of the movie is obsessively devoted to illustrating the mad girl's subjective state of mind, which involves teleportation (?) and a chain-smoking orang-utan (?!), among other mind-boggling visuals. When it comes to individual sequences, don't even ask: what is with the "treasure-hunting" sequence that only shows the naked legs of the protagonist squishing around in a mud-swamp? Why does the Japanese jeep have to run over a live frog and a live snake while heading for the headquarters? To indicate that the evil Japanese violate even the natural hierarchy of predatory food-chain? Didn't I just say don't ask?
A Mad Woman sometimes feels so juvenile and all over the place that its offensive aspects (mostly due to its archaic attitude toward women as well as director Park's ultra-conservative propensities) are doubly shocking and disturbing. To cite but one example, this is the first film I've seen in which another woman's gang-rape is used as a therapy tool to "cure" a rape-victim's trauma! The screenwriter is Yun Sam-yuk who wrote for Im Kwon-taek and Lee Doo-yong among other luminaries, but it is reasonable to suppose nearly everything we see on screen popped directly out of Park's head. What can I say about the other actors? They are all pros showing their all rolling around in mud and listening to Park's head-spinning moralistic lectures with absolutely frightened faces: only Park Geun-hyung is allowed to give a "normal" performance, basically because his character dies in the first twenty minutes.
Yet, despite all this, A Mad Woman cannot be brushed aside as a laughable piece of trash. It exerts a strange hold over the viewers, unfailingly communicating a perhaps misdirected but very real devotion to cinematic excitement and even beauty. Despite the movie's zero budget, cinematographer Koo Joong-mo (Surrogate Mother [1986], Aje Aje Bara-aje [1988])'s widescreen lensing is excellent, contributing to the sweaty and desperate atmosphere of the key scenes.
I have seen few European or Asian cult films that are so ridiculously, claustrophobically intense, so ridden with macho posture and moral self-righteousness yet so haphazardly and nonsensically put together, not to mention drop-dead hilarious in all the wrong ways. And yet there is something genuinely charismatic and unnerving about A Mad Woman: it is indeed a film made by a man possessed by cinema, a real auteur's signed piece. It is exhilarating, deeply offensive and quite a bit scary all at the same time, deserving of at least some-perhaps not a whole lot but still some-admiration on the part of film fans, not to mention rediscovery of a wider scale.      (Kyu Hyun  Kim)


A Mad Woman ("Gwangnyeo"). Directed by Park Nou-sik. Starring Park Nou-sik, Yeo Soo-jin, Moon Oh-jang, Park Geun-hyung. Cinematography by Koo Joong-mo. Produced by Samyoung Film. 90 min, 35mm, color, Cinemascope. Released on November 15, 1975. Total admissions: 12,584.
A man wanders around the mountains with a bleeding leg, holding a rifle in his hand. Seemingly a fugitive, he runs from as-yet unknown pursuers, but he also seems to be following somebody who has already walked the same path. As he hides in a secluded cave, past memories sweep through his exhausted mind, memories of lifelong cowardice and evasion. And this recollection leads to a reconstruction of early 20th century Korean history, from the Japanese occupation to the Korean War, through the eyes of a passive intellectual, or in a certain sense, a conformist.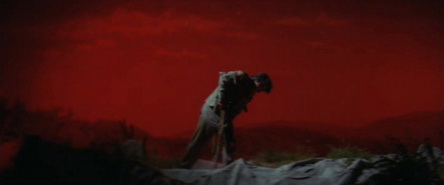 Best known for Aimless Bullet, "the Citizen Kane of Korean cinema," director Yu Hyun-mok is often misleadingly described as the godfather of Korean realist cinema. While that film's vivid portrait of postwar society is unmistakable and it is true that Yu repeatedly dealt with heavy social issues throughout his career, the label "realist" seems to wrongfully underestimate or even overlook the director's achievements in vigorous experimentation with film language. From Forever with You (his oldest surviving film) to Mommy, Star and Sea Anemone (his last film), one can easily see how his self-conscious stylization competes and cooperates with the narrative for the interest of audience. (In fact, the comparison of Aimless Bullet and Citizen Kane is more than just rhetoric, in that both films boast a master-weaving of narrative and film techniques such as deep focus effect.)
In Flame, Yu experiments with narrative structure, relying extensively on subjective flashbacks. From the beginning, the film delays its "objective" delivery of narrative information; the identity of the protagonist, the motives for his action, and the time and space of the event remain unknown until flashbacks intervene, or after several flashbacks provide inferential evidence. Neither are these flashbacks motivated by the discourses of witnesses or written texts. Without explanatory dialogue or indicative action, the film foregrounds graphic and aural continuity to evoke the protagonist's fragmented memories (reminding us of Bernardo Bertolucci's time-weaving skill in The Conformist). Furthermore, each flashback consists of many separate scenes, which are also linked by the flow of consciousness, rather than a continuity of time and space. As this "loose" structure combines with the expressionistic lighting, color schemes and unusual camera angles typical of Yu's oeuvre, the whole narrative becomes a montage of impressions, rearranged in someone's mind.
This fragmented, retrospective design reveals how the formation of the character occurred in the midst of profound social upheaval. Although the story spans several historical tragedies, the film doesn't indulge in the usual "innocent victim of his environment" theme. In presenting the panorama of his past, the narrative induces the protagonist to reconsider the meaning of every event and his reaction to it, how each decision shapes and alters his personality. It is true that he lived as a sort of pacifist, never intending to harm anyone and only wanting to live a normal, peaceful life. Still, fragments of the past and their invisible links imply that such a modest ambition itself could be a result of small compromises and renunciations, which led to bigger ones, and in the end made him a fugitive from his own life. And only after this disillusionment, the protagonist can discover his own reason to act, to continue living. Whether his decision in the last moment will actually bear meaningful fruit we do not know, and perhaps, shouldn't ask.
Often misunderstood as a typical piece of anti-communist propaganda made only to fulfill the requirements of the foreign film import quota, Flame survives as a masterpiece not by judging a certain ideology or by simply supporting one side, but by its scrupulous questioning even on what used to be an innocent victim's spot. How can we unconsciously deceive ourselves in the midst of hardship? And how easily can such self-justification paralyze our lives? These are questions to awaken the tattered souls of a dark age, the film believes, and to make them start to live their lives for the first time.       (Jiro Hong)
Flame ("Bul-kkot"). Directed by Yu Hyun-mok. Screenplay by Lee Eun-sung, Yoon Sam-yook. Starring Ha Myung-joong, Kim Jin-gyu, Ko Eun-ah, Kang Min-ho, Yoon So-ra. Cinematography by Jung Il-sung. Produced by Nam-a Pictures Co., Ltd. 114 min, 35mm, color, Cinemascope. Released on December 15, 1976. Total admissions: 20,609. Winner of Best Picture (Nam-a Pictures Co., Ltd.), Best Actor (Ha Myung-joong), Best Art Direction (Kim Yoo-joon), Best Lighting (Son Young-cheol) at the 14th Grand Bell Awards.

    Wang Sib Ri, My Hometown (1976)
After 14 years of self-imposed exile, Joon-tae suddenly visits his hometown, Wangsibri. Gone are the minari fields and streetcars, now the town is smudged with coal dust and smoke from factory smokestacks. The people have left too, except for a handful of buddies who are too busy to fool around with yesterday's friend. Only Choi, the manager of a local billiards room remains the same. Hanging around his motel and the billiards hall every day, Joon-tae lukewarmly flirts with Yoon-ae, a call-girl with a golden heart, while searching -- against everyone's dissuasion -- for Jeong-hui, his ex-girlfriend and now somebody else's wife. "Just this once, then I will leave," he says. Meanwhile, his Japanese gangster bro Sasaki watches over him, worrying that maybe he doesn't want to go back to Japan where a big gangland war awaits them.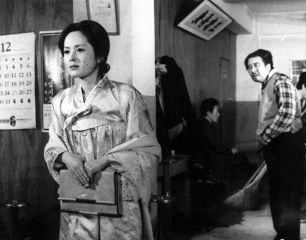 Considering the typical (overly-)sentimental, exploitative Korean films of the 1970s, it would be too much to expect more than a cheesy gangster-melodrama from such a story. But at this point in his career, director Im Kwon-taek decided to stop making "senseless" genre pictures "without thinking" (quotations from the director's own harsh evaluation) and to embrace his life and his tattered motherland. This is not to say that he immediately severed his relationship with genre pictures. Instead, he gradually renovated it. Im based Wang Sib Ri upon the usual "homecoming of a gangster" trope, only to turn it into a bold declaration of committed filmmaking.
At first glance, the film seems overflowing with nostalgia. Rapid industrialization and urbanization has changed almost everything in Wangsibri -- faces, places, even the landscape. Joon-tae has become a total stranger in his own hometown now, a ghost from yesterday. He wanders in search of a few familiar remnants, which evoke memories of the past at once, but eventually only serve to remind him of their absence. As in Lee Man-hee's The Road to Sampo (1975), home is a long-lost illusion to yearn for, rather than an actual place one can go back to. In this sense, Joon-tae's obsession with Jeong-hui could be the culmination of a worthless quest, or his ultimate disillusionment -- after which Joon-tae might go on a deadly brawl typical of a nihilistic gangster protagonist.
Permeated by the bitterness of loss, however, the film never permits Joon-tae to indulge in such actions. Neither does it lightly criticize the change of the world and the people in it. In fact, for Im, Joon-tae's languid ne'er-do-well lifestyle and sheer obsession for 'the good old days' are much more dangerous than the changing world. Having witnessed his family and village torn apart by the postwar right-left ideological conflict, and then branded as a "commie's son" under the rightist military dictatorship, the director himself once hated his country and gave up on life. "Home" was only a cruel joke for him. But in the 1970s, Im projected his inner demon on the screen, and tried to reconcile with it. We can find that pessimism at its height in his suicidal masterpiece Snow Falls on the Streets of Vengeance (1971). Then, he starts to soften it through a more modest but still harsh farewell to "street life" in Arrivals and Departures (1972).
In Wang Sib Ri, Im allows his protagonist self-reflection by subverting and re-evaluating the conventions of the genre, or even of classical dramaturgy. Indifferent to plot-driven structure, the film loosens the cause-and-effect linkage between scenes, regarding each scene and character action almost like dead time. Many things happen around Joon-tae, but none of them seems to be absorbed into him. The more he plays billiards, drinks with friends and talks with women, the more clearly we can see that he isn't interested in any of them, and vice versa. Characteristically and structurally, he loses his status as the protagonist (even though he appears in almost every scene). And contrasted to this are the people around him, especially women.
At first, both Yoon-ae and Jeong-hui seem to want something -- whether love or money -- from Joon-tae. But in the end, the film respects them as independent beings who can decide their own fates regardless of him. They are not just typically "strong" female characters who eventually are supposed to "support" the protagonist. Situations are changed and driven by their decisions, and Joon-tae is a minor character in their story. Indeed, so firmly do these women determine the future that if this were a common genre picture focused on the hero, Joon-tae might regard this as a "betrayal" which would derail his destiny. But since they are not so tightly bound to him as in a traditional drama, he doesn't interfere with their lives, keeping them at a distance. From this distance, his self-reflection begins, causing him to reconsider his own place in this changed world.
In relation to that, Wang Sib Ri offers a unique ending in Im's oeuvre. I won't spoil that sublime final scene set on New Year's Day here, but it's not too much to say that the scene is one of the most crucial moments in the director's career. Here, the master finally and openly embraces his long-hated origins, not forced a bit by political pressure from the government, demands for commercial success, or the conventions of the genre, but only by his own willpower to live on.       (Jiro Hong)
Wang Sib Ri, My Hometown ("Wangsimni"). Alternate title: "A Bygone Romance". Directed by Im Kwon-taek. Screenplay by Lee Hee-woo. Based on the novel by Jo Hae-il. Starring Shin Sung-il (Joon-tae), Kim Young-ae (Jeong-hui), Baek Il-seop (Choong-geun), Jeon Young-sun (Yoon-ae), Choi Bul-am (Choi). Cinematography by Lee Seok-gi. Produced by Woosung-sa. 105 min, 35mm, color. Released on January 13, 1976. Total admissions: 31,694. Winner of Best Picture and Best Director at the 12th Baek Sang Art Awards.
Miss Lee leads two separate lives, but feels restless in both of them. Her public life starts each morning when she walks with crowds of her co-workers into the cavernous hall of a bank in downtown Seoul. Her work days are spent totaling figures, passing bundles of cash back and forth, and halfheartedly taking part in the playful banter of her colleagues. Seated at a slight remove from her desk is Mr. Park, a man involved in similar work, who seems to take little notice of her. After work, she takes a bus and gets off at the National Cemetery (as the military guard posted at the main gate steals glances at her). She picks up groceries and goes home to her apartment.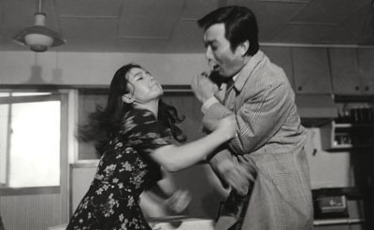 Late at night, the door opens and Mr. Park walks in. The two live together, but have kept it a secret from their coworkers in order to avoid gossip. Their relationship is at times playful, at times contentious, and yet despite the noise they make together, Miss Lee feels restless and unfulfilled. The one true love of her life was killed while serving in the Vietnam War. He is buried in the cemetery across the street, and his absence still torments her.
Kim Soo-yong's Night Journey, with its unsteady camerawork, startling eroticism and discordant music, is a cry of frustration at the stagnation of its era. In that sense, it's not surprising that it became a target for censors. Shot in 1973, it was rejected by authorities and languished in storage for close to four years before being released in a cut version in 1977. (The version available to us today would appear to be uncensored, but the director claims otherwise.) The society portrayed in the film comes across as both suffocating and impersonal, a place where men drink themselves into oblivion each night, and women are racked with boredom.
Like the enchanting Mist (1967), one of the highlights of Kim Soo-yong's filmography, Night Journey is adapted from a work by acclaimed 20th-century novelist Kim Seung-ok. The director creates a strikingly modernist aesthetic with a plot that is guided by the shifting emotions of its female lead, rather than any conventional narrative structure. Actress Yoon Jeong-hee (who starred in both Mist and, more recently, Lee Chang-dong's Poetry) brings a defiant energy and sensuality to her portrayal of a woman who seems extraordinary in many ways, but despite her best efforts is unable to shake off the lethargy of her environment. More than any other performance of the 1970s, Yoon's character embodies the frustration and lost opportunities of ordinary people living under authoritarian rule.      (Darcy Paquet)


Night Journey ("Yahaeng"). Alternate title: "Night Voyage". Directed by Kim Soo-yong. Screenplay by Kim Gi-pal and Hong Pa. Based on the novel by Kim Seung-ok. Starring Yoon Jeong-hee, Shin Sung-il, Joo Jeung-nyeo, Choi Hoi-young, Choi Gil-ho, Yang Il-man. Cinematography by Kim Deok-jin. Produced by Taechang Enterprises. 76 min, 35mm, color. Released on April 23, 1977. Total admissions: 135,047.
When I was a kid, I was a fan of Gertrude Chandler Warner's books about the Boxcar Children, four orphaned siblings who run away and live in an abandoned boxcar to keep from being separated. It's a popular premise to this day: think of Lemony Snicket, or the two brothers in The Host. Children expect to be taken care of, but dislike being dependent, so fantasies of being on one's own have a perennial appeal. Of course, in Korea as in many other countries, children have sometimes had to be independent. But fantasies, which can be stopped at will, are not reality. Kids can experience the heady, scary rush of being independent for a while, then go back to their ordinary, and hopefully safer, lives. (Note: some spoilers in the plot synopses to follow)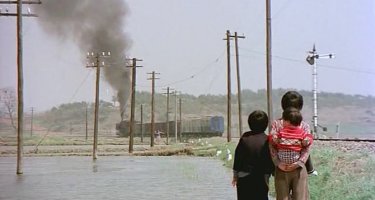 Young-chul (Kim Jae-seong), age 12, and his brother Young-mun (Lee Gyeong-tae), six, live with their father and mother in company housing at a salt farm where Father works. Young-chul's Mother (Jeong Yeong-suk, Maundy Thursday) is pregnant, and earns money by digging for oysters in the low-tide mud. Father (Park Geun-hyeong, Marrying the Mafia) suffered a head injury in an accident a year or so back, and has spells of terror and violence whenever a jet flies overhead. The newly completed Busan airport is nearby, so this happens too often. After Mother gives birth to yet another brother, Cheol-ho (Kim Hyeon-seong), she takes on Father's job at the salt farm so the family can stay in the company housing, but one day she collapses and dies. Honoring her dying command, Young-chul takes charge of the family. Carrying Cheol-ho on his back, he digs for oysters, tries to keep up with school, and works at the salt farm. Father gets progressively worse, and finally is sent to a mental hospital. The neighbors help out at first, but soon convince themselves that the boys would be better off sent away. Determined to stay together, the boys resist successfully. Just as the movie ends, Young-chul tells us that his diary was published; President Park Jeong-hee read it and decreed that the boys should be helped.
What makes A World Without Mom interesting is its generally low-key, almost social-realist tone. It dwells more on the experiences and pastimes of Korean children in the early 1970s and downplays the great melodramatic crises. Young-chul feels the weight of his responsibilities, but Young-mun is a cheerful and aggressive ringleader, playing Doctor with a neighbor girl and leading battles with other boys. Except for Father, who must scream and rave and generally behave like a Korean Renfield, director Lee Won-se (A Small Ball Shot by a Dwarf) got natural, appealing performances from the actors. The only problem is that, as was normal in those days, the characters' voices were dubbed by different actors, and the boys were voiced by adult women, not very convincingly. Young-chul especially sounds like a cartoon character, not a twelve-year-old of either sex.
A World Without Mom was popular enough to spawn two sequels and numerous imitations; the first sequel has been released on DVD along with the original. In A World Without Mom 2 (1978), Young-chul takes care of his brothers while letters pour in from fans of his published diary. Suddenly Father is released from the hospital, and the neighbors find a miraculously suitable woman for him to marry. The new Mother (Yun Mi-ra) is kind, patient, and undemanding, but Young-mun resents her arrival, and runs away from home. In the end everything turns out okay. The most interesting thing here is the handfuls of letters that Young-chul receives from other Korean children, but the filmmakers weren't interested in exploring how this fame affected Young-chul's life. Instead they made a conventional family melodrama, with puppy love, lost children on stormy nights and tearful reconciliations.
The filmmakers wrung out one more sequel, subtitled Festival of Chicks, in 1978. According to a plot summary on IMDB.com, in the third film Young-mun takes up baseball, but loses interest, so Young-chul must use all his big-brother powers to persuade him not to quit. No wonder it was the final film! But the original is well worth watching.      (Duncan Mitchel)


A World Without Mom ("Eomma eomneun haneul arae"). Directed by Lee Won-se. Screenplay by Kim Mun-yeop. Starring Kim Jae-seong, Lee Gyeong-tae, Kim Hyeon-seong, Park Geun-hyeong, Jeong Yeong-suk, Ko Young-gap, Park Ju-hui. Cinematography by Park Seung-bae. Produced by Han Jin Enterprises. 120 min, 35mm, color. Released on June 23, 1977.
It may be no accident that one of Korean cinema's most compelling, unnerving depictions of the primal forces that drive humankind was conceived during the mechanizing, industrializing era of the 1970s. As the military government pushed ahead with an all-out campaign for modernization, the warped genius of the cinema Kim Ki-young was busy shooting a film that peels off the many layers of modern society to expose human experience at its most primitive.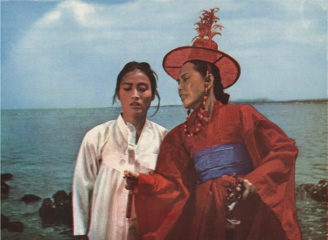 Iodo is centered on an island off the south coast of Korea populated by women who live off the sea, and who structure their lives "according to the old traditions". Removed from the modern influences of the mainland, the island stands as a detached society where ancient customs prevail and the local shaman wields a great deal of power. When one of the island's native sons (Choi Yoon-seok), who had gone to the mainland, disappears off the deck of a tourist ship, a businessman (Kim Jong-cheol) suspected of killing him travels to the island in hopes of uncovering the truth behind the man's disappearance. This visitor comes to learn the tangled history of the man's supposedly cursed lineage, while also getting caught up in the affairs of the island himself.
Not an easy film to absorb in one sitting, Iodo is told through a complex structure of flashbacks (each flashback signalled by the sound of bubbling water) that slowly lead us to an understanding of the film's central narrative. The film juxtaposes and contrasts modern and traditional social practices, from environmental activism and aquaculture to superstitious rites and exorcisms. But what unites the primitive and the contemporary is an obsession with procreation. Whether for humans, pigs, or artificially farmed abalone, the ability or inability to successfully reproduce determines the fate of nearly everyone in the film.
From the opening shots of this work, Kim Ki-young dispenses with any pretext of pursuing psychological realism. With its breathless tempo, sudden detours, highly dramatized dialogue and extreme close-ups, the film revels in its own unpredictability and force. This, combined with the zoom shots, dated hairstyles and cheap special effects, makes the film seem at first to be inviting parody. Yet Iodo's genius lies in the cohesiveness and weight of its central themes, together with its strange, unexpected beauty.
One unforgettable element of this work is the mesmerizing performance of Lee Hwa-shi as a barmaid who works on the island. Lee Eun-shim's turn in Kim Ki-young's Housemaid may rank as the most astonishing performance in 1960s Korean cinema, but Lee Hwa-shi's collaboration with the director in the late 1970s and early 1980s is no less of an achievement. Seven of her first ten films, which were shot between 1976 and 1981, were directed by Kim, and the intensity, sensuality and intellect which she brings to the screen is the perfect complement to Kim's madly inspired direction.
However, what viewers inevitably talk about as they file out of a screening of Iodo is its ending. The penultimate scene culminates with one of the most brazen, jaw-dropping sequences ever shot by a Korean director. It goes without saying that this image was censored from the film's release print in 1977, but an uncut version was exported to Japan, and so modern-day viewers can enjoy Iodo in all its glory. Thank god for that, because this film is the very opposite of cheap thrills, or shock for shock's sake. It's one of the best Korean films ever made.      (Darcy Paquet)


Iodo ("Ieodo"). Directed by Kim Ki-young. Screenplay by Ha Yu-sang. Starring Lee Hwa-shi, Kim Jeong-cheol, Park Jeong-ja, Park Am, Kwon Hye-mi, Choi Yun-seok, Yeo Pyo, Ko Sang-mi. Cinematography by Jung Il-sung. Produced by Donga Film Export Co. 110 min, 35mm, color. Rating received on October 4, 1977. Presented at the 28th Berlin International Film Festival.
Gong Hyo-hee is a famously successful businesswoman who heads a major conglomerate and who fills her day with meetings, inspirational speeches, and cocktail pleasantries with envious male colleagues. At night, she returns to her home in the suburbs, takes a cursory glance at her children, and falls exhausted into bed, where she is often haunted by strange dreams of a woman calling out to her. She is told that the woman in the dream represents a lost twin sister who died as an infant.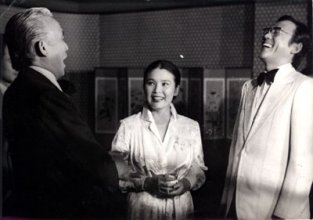 One day she gets into her car and drives out to a seaside town. As she approaches the shore, suddenly a mob of angry villagers surrounds her car. Frightened, she tries to run away, but is then caught (in a net!) by a group of fisherwomen. She is bound and taken by boat out to a remote island, where an unknown man exchanges cash for her. Then she is dragged back to a small hut, where her captor insists that she is his wife, and that she won't be able to escape as she did the last time. Her denials and protests fall on deaf ears. Thus begins her absurd and harrowing new life as an island woman, 'married' to an abusive stranger.
This bizarre, modernist feature from Kim Soo-yong was released in 1978 and stars Yoon Jeong-hee, a major actress of the 1960s and 1970s who will be familiar to contemporary viewers for her leading role in Lee Chang-dong's Poetry. With its blurred, garish colors and disorienting camera angles, Splendid Outing is an exhilerating aesthetic exercise at the same time as being a thought-provoking and troubling story.
The film's narrative is founded on the juxtaposition between a modern, emancipated woman in a modern city and a wife enslaved among the rocks of a remote island. Momentary glimpses of Seoul intercut between shots of our heroine's struggles on the island drive home this contrast, and on the most basic level serve as a visual reminder of the extremes of Korean society: urban and rural, wealthy and poor. But the film isn't primarily concerned with this kind of social message, and plays more as a psychological tease or puzzle. At every turn, the film tries to disorient its viewer.
Of course, Splendid Outing's gender issues are impossible to ignore. Although not a feminist film by any means, it suggests the existence of a primal aggression towards women that lurks just below the surface of modern society. Gong Hyo-hee has climbed the social ladder as high as it will take her, but the narrative's bizarre twists suggest that subjugation and humiliation may be only one false step away. It's a melancholy sort of work, that empathizes with its protagonist but at the same time remains distant and enigmatic enough to defy easy interpretation.      (Darcy Paquet)


Splendid Outing ("Hwaryeohan oechul"). Directed by Kim Soo-yong. Screenplay by Cho Moon-jin. Starring Yoon Jeong-hee, Lee Dae-geun, Lee Young-ha, Kim Jeong-ran, Song Mi-nam. Cinematography by Jung Il-sung. Produced by Tae Chang Enterprises. 93 min, 35mm, color. Released on March 10, 1978. Total admissions: 154,668.
For non-Koreans who watch Korean movies, The Shower will bring to mind one of the film "scenarios" written by the Girl in My Sassy Girl. Gyeon-woo recalls it as a defining melodrama of their generation: "I couldn't sleep for a week!" The ending sucks, the Girl declares, and she proceeds to rewrite it in her own inimitable style (violent and hilarious slapstick), with herself and Gyeon-woo as the leads.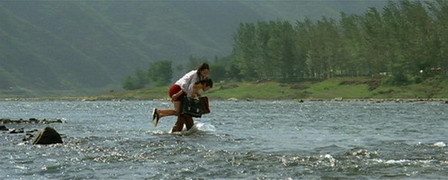 I soon learned from friends that Hwang Soon-won's original story, first published in 1953, was an almost universal Korean experience, read in every middle school for decades. It's surprisingly short, under 4,000 words in Brother Anthony of Taize's translation, and not all that melodramatic--in fact its simplicity of style and directness of tone are among the reasons why it's a Korean classic. I hadn't expected I'd get a chance to see the actual The Shower anytime soon, but the Korean Film Archive has just released it on DVD, so I got a copy and prepared to immerse myself in this film that, in Gyeon-Woo's words, "shaped our people's sensibility in their teens."
It turned out to be more difficult than I'd expected, just because My Sassy Girl's parody had imprinted itself so firmly in my mind. Since I had the robust twenty-somethings Cha Tae-hyun and Jeon Ji-hyeon as the models of the boy and girl from The Shower, it was a shock to find that in the story and the movie, the main characters are just entering middle school, not even adolescents yet. It didn't help that The Shower was obviously a prestige project, made with the same "artistic" solemnity that Hollywood applies to Western literary classics, so I think it would have seemed inadvertently funny at times even if I hadn't been remembering the parody version. So harumph harumph, let me get serious here and try to do justice to this classic Korean movie. For non-Koreans who haven't seen My Sassy Girl, be warned: there are spoilers ahead.
The basic story is, as I said, simple: Yeon-ee, a city girl (Jo Yoon-sook, who looks like a very young Jeon Do-yeon) moves to the countryside to live with her great-grandparents when her father's business fails. She gradually becomes friends with Seok-ee, a country boy (Lee Yeong-soo, who looks like a very young and skinny Cha Tae-hyun) from the neighboring farm. One day they go on a long hike to a nearby mountain, where they're caught in a sudden storm. Though Seok-ee gallantly gives her his shirt to keep her warm, Yeon-ee catches a chill and, because her family can't afford medicine, she dies. Seok-ee is deeply moved to learn that on her deathbed, she asked to be buried in the same clothes she wore on their hike, which neither of their families knew about.
The job of directing The Shower was given to Ko Young-nam, a prolific but mostly undistinguished director who made 111 movies during his career. Most except for The Shower and maybe Snow Country (1977) are forgotten now, but after all, how many of us make even one or two memorable movies? Ko did his job with dogged professionalism, and his cinematographer Lee Seong-choon won an award for his lush work. The movie was filmed in widescreen and saturated color, and the leads are lit as if they were Elizabeth Taylor and Rock Hudson instead of two Korean pre-teens. The script, which keeps fairly close to Hwang's original, expands the story and moves the action to the 1970s, so Seok-ee wears bell-bottomed pants and a polyester shirt. He struts around with boyish machismo, competes in cockfights with a neighbor boy, and fights to save Yeon-ee from harassment by some boys in the woods. Yeon-ee wears braids except for their final scene together, in which her hair has been carefully brushed out as if she were appearing in a shampoo commercial.
While their friendship remains "innocent," both kids are more or less subtly eroticized: near the beginning of the film Seok-ee fantasizes about a woman dressed in leaves, who tempts him like Eve as he frolics at one with Nature in the forest. Later, Yeon-ee's great-grandmother tells her a tale of a fox woman who seduces a promising young scholar with kisses, and Yeon-ee has a nightmare of Seok-ee kissing the fox woman while she (dressed as a Confucian scholar, complete with beard and spectacles) calls to him to save himself. None of this is in the original story (though the scene where Yeon-ee scrapes her knee and Seok-ee sucks the dirt from the wound is), but it's entertaining, like the Harvest Thanksgiving Festival celebration that brings the movie to its culmination.
Oddly, The Shower hasn't been remade, though there was recently a successful stage musical version of the story, featuring boy band singer Seung-ri of Big Bang, and there are a couple of short amateur versions on YouTube. These, and the parody in My Sassy Girl, show that The Shower hasn't been forgotten, and now that we can see it on DVD, maybe there's no need for a remake.     (Duncan Mitchel)


The Shower ("Sonagi"). Directed by Ko Young-nam. Original Short Story by Hwang Soon-won. Screenpay by Lee Jin-mo. Starring Lee Young-soo, Cho Yoon-sook, Kang Kye-sik, Kim Sin-jae, Yoo Myeung-soon, Kim Min-gyoo, Oh Young-kab. Cinematography by Lee Seong-choon. Produced by Nam-a Pictures Co., Ltd. 99 min, 35mm, color. Released on September 13, 1979. Winner of Silver award (Lee Seong-choon) at 3rd Golden Cinematography Awards.

    A Woman Chasing a Killer Butterfly (1978)
A Woman Chasing a Killer Butterfly starts off innocently enough, with a group of university students taking a bus out to the countryside for a picnic. But the youth film aesthetic will prove short-lived. A dour history student named Yong-bin chases after a butterfly, but a woman sitting nearby offers him a glass of juice spiked with poison, and he nearly dies. After being released from the hospital, he goes home feeling depressed and tries to kill himself. But he is interrupted by an elderly door-to-door book salesman, who insists that the only way to regain one's will to live is to kill someone else. Driven to distraction, Yong-bin decides to kill the bookseller.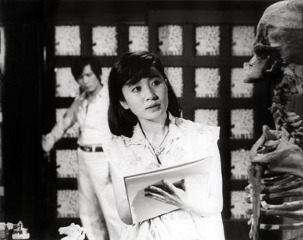 These opening sequences are bizarre enough, but they're only a prelude to a headlong tumble into the realm of the fantastic, with talking severed heads, a reincarnated 2000-year old woman, and slain humans transforming into butterflies. One can imagine what the pitching session for this film might have been like. If there was one advantage to the filmmaking system of the 1970s, it was that many producers just viewed Korean films as a way to fulfill the nation's import quota, and so directors (assuming they avoided political content) were free to ignore mainstream sensibilities. On the other hand, one of the great disadvantages of the 1970s filmmaking system was that directors were given only the bare minimum of resources, and this can be seen in the work's creatively-imagined but crudely-realized special effects.
A Woman Chasing a Killer Butterfly might seem at first to be nothing more than the trashiest of B-movies, but director Kim Ki-young, who is known to pepper his films with references to Nietzsche and Freud, is hardly fooling around. His themes centered on death, sex, and the will to live, reappear throughout the film in different guises, tantalizing viewers with hidden meanings but never providing any easy interpretations. The characters act according to their most basic instincts, and despite the philosophical language that they speak, what we see is nothing less than a primal struggle for survival.
Throughout his filmography Kim has often contrasted the rational and the scientific with more primitive, spiritual or fantastic forces. His works can be seen as the very opposite of the so-called "enlightenment films" favored by the Park Chung Hee regime, in which modernization and industrialization leads inexorably to a brighter and more prosperous future. Not only does chaos reign and thrive in the world of Killer Butterfly, but (as noted by film scholar Chris Berry) it mocks the very notion of rationality or progress. In that sense, this might be the perfect comment on an authoritarian era in which order was enforced from above, but turmoil seethed beneath the surface.      (Darcy Paquet)


A Woman Chasing a Killer Butterfly ("Sarin-nabi-reul jjoneun yeoja"). Alternate titles: "Killer Butterfly", "Woman with Butterfly Tattoo." Directed by Kim Ki-young. Screenplay by Lee Mun-woong. Starring Kim Jeong-cheol (Yong-bin), Namgung Won (Dr. Jang), Kim Ja-ok (Hye-won), Lee Hwa-si (skeleton woman). Cinematography by Lee Seong-chun. Produced by Woojin Film. 117 min, 35mm, color. Released on December 2, 1978.
The Quality Films Record System of 1973, a revision of the Motion Picture Law during Park Chung-hee's regime, gave film companies that produced "quality films" privileged access to importing and distributing foreign films. Such access was highly sought after since Hollywood films were dominating South Korea's box office at this time. The "quality films" the Park regime desired included those that promoted their ideas about national identity and high artistic merit. Although Im Kwon-taek had made a decision prior to this time to forgo competing against Hollywood fare by producing "serious" films, beginning with The Deserted Widow, interspersing with commercial fare such as The General's Son, around this time, he identified a need to have Korean films travel abroad for non-Koreans to learn about Korea. This need either meshed with the tenets of this revision of the Motion Picture Law, or, as Chungmoo Choi argues in her chapter in Im Kwon-Taek: The Making of a Korean National Cinema, was "motivated" by this revision. Regardless of where Im's full intent lay, this policy makes The Genealogy an important one since The Genealogy was where he began to focus on creating Korean cinema that would interest foreign audiences.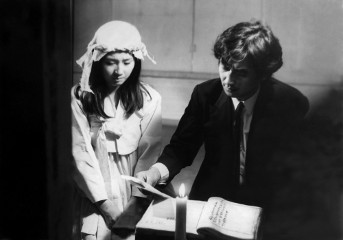 Im has said that he "realized that films I wanted to send abroad required topics from the period in our history that I myself have experienced." For The Genealogy, Im chose to present a topic he experienced while in elementary school, the "Name Change Order." On February 11, 1940, the Japanese colonial administration imposed the Name Change Order on all Koreans, requiring them to change their Korean names to Japanese ones. As Choi notes, 84% of Koreans complied. One person who resisted was Sol Jin-hyeong, whom Choi states is the person upon whom the patriarch in The Genealogy is based. Sol (played by Joo Seon-tae) is portrayed as a wise and reverent man. Rather than depicting his protest as reactionary, it is portrayed as a delicate balancing of the pros and cons of Modernization.
However, Sol is not the main character of this film, which leads to another important aspect of The Genealogy. The film is adapted from a short story by Kajiyama Toshiyuki. The main character is Tani (Ha Myeong-joong), a Japanese man who, in order to avoid conscription, has joined on with the Japanese colonial administration offices. Tani is sent to Sol's house to convince him to abide by the Name Change Order. What makes Tani unique in South Korean cinema and literature, according to Korean Film scholar Kyung Hyun Kim, is that he is portrayed sympathetically. He is not portrayed as a tyrant or fascist, but as a man who respects Korean culture and is deeply troubled by the actions of his own government. Tani is an artist who shows a great appreciation for Korean craftsmanship and artistry. Sol and Tani connect on this level and Sol embraces him as a son, or more like a son-in-law considering how comfortable Sol is in presenting his already engaged daughter, Ok-sun (Han Hye-sook), to Tani. In respect for Sol, Tani attempts to intervene in holding off the pressure on Sol, along w/ successfully impeding Ok-sun's enforcement into sexual slavery. It is this mutual respect conveyed towards a Japanese that is perhaps the most important aspect of including The Genealogy in any survey of the Korean canon.
As Choi has argued, Tani is also based on a real-life person, art critic Yanagi Muneyoshi, known by Koreans as Yanagi Soetsu. Yanagi's art critiques stood against the imperialist intents of the Japanese government at the time. Choi notes that even though some Korean intellectuals would later accuse Yanagi of holding a colonialist mindset himself, in 1984 Yanagi was posthumously awarded the South Korean Jeweled Crown Culture Medal. Im appears to have found a kindred spirit in Yanagi's take on Korean art. Choi summarizes Yanagi's identification of "the most salient element in Korean art as the beauty of the curving line that symbolizes Koreans' sorrow, sadness and hunger for love (from the people of other nations) . . ." Furthermore, Yanagi expressed deep remorse over the loss of Korean traditional aesthetics due to his country's occupation of Korea. As we know from Im's oeuvre, Im shares this view of associating Korea with sorrow, sadness, and loss. Yet, along with his usual focus on the Korean landscape in The Genealogy, Im also focuses on celadon ceramics. Although my first exposure to Korean arts was through the gorgeous resonance of the seafoam-ish, chartreuse-y celadon for which Korea is quite respected, this is the only film I've seen that singles out this aspect of Korean culture, presenting yet another unique aspect to this film. As David James and Choi both note, a passage written by Yanagi is invoked by Sol while looking at his collection of celadon ceramics.
Although not what I would consider one of Im's better films, The Genealogy's origins in the film policies of South Korea, its portrayal of a sympathetic Japanese, and its rare cinematic celebration of Korean celadon ceramics places it as an important one to display on the cinematic shelf and to occasionally bring down from that shelf for further viewing.      (Adam Hartzell)


The Genealogy ("Jokbo"). Directed by Im Kwon-taek. Screenplay by Han Woon-sa. Starring Joo Seon-tae, Ha Myeong-joong, Han Hye-sook, Choi Nam-hyun, Kim Shin-jae, Yun Yang-ha, Ju Sang-ho. Cinematography by Lee Seok-gi. Produced by Hwacheon Corp. 110 min, 35mm, color. Rating received on September 29, 1978. Released on May 1, 1979. Total admissions: 529. Winner of Best Picture, Best Director, Best Actor (Ha Myeong-joong) at the 17th Grand Bell Awards. Presented at the 11th Festival des Trois Continents (Nantes).
By the year 1979, Im Kwon-taek had transformed himself from a director of genre films into an auteur with a strong interest in Korea's history and culture. It would be another two years before Mandala would bring him critical fame, but his films already displayed an added complexity and thematic weight. Critics of today recognize The Genealogy (1978) and The Hidden Hero (1979) as two of the cinematic high points of late 1970s Korean cinema -- even though at the time they were made, such films didn't receive much critical interest.
In between the two above-mentioned films, Im traveled to a remote island and shot The Divine Bow. The story, set in contemporary times, centers around a shaman played by Yoon Jeong-hee (Lee Chang-dong's Poetry) who, bitter and heartbroken, has given up her practice. When the village begins to suffer from a poor fish harvest, they plead with her to hold a ritual to reverse their fortunes, but she refuses. An extended flashback then delves into her personal history and her fraught relationship with the village, setting the stage for a dramatic conclusion in the present.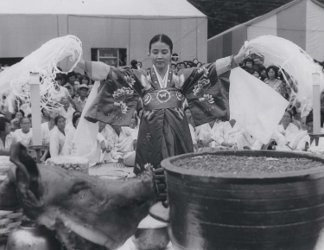 This odd but fascinating work represents two firsts for Im Kwon-taek. It was his first time to make a film about shamanism, which together with Buddhism had captured his attention during the 1970s. Having survived to the present day despite the influx of numerous world religions, shamanism is one of the oldest influences on Korean culture, and as Im says, "I felt that any Korean person living in Korea should not be unaware of what shamanism is."
The Divine Bow also marks the first collaboration between Im and cinematographer Jung Il-sung, who created some of the most memorable images of 1970s Korean cinema with directors like Kim Ki-young, Yu Hyun-mok, Ha Kil-chong and Kim Soo-yong. The bond that developed between the two men led to a subsequent 25 year partnership during which time Jung worked almost exclusively with Im. Sure enough, The Divine Bow contains some truly ravishing, inventive imagery -- it's one of the most beautiful films Im has ever made. But there was a problem. Shot on a remote island, without the equipment to print and check their footage, the cinematographer didn't realize that the film was being shot with the right side of the image slightly out of focus. By the time they returned to Seoul and realized what had happened, it was too late to reshoot. For this reason, Im says he has never re-watched this film, too frustrated about this technical glitch.
The Divine Bow is very rarely screened, but in April 2012 I took a chance and included it in a retrospective titled "The Darkest Decade: Korean Filmmakers in the 1970s" which was presented at the Udine Far East Film Festival in Italy. Before it was shown, I explained about the blurriness, and it was certainly noticeable on the big screen, but most viewers didn't seem to mind. In the end, the audience found the film itself to be so involving and creatively shot that it drew cheers.
Many Korean films made in the 1970s are damaged in some way, most often at the hands of censors, or because of a poor production environment. The mishap that befell this film is truly regretful, because otherwise it might have reached a much wider audience. It may be one of the few cases of a film that looks better on a mobile phone than on the big screen, but I do hope that more viewers track this work down. For its portrayal of a far-removed sector of 1970s Korean society, for its moments of fleeting beauty, and for its jaw-dropping ending, The Divine Bow deserves to be seen, and not forgotten.      (Darcy Paquet)


The Divine Bow ("Singung"). Directed by Im Kwon-taek. Screenplay by Kim Ji-heon. Based on the novel by Cheon Seung-se. Starring Yoon Jeong-hee (Wangnyun), Kim Hee-ra (Oksu), Kim Man (Yongbae), Bang Hee (Jjoggani), Hong Seong-min, Lee Ye-min, Kim Jeong-ran. Cinematography by Jung Il-sung. Produced by Taechang Enterprises. 93 min, 35mm, color. Released on December 8, 1979.
Rainy Days, released in 1979 as the Park Chung-hee dictatorship was ending its seventeen-year run, has recently garnered renewed praise and adulation as one of director Yu Hyun-mok's late-career masterworks. The film, obviously approved by the Park government for its anti-Communist viewpoint, expands on one of Yu's abiding concerns, the tragic history of modern Korea in the first half of the twentieth century that ultimately resulted in the Korean War (1950-1953), that he explored previously in the powerful Descendants of Cain (1968) and the mind-blowing Flame (1975).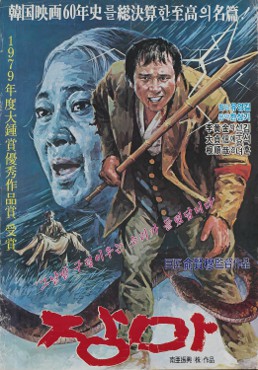 Even though Rainy Days does deal with the Korean War and the ideological division that left deep scars in the Korean psyche for subsequent generations, it is neither a war film nor a "message" movie. Director Yu and veteran scribe Yoon Sam-yook are generally faithful to Yoon Heung-gil's source novel, dispensing with pyrotechnics and masculine heroics and focusing on how wartime ideological struggles affect the fundamental emotional ties of one typically Korean extended family.
The film's story is told from the perspective of a young boy Dong-man (Choe Yong-won), whose village is overrun by the North Korean army soon after the outbreak of the war. His paternal uncle Sun-cheol (played by the action star Lee Dae-keun, who also specialized in portraying a good-hearted and, shall I say, obstreperously virile country bumpkin for both TV and movies) almost by accident joins the Communists, but he still tries to protect his in-laws, including the boy's maternal uncle Gil-jun (Kang Seok-woo), a Seoulite intellectual and a staunch anti-Communist. However, when the tide turns and South Korean and U. N. troops begin to push Northerners back up, Sun-cheol, Gil-jun and other family members of Dong-man are forced to become blood enemies, like so many real-life Koreans of the wartime generation caught in a web of heartache, betrayal and muted rage following the fratricidal war.
As is the case with Yu's '60s masterpieces, his direction and editing are dazzlingly expressionist but are firmly grounded in the earthly materiality of rural Korean landscapes, lifestyles and communal habitus. Some scenes almost take on the gravitas of mythical visions (the maternal grandmother's dream of losing her tooth, presaging the tragic news of a family member's death: the climactic 'exorcism' involving a large snake). As yet I have not encountered a film directed by Yu that failed to blow me away as a cinematic cornucopia of the beautiful and the uncanny, and Rainy Days is no exception. Under the direction of DP Yu Young-gil (Pollen, A Single Spark, A Petal, Christmas in August) and Lighting Supervisor Kim Tae-seong, the camera effortlessly captures the detailed texture of natural landscapes- bamboo forests, muddy puddles and rounded eaves drenched in relentless rain- and carefully navigates through the corridors and rooms of the traditional Korean house to chart the emotional cartography of the characters.
Even though made under a time of suffocating censorship, the characters of Rainy Days are not cardboard heroes and villains. While working with familiar types of wartime Koreans, Yu deftly manages both character interactions and performances so that they are always emotionally grounded in realistic situations. The characterizations and behaviors of Dong-man and his young friends easily overcome the annoying (adult) voice-actor dubbings that mar almost all Korean films made prior to the '90s. Lee Dae-keun precisely conveys the wide-eyed, almost childlike bravado as well as the tormented confusion of a man who has little comprehension of the hostile environment he finds himself in; this burly man wilts like a gelded bullock as he sneaks into the family home as a wanted "Communist bandit." It is a sight no more likely for one to see in a flame-breathing anti-Communist propaganda film than a sympathetic portrayal of an Iraqi insurgent in a Sarah-Palin-produced American movie.
The grandmothers, the true gravitational centers of the piece, are believably doting and parochial but are far from long-suffering victims. Indeed, the film's equivalent of the final battle in a war movie consists entirely of Dong-man's paternal (Kim Sin-jae) and maternal (Hwang Jeong-soon) grandmothers engaged in a devastating verbal combat, pouring out a lifetime's worth of anger, frustration, sorrow and resentment toward each other, leaving their children, grandchildren and in-laws cowering and trembling in the corners. I do not wish to spoil the ending for you, but it involves the aforementioned snake in an astonishing folk-belief ritual supervised by one of the grandmothers that works perfectly as both a psychotherapeutic performance and an act of genuine spiritual communication and leads to the profoundly moving resolution reminiscent of Carl Dreyer's Ordet (1955). Needless to say, Hwang and Kim are both magnificent. Hwang, who has played aged mother/grandmother roles with great success since at least early '60s (when her actual age was in the late 30s), in particular gives possibly the best suffering-matriarch performance of her distinguished career, flashing unnervingly sharp edges of psychic aggression in the midst of her trademark soft mumblings.
Rainy Days is probably not Yu Hyun-mok's best film, although there is likely to be more than one person in the world who considers, say, Jean Renoir's The River (1951) superior to The Rules of the Game (1939). Yet this deceptively unassuming movie is an exemplary Yu Hyun-mok film, showcasing the unique combination of his directorial prowess and intellectual vision: his natural eye for beauty, the ceaseless quest for (sometimes deeply painful) truth and a boundless compassion for his painfully real characters. It is a spiritually cleansing motion picture firmly grounded in the specific history and culture of Korea, yet beautifully embodying universal human aspirations and failings.      (Kyu Hyun  Kim)
Rainy Days ("Jangma"). Directed by Yu Hyun-mok. Screenplay by Yoon Sam-yook. Starring Hwang Jeong-soon, Lee Dae-geun, Kim Sin-jae, Kim Seok-hoon, Sunwoo Yong-nyeo. Cinematography by Yu Young-gil. Produced by Nam-a Pictures Co., Ltd. 114 min, 35mm, color, Cinemascope. Winner of Best Picture (Kim Ki-young), Best Cinematography (Namgung Won) at the 18th Grand Bell Awards. Winner of Silver Award (Yu Young-gil) at the 4th Golden Cinematography Awards.

Other Films from 1970-1979

1970 --    Frozen Spring (Jeong Jin-woo);   Pillyeo (Jung So-young)   -- 1971 --    Bunrae's Story (Yu Hyun-mok)   Break Up the Chain (Lee Man-hee);   War and Human Beings (Shin Sang-ok);   Woman of Fire (Kim Ki-young)   -- 1972 --    A Cattle Seller (Kim Hyo-cheon);   Gate of Woman (Byun Jang-ho);   Oyster Village (Jeong Jin-woo);   A Shaman's Story (Choi Ha-won)   Snow Falls on the Streets of Vengeance (Im Kwon-taek);   -- 1973 --    Fidelity (Ha Kil-jong);   Long Live the Island Frog (Jeong Jin-woo);   The Revolution Lasted Only Three Days (Shin Sang-ok);   The Testimony (Im Kwon-taek)   -- 1974 --    The Cat Woman (Hong Pa);   The Earth (Kim Soo-yong);   Hometown of Stars (Lee Jang-ho)   The Rain of Yesterday (Lee Jang-ho);   Transgression (Kim Ki-young);   -- 1975 --    A Girl Who Looks like the Sun (Lee Man-hee);   Promise of the Flesh (Kim Ki-young);   The Road to Sampo (Lee Man-hee);  

1976 --    Aescetic (Kim Su-hyeong);   Concentration (Choi In-hyun);   I am Looking for a Wife (Ha Kil-chong);   A School Joker (Seok Rae-myeong);   -- 1977 --    The Gate (Yu Hyun-mok);   Toward That High Place (Im Won-shik);   Two People in the Wall (Lee Seong-gu);   Winter Woman (Kim Ho-seon)   -- 1978 --    Do You Know Kkotsun? (Jung In-yeop);   Evergreen Tree (Im Kwon-taek);   Miss O's Apartment (Byun Jang-ho);   A Widow (Cho Moon-jin);   The Woman I Ditched (Jung So-young)   -- 1979 --    Byeongtae and Youngja (Ha Kil-chong);   Eul-hwa (Byun Jang-ho);   The Hidden Hero (Im Kwon-taek);   The Last Word Left By My Fellow Soldier (Im Won-se);   The Man I Ditched (Jung So-young);   Wild Ginseng (Jeong Jin-woo).