9th January 2010
Originally posted September 3, 2007–There have been a number of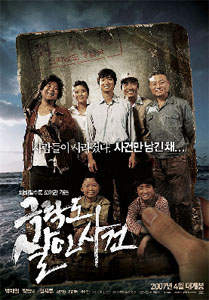 prominent releases so far in 2007–Secret Sunshine made news when Jeon Do-yeon took home the prize of Best Actress from Cannes. Both D-War and May 18 have been making news for their box office tallies and even Black House peaked interests due to its source material.  But there have been dozens of new releases that slip under the radar but some of them deserve wider recognition.  Paradise Murdered is one of those.
The premise of the film is fascinating.  All seventeen people inhabiting the small island of Geukrak have been killed or have disappeared. All the clues that the police have are trails of blood and an oddly cryptic note.  What happened to the isle's inhabitants is then told in flashback.
The story starts to unfold as we observe the cast of characters and their interactions.  Although it may seem like a large number of people to start a mystery with, the characters are quite distinct and it is never confusing. In fact, the cast deserves the highest praise for making their interactions completely believable.  It truly does feel like the majority of these people have spent their entire lives on this island. 
The cast soon starts to be whittled down through grisly murders and mysterious disappearances. After the first killing, a double murder, the cast grows understandably nervous and suspicious as they realize that the killer must still be on the island and may even be one of them.  Initially, they believe they know the identity of the killer and even his motive for his crime and their main concern is locating him.  However, when that initial theory is destroyed so is their peace of mind and satisfaction with their community. Suspicions and tempers flare and the residents of the small village start thinking of reasons why the other members would have murdered so cruelly.
As these suspicious thoughts prey on people's mind, their reasoning seems to suffer. They all recall a local legend in which a woman, one of their ancestors, was starved to death to ensure her chastity.  Now, some members  of the village believe it is the curse of the Chaste Woman that is causing their problems and a few even start seeing a ghost like vision hovering around the areas of where murders take place. Clearly there is  no such thing as ghosts, so who or what is this terrifying image?
I have to say that I enjoyed watching Paradise Murdered and trying to figure out who is responsible for the deaths and how he or she could have pulled it off.  However, here is the major problem with the movie.  It does not play fair with all its clues.  In fact, the ending seems so far-fetched that it is impossible to guess.  Therefore, I recommend that if you watch this film, NOT to try and figure out the 'how' of the matter, though 'who' you may be able to guess.  The story, acting and images are all quite enjoyable on their own without the added satisfaction of having 'solved' the case.
And I certainly recommend this film which is now available on dvd. In fact, Paradise Murdered is  safely among my 'top 5? favorite releases of 2007 so far.  Enjoy!