9th January 2010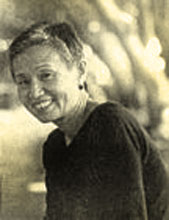 Originally posted August 15, 2007–Hwang Hye-mi was not the first woman to direct Korean films. That distiction belongs to Park Nam-ok who debuted in 1954. Nor was she the second. That position is taken by Hong Eun-won who began making films in 1962. The third female director of Korean films would be the famous actress Choi Eun-hee who was also married to director Shin Sang-ok.  No, Hwang Hye-mi was the fourth woman to debut as a director in Korea with her film First Experience in 1970.
Hwang Hye-mi was born on August 6, 1932 in Seoul. She majored in French Literature at Seoul National University and after graduating went to Paris to study at the University of Sorbonne.  Upon returning to Korea, she and her husband Kim Dong-soo established to Bohan Corporation for Film Production which produced many great films such as Kim Soo-yong's Mist (1967) and Kim Seung-ok's Potato (1968).  Later, she also worked as a screenwriter on Im Kwon-taek's Don't Torture Me Anymore! (1971).
However, before that she made her directorial debut with the melodrama First Experience (1970).  It was the story of a young college dropout who meets a middle-aged man on a plane.  The two of them hit it off and the young woman finds herself falling in love only to learn that the man has a wife.  The heroine in this film is strong enough to break off their relationship and chalk it up to experience rather than wallow in self pity. Director Hwang not only directed this film but also wrote the screenplay and produced it.
Following this movie, she directed When Flowers Sadly Fade Away in 1971 and Relationships in 1972.  Both of these films are melodramas. When Flowers Sadly Fade Away was an overwrought melodrama fairly typical of the times in which a poor orphan, working in the home of a wealthy widower, transforms his selfish family into caring, happy people and falls in love with her employer even while she is slowly dying of some debilitating disease.  Relationships has her main character being raped by her employer. Afterwards, she meets a young man whom she trusts enough to fall in love with only to discover that he is the son of her rapist.
Although she was praised for her efforts on First Experience, winning an award for Best New Director, she stopped taking part in filmmaking. This was because of the times she was living in. Government control of the film industry was at its strongest and making movies was like pouring money into a hole.  Hwang Hye-mi made no other movies after 1972.