1st May 2010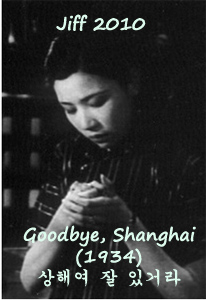 Another movie I recently saw at the 11th Jeonju International Film Festival showed a rare look at the age of silent films in Korea. This film was discovered a few years ago in Shanghai–a quick search through Daum revealed that it was found back in 1997. Why are we just hearing about it now? Well, the good folks at KOFA have been restoring it and adding English captions–not that it needs many, being a silent film and all. But the end result is worth the wait. We have nearly the complete film. The article I read about its discovery stated that 8 of the 11 reels had been recovered. After watching the film, I can say that these missing parts are from the beginning of the movie. But, while it would have been nice to know the relationship of some of characters–especially in the big house where the main character is visiting/living–it is quite easy to catch up with the action. There is a little part missing at the end where former sea navigator Whang is reading the newspaper and sees the final fate of his girlfriend.  My guess is there is only about two minutes missing there–unfortunately, these two minutes explain the end.  It was lucky we had a representative from KOFA there to explain to us what we missed and the ending of the film based on the script.
The story is about the life of beautiful, virtuous Bairu, a school teacher from a small village, who has come to Shanghai to stay at her aunt's home and make money. On the way over, she met a handsome sailor named Whang and the two fall in love.  Otherwise, while staying with her aunt, Bairu seems rather lonely. She doesn't really fit in with her wealthy relatives chic friends and the high society they live in.  And I have to say, I was surprised at society in Shanghai as depicted in the film. The fashions, the buildings, the electric trolleys–it looked absolutely beautiful.
Unfortunately, this beautiful society did have it seedy side. For example, the ambitious starlet intent on sleeping her way to the top or the sinister Dr. Lee.  Lee is a womanizer who will stoop at nothing to get what he wants even as he is in the midst of planning his wedding. Lee sees the innocent Bairu as a challenge, one that he seems sure to lose. However, Bairu comes down with something and her aunt sends her off to Lee's clinic by rickshaw where the doctor gets her on his examination table, gives her an injection to make her sleep, and then rapes her.  I admit to being very surprised by this scene. The doctor removes his patients blouse and bra revealing her breasts–I was never expected nudity in a pre-70s Korean film.
Bairu is devestated but keeps what happened to her a secret…until she realizes that she is pregnant. Then she strikes off on her own.  First she attempts to find her sailor but discovers that he was responsible for an accident at sea and was fired. Not knowing where to find him, Bairu accepts a position as a dance hostess–where she once more meets hated Dr. Lee, now married. She does not tell him though that he has a son. Until the baby becomes seriously ill…
Dr. Lee is played as absolute evil and actor Feiguang He. The man steals every scene he is in with his leering looks.  When I first saw him, I had to look twice–he looked so much like Errol Flynn with his pencil mustache and hair slicked back. I was also happy to see that he was not the kind of rapist who would later be seen in Korean films of the 60's where a woman is forced to have sex and then falls in love with her attacker. Bairu hates Lee with a passion and at first cannot even bring herself to touch her child because she sees Lee's face in him.
Bairu is played by the extremely talented Lingyu Ruan. Ruan had gained fame in Asia a year or two earlier when she starred in the film Goddess about a goddess who takes to the streets to work as a prostitute. Unfortunately, Ruan was not free from scandals in her real life and tragically chose to end her own life while she was in her early twenties.
Director Jeong Gi-tak was born in Pyeongyang but studied in Shanghai. He returned to Korea and appeared in Lee Gyeong-son's film The Pioneer (1925).  He continued to work as an actor and then producer, forming Jeong Gi-tak Productions. But, in the thirties, it became almost impossible for most Koreans to make movies under Japanese rule so Jeong packed up and moved to Shanghai to direct films.  He made about ten films there until the Chinese army invaded in 1936.  Shortly thereafter, he disappeared. There were many theories about what happened to him. Apparently, he drowned while at the beach with a kisaeng. However, there was some dispute at the time as to whether it was an accidental drowning or if it was suicide.
The running time is 81 minutes and it follows the typical style of silent films of the era–several minutes of action with minimum word cards that come up once in awhile with important dialogue. The restoration work is fantastic considering the age of the film and I would snatch it up in a minute if it were ever to be released on DVD.  It may be on DVD later, but before then it will screen at KOFA on May 9th. If you are in Seoul, I urge you to go watch it!