19th October 2011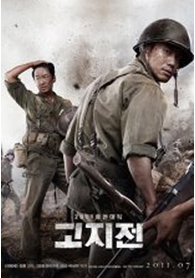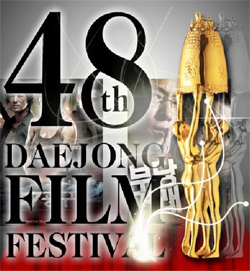 This past Monday, the 48th Daejong (which means Grand Bell) Film Festival was held in Seoul. Not really a film festival at all, it is actually an awards show akin to the Academy Awards, giving out prizes to the best domestic films.  Winning the grand prize for 'Best Film' was the epic war movie pictured right, Frontline. It faced some stiff competition though from Unjust, Sunny, War of the Arrows and Yellow Sea. But, although Frontline won first place, it's director, Jang Hoon, did not win the title of Best Director.  Instead, that went to the director of Sunny, Kim Hyeong-cheol.  The award for Best New Director went to Yoon Seong-hyeon for his film Bleak Night. Actor Won Bin one the "Toyota Most Popular" Award and veteran actor Lee Dae-geun was given a lifetime achievement award.  Actually, the night was filled with veteran actors and actress being nominated for prizes, which was nice to see. Below the nominees and the winners for the best/supporting and new actors and actresses.  Let's start with the ladies…

The prize for Best New Actress went to Moon Chae-won for her role in War of the Arrows which is still in theaters as of this writing.  Personally, I might have gone with Kim So-ra in this case for Sunny but I really have to wonder how Shin Se-kyeong made this list.  She was in the film Hindsight which is not a film I recommend…

The Award for Best Supporting Actress went to Shim Eun-kyeong for Romantic Heaven.  I have to take their word for that as I have not yet seen this movie.  She must have done an excellent job because the other actresses were all quite good in their parts, especially Kim Soo-mi in Late Blossoms and Kim Ji-yeong in The Last Blossom. (that is not a typo– they are different films with similar titles).

The Grand Bell Movie Awards declared Kim Ha-neul the Best Actress for her part in Blind. Also nominated for the prize were Bae Jong-ok (The Last Blossom), Kim Hye-soo (Villain and Widow), Choi Kang-hee (Petty Romance) and Yoon So-jeong (Late Blossoms).

Now for the men.  The award for Best New Actor went to Lee Je-hoon for his work in the movie Bleak Night… as opposed to his work in Frontline which earned him a second nomination.  Jang Gi-beom was on the list for Glove, Yoo Yeon-seok for Re-Encounter and Kim Hwan-yeong for Ryangkangdo: Merry Christmas, North! which, to the best of my knowledge has not yet opened in theaters outside of film festivals. Maybe closer to the holidays?

The trophy for Best Supporting Actor was awarded to Jo Seong-ha for the action/thriller Yellow Sea. I admit that movie has grown on me and deserves to be looked at without comparing it to the director's previous film (Chaser).  Yoo Hae-jin is also a very talented actor and I would not have minded if he had won this prize as well.

Finally, Park Hae-il won the prize for Best Actor due to War of the Arrows.  (I am very happy they changed the English title from Arrow: The Ultimate Weapon that KOFIC had originally listed on its website).  Lee Soon-jae was nominated for his work in Late Blossom, former G.O.D. member Yoon Gye-sang was listed for Poongsan, Cha Tae-hyeon for Hello, Ghost and Kim Yoon-seok for Yellow Sea.