22nd January 2012
Happy New Year! It is now the Year of the Dragon… The Water Dragon to be precise. Here are the characteristics of anyone born in this year: 
THE WATER DRAGON 1952 AND 2012: Water has a calming effect on the Dragon's fearless temperament. Water allows the Dragon to re-direct its enthusiasm, and makes him more perceptive of others. These Dragons are better equipped to take a step back to re-evaluate a situation because they understand the art of patience and do not desire the spotlight like other Dragons. Therefore, they make smart decisions and are able to see eye-to-eye with other people. However, their actions can go wrong if they do not research or if they do not finish one project before starting another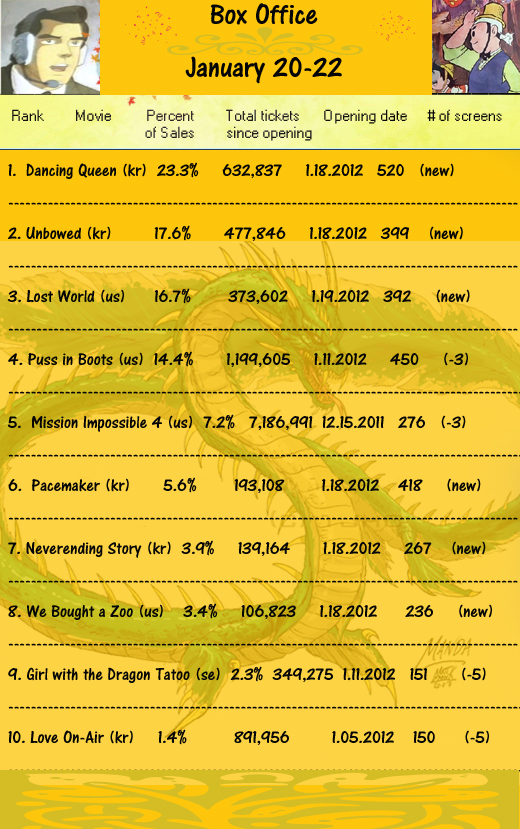 "New" would be the word to describe this weekend's box office. There were a lot of new films that did quite well.. and will continue to do well for the next two days as the holiday runs through Tuesday. Taking the top is the political romantic comedy Dancing Queen. The former number one film, Puss In Boots, fell to number four in the face of so many new movies, landing behind Ahn Seong-gi's Unbowed and the all-ages adventure film Lost World….. oh, wait a minute… I realized I just translated the movies title from Korean to English and wrote that in the above list (it translates as The Lost World). But a quick check just confirmed that the title is The Mysterious Island.  I will remember that for next week when I do the chart. Mission Impossible has been doing very well and now has over 7 million viewers.
 oh– I should give credit to wikikaiju (yes there is such a thing) and artist Matt Frank for the rendition of Manda the Water Dragon from the film Atragon (1963)