27th November 2009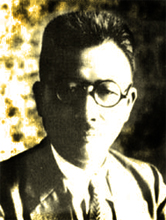 Originally posted October 31, 2007—Yoon Baek-nam has often been called the Father of Korean Cinema despite evidence pointing to the fact that the release of his first known film, The Vow Made Below The Moon, was preceded by Kim Do-san's first true movie, The Border, by three months.  However, While Kim Do-san was certainly very active in the world of theater and kinodramas–producing, directing and appearing in three in 1919 alone–he was less active in the world of film (mostly likely because of his early death in 1921).
Yoon Baek-nam was born in Seoul on October 4, 1888 as Yoon Gyo-joong. It would not be until much later that he would adopt the pen name 'Baek-nam'. From an early age he and his two brothers were schooled by their father in traditional Chinese literature and Korean history. He enjoyed studying and, while attending school in Seoul, he developed a passion for journalism and foreign languages, proving especially adept at Japanese.  His dream of furthering his studies seemed likely to come to an end in 1902 when, at just 14 years old, Yoon was compelled to enter into a marriage arranged by his parents years earlier. 
Although he complied with his parents and went through with the ceremony, Yoon was unwilling to give up the education he passionately wanted. Not long after his wedding, Yoon secretly stowed away on a ship to Japan. Without tuition and without his parents' knowledge, he found a way to enrol in a school in Fukushima. The following spring, he heard that is older cousin had arrived in Tokyo to study engineering. They met and his cousin agreed to support Yoon's continuing education. He co-signed a grant that Yoon believed would allow him to enter Waseda University as a Political Science major.
Unfortunately, that was not to be. The grant Yoon received did not allow him to study Political Science and he was forced to transfer to the Hitosubashi School of Business. Although it must have seemed like a huge setback at the time, it was the best thing that could have happened for Korean cinema because it was there that Yoon met a man who would assist him greatly in getting started in movies, his life-long friend Koichi Mori.  The two kept in close contact after they graduated and Yoon returned to Korea in 1909. It was on Mori's recommendation that Yoon secured his first job in a management position at Shiksan Bank. He could not keep that job for long though because, just prior to the annexation of Korea by Japan, the Korean bank employess were forced to give up their jobs. Yoon took another job as a reporter for the Maeil Daily Newspaper.
In 1912, Yoon became involved with some other people who had studied in Japan and who were creating a group of theater players. They dubbed themselves The Munsuseong Troupe and worked on translating Japanese literature and scripting their first play, Bulyeogwi, which they performed on March 31, 1912. This was rapidly followed by three other plays. However Yoon and writer Jo Il-je (whose later works would frequently be made into movies in the early days of Korean cinema) became increasingly interested in the newly emerging styles of theater and art. They left Munsuseong Troupe together in 1914 to return to Japan to study. The troupe disbanded after their departure.  When Yoon returned to Korea, he took a job as a reporter at Donga News and started working on his life in the theater with gusto, translating Chinese and Japanese literature and plays for the Korean stage. Eventually, he published his own dram, Destiny, in 1921 and it was performed for audiences by the Minjoong Players. Several other of his plays were performed publically as well.
About the same time, Yoon became interested in finding a way to make a movie. The Shiksan Bank had some money put aside as part of an investment plan with the sole purpose of financing a movie-picture. Koichi Mori once again assisted his friend and secured the funds for him to make a film. Yoon's contemporary, the famous director Ahn Jeong-hwa, mentions in his book, The History of Korean Film (1962, Chunchaguk Publishers, p.57) that Yoon Baek-nam mobilized the Minjoong Players and together they produced a light comedic drama. However, no other written record of this film exists and even the name of this film remains unknown. 
The earliest confirmed film made by Yoon therefore remains The Vow Made Below The Moon which, with Mori assistance, was allowed by the authorities to be screened. That was all the start Yoon Baek-nam needed. In 1925, he directed two more films, this time for the Fusan (now Busan) Chosun Kinema. These were The Story of Woon-yeong, a tragedy about a lady of the King's court who falls in love with a poet, and an action movie called The Hero of a Small Village.  Yoon also established the Yoon Baeknam Production Company and funded director Kim Kyeong-son's The Story of Shim Cheong that same year.
He directed his last film in 1930 called Justice Wins and later that same year he wrote the screenplay of The Challenge which was directed by Kim So-bong.  However, in 1933, as the oppression of the Korean people grew, Yoon Baek-nam left Korea to live in Manchuria where he remained until Korean independence was achieved.
When he returned in 1946, he became a professor at Gukmin University. Later, at the outbreak of the Korean War, Yoon went to serve as a lieutenant in the Navy where he was made the section chief of press reports and public information.  After the war, he returned to education, this time as the first president of the Sarabul Arts School in 1953.
Yoon Baek-nam passed away on September 9, 1954.