12th October 2009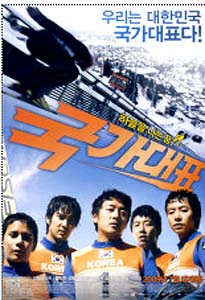 Originally posted on August 6, 2009—I had thought that Haeundae would be the highlight of the summer movies. I was wrong. Last night I watched Take Off and I have to admit that I liked it. I knew from word-of-mouth and reading reviews in magazines like Cine21 that it was good, but I was surprised to find how much I enjoyed the film.  While watching the film I ran the gambit of emotions–from sadness to joy and from suspense to fear.  Director Kim Yong-hwa (200lb Beauty, Oh Brothers) managed to find the balance between comedy and drama–neither one outweighing the other. The camera angles draw you in, especially during the competitive ski jumps, and the really help you imagine what an athlete must feel poised alone at the top of a steep hill where one mistake could mean the difference between life and death.
I will keep this review short and spoiler-free as the movie is still in theaters.
Actor Ha Jeong-woo continues to impress and has secured his place as a top actor in Korean film. Here he plays a Korean adoptee returning to the country of his birth to find his mother who gave him and his sister up decades earlier. His character, Cha 'Bob' Hyeon-tae, feels more than a little like a man without a country.  His inner confusion manifests itself in a variety of ways, most commonly making him standoff-ish from his teammates. He is also confused on how he wants to deal with his mother–on the one hand, he is still bitter from being abandoned long ago but on the other, he wants to understand her and help her escape from the hardships she is undergoing.
Although Hyeon-tae's issues could easily weigh down the movie and make it pure melodrama, the other characters provide a little levity into the scenes–even though each of their family situations is equally as difficult as Hyeon-tae's–if not worse. And each of these characters gets a moment to shine. Most surprising to me was the scene in the bar that changed Heung-cheol (Kim Dong-wook) into a character I could respect. This was done not by transforming his personality into something new and more palatable, but rather through revealing a deeper level inside the already existing character- like what happens in life as you get to know someone.  However the most touching, exciting and fear-inspiring part of the film involved young Bong-gu (Lee Jae-eung). Although often used for comic relief–Bong-gu has one of the most dramatic parts of the movie.
All the characters are memorable in their own way–from the sultry, quick-witted Su-yeon (Lee Eun-seong) to a cameo appearance by Kim Su-ro. The story is exciting and paced well and the camerawork is excellent. All-in-all, Take Off earned  4 1/2 out of 5 stars.   It is well worth your time to see it…maybe even twice!