2010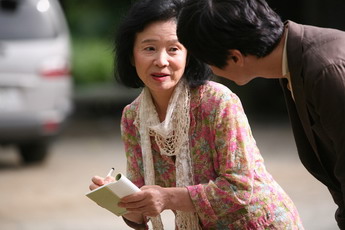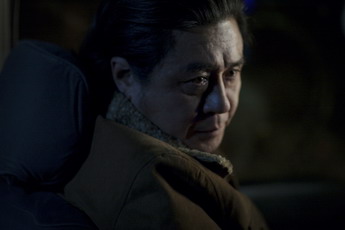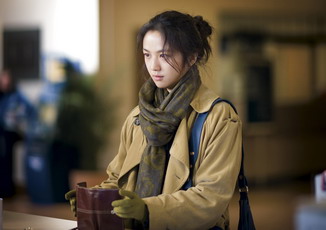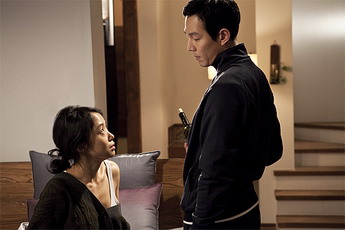 "Poetry",  "I Saw the Devil",  "Late Autumn",  "The Housemaid"

   The year 2010 opened with some positive signs for Korean cinema, but there were still few people smiling at the overall state of the Korean film industry. Commercially at least, producers could point to a number of recent successes to justify the claim that local audiences were still interested in Korean films. The spy drama Secret Reunion, for example, pulled in well over 5 million admissions after its Lunar New Year release. And although well told commercial stories have always done fairly well at the box office, even the melodrama Harmony, notable only for its utter lack of restraint in manipulating its audience, managed to pass the 3 million missions mark.
Looking ahead, there is a strong masculine slant to the films slated for release in the next year or two. Thrillers and war movies will be the dominant genre, with comparatively fewer comedies, horror films and romantic dramas. Partly as a result, male stars are in strong demand while there are very few roles available for actresses. Some of the bigger projects in the pipeline include a grisly new thriller from Kim Jee-woon titled I Saw the Devil, Na Hong-jin's follow-up to his acclaimed debut The Chaser, a new period drama from King and the Clown director Lee Joon-ik, a big budget comic book adaptation from director Kang Woo-suk, and a remake of the 1960 classic The Housemaid by Im Sang-soo and starring the great actress Jeon Do-yeon. Smaller scale works that will likely receive wide festival exposure include Lee Chang-dong's Poetry, the 101st film by Im Kwon-taek, and a remake of the 1966 classic Late Autumn to be shot in the US by Kim Tae-yong and starring Chinese actress Tang Wei.
The open question is what will happen to low-budget filmmaking, which in 2009 provided Korean cinema with some of its strongest titles. There is as much directorial talent available as ever, however the government under President Lee Myung-bak has adopted an increasingly hostile stance towards independent filmmaking. With funding evaporating and important distribution channels being shut down, independent cinema will largely have to get by on its own for the near future. Motivation is in no short supply, but with the scaling back of more practical assistance, this year will probably not produce the riches of 2009.    (written on March. 28)
     Reviewed below:     The Fair Love (Jan 14)  --  Secret Reunion (Feb 4)  --  Secret Love (Mar 25)  --  Happy Killers (Apr 8)  --  Blades of Blood (Apr 28)  --  HaHaHa (May 6)  --  Poetry (May 13)  --  My Dear Desperado (May 20)  --  The Servant (Jun 2)  --  The Man from Nowhere (Aug 4)  --  Enemy at the Dead End (Aug 26)  --  Bedevilled (Sep 2)  --  Cyrano Agency (Sep 16)  --  Oki's Movie (Sep 16)  --  The Uninvited (Sep 30)  --  The Recipe (Oct 21)  --  Secret Romance (Oct 21)  --  The Unjust (Oct 28)  --  No Doubt (Nov 4)  --  Haunters (Nov 10)  --  Festival (Nov 18)  --  Villain and Widow (Nov 18).
The Best Selling Films of 2010  (admissions to January 13, 2011)

| | Korean Films | Nationwide | Release | Revenue |
| --- | --- | --- | --- | --- |
| 1 | The Man from Nowhere | 6,228,300 | Aug 4 | 47.10bn |
| 2 | Secret Reunion | 5,461,540 | Feb 4 | 40.15bn |
| 3 | Moss | 3,379,131 | Jul 14 | 25.44bn |
| 4 | 71: Into the Fire | 3,358,960 | Jun 16 | 23.83bn |
| 5 | Harmony | 3,045,009 | Jan 28 | 21.64bn |
| 6 | The Servant | 3,014,523 | Jun 3 | 22.49bn |
| 7 | The Unjust | 2,751,185 | Oct 28 | 21.00bn |
| 8 | Cyrano Agency | 2,710,000 | Sep 16 | 19.85bn |
| 9 | Hello Ghost | 2,406,812* | Dec 22 | 17.40bn |
| 10 | The Housemaid | 2,289,709 | May 13 | 17.04bn |
| | All Films | Nationwide | Release | Revenue |
| --- | --- | --- | --- | --- |
| 1 | The Man from Nowhere (Korea) | 6,228,300 | Aug 4 | 47.10bn |
| 2 | Inception (US) | 5,872,548 | Jul 21 | 43.40bn |
| 3 | Secret Reunion (Korea) | 5,461,540 | Feb 4 | 40.15bn |
| 4 | Iron Man 2 (US) | 4,451,760 | Apr 29 | 32.63bn |
| 5 | Moss (Korea) | 3,379,131 | Jul 14 | 25.44bn |
| 6 | 71: Into the Fire (Korea) | 3,358,960 | Jun 16 | 23.83bn |
| 7 | Harmony (Korea) | 3,045,009 | Jan 28 | 21.64bn |
| 8 | The Servant (Korea) | 3,014,523 | Jun 3 | 22.49bn |
| 9 | Salt (US) | 2,895,706 | Jul 29 | 21.36bn |
| 10 | Harry Potter and the Deathly Hallows: Part 1 (US) | 2,801,631* | Dec 16 | 19.70bn |
* Includes tickets sold in 2010.  Source: Korean Film Council.


Seoul population: 10.4 million
Nationwide population: 50.5 million

Market share:   Korean 46.6%, Imports 53.4%
Films released:   Korean 140, Imported 286
Total admissions:   146.8 million
Number of screens:   2003
Exchange rate (2010):   1156 won/US dollar
Average ticket price:   7834 won
Exports to other countries:   US$13,582,850 (Japan: 17%)
Average budget:   2.2bn won including 0.8bn p&a spend

Hyung-man (Ahn Sung-ki) is a man in his 50s who leads a lonely, ordered life. He runs a small camera repair shop, and his mastery of this intricate skill draws customers from across the city. He also has a talent for photography, though for him it's more of a hobby than a vocation. He's still single, in fact he has never even dated a woman before. If the world were more fair he would be materially secure, but years earlier one of his best friends took his life savings and ran off. Since then, his life has never been the same.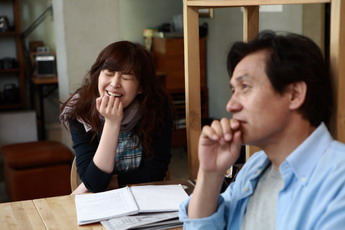 Therefore he is stunned and flummoxed when his former friend summons him to his deathbed for an unconvincing apology and, on top of that, a request. The man's daughter Nam-eun (Lee Ha-na), now in her 20s, will be alone after he is gone. Would you please stop in every once in a while and check on her, the friend asks. Hyung-man feels rightly that he owes his friend nothing. But the daughter has done him no wrong, and eventually he knocks on her door.
I think it's fair to say that the one line summary of The Fair Love -- a man in his 50s and a woman in her 20s meet, fall in love, and start a relationship -- is not for most viewers especially appealing. (Excepting, perhaps, fifty-year-old men!) But the 34-year-old independent director Shin Yeon-shick (A Great Actor, 2005) presents his story in a thoughtful, nuanced way that encourages you to consider this relationship with an open mind. In some ways you could call this film a love story, in other ways a comedy, but most of all it's simply a portrait of two lonely people and how they choose to deal with the emptiness in their lives. Thanks to two great acting performances and the director's compassionate viewpoint, the story leaves a lasting impression.
The film's first half is particularly memorable, when it introduces us to the characters and the everyday spaces they inhabit. There is something about the camera repair shop -- its myriad tools and objects, and the interactions between the people who work or hang out there -- that is quietly fascinating. There's something that draws you in to Nam-eun's home as well, as empty and ordinary as it is. Most of all, it is the scenes when Hyung-man and Nam-eun are getting to know each other that stick in the mind. There is a subtle energy and tension between these two characters that many melodramas try, and fail, to create. Lee Ha-na's performance, and some well-written dialogue, deserve much of the credit.
The second half presents more of a narrative challenge. What at first strikes us as an unconventional or bizarre coupling eventually comes across as ordinary, as we get to know the two of them better and adopt their perspective. Hyung-man starts to feel and even act like a teenager in love (exhilarating for him, awkward for the viewer). But ultimately they are a couple like any other. The Fair Love retains a realist perspective as it moves towards its conclusion, but the film itself, which felt so fresh in the opening reels, ends on a more conventional note.
The title of this work (in Korean it is simply a transcription of the English) refers not to the "fair" of My Fair Lady, but to the saying, "All's fair in love and war." It's an awkward and thought-provoking title which well reflects the character and strengths of the film as a whole. Is their relationship fair? Are they being fair to each other, and is it "fair play" in terms of society's rules? It's to the film's credit that it never fully answers these questions.      (Darcy Paquet)

    Secret Reunion
Secret Reunion opens with a lengthy, exciting prologue before getting to the heart of its story. Ji-won (Gang Dong-won) is a North Korean spy living incognito in Seoul. Although with his stylish appearance he looks just like any other young member of capitalist society, he misses his wife and yearns to return to the North. For his last mission he is called upon by an older spy to take part in an assassination attempt on a former colleague who has switched sides. At the same time, a South Korean intelligence agent named Han-gyu (Song Kang-ho) catches wind of the plot and sets off on a reckless chase to apprehend the would-be assassins.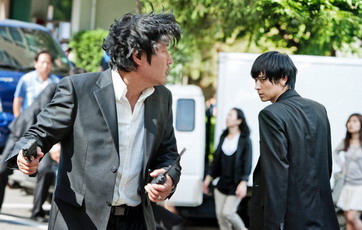 In these opening scenes you sense at once the strengths of this film. The pace is brisk and there are many things happening at once, but it is so smoothly directed that each twist in the narrative remains clear. The main characters are given depth by a screenplay that highlights their vulnerabilities and presents them with hard moral choices. It is at turns exciting, funny, suspenseful and sad. Later the action will skip ahead six years, when the two lead characters meet up again under very different circumstances. In this longer segment it's pretty easy to guess where the story is headed, but the film's confident execution and memorable details make it easy to ignore this and just enjoy the ride.
Secret Reunion is a very successful second outing for the young director Jang Hun, who began his career as an assistant to Kim Ki-duk and then made his debut in 2008 with the commercial and critical hit Rough Cut. That film, although smaller in scale, is perhaps more innovative and thought-provoking. Secret Reunion was intended to be a more commercial endeavor from the start, but the fact that it was such a hit with audiences (over 5 million tickets sold) should be enough to push Jang's career into the fast lane. Surely we will be hearing more from him in the near future.
Of course, it will surprise no one to hear that one of the key reasons to watch this film is the performance by Song Kang ho. He portrays Han-gyu as someone pulled in several different directions at once. Although he's not above cheating a bit to get ahead, his conscience continues to follow him around, even if he doesn't acknowledge it outwardly. It's not a major departure from his previous roles, but Song's ability to express himself with his body and his masterly control of his voice keeps the performance fresh. His pairing with Gang Dong-won also seems to have helped the latter turn in an especially engaging and charismatic performance. However in some ways the actor who most stole the limelight was Goh Chang-seok (Director Bong in Rough Cut) who plays a Vietnamese gang boss. Although surely it will be obvious to native speakers of Vietnamese that this is a Korean actor, many local viewers were fooled, at the same time as Goh's delivery and comic timing produced storms of laughter.
Local commentators have noted this film's resemblance to a string of earlier big-budget North Korea-themed blockbusters that scored big at the box office (especially Shiri, JSA, Silmido, Taegukgi, and Welcome to Dongmakgol). Like the earlier works, Secret Reunion includes humanistic portrayals of North Korean characters and focuses on individuals caught in the middle of powerful, impersonal political forces. But this film is on a refreshingly smaller scale, restricting itself to just two protagonists and devoting more time to characterization. The ending may not contain any strong insight into Korea's unique political situation, but the film's characters will endure.      (Darcy Paquet)

    Secret Love
Let's take a look at the opening of Secret Love, shall we? A woman shows up in an airport, to greet her husband's brother. She does not know what he looks like. To her big surprise, the brother is an exact replica of her husband. Yup, they turn out to be twins.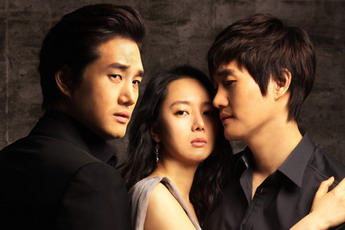 I know what you are thinking. No matter how reckless and rushed the marriage might have been, it is beyond unlikely that she would not know her husband-to-be has a twin brother. Even if he had tried to hide this fact from her, there would be so many ways in which critical information like this would have naturally leaked to her. To say "it strains credibility" is an understatement. And yet, the filmmakers insist that they put in this boneheaded "surprise encounter" scene. What for? So that Yun Jin-seo (Oldboy), playing the wife, could prettily swoon on camera?
From there the movie defines itself into an overblown melodrama revolving around the twins. Now, this in itself is not a problem. It is obvious that director Ryoo Hoon (or screenwriter Kwon Ji-yeon, see below) consciously chose this melodramatic approach in order to tackle a rather abstract thesis about love, which can be summarized into a question, "If I genuinely love someone, what are the reasons for this love?"
Secret Love is, in a nutshell, a story of a woman who falls in love with two outwardly identical men (both played by Yoo Ji-tae, One Fine Spring Day). While the older twin, her husband, lies in a hospital, comatose due to an accident, his younger brother, who missed out the wedding ceremony due to a different accident, returns from Canada. To add insult to injury, both brothers are hiding other secrets from her, making her life even more complicated.
Secret Love could have been a fun film, but clever ideas can get you only so far. To begin with, the protagonist's psychologies as well as the events that render their behaviors understandable are not depicted in any sensible way. In a strange situation like this, to illustrate the attraction between the woman and the younger twin in an even half-convincing manner must require a delicate tuning process. Instead, the audience is regaled with music video montages. A woman sobbing uncontrollably next to a gravely sick husband is, in the next moment, spending some intimate time in a countryside bed & breakfast with her brother-in-law. How did she get from Point A to Point B? We are not sure, as the film never bothers to explain the process involved in the maturation of the relationship.
Meanwhile, the movie's theme begins to separate like a spread of oil slick in the swimming pool from the rest of the movie. It is impossible not to get what the filmmakers are trying to say, as most of the key dialogues are loud, bald declarations of this theme. The whole presentation is so crudely done that we begin to suspect that the filmmakers came up with the theme and the story to explain the four sex scenes they had already filmed.
Given this situation, the actors, attractive as they are, tend to fall victim to the stilted and awkward dialogues. Yun Jin-seo's monotone speech pattern, combined with all this nonsensically declarative stuff she has to mouth, has the effect of making her sound like a grade-schooler competing in a spelling bee contest. Not the most technically accomplished actress, she gets zero help from the director in this regard. Yoo Ji-tae clearly wanted something more challenging than usual, but playing two utterly boring characters probably was not that much more of a challenge than playing one utterly boring character. By the latter half of the movie, you begin to wish that the protagonists get run over by a train, so desperately annoying and turgid they become.
In the spirit of fairness, I must inform the readers that the movie suffered through a change of hand at the helms. Kwon Ji-yeon had started directing his screenplay but pulled out from the project citing "health-related reasons." Yun publicly claimed that it was like performing in two completely different films for her, and confessed that she had "creative differences" with Ryoo over her role. However, there is no real evidence that the Kwon Ji-yeon version would have been clearly superior to the current version. In any case, the audience is given only one completed movie. And it's not good, in any way you slice it.       (Djuna, translated by Kyu Hyun  Kim)

    Happy Killers
Happy Killers is based on a mystery short written in 2005 by Seo Mi-ae. It concerns a man in pursuit of a serial killer whose MO involves committing one murder every rainy Thursday. The protagonist is a former hobo, having lost everything due to a business failure. The viewers soon learn that he has personal reasons for tracking down the killer.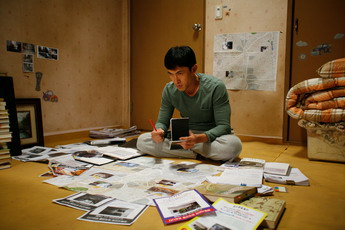 The short story is not a bad source material, except that it would have been more suitable for a short film, about the length of an episode of Alfred Hitchcock Presents. Turning it into a theatrical feature should have cost a lot of efforts. New subsidiary plots had to be added and the ending given an expanded meaning: otherwise the ending that arrived at the exact right moment in the original would have felt limp and devoid of urgency. For these reasons, I can appreciate the difficulties the screenwriter-director Kim Dong-wook must have had in adapting this short story. What I cannot appreciate is the outcome of such adaptation.
How wrong-headed was it? First of all, the movie belongs to a different genre. The original story is a dark, melancholic mystery: the filmic adaptation is a comedy. That's right, a comedy featuring a serial killer. Now, there is nothing wrong with the idea itself. A narrative can sometimes flourish once it made such an absurd turn. However, what really makes such seemingly absurd choices work is not so much your narrative skills but your attitude. The storyteller must be aware that if the viewers were to take seriously the fictional set-up in which six women are brutally slaughtered, his gaze toward the victims should be invested with at least some amount of genuine emotion. It does not necessarily have to be sympathy, compassion or horror. It could be other types of emotion, tougher to accept for the viewers: the important thing is the minimum attention paid to the victims. In this film, however, nobody cares: the victims are indifferently tossed around as background props to unfunny comedic skits. Call me moralistic or whatnot, but I find this attitude abhorrent.
For the same reason, I find the slacker cop Jeongmin (Kim Dong-wook, not the director), the new protagonist added by filmmakers pushing aside the original's main character, Young-seok (Yu O-seong, The Champion), decidedly unpleasant. He is studying for a public official qualification exam and thus only half-serious about his duties as a cop, but we are not watching this movie to learn about his private life or his degree of professionalism. He has forfeited himself as a reliable hero when all he cares about is taking petty revenge against Young-seok, who publicly accused him of a misdemeanor, while literally treating the victims of the serial killer like used soda cans strewn on the sidewalk. I am sorry but being a central character in a comedy does not mean that he has to be so relentlessly shallow.
The movie itself is teeth-gnashingly boring. As I said, it pays little attention to the victims, which is not only an ethical problem but also reflective of the fundamental confusion in construction of the drama. For close to one hour, the movie keeps following the everyday antics of Young-seok, Jeong-min and Young-seok's daughter, Harin (Shim Eun-gyung, Possessed). Except for a few stabs at certain ultra-conservative newspaper, the so-called jokes range in quality from ho-hum to intolerable.
Apprehending the serial killer becomes a serious issue only after the mid-point. But don't get your hopes up, the Seo Mi-ae story does not get suddenly revived to make the movie exciting. It's way too late for that. You cannot spend more than one hour blubbering about some unrelated stuff, then jump into the real story, and expect the viewer's attention to remain riveted. And of course, whatever suspense or thrill left over from the original is relentlessly dismantled by Detective Jeong-min, a pointless character if there ever was one. My final question is why the filmmakers bothered to purchase Seo's story in the first place. Had they intended from the beginning to make it into a comedy, or was it a desperate measure for those suffering from creative bankruptcy? Is it only me who thinks Seo's honest reaction to this adaptation would be on the line of, "Where is my story, you blockheads?!"       (Djuna, translated by Kyu Hyun  Kim)

    Blades of Blood
Even though my day job is teaching history, I am not a stickler for historical accuracy in a motion picture. Filmmakers do have rights to exercise their "dramatic license" when called for, as certainly have the artists working in other art-forms. Having said this, the liberties filmmakers take on the "real" history can range anywhere from seriously misguided (Mississippi Burning's treatment of FBI agents as heroes uncovering racist conspiracies during the civil rights movement, a choice nonetheless famously defended by Roger Ebert) to nakedly propagandistic (Oliver Stone's JFK, not to deny that it is a piece of virtuoso filmmaking) to perversely creative (Tarantino's Inglourious Basterds, in which Adolf Hitler finally gets what was coming to him). Sometimes the filmmakers sanitize or romanticize what in history appear to be rather sordid or at least troubling affairs (multiple cinematic versions of Mayerling come to mind) but occasionally their painstaking efforts to recreate the past manage to surpass those of professional historians and journalists in their insights. After watching, say, Ang Lee's Ride with the Devil, any big Hollywood Civil War movie focusing on the larger-than-life Southern generals nobly suffering while grey-uniformed soldiers fall down like autumn leaves around them may appear positively cartoonish.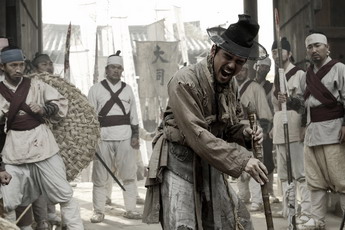 Setting an extravagant martial-arts action movie in the Joseon dynasty Korea inevitably concedes a certain level of historical distortion, given the firmly civilian nature of the Joseon court and its society, but that should not mean that genre considerations sometimes cannot be given primacy over reality. After all, the real gunfight at the OK corral was, as one historian put it, closer to a '90s drive-by shooting than a Western duel, and the majority of the late Tokugawa samurai were paper-pushers who probably had troubling chopping radishes with their swords, much less cutting down opponents in a single stroke.
Blades of Blood, based on a well-known 1994 graphic novel by Park Heung-yong, is set immediately before and during the first wave of Hideyoshi's invasion of Korea in 1592. Director Lee Jun-ik messes with the time-line even more radically than the original comic, forcing the 1596 revolt led by illegitimate rebel Lee Mong-hak (Cha Seung-won) to take place four years earlier, almost reversing the causal relationship between the Hideyoshi's invasion and the revolt. Lee and the screenwriter team Jo Cheol-hyun, (Possessed) Choi Seok-hwan (Sunny) and O Seung-hyun clearly wanted to argue that the Joseon dynasty court pretty much invited the Japanese invasion, and portray King Seon-jo (played by the rocker-singer Kim Chang-wan), who in real life was a substantial scholar of philology, capable of debating academic points with some of the greatest Confucian scholars of Korean history including Yi Yi, as an idiot full of hot air surrounded by equally venal yangban ministers. Indeed, the filmmakers consciously buck the current trend of making the dialogues in period pieces more elaborate and authentic, and make the characters, including the king, speak in short bursts of contemporary colloquialisms. It's not quite Hamlet intoning, "Yo, Horatio, there be things in uptown and downtown y' know nuthin' about, man," but is still a pretty poor choice. Instead of giving the character's voices immediacy, this strategy tends to make most of them sound vaguely constipated.
Cha Seung-won and Hwang Jeong-min are such great actors that the thespian sparks generated by them more than compensate for director Lee's weak choices in depicting the swordfights, relying on boring slow motions and sudden zooms. Still, Cha and Baek Seong-hyun (Jo Seung-woo's brother in Marathon) are dragged down by the heavily allegorical roles they are stuck with, the latter's revenge campaign against the former taking on the metaphor of the post-'80s-born Korean young struggling under the thumb of the sanctimonious "386" generation. Only Hwang's blind swordsman Jeong-hak is able to slash through the embarrassingly arch dialogues and schematic characterization and draw the viewers into his charismatic performance. Lee's idea of a "progressive" woman character, here Mong-hak's courtesan lover Baek-ji (Han Ji-hye), is to make her speak in cherry-pit-spitting monosyllables: otherwise she might as well be a set decoration, having zero chemistry with either Kyun-ja or Mong-hak.
Technically, Blades of Blood is satisfactory if not startlingly original: Kang Seung-yong's production design makes good use of real locations, while Kim Sang-beom and Kim Jae-beom's editing effectively wrangles crowded action scenes.
Like other recent Lee Jun-ik films, Blades of Blood is competently made but lacks true inspiration. The patented Lee strategy of "contemporization" of the period piece might have worked in King and the Clown and most notably Once Upon a Time in a Battlefield (which may still be Lee's best feature) because they were genuine satires. As soon as Lee begins to take his politics seriously, however, we realize that his approach is basically not that different from that of the old period piece dramas we used to see in TV, shoving their holier-than-thou political and moral lessons down the viewer's throat at the expense of respecting the integrity of the actual past lives. Blades of Blood is not much fun, but it also has little to tell us about the 16th-century Korea, other than that Korea's early modern past is still likely to be seen through the shallow prism of "political relevance" from today's artists.      (Kyu Hyun  Kim)

    HaHaHa
As a director known for his repetition of themes, actions, and dialogues, Hong Sangsoo's 10th film HaHaHa is about as appropriate a title with its repetitive laugh as the cycle of coming and going envisioned by the truncated title of Hong's fourth film, Turning Gate. In fact, since Turning Gate, it's as if Hong has been making installments of one long film cycle, or more so, chapters of a larger philosophical treatise that turns onto itself like a Mobius strip or Ouroboros.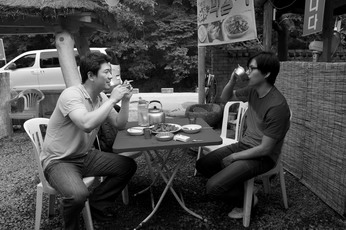 Actress and actor returning from Turning Gate are both Yeh Ji-won and Kim Sang-Kyung, Kim making his third appearance in a Hong film after Tale of Cinema. In the interview published in the Korean Film Council book on Hong Sangsoo, Hong says he prefers to work with new actors, and although there are new actors and actresses in this film, (such as Kim Gyu-ri, Kim Kang-woo, and the incomparable Moon So-ri), the addition of two more returning thespians in Hong's oeuvre (Gi Ju-Bong and briefly Kim Young-ho, both from Night and Day), we need to question that claim. Personally, I love the confusion such actor reappearances cause, because it adds to the doubts of recall and authenticity that propel Hong's work in the constructed memories of my mind.
Hong fans will not be disappointed with HaHaHa because Hong refuses to trade in many of his usual tricks, such as characters not knowing they are in the same place at the same time or an object (this time a hat) that floats from one character to another or the initial teasing of trips to the yeogwan (love hotel) where a character disengages at just the last moment. More recent additions to Hong's style, such as character narration and awkward camera zooms, continue in HaHaHa as well. Yet there's enough subtle new features that can keep the Hong veteran from getting bored, if boredom is even a possibility for Hong followers.
Particularly new is Hong's choice to structure the film around a conversation over food and drink. Yes, drinking and eating are not new to Hong's films. They are the very ingredient that would need to be taken out to negate the film's standing as being a Hong film. HaHaHa even has two characters drinking at breakfast! What's different here is Hong has this narrative-structuring, drunken meal occur in black and white still photos. Our two main characters, Jo Moon-kyung (Kim Sang-kyung) and Bang Jong-sik (Yu Jun-sang), are taking turns telling a story of their recent escapades at romance in Tongyeong, announcing a Gun Bae! (or 'Cheers!') at every interval they can muster to break up the story. Moon-kyung's story involves his stalking of a romantically-resistant museum guide, Yang Seong-wook (Moon So-ri of Oasis and A Good Lawyer's Wife), who is in a relationship at the time with part-time poet Kang Jung-ho (Kim Kang-woo of Silmido and The Aggressives). Gun Bae! Jung-ho is ambivalent about Seong-wook because he is also considering the romantic option of government official (and possible spy) turned waitress No Jung-hwa. (Jung-hwa is played by Kim Gyu-ri, previously known as Kim Min-sun from such films as Memento Mori and A.F.R.I.K.A until she legally changed her first name in 2009 to a childhood nickname.) Gun Bae! When married Jong-sik takes his story-telling turns to speak of his own ambivalence towards his flight attendant girlfriend Ahn Yeon-joo (Yeh Ji-won), we find out he is friends with Jung-ho, and by extension knows Seong-wook. Gun Bae! But neither Moon-kyung nor Jong-sik know these connections. Nor does Moon-kyung know that Seong-wook is a regular at Moon-kyung's mother's globefish (which in Korean is "bok" but Western viewers might know this fish better by its Japanese name, the poisonous if not prepared properly 'fugu') restaurant, where Jung-hwa works. Gun Bae! Moon-kyung's mother (the veteran actor Yoon Yeo-jung from Kim Ki-young's classic The Insect Woman to the remake of his classic The Housemaid by Im Sang-soo) further complicates characters by insisting that everyone call her mom. Gun Bae! With a plot like that, I think the audience might need as many drinks as Hong's characters. Gun Bae!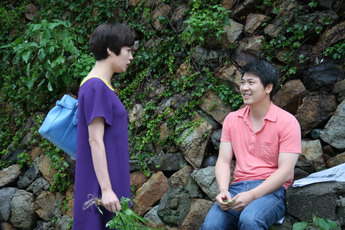 The pleasures of Hong's films are many, but lately I've been thinking about how they are modern travelogues throughout the various locales of the South Korea peninsula. HaHaHa takes us on a trip to the southern coast city Tongyeong in South Gyeongsang Province. This city used to be known as Chungmu, the posthumous name of the great Admiral Yi Sun-sin of the Joseon Dynasty. Tongyeong, or 'command post', became its new name and the city has since tied its significance as a tourist spot around Admiral Yi's legacy since his primary headquarters were located on nearby Hansan Island, towards which some of our characters take a ferry early on in the film.
Admiral Yi is a national hero, the kind that no South Korean could ever parody or question or else risk accusations of being un-patriotic. (The KBS TV serial Immortal Admiral Yi Sun-sin ran into some controversy when it strayed from previous interpretations of Admiral Yi's life story.) A statue of Admiral Yi stands at Busan Tower and another overlooks central Seoul. Yet Hong goes where some might fear to tread and has his characters play with Yi's iconic status through Seong-wook's hagiographic lectures and reactionary defense when a museum patron dares to question the party line, both instances providing a classic Hongian moment of awkwardness. Those scenes and that of Moon-kyung's dream-sequence melodramatics with Yi (played by Kim Young-ho of My Wife Is a Gangster 2) are the type of comedy that is enhanced by the more one knows about the historical referents. Similarly, Moon-kyung's mother's insistence that everyone call her 'Mom' might be her attempt to become the next 'Chungmu Haelmae' ('Chungmu Grandmother'). The mythical 'Chungmu Haelmae' is associated with a particular kimbab, that handy seaweed-wrapped rice-roll that fits nicely in your hand like a burrito, which I find to be perfect for quick bites in between a busy film festival schedule in South Korea. According to Frommer's South Korea travel guide, the 'Chungmu Haelmae Kimbab' contains kkakdugi (kimchi radish) and boiled squid seasoned with vinegar and chili paste. Such humorous cultural references in Hong's films bring up fond memories for me of how watching one of his films in South Korea is a totally different experience than at a non-Korean film festival because the eruption of laughter is more continuous and more fervently heartfelt with a largely Korean audience. Mind you, the film is still terribly funny even if you aren't in on all the cultural and historical references required of some of the setups. For example, the hilarious narration that accompanies Moon-kyung and Seong-wook's consummation of Moon-kyung's stalking had me rewinding the DVD to catch the few minutes I'd missed from laughing so hard.
Another new addition to Hong's tactics here is the tone of the ending. That's all I can say in a 'review' so as not to ruin it for you. It's still Hong, but it's clearly a change. Yet in spite of that change, or perhaps because, Hong continues to be an international film festival favorite, (he won Un Certain Regard again at Cannes in 2010 for this film, having won his first such award for The Power of Kangwon Province), accomplishing this with films firmly entrenched in South Korean cultural particulars. Although he doesn't break box office records, let's hope he makes enough to continue this never-ending dialogue of ambivalent relationships between flawed individuals that keep cracking us up.      (Adam Hartzell)

    Poetry
"They say life is hard/Then it is but my shame/That poetry comes so easily to me." -Yoon Dong-joo (1913-1945)
Mi-ja (super-veteran Yoon Jeong-hee) is a 66-year-old woman taking care of her grandson Jong-wook (David Lee, Paradise Murders), a sullen and uncommunicative junior-high kid, in lieu of her divorced daughter. Her main income comes from providing personal care for a rich stroke victim President Kang (another super-veteran Kim Hee-ra, a real-life stroke victim). Mi-ja strikes other Koreans as, to use a rude word, "flaky," easily caught up in schoolgirl-like flights of fancy, dressed in often inappropriately kitschy attires and undergoing bouts of not-so-comical absent-mindedness. True to her girlish disposition, she also aspires to write poetry, taking a class offered by the local culture center and taught by a pro poet (Kim Yong-taek, famous for his series of poems on the Seomjin River). Then an unmentionable tragedy enters Mi-ja's life, irrevocably transforming not only her relationship with her family but also her attitude toward life.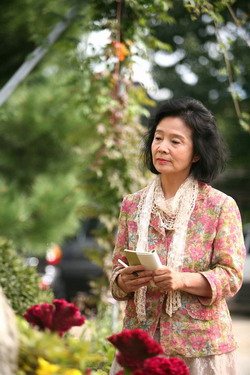 Lee Chang-dong's Poetry is a motion picture that demands patience and respect from its viewers. Those who watch this film must have a measure of faith in its seemingly meandering, episodic structure, subdued and slightly off-kilter performances (nothing immediately recognizable as brilliant like Jeon Do-yeon's turn in Secret Sunshine), and the direction that refuses to sully the integrity of its characters in favor of reeling in the viewers. The movie takes its pace, like a slowly flowing river frequently shown in the background, but inexorably leads us toward its emotionally devastating conclusion. This is a proverbial movie where "nothing happens," even though the plot, described in a prosaic manner, includes not only sex and violence but also the favorite topic of a typical Korean thriller, confrontation with heinous, unspeakable evil. The difference here is that sex, violence and the courage to confront evil are no gimmick to stimulate audience interest, no mere plot points: they are grown out of the character's unadorned responses to the predicaments they find themselves in- out of compassion, of desperation, of the cowardice so "normal" that it is accepted by most as considerateness, and of the will and heart to destroy one's life so as to reach out to the silenced victim. In a sense, Poetry is like a Zen koan answer to Bong Joon Ho's pitch-dark, equally sorrowful Mother: It is a declaration, "I do," to Bong's searing, tormented scream that is also a question, "Does anybody out there care at all?"
Yoon Jeong-hee, who has appeared in more than 230 Korean films between 1967 and 1994, is perfect for this role of an elderly beauty, whose grip on reality is gradually slipping, yet whose soul craves for the transcendence denied to her aged body, her near-poverty living conditions and her stultifying yet heartlessly gorgeous world of a South Korean small town. Her slightly breathless, affected line delivery and prim body language, once used to denote (imaginary) Western sophistication for '60s and '70s Korean viewers, are now put resolutely in service of portraying a deteriorating figure still full of life forces. Not only is her performance radiant, heartbreaking and deeply authentic, it also directly communicates to us the sheer actor's joy of inhabiting the just right role like live electric current. The same may be said of the erstwhile matinee idol Kim Hee-ra, whose tiger-eyes atop the nerve-damaged, contorted face are still gloriously vibrant. Their scenes together are breathtakingly intimate in the way only old veterans with hundreds of films between them could manage: funny, cringe-inducing and touching all at the same time.
In the film, Mi-ja's agonizing journey to address, exorcise and finally embrace the dark shadow that intruded her life is paralleled by portrayals of various minor characters attending the poetry-writing class and amateur recitals: perhaps no more than culturally fascinating for non-Korean viewers, I found this aspect of the movie indescribably moving as well. Blurring the boundary between professional and amateur acting, the aspiring poets weave a colorful tapestry out of thoroughly ordinary lives, only occasionally punctuated by dramatic events such as death. One young woman reminisces about her grandmother's favorite song, "A Young Ferry-Woman," and weeps, missing her: A middle-aged man shyly talks of his the-world-is-in-my-hands joy when he moved into a cheap one-bedroom apartment: A slimy-looking cop who cannot stop sputtering vulgar, below-the-belt jokes in between poetry readings turns out to be a man of good heart, capable of sympathizing with Mi-ja's pain without knowing why: and so on. Lee Chang-dong's directorial hands are so assured in these portrayals that it is no longer possible to take them apart to see where naturalness ends and artifice begins. As in the greatest examples of neo-realist cinema, the cumulative reality of Lee's film is "realer" than the "reality" captured in a documentary.
Poetry is likely to be subject to the criticism that it, ironically for a film with this particular title, is not poetic enough. While acknowledging the grounds from which this criticism stems, I feel that such a claim ends up trivializing the true scope of both literature and cinema. This film is about our aspiration to write poetry-- succinctly put, to express our joys, horrors and frustrations, the totality of our emotions, through beautiful language-- not about the nature of poetry itself. What idiot "critic" would summarily state that, say, Joseph Mankiewicz's All About Eve is a failure because it is not theatrical enough? Poetry is definitely not going to regale you with what our (relentlessly shallow) "intellectual" consensus designates as "poetic visuals," any more than Carl Dreyer's Ordet is going to show you what God really looks like, and thank God for that. Leave such "cinematic" razzle-dazzle to Cecil B. De Mille (and his 21st-century cineaste successors, ever sanctimonious, ever "challenging" our "good taste").
Not only is this spiritually cleansing masterpiece from Lee Chang-dong an absolutely requisite viewing for any serious student of cinema, or any Korean film fan, but it is also strongly, strongly, strongly recommended to anyone who has ever felt that your life is too hard, and yet to sing about it in your own voice is even harder. Poetry confirms that, no, poetry does not come easily to us, but reassures us, too, with boundless compassion that it can still be ours.      (Kyu Hyun  Kim)

    My Dear Desperado
Some films seem destined for obscurity. With an ordinary looking poster, no major stars, and a concept that sounds a bit corny, My Dear Desperado more or less fit that description at the time of its release in late May (i.e. blockbuster season). With posters for Robin Hood, How to Train Your Dragon and Prince of Persia covering buses in Seoul, this modestly produced story struggled to attract attention. But like an old gangster who keeps picking himself up off the pavement, the film gradually built up positive word-of-mouth, and managed to sell close to 700,000 tickets. That may not be much by the standards of wide releases, but for this low-budget comedy it was a strong vote of confidence, and enough to ensure the filmmakers a healthy profit.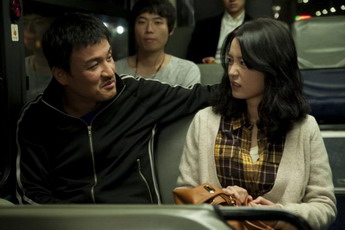 The story concerns Se-jin, a young woman from a regional town who moves to Seoul shortly after graduation to take a job at a big company. Motivated and hard-working, she excels briefly, but then her dream shatters when the company is brought down by charges of fraud. Distraught, she gives up her nice apartment and moves into a cheap basement studio until she can find new work. But finding work is not easy. Upon moving in, she is confronted by another problem: her next door neighbor is a middle-aged gangster. Not as effective as he used to be, but with his bad attitude still intact, Dong-cheol spends most of each day shuffling around with nothing important to do. Before long, he starts getting in Se-jin's way and adopting a rudely familiar tone with her.
Debut director Kim Kwang-sik can boast of connections to two major figures in the Korean film industry. He served as assistant director under Lee Chang-dong for the award-winning Oasis, and My Dear Desperado was produced by none other than Haeundae director Youn Je-gyun. It's hard to think of two Korean films that have less in common than Oasis and disaster movie Haeundae (lead actor Sul Kyung-gu notwithstanding), but in a strange way Kim combines the strengths of both directors in his debut film. The overall structure of the film is solidly commercial, and like Youn he utilizes comedy to build up sympathy for his characters, before moving towards pathos in the final act. And yet there is a casual realism to this film, perhaps gleaned from Lee, that makes it feel exceptionally genuine. It fits within the conventions of a romantic comedy, no doubt, but the setting and style are evocative of ordinary, real people.
For a character-based work like this, the acting is particularly important, and this is one of the film's great strengths. Veteran Park Joong-hoon (Nowhere to Hide) would seem at first glance to be a slightly awkward fit with this kind of character, but in the end his acting skills and charisma prevail. His character is meant to be more annoying than threatening, and he captures both the empty bravado and veiled anxiety that characterize Dong-cheol quite well. Meanwhile up and coming actress Jeong Yu-mi (Family Ties) brings an inner energy and strength to the portrayal of Se-jin that lets us feel her competence and potential in the midst of her struggles. Her quest to find work, and her increasing outrage at the arrogant and small-minded recruiters who never give her a chance, become surprisingly involving. In this sense, despite its comic moments, few other films in recent years capture so well the frustration and desperation of new graduates stepping out into an economy with hardly any jobs.
Ultimately, My Dear Desperado satisfies both as escapist entertainment and as a modest kind of social commentary. It no doubt deserves to be called one of the discoveries of Korean cinema in 2010, and I'm already looking forward to Kim's next film.      (Darcy Paquet)

    The Servant
The Servant got off to a good start at the box office: on its opening weekend it dislodged the US blockbuster Prince of Persia from the top slot. That's no small achievement, since The Servant is not a blockbuster itself; what it mainly has going for it is raciness. Despite its 18 rating, though, it's less overtly sexual than many past art films (A Good Lawyer's Wife, for instance). It doesn't have a lot of violence either, so it lacks the selling points you'd associate with a number one hit.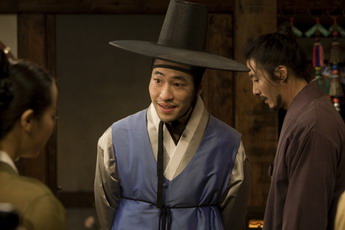 The Servant is basically a retelling of the popular and oft-filmed Korean story Chun-hyang, through two fairly familiar filters. First, like Tom Stoppard's Rosencrantz and Guildenstern Are Dead, it tells the story from the viewpoint of a character who was marginal in the original, Bang-ja the servant of the young scholar Lee Mong-ryeong. (Hence the Korean title "Bang-ja's Tale," playing off the original "Chun-hyang's Tale.") Second, like John Ford's The Man Who Shot Liberty Valance, it purports to tell the "real" story behind the edifying legend, though in this case the reality is at least as edifying as the legend.
The film begins with Lee Bang-ja (Kim Joo-hyeok, My Wife Got Married) meeting the ghostwriter he's hired to write his story. Bang-ja is a well-to-do but shady merchant; the writer incautiously calls him a "gangster," but Bang-ja accepts the label without offense. He recalls how, at the age of thirty, he became servant to Lee Mong-Ryeong (Ryoo Seung-beom, No Mercy). On a visit to a local kisaeng's house, both men are struck by the beauty of the kisaeng's daughter Chun-hyang (Jo Yeo-jeong, The Road Home). Mong-ryeong sends his servant to arrange a date with the girl; he then bursts in and slaps Bang-ja, pretending that the intrusion was his servant's idea. Ryoo plays Mong-ryeong as a goofy but vicious frat boy, sort of a Joseon-era George W. Bush. But Bang-ja turns the tables on his master, beating up a bigger thug who interrupts the scene. Both Chun-hyang and her servant Dan-hyang (Ryoo Hyeon-kyeong) find Bang-ja's prowess quite sexy, but it's Chunhyang whom Bang-ja wants to impress.
Helped by Mong-Ryeong's lecherous houseguest Mr. Ma (O Dal-soo), an aging rake whose "skills" in seduction he passes on to the servant in some very funny scenes, Bang-ja manages to win Chun-hyang's heart. Chun-hyang's mother, and to some extent Chun-hyang herself, have more ambitious plans -- to get Mong-ryeong to marry the girl. Chun-hyang's ambivalence is understandable. She loves Bang-ja, but as any Jane Austen fan knows, love won't pay the bills, and marrying Bang-ja would lower her status, while marrying Mong-ryeong would raise it. Miserably jealous, Bang-ja can't help interfering with the plan, even after he's agreed to help out, just because Chunhyang asked him to. After Mong-ryeong signs a marriage agreement, he's called to Seoul to finish his studies and take the examinations that will determine his career. Bang-ja, left behind, becomes a merchant and continues his relationship with Chun-hyang.
But, deliberately or not, the couple have humiliated not only Mong-ryeong (he lost his girl to a bondservant!) but Hyang-dan (her mistress stole the guy she had her eye on!), which is not a good way to ensure yourself a happy ending. Mong-ryeong's resentment simmers until, having passed his exams and been appointed a state inspector, he meets a debauched young magistrate, Byeon (Song Sae-byeok Mother) assigned to Chun-hyang's town of Namwon, who likes "unusual" women. Mong-ryeong siccs him on Chun-hyang, and the traditional tale unfolds, with Byeon trying to lay claim to the low-class girl he believes likes to be treated rough. The plot thickens as Mong-ryeong and Chun-hyang hatch an intricate plan to advance both their interests, and Bang-ja fumes helplessly on the sidelines as the tale plays itself out.
Some viewers will probably dislike the way The Servant mixes genres, soft-core bawdy comedy stapled to romantic drama/tragedy. It's a common device in Korean films, so it's a common complaint, but I like it, especially when it's well done, as it is here. I admit that the changes of tone can be disorienting, but what keeps the film on course is Bang-ja, who's in love with Chun-hyang from the start, and pursues her single-mindedly throughout. He deals with the raunchy comedy of Mr. Ma's sex tips for boys and the Untold Scandal-style manipulations of Chun-hyang's mother, who wants to sell her daughter to the highest bidder, the same way: he loves Chun-hyang, even though he knows that as a servant he has no rights and no hope, and Kim Joo-hyeok maintains Bang-ja's loyalty and desperation all the way. (As it happens, director Kim Dae-woo wrote the script for Untold Scandal.) Bang-ja isn't a standard-issue hero -- after he does something heroic or romantic he's immediately abashed as he remembers his place, but he can't help himself.
It helps that even the minor characters get their moments to shine, from the pretty servant girl Mr. Ma keeps trying to bed; to the tough guy Bang-ja beat up in front of Chunhyang at the beginning, who becomes his loyal right-hand man; to the palace eunuchs who toy with the new Inspector Mong-ryeong on graduation day; to Magistrate Byeon, who might be the weak point of the story: he's just too dumb and lazy to be a convincing villain. In his big scene with Chun-hyang, when he's trying to excite her by slapping her around, he abruptly recoils and asks if she's mad at him, and it's clear that he'd rather be slapped around himself. If Chun-hyang's mother had completed her erotic education, she'd have commanded "On your knees, worm!" and he'd have submitted completely. Fortunately, Mong-ryeong is all the villain The Servant needs, as Bang-ja is its hero.      (Duncan Mitchel)

    The Man from Nowhere
Tae-sik (Won Bin, Mother) is a pawn-shop owner in a working class neighborhood. Obviously hiding from his past and perhaps his enemies, he shuns normal human contact. His only friend is So-mi (Kim Sae-ron, A Brand New Life), a drug addict's cute and smart-mouthed daughter. When So-mi's mother (Kim Hyo-seo) steals a multi-billion won worth of heroin package from a group of organ-harvesting criminals led by Man-seok (Kim Hee-won) and President Oh (Song Young-chang, Thirst), the killers descend on the mother and daughter like a pack of jackals. With So-mi kidnapped and her corneas about to be scooped away, it is up to Tae-sik, who used to be- surprise, surprise-- a secret government agent a la Jason Bourne, to rescue her.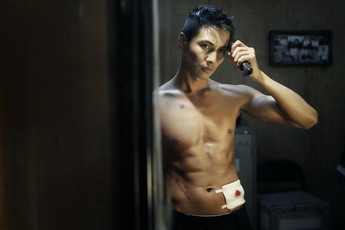 The Man from Nowhere is marketed as a Won Bin vehicle, in which the pretty-boy actor showcases his "masculine" side as an action star. Directed by Lee Jeong-beom (who also helmed a heavy-handed but interesting Cruel Winter Blues [2005]), The Man from Nowhere uses the familiar template of Hollywood blockbusters like Man on Fire to combine grueling depictions of the criminal exploitation of the society's weak (especially children) and a star-driven action fantasy of a super-powerful hero mercilessly dispatching scumbags. The result is decidedly mixed.
In fact, Won Bin acquits himself well. Other than the Christian Bale-like basso profundo voice that sounds completely fake, he anchors his action-star antics firmly in the emotional damages Tae-sik suffered, surprisingly effective in both the scenes in which the latter vacantly expresses existential despair and those in which he fearfully withdraws from paternal intimacy with So-mi. Kim Sae-ron also gives an excellent performance for the most part, alternatively tough and needy, without ever becoming maudlin. The bad guys are, if not startlingly original, at least more energetic and colorful than usual. The "action" itself, other than requisite bows to the Bourne series, is interestingly designed as well: it eschews the flamboyant, acrobatic style of a Hong Kong film and emphasizes restrained, almost intimate body contacts of Southeast Asian martial arts, culminating in a vicious duel with Man-seo's Viet Namese bodyguard (Thai actor Thanayong Wongtrakul). It fits rather well with the basically morose and pessimistic character Won Bin plays.
Unfortunately The Man from Nowhere is brought down by its almost repellently bleak outlook, which renders the film excessively gory as well, and its belated concessions to the star-vehicle expectations. In the latter half, Tae-sik simply becomes an undying killing machine, albeit with sorrowful doe eyes, mouthing off badly written one-liners with increasingly greater violence but less and less conviction. A similar process of devolution happens to So-mi, who seems to have dropped parts of her brain somewhere when she had been kidnapped: all of her dialogues in the second half consist of questions addressed to other characters ("Are you going to really kill me?" "Have you come to rescue me?" and so on and on).
As in his previous film, director Lee seems unable to avoid heavy-handedness, which does give the film a certain level of authenticity, but also robs it of a sense of grace and beauty, leaving the climactic surge of emotion more belabored than it should be. In the final analysis, nonetheless, The Man from Nowhere is not too bad as a star vehicle for proving Won Bin's appeal to the action-film demographic. It could have been much worse: he could have been stuck in 71: Into the Fire.     (Kyu Hyun  Kim)

    Enemy at the Dead End
The year is 1984. Min-ho (Yu Ha film regular Cheon Ho-jin) is a fifty-something brain disease patient rusticating in a slightly run-down, out-of-the-way Catholic hospital. The left side of his body paralyzed and suffering from bouts of depression, the only thing he can work up enough energy for is outwitting the kind and pretty nurse Ha (TV personality Seo Hyo-rim) so that he could commit suicide. One day, a deep-sea fisherman Sang-eop (Yoo Hae-jin, Tazza, Truck, Woochi, et al) with a grave head injury is admitted to his room. A victim of a vicious robbery attempt, Sang-eop has lost most of his memories and is virtually paraplegic, albeit slowly recovering. The situation is drastically changed when Min-ho one day remembers where he knows his roommate's name from. This makes him suddenly recover his appetite for life. You see, Min-ho is determined to kill his bed-neighbor. And he will do it by hook or by crook¡¦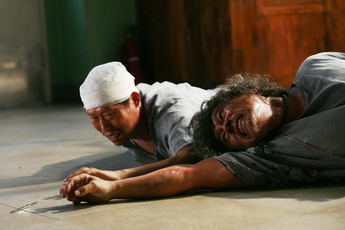 Enemy at the Dead End is a strangely ambitious witch's brew with frankly incompatible elements thrown in together. The movie is structured like a British-style boardroom thriller (the core of the film is essentially two semi-incapacitated patients glaring and hollering at one another) but also incorporates into itself elements of absurdist comedy, excessively gory slasher-horror, and even paranoid medical sci-fi. Needless to say, the resultant clashing tonalities don't make for a harmonious rendering of music: the film goes literally berserk in the last fifteen minutes or so, becoming an Eli Roth-torture porn take on Deathtrap, and then throwing a jaw-dropping "last revelation" at the viewers, cleverly orchestrated for sure but ending the movie in a jarring note severely incongruous with the whacky humor of the early sections.
On the positive side, Enemy at the Dead End is never boring or listless. It does have two remarkable actors, Cheon Ho-jin, strikingly handsome even in his "crushed late-middle-age weakling" mode, and Yoo Hae-jin, here crunching his eyes into reptilian slits and shooting off venomous and vulgar bons mots like spitballs, squaring off against one another, which at the very least guarantees some serious thespian fireworks. In fact, the rookie directors Jo Won-hee and Kim Sang-hwa handle Min-ho's simultaneously ingenious and hapless efforts to destroy Sang-eop (and the latter's deadpan response to them) impressively well: they are cringe-inducing but uproariously funny. Had they been able to either put two or three more sequences like the whole "soap-in-panty-stocking" episode or maintain the same tone throughout the film, Enemy at the Dead End could have been a truly unique experience. As it stands, unfortunately, the film is smart and fun but marred by some glaring flaws, most importantly lack of directorial restraint and control over its wilder aspects. Still, like another '80s-set mystery thriller Paradise Murdered (2007), Enemy at the Dead End deserves kudos for trying hard to be different while not cheating the viewers with non-existent clues or a thematic cop-out.
The technical specs are quite good if not overwhelming, from DP Choe Chan-min's (Private Eye) colorful cinematography to the stylishly grungy production design and the effective make-up jobs on Cheon and Yoo.      (Kyu Hyun  Kim)

    Bedevilled
Hae-won (Ji Seong-won, TV drama Yi-san) is a middle-rank officer working in a Seoul bank. A severe, tense single woman, she is being brought down by the work-related stress and the hypercompetitive, misogynistic environment she finds herself in. Desperate, she takes up an offer from a long-forgotten friend and takes off for a private vacation in Mundo, a desolate Southern island in which she had spent childhood. Arriving at the island, she is warmly welcomed by Bok-nam (Seo Young-hee, The Chaser, To Sir with Love), her erstwhile best friend. The latter, however, is literally chained to a hideously exploitative marriage with Man-jong (Park Jeong-hak, Musa, Truck), a rattlesnake-like wife-beater, and being sexually abused by Cheol-jong (Bae Seong-woo), his cretinous brother. When Bok-nam finally resolves to escape the island with her daughter in tow, whom she suspects of being molested by her husband, the situation becomes truly dire.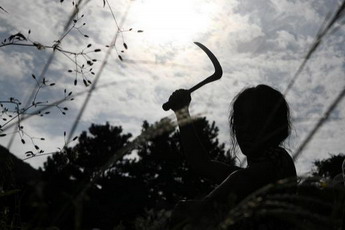 Kim Ki-duk's former assistants are doing quite well these days. Jang Hoon made the macho-swagger-intoxicated but nonetheless fascinating Rough Cut, and now Jang Cheol-soo, who did second-units for The Samaritan Girl and The Spring, Summer, Fall, Winter... and Spring, makes an equally impressive feature film debut with Bedevilled, a fan favorite at the 2010 Pucheon Fantastic Film Festival. While the film makes for a fascinating comparison with Kim's Isle (2000), given their less-than-stable female characters residing in isolated, water-bound locations, Jang in significant ways turns Kim's usual obsessions on their heads, shifting the central points of view from those of typical Kim Ki-duk-style (male) protagonists seeking redemption or transcendence through their abject (sexual or otherwise) behavior to those of the victimized women.
It is not difficult to find in Korean literature or cinema the kind of stories in which a woman is subject to abuse, exploitation, violence and insults, sometimes culminating in the absolute denigration of her most basic right as a human being. And yet, in most of these stories, Korean women simply suffer, continue to suffer and suffer some more, especially in the oh-so-venerated works of high-class literature. The women, no matter how awfully persecuted, must not wreak vengeance on the men, brandishing a sickle, a hoe and other agricultural implements as choice tools of vivisection. Now that would just make the whole thing into a cheap horror film, wouldn't it? Yet in Bedevilled, that's exactly what Bok-nam does: biting, stabbing, slashing, gouging and pounding to death her tormentors. In this case the "cheap horror film" outcome happens to be the exactly logical response. Bedevilled is so honest in presenting this narrative that the viewers, regardless of their gender, are likely to experience a simultaneous sense of catharsis and repulsion cranked up to the nth degree, unable to judge Bok-nam as morally despicable but physically horrified by her relentless destructive campaign nonetheless. And unlike in so many Korean genre films, director Jang refuses to compromise and substitute its devastating ending and thoughtful coda with a Halloween-style, evil-never-dies cop-out denouement or yet another round of preachy bullcrap about how it is all society's fault.
Indeed, despite gore-hound's likely imprimatur, another surprising thing about Bedevilled is just how well-put-together it is. DP Kim Ki-tae and Lighting Director Nam Jin-a's cinematography mercilessly expose the sun-grilled, dark hides of the island folks but also capture the otherworldly beauty of the isolated landscape. Choi Kwan-young's screenplay provides a strong backbone of a narrative with powerful motivations and lean and mean characterizations, and director Jang never resorts to red herrings or faint motions to keep the viewers "engaged," while inserting a few truly breathtaking shots that perfectly resonate with the narrative content without being overly symbolic. One such shot shows Hae-won's supine body transforming into the Mundo island itself: another eerie, potent scene in which Bok-nam stares at the sun in the potato field even evokes Kim Dong-in's classic story "Potatoes" (1925). Unlike in the unfortunate I Saw the Devil, however, these artistic and aesthetic elements never try to disguise the thoroughly unpretentious, in-your-face, tearing-limb-from-limb, honest-to-goodness horror stuff.
Finally, the film benefits greatly from superb performances of not only its lead actress, Seo Young-hee as Bok-nam, but also from a variety of supporting players essaying an impressive range of hypocrisy, imbecility and sheer vileness. Seo has come to specialize in portraying vulnerable, insecure women with overly sensitive disposition, but Bok-nam is definitely more than typecasting. She is absolutely convincing not only as a perennial victim but as a hannya-like female demon whose superego has been shredded into wood chips. You do believe that this fragile, trembling object of domestic violence can, at the next moment, wield a huge mallet and crack a grown man's skull like a watermelon. Among the supporting players, the super-veteran Baek Su-ryeon (also striking in The Man from Nowhere) as Bok-nam's mother-in-law deserves a special mention. In a way, Haewon, a viewer stand-in, is the most schematic character in the movie and Ji Seong-won's performance suffers somewhat as a result, but her restrained acting in the bookend sequences set in Seoul is quite good. It is in fact one of the notable achievements of Bedevilled that the movie plays fair to Haewon's character and never denounces her for "neglecting" Bok-nam.
There are a few obvious problems in the movie. There is a noticeable "gap" in the narrative near the climax, making us wonder if some scenes were hurriedly removed for pacing or other reasons. One minor character, a "coffee girl" (Lee Ji-eun), disappears in the mid-point without explanation. Ultimately, though, Bedevilled is one of those rare species of cinematic animal: a straightforward genre film that, without assuming condescending or instrumentalist attitudes toward its own genre conventions, dares to address the suppressed fantasies and realities that other "arthouse" or "mainstream" films are too chicken-shit to take on. Highly recommended, and not just for fans of extreme horror cinema.      (Kyu Hyun  Kim)

    Cyrano Agency
Cyrano Agency is based on a simple but brilliant idea. Since a successful romantic relationship is such an overwhelming life-objective for young Koreans, there presumably are plenty of economic opportunities for anyone with talents and skills for fulfilling that need. Enter the Cyrano Agency, a group of hungry theater actors who borrow a few pages from the manuals for the Mission: Impossible team and clandestinely construct dramatic situations and invent ingenious "accidents" so that their "target" would "naturally" fall in love with their "client." The team includes a scripter, a dress coordinator, a researcher/eavesdropper, a diction coach (who does double duty as a geomancer, designated to pick "lucky days" for the client) and even a pretty seductress in charge of stoking jealousy in the female mark's heart. In a witty and slick intro, we see the agency members, led by Byung-hoon (Uhm Tae-woong, Chaw), work their spell on a soccer-loving dork (a hilarious turn by Song Sae-byuk, Mother) and a pretty caf? worker. Further hilarity as well as potential heartache ensues when a handsome but still dork-ish fund-manager client Sang-yong (Choe Daniel) approaches the Agency, and Byung-hoon recognizes his "target" (Lee Min-jeong, the stunningly beautiful nun from Pruning the Grapevine).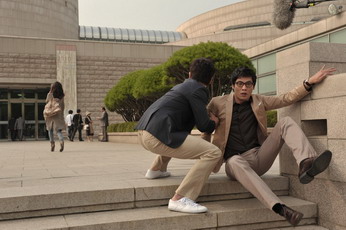 The intro sequence accurately communicates the interesting tonality of Cyrano Agency: whimsical, slightly corny and surprisingly, earnestly romantic. Director Kim Hyun-seok (YMCA Baseball, Superstar Mr. Gam, Scout) is rather unfairly seen in some circles as a specialist in baseball films, but he is one of the few Korean directors I know who can make gentle, comic melodramas without driving them aground with forced emoting or lathering them with soap. He knows the difference between genuine witticism and crude slapstick that passes for "comedy" in so many recent movies.
Here, Kim expands his range by giving their dues to female characters, especially Hee-joong, who is far from being a Korean macho guy's "dream girl," yet no less real or attractive for it. The situational comedy aspect of the movie is well constructed and streamlined, with the minimum of annoying plot devices such as mutual misunderstandings (that usually make the characters look less than intelligent) or pointless lies leading to pointlessly bigger troubles, retaining suspense regarding the characters' potential action and motivation to the very end, almost like a caper film. It definitely showcases Kim's skills as a screenwriter. In the end, I wish Kim's resolution of the movie is a bit drier, without the wholly unnecessary intrusion from the loan sharks (although Gwon Hae-hyo is an always welcome sight) and all the past betrayals and questions of loyalty that "explain" Byung-hoon and Hee-joong's original relationship, although its faithfulness to the spirit of the original Cyrano de Bergerac might surprise and win over the viewers skeptical of its unabashed sweetness.
All actors carry their roles with light steps that occasionally hit dancers' grace notes. Uhm Tae-woong and Lee Min-jeong have wonderful chemistry together and totally believable even in the somewhat overcooked climax, but the movie's biggest surprise is Daniel Choe, whose Sang-yong begins as a callow dumbbell and yet by the climax has earned rights not only to his prize but also considerable audience sympathy. Yet another surprise is how technically adroit and visually beautiful Cyrano is, with Production Designer Kim Joon (Paju) keeping the ambience of a friendly, intimate small theater and DP Kim Woo-hyung (Warrior's Way) skillfully orchestrating golden and ember lights as the romantic mood strikes the characters.
Cyrano Agency is a deft, clever crowd-pleaser that is also a genuinely lovely motion picture, the kind of Korean cinema undeservingly ignored in the foreign market, and another winner from the redoubtable Kim Hyun-seok.      (Kyu Hyun  Kim)

    Oki's Movie
Oki's Movie is broken up into four acts and uses the three main actors (Jeong Yu-mi, Lee Seon-gyun, and veteran actor Moon Sung-keun) who were also featured in Hong Sangsoo's contribution to 2009's Jeonju Digital Project, Lost in the Mountains. Each act begins with its own titles as if shorts within an omnibus film. And each act begins and ends with what is known in the U.S. as "Pomp and Circumstance" (aka, the graduation march). The first act ("A Day of Incantation") is revealed by the second to be not what it seems. The first act follows the loose structure of the Hong films that came before it, including the obligatory awkward drinking scene where social norms are disrupted by a character speaking publicly what is better discussed privately, or better yet, not at all. Although the second act ("King of Kisses") begins with a scene tactically reminiscent of a break in Hong's Tale of Cinema (2005), this is where Hong begins to take a new direction. It's as if Hong is taking slow steps into new territory, because what is different about the second act is that although Jingu (Lee) the film student "fails," he does not fail in a pathetic way. Plus, the romantic relationship with Oki (Jeong) actually leaves you feeling, dare I say it, hopeful. You almost feel like you can believe in the young love of these two characters, whereas in past Hong films proclamations of love are always suspect.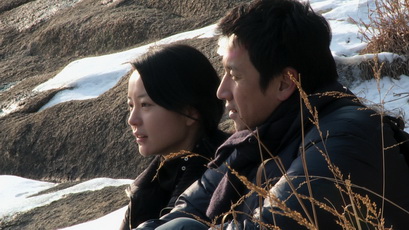 The third act ("After the Snowstorm") is the shortest and presents a respectful question and answer session between the professor (Professor Song played by Moon) and two pupils, Oki and Jingu. This is in stark contrast to similar Q&As between profs and students we witnessed in Like You Know It All (2009) and the first act of Oki's Movie that were awkwardly confrontational. The final fourth act (eponymously titled "Oki's Movie" and alluding to a circular conclusion based on what we are told in the second act about the first act) is the most dramatic of turns for Hong. It's told mostly in narration, which he's done before, but this time the love triangle is not portrayed as farce or the human desire to run on a treadmill of romantic mistakes. This section respects Oki's quandary, trying to piece together what she desires in both the "older man" and "younger man." Yet it still resonates with Hong's continuing theme of remembrance of things past revisited in similar locations with different lovers.
Although not mainstream popular in his own country (still, many respected actors admire Hong's work, as the presence of the great Moon Sung-keun here and exemplary Moon So-ri in HaHaHa are testament), his films are very much rooted in aspects of South Korean culture and habits. The South Korean particular I find myself most reflecting upon with Oki's Movie is Hong's persistent re-examination of "seonbi masculinity" in South Korea. (This reflection was prompted by what I learned from reading Sun Jung's intriguing analysis in her book Korean Masculinities and Transcultural Consumption: Yonsama, Rain, Oldboy, K-Pop Idols, Hong Kong University Press, 2010.) Rooted in Chinese Confucian tradition, seonbi masculinity took hold during the Joseon Dynasty (1392-1910) in Korea. Seonbi were expected to devote their lives to studying while refraining from manual labor and domestic duties, indicating "mental attainment rather than physical performance." The modern day equivalent of the seonbi can be seen as the writers, film directors and artists, (all of whom are also often university professors), who wander about aimlessly in all of Hong's films.
As we've learned from Judith Butler, masculinities are performed and different masculinities can hold court at the same time. During the Joseon Dynasty, there was also the patriarchal authoritarian masculinity of the yangban nobility. As Moon Seung-sook notes in her contribution to Under Construction: The Gendering of Modernity, Class, and Consumption in the Republic of Korea (ed. Laurel Kendall, University of Hawai'i Press, 2001), the yangban nobility expression of masculinity was later reinforced in South Korea by capitalist industrialization. However, as intimated in Hong's films of failing, pathetic artists and scholars, seonbi masculinity appears to have floundered in the late 20th and early 21st century. Although The Day a Pig Fell into a Well (1996) does contain characters who react on some occasions with physical violence when their 'masculinity' is threatened, since that film, Hong's male artists and scholars confront their modern male insecurities by exhibiting what seem more like teenage temper tantrums when they don't simply refuse to act, recoiling as they relinquish the responsibilities relationships require. Oki's Movie, along with continuing to provide more space for women in his films, offers a further evolving seonbi masculinity that is less pathetic, less impotent than that which Hong has presented before.
The performance of gender can, if we follow this thinking, change across history, across nationalities, across generations, and across the lives, and days, of individuals. The masculinity expressed by a construction worker and a college professor can be very different and very much the same throughout their day's activities, let alone their lives. Hong's focus on the modern South Korean seonbi masculinity, intentional or not, has revealed an anxiety around a role in flux ever since the "turbo capitalism" (coined by American economist Edward Luttwark) that modernized South Korea settled in for a pit stop at the IMF Crisis of the late 1990s. No more are the changes in this particular masculinity more prominent then from Oki's perspective in the final chapter of Oki's Movie where director Oki compares and contrasts two suitors, the older man whose masculinity was developed within South Korea's tumultuous past and the young man of her generation who has benefited along with Oki by growing up in a prosperous South Korea. She sees something she likes in both of them. Perhaps this is why Oki's Movie leaves us with an awkward ambivalence that resonates long after the film is finished rather than a firm resolution to forget soon after.      (Adam Hartzell)
*** This review is a modified form of a piece commissioned by the San Francisco Film Society website SF360. At this writing, the website is still available for viewing but is no longer active. The original piece was entitled "Hong Takes New Tack with Oki's Movie" and was published on June 24, 2011. I would like to thank my editor Susan Gerhard for allowing me to publish a slightly modified form of that piece here.

    The Uninvited
The Uninvited is the kind of movie that demonstrates that filmmaking could, given the right conditions, completely soar over analysis or explanation: we have no idea why certain movies turn out the way they do, and even though we can compartmentalize, dissect and scrutinize different elements of a movie all we like, the end results can still defy logic or rationality. The fact that The Uninvited is one of the two or three funniest Korean movies I have seen from 2010- filmed in threadbare video camera, it barely qualifies as a "motion picture"- merely compounds the sense of awe and mystery occasioned by its very existence. Okay, so I am blowing pretty hard. The Uninvited is not Citizen Kane, I acknowledge. However, what I said above about it being one of the funniest Korean movies of 2010- and I do not mean hilarity of the unintentional variety here- still stands. And guess what, with its side-splittingly on-target stabs at the global financial network, it is also a more sophisticated satire of the Korean commercial capitalism than Im Sang-soo's The Housemaid. I mean it.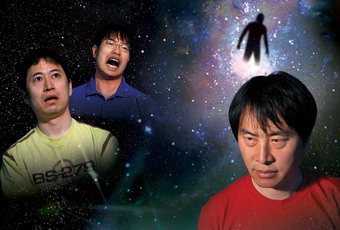 Armed with pitiable resources that would have defeated the enterprising hotshots behind The Blair Witch Project (for the record, the film allegedly cost 20 million won to make, its production and post-production process spread out for three years) and the "special effects" that would be too cheap and crude for a midnight bail-bond company commercial in your local cable station, The Uninvited proceeds to tell the story of three social dropouts, headed by a perennial examinee studying for the state bar exam (Kim Jin-sik), whose small, decrepit flat (more like a box than an apartment house) is literally thrown into outer space by a hideous intergalactic villain Point-Man (director Lee Eung-il in blue-tinted swimming-cap-and-spandex getup, turned into black via primitive video effects). You see, Point-Man works for a "longevity" bank called Lonely Star, and he's just ensnared the hapless three protagonists in an intergalactic Ponzi scheme, seating at the pyramid top of which is a 77-year-old HMO honcho named Jack Dawson living in Alabama, U.S.A!
Say what? It is well-nigh impossible to describe The Uninvited, which clocks at just six minutes over one hour, to those who haven't seen it. What it definitely is not, however, is a sophomoric, faux-"postmodern" Mystery Theater 3000-style "comedy" that tries to make fun of its own incompetence. On the contrary, The Uninvited is endowed with genuine wit and playful sensibility that often strikes the right balance between deadpan humor and utter ludicrousness. Amazingly, while The Uninvited is frequently amateurish, it never for a second drags its foot or runs aground without purpose. It not only holds our interest for the duration of its running time, but also actually manages to convey the frustration, bewilderment and desperate courage of the unemployed lumpen-prols caught up in a fantastic situation beyond their control. In addition to all that, director and writer Lee Eung-il smart-bombs the viewers with surprisingly poetic interludes that are both heartfelt homages to popularized science shows/great SF films such as Carl Sagan's Cosmos and infusions of sentimental, nativist imagination: as in the absolutely ludicrous but strangely endearing sequence wherein the three yokels encounter a couple drifting through space and communicate with them through flute renditions of "Bongseonhwa (Rose Balsam)."
Yes, the acting by the three leads (Kim, director Lee and Won Kang-young) are so wooden termites could build several hives in it, but their (unintentionally) poker-faced enthusiasm is undeniably infectious. And Point-Man is a seriously effective comic villain, buck-ugly but entertainingly self-indulgent, speaking entirely in frothy, supercilious Konglish of a credit card salesperson cum drill sergeant on crystal meth, hopping up and down like an oversized frog and threatening to suck up decades of the recalcitrant heroes' "wasteful and useless lives (which director Lee pronounces lee-ves instead of lie-ves)." Point-Man's dialogue is the most successful "Konglish" lines designed for comic effect I have ever heard in a contemporary Korean movie (You really have to go back to the '60s great comedians like Goo Bong-seo to find something as good): the key is that his speeches are character-driven, delivered with complete conviction and actually smart in content.
Heck, I would even be willing to call The Uninvited one of the best Korean science fiction films, only if its "science" was not so aggressively chintzy (But then again, was an episode of early '80s Doctor Who frankly any better than this?). It is one of those rare films which you can laugh at it and laugh with it at the same time, guilt-free and marveling at director Lee's Cheju Island-sized hutzpah. I only hope that this no-budget indie flick will soon receive a proper introduction to non-Korean viewers with accurate subtitles (not so easy to render their deadpan dialogue or deliberately out-of-control Konglish expressions into English as you might think) and professional presentation, instead of floating around in the cyberspace like the poor Jin-sik.      (Kyu Hyun  Kim)

    The Recipe
Every age has its own fantasy about magical food, the transcendent taste of which redefines our senses and dominates the minds and hearts of those who came under its spell. Perhaps its popularity has something to do with the fact that taste cannot be easily quantified or measured. At any rate, such a premise is no less popular in cinema. Realizing such experience cinematically is in fact surprisingly easier than convincingly illustrating a piece of brilliant music or a great painting. In the latter cases, filmmakers have to physically demonstrate their greatness to us. As far as food is concerned, however, all we need is a bunch of good actors telling us how heavenly what they just partook of was.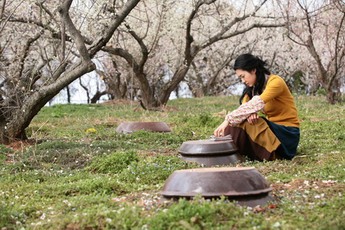 In Lee Seo-goon's The Recipe, that magical food turns out to be... fermented bean paste. To be exact, fermented bean paste stew (doenjang jjiggae). It all starts with a tall tale about a serial killer who had managed to evade police for five years following a daring prison break, only to be so caught up with a super-delicious stew he stumbled on that he forgot to escape the closing hands of the law. Choi Yoo-jin, a TV producer, thinks this will make a good show and investigates the background story, uncovering that the legendary dish was concocted by a woman named Jang Hye-jin.
The movie starts off by consciously riffing on Citizen Kane. The condemned serial killer's final statement, "I wish I could eat that bean paste stew again, just one more time," does for The Recipe what the enigmatic "Rosebud" does for the Orson Welles classic. Having established a central mystery, the story then unfolds in surprisingly intriguing directions, leaving behind some viewers who might have expected a story involving a struggling restaurant or a tearjerker evoking childhood nostalgia. Director Lee also plays with a mixture of several seemingly incongruous genres, mockumentary, drama, comedy and even animation, to enhancement of the viewer's curiosity regarding the mystery.
The story behind the magical bean paste Producer Choi ultimately uncovers has little to do with the bucolic flavor associated with the stuff. Jang Hye-jin turns out to be a youthful beauty, and the man who fell in love with her is equally young. They are autodidactic geniuses with not much connection to the Korean past or agendas of the older generation. Director Lee clearly intended to bring vitality and contemporaneity to a subject strongly bound to certain familiar images and preconceptions.
However, even if we accept this approach, it cannot solve the core problem of the movie: that Jang's personal story is not very interesting. Producer Choi in the film complains that his superior's efforts to herd the theme of his program toward either nostalgia or extra-marital affair are stale and unimaginative, but can Hye-jin's story in itself really avoid accusations of staleness? The predictably melodramatic arc her story draws in fact reminds one of the mini-narratives found in "dramatized" music videos, fashionable a few years ago.
The press kit puts Jang Jin, who serves as a producer and a co-screenwriter this time around, above the director's name, but The Recipe is obviously Lee Seo-goon's brainchild. In fact, the overall structure of the film is more tightly organized than an average Jang Jin film, more streamlined and rich in cinematic ideas. I just wish that director Lee's considerable skills were put to use for a more interesting story. The Recipe promises a fresh, new taste but it lacks the courage to trust its own premise, retreating to safe formulas in the end.
PS: Recent Korean films seem to be hankering for the resurrection of death penalty. Why? Because executing criminals makes good drama?       (Djuna, translated by Kyu Hyun  Kim)

    The Unjust
A serial killer rapes and dismembers several elementary school girls, enraging the public. After accidentally killing the prime suspect without any concrete evidence, and feeling pressure from the president himself, the police make a frantic attempt to wrap up the case rather than solve it. For Choi Cheol-gi (Hwang Jeong-min, Bloody Tie, Blades of Blood), the captain of the Wide-Area Criminal Investigation Squad, who has been passed over for promotion for his lack of police academy background and recently been investigated by Internal Affairs for his connection with gangster nemesis Jang Seok-gu (Yoo Hae-jin, Tazza: The High Rollers, Moss), this is the chance of a lifetime. He forces Seok-gu to make one of the suspects into an "actor," a scapegoat for the public, while guaranteeing Seok-gu's contract for a skyscraper by preventing his rival from entering the competition. However, it just so happens that the rival he displaced is a sponsor of an ambitious prosecutor Joo Yang (Ryoo Seung-beom, Crying Fist, The Servant), who now becomes another player in the game and eager to take down Cheol-gi, for the sponsor's sake at first but for his own pride and safety after waging a few nerve wars.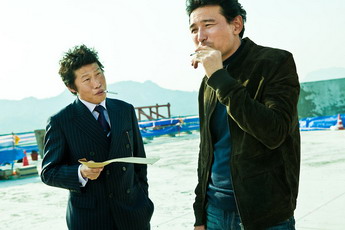 Written by prominent screenwriter Park Hoon-jeong (I Saw the Devil) and revised by the director himself, Ryoo Seung-wan's seventh feature film The Unjust is filled with familiar elements of the crime thriller genre. Corrupted cops beat the hell out of small time crooks, sometimes for making them into stool pigeons and other times just for fun. Former street mobsters struggle to establish themselves as legal businessmen while giant corporations are eager to do what the mobsters did in order to expand their territories. Bribed government officials turn a blind eye to illegal businesses, which will destroy the few remaining good guys who still believe in making an honest living. That is, if there are such men. All the people seem to be rotten to the heart, and the only role for the innocent is to play the hopeless victim. Even the environment itself is cold and cruel. Upon the amoral space where no boundary between good and evil remains, inhumane skyscrapers made of concrete and steel tower over the human insects.
As typical as these crime genre elements may seem, however, it is not easy to take them to the level of critical social analysis. After decades of abuse all over the world, they are often presented as too superficial and iconic to do more than add generic flavor to a film. Many "serious" crime pictures in fact focus more on high octane shootout sequences or thrilling cat-and-mouse play, to say nothing of simpleminded action flicks like Steven Seagal's. Even if a film does give a social comment, it's too easy for the comment to revert into another generic convention, something like "our city is one hell of a harsh place, and people in it live only for their material desires," which is too familiar to accept seriously. I'm not criticizing, or complaining that the ideal goal of a crime thriller should be an earnest analysis of our society. I'm just emphasizing how hard it is for one to reach that level.
Given this and considering the director's own reputation as a genre film buff and an actionmeister, it is surprising that The Unjust achieves that rare goal, if not perfectly. Often considered as a tense character drama, the film is actually more about the relationship between characters. Remember those diagrams explaining the dynamics between characters in a TV drama, using arrows to say that A loves B who hates C who has been married to D whom A had dumped before, while B and D are having an affair and so on? The timing, direction and force of those arrows are what most concerns The Unjust. Setting aside the strong performance of the cast, each character doesn't display a unique personality but remains as a stereotype in the good sense. Their occupational, social and class roles remain bigger than their lives. They must act and react according to the rules of the game. Therefore, the dynamic, the rhythm of their interplay is more important than individual events. This is a cinema of vectors.
This is where one of Ryoo's underappreciated values stands out. He has always been deeply concerned about how to join separate scenes. Relying on relations between lines, visual similarity, and audio continuity, or creating perceptual suspense by omitting, delaying and intercutting narrative information, he weaves different scenes together as if they were notes in the same measure. By doing so, a scene becomes a reply to the one preceding it, and the whole film in the end becomes a fiery session between schemers -- instead of punches and kicks, Ryoo choreographs with tricks and schemes. This sense of exchanging stratagems reminds audiences of the social network itself: how closely related we are in this structure, how hard it is to get out of the network, and thus, how fatal the small deception of others can be. This might sound not far removed from the typical moral lessons of other crime pictures, but the point is that The Unjust shows how the machine of society actually works. In that sense, we might even say that the predecessor of this film is none other than Fritz Lang, who was interested in the structure of the modern world and distilled his interest into a sheer construction of a network by making a protagonist of the city itself in M.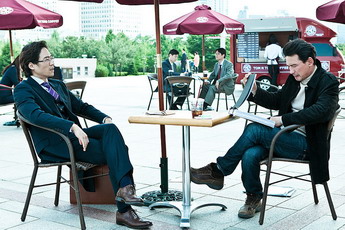 If there's a difference between Ryoo and Lang, it's that Ryoo still takes much humane interest in the nodes of the network. Although none of the characters are likable here, we can sense the film's concern for the stress and burdens placed upon them, not unlike those felt by salarymen from anywhere. It would be only a waste of time to talk all about the brilliance of each cast member in expressing them, but I cannot help championing Ryoo Seung-beom's Joo Yang at this point. Among the main characters, Joo Yang is the only one who doesn't show any urgent need or devouring desire. His life and career is stable, connected to higher power by marriage and sponsored by a wealthy businessman. Still, he should be a player only because he occupies the same ground. And he knows it, and he does it well. At first, harassing his inferiors, Ryoo seems to overact a bit on the boundary between humor and hysteria. But soon we realize that it's a part of his character, coming from his strain felt as a sort of middle manager and his pride as a high-class power elite. Still seemingly a young star in his twenties as his debut in Die Bad, Ryoo's portrayal of the arrogance, rudeness and weariness of stereotypical Korean middle-aged men is stunningly accurate. In one scene, for instance, while bursting out in front of his irritatingly honest investigator, Joo Yang suddenly takes a deep breath, calms himself down and tries to persuade his inferior with a gentler tone of voice, as if he's afraid of losing his dignity on such a minute matter, but only to burst out again louder at the end. Ryoo's body language and control of space between lines here made gooseflesh out of me, invoking the image of the team leaders, managers, directors of any public organization. I can earnestly say that Ryoo's acting alone embodies the core of the film, the stress pervading in the network.
Thus, it is not surprising that The Unjust becomes problematic when it deals with a vector struggling to get out of that network, portrayed by more typical Ryoo Seung-wan like, sympathetic, lower-class character, Cheol-gi. He has all the qualities of the classical tragic hero. Surrounded by flawed family and teammates, he struggles to bear their troubles and conflicts with decisions forced on him from higher powers. Once film critic Lee Dong-jin said Ryoo Seung-wan's films seem to be obsessed with patriarchal responsibility and Cheol-gi is the exact example of that patriarch. In the end, he becomes ready to explode and the third act of the film allows him to explode with physical violence and film-noirish turns of fate. Though the events may seem to be reasonable enough, however, this part feels like mere tragic rhetoric, because the film hastily gives up all the movements in the network ("I don't want anything to do with you guys anymore," Cheol-gi says). Joo-yang and Seok-gu suddenly disappear and Cheol-gi remains as the only protagonist, condensing all the narrative into his personal tragedy. The film seems to stop, ironically in its most physical moment. To see this turn whether as a sort of compromise or as the author's signature and uncompromising moral decision is up to audiences. Perhaps one might even say that it is a choice frank with the harsh reality of the social pyramid where the lower parts are replaced while the upper parts remain safe in their places. However, it sure hurts the film in its tonal terms. Fortunately, that can't close all the issues the film presents. Seeing the last shot of The Unjust, I felt all the lines between us nodes linger and reemerge from the landscape in front of me.
For those comments about Ryoo Seung-wan's sudden "transformation," (often based on the film's lack of "action" sequences) I cannot agree. Undoubtedly, The Unjust is an extension of the director's previous works. But he sure widens his sight here. From the dog fights of street lives without understanding the whole structure, he stepped back and drew a much bigger picture, to the extent of the analysis on the social network, which is a rare approach not only for the director but for Korean cinema as a whole. Taking this new punch, one might be more depressed, but one would be more sensitive to society.       (Jiro Hong)

    Secret Romance
Seven years prior to Secret Romance, director Kwon Chil-in provided us with a fine example of perhaps the rarest of all Korean cinema characters-the Happy, Satisfied Single in his second feature, appropriately entitled Singles. In his latest movie, Kwon centers the film around yet another unattached character. I had high hopes that he would give us another strong, independent, unmarried woman but, as it turns out, that was not to be.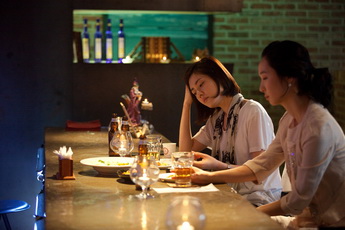 The movie stars Ji-heun (played by Choo Ja-hyeon, most recently of the shockingly gory film Missing) who, despite her strong exterior, is suffering inside and racing down a path of self-destruction. Her professional life has hit rock bottom, she has lost her home and, after an altercation at a bar wherein she smashed a guy's head with an empty soju bottle, she has found herself waking up in a police holding cell. The source of her problems seems to stem from alcohol, be it wine, soju or beer. Ji-heun drinks until she passes out in a drunken stupor every night. But is the alcoholism itself the problem, or is it an indicator of deeper, hidden problem?
Ji-heun may have wound up homeless were it not for her good friend, Kyeong-rin (Han Soo-yeon) who invites Ji-heun to stay in the as-yet empty nursery in her luxurious home. Although this is meant as a temporary step until the down-and-out Ji-heun is back on her feet, both Kyeong-rin and her husband Myeong-won (Jeong Chan) begin to fear that they may never be rid of their houseguest. However, they manage to keep these fears to themselves and play perfect hosts even though Ji-heun has no desire to reciprocate the courtesy. She smokes into the baby's linens, drinks water and juice directly from the bottles, eats in nothing but her skivvies, freely borrows her friend's belongings and continues to drink until she passes out.
But while Kyeong-rin and Myeong-won play at being perfect hosts, they have a much more difficult time being the perfect couple. Externally, they appear to be just that but under the surface, there is a problem eating away at their marriage. Myeong-won, a doctor, loves his wife but also tends to take her for granted and, if there is a baseball game on television, will completely ignore her. Kyeong-rin accepts this with quiet resignation, but feels resentment building within. She strives at being the perfect, stay-at-home wife, but her efforts with the cooking and decorating go unappreciated. She hopes to be the perfect mother, but has not yet been able to become pregnant. She attempts to work off her stress by learning rock-climbing, but at the gym she becomes entangled in a relationship with her instructor, Dong-joo (Kim Heung-soo), who also happens to be an x-ray technician at the hospital her husband works at. The dangerous thrills provided by this relationship will prove addictive and the downfall of her fairytale wedding bliss.
I found Kyeong-rin's story to be much more compelling than that of Ji-heun. The latter woman's tale is fairly predictable. After Kyeong-rin leaves home to live in a squalid motel room with her lover, Ji-heun finds herself falling in love with Myeong-won whom, as it turns out, she has much in common with. She also falls into the role of woman-of-the house and all the duties that accompany that part and in finding that missing portion of her life everything else, such as her career and her drinking problem, no longer seem like insurmountable problems.
Kyeong-rin, however, abandons what many romance movies would have us believe is every woman's dream for something that is not even akin to love. Make no doubt about it, Dong-joo does not love her nor does she love him, at least not in any traditional sense. He is making no attempts to conceal the fact that he is sleeping with other women while she continues to be attracted to his bad boy ways even as she argues with him. Their verbal and physical assaults on each other act as foreplay to their furious and passionate sex. But when asked if she is happy in her new life, she barely hesitates as she answers that she is.
The plot of Secret Romance may appear rather simple, but the joy of watching it turns out to be the layers of the characters that continue to unfold as the film progresses. I may not have agreed with all the choices the characters make, I may not have even liked most of them and I may have even been disappointed that despite Ji-heun's early assertions she was not going to be a strong woman content to be single. However, I was far from disappointed to the film. Kwon crafted a fascinating, adult tale that deserves to be seen by a wider audience.      (Tom Giammarco)

    No Doubt
A plant cultivator and single father Chung-sik (Kim Tae-woo, Epitaph, Like You Know It All) settles down in a quite country town with his seven-year-old daughter. When she goes missing, attention of the local populace as well as the police is drawn to the withdrawn Se-jin (Lee Jeong-jin, Once Upon a Time in High School), a bicycle shop owner. When the latter is revealed as a registered sex-crime offender, the townspeople launch a campaign of ostracism and harassment against him, angering his feisty sister In-hee (Im Seong-eon, Muoi) and putting Chung-sik's cop friend Detective Baek (Jeong In-ki, The Chaser) in a difficult position. However, it is Chung-sik who is willing to go to the extreme to render what he thinks is the true justice.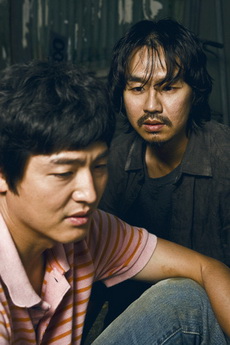 No Doubt reminds me of the "Issue of the Week" American TV films from '70s and '80s that takes a borderline taboo subject (say, incest or male rape) and tries to make a sincere, enlightening movie out of it. The "tough" subject broached here is the evils of prejudice and ostracism, not justifiable even when they are perpetrated against those who committed sex crimes against children. The debuting director Park Soo-young, well-regarded for edgy but funny short films including the award-winner The Freaking Family (2004) and A Puppy, Our Family (2007), clearly was not aiming for a conventional suspense film, or even a psychological thriller. The truth is, despite good performances delivered by the ever-reliable Kim Tae-woo and the sensitive Lee Jeong-jin, their characters are barely more than live puppets, hamstrung to the rigid schemata of the film.
Kim illustrates Chung-sik's overwhelming sense of despair and hollowness following his daughter's disappearance very convincingly, but Chung-sik himself is weirdly passive-aggressive, tailing and harassing Detective Baek as well as Se-jin's family at one point and suddenly turning into a zombified one-man vigilante force at the next. Se-jin's character is even more problematic: none of his actions makes a dollop of sense. I don't want to divulge the film's "plot twists" but let me nonetheless note that these are purely made possible by the fact Se-jin absolutely refuses to talk straight about his actions: not to the cops, not to Chung-sik, not to his family members. What does he want, a martyrdom? No matter how I wish to cut the director and screenwriter An Seung-hwan some slack, there is simply no compelling, logical or even semi-sensible reason for Se-jin to clam up as he does in the film. (I won't ask, as some American TV drama fans might, "where the heck is his lawyer?!") As I have said before, it is a losing proposition to make a character look like an idiot for no other reason than to advance a "clever" plot point.
Frankly, the movie might have been much more interesting-even as a pedantic exercise in disseminating the message of tolerance-had Se-jin's character been designed as truly psychotic and thus incapable of defending himself even if he wanted to. Considering how easy it is for today's legal system (whether in Korea or in the US), with its highly-educated, highly-paid lawyers and judges, to put an innocent person in jail for years and years, my hands and feet are all up in the air supporting No Doubt's message. I only wish that the film could throw it at us with greater subtlety and persuasiveness.      (Kyu Hyun  Kim)

    Haunters
In the bleak but fascinating opening, we are introduced to a disturbed, unnamed young man (Gang Dong-won, Woochi, Secret Reunion) with the ability to rob other human beings of their free will and manipulate them like so many puppets. Disabled and traumatized by memories of hellish childhood, however, he is content to use his power to steal bits of money from pawnshops or bank branches, or to spend lonely nights in luxurious hotels. Sure, he does impulsively kill people on occasions, but overall his impact on the larger society is negligible. At least, he believes so¡¦ until one day, robbing a pawnshop incongruously named Utopia, he encounters Byuk-nam (Go Soo, Some, Into the White Night), just hired at there as a clerk, who is not only immune to his psychic power, but also can instantly heal himself even from totally destructive wounds, a la the Bruce Willis character in The Unbreakable.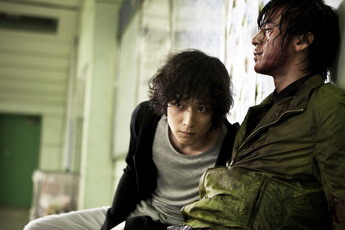 Haunters, a debut feature from director Kim Min-seok, whose short film Memories of Oldboy (2004) was a slick, youth-gang take on Poe's William Wilson, begins promisingly. The horrific but sympathetic introduction makes us think that the movie will tell the story of how the alienated protagonist rediscovers his humanity. What director Kim has in mind, however, is darker and more convoluted. The scenes in which the Psychic (the film's original title, which at least made some sense) marshals his power against hapless civilians and those involving confrontations between the protagonists are rather impressive. Some of Kim's tricks- such as the Psychic's preternaturally glowing eyes- are rather obvious but no less effective for that. And he stages some of the key action scenes with the fine sense of a ballet choreographer as well as the gusto of a rock performer.
Unfortunately, Kim, having set up an intriguing premise and having introduced a moderately interesting villain/anti-hero, does not quite know what to do with them. The movie runs out of ideas by the halfway mark, and in order to justify the thriller plot, it siphons off all common sense out of Byuk-nam. The latter is a good illustration of a character meant to be straight-laced to the point of obtuseness, but ends up being a blustering idiot instead. Fully knowing the extent (and limits) of the Psychic's ability, Byuk-nam has no inkling about how to approach and contain him: all he does is to scream "You bastard!" and charge like a bull after him. Couldn't he have prepared a more adequate tool, like a sniper's rifle, for instance, or at least thrown a rock at the back of his nemesis's head? It is difficult to root for a "hero" whose sheer stupidity is responsible for the deaths of some of the more endearing supporting characters (As dunderheaded as Gangdoo's family was in The Host, they are like General Patton compared to Byuk-nam in terms of their grasp of the overall situation). The climax and resolution hold no surprises, utterly indifferent and/or dumb reactions of the bystanders and cops having become wearisome by then.
Casting-wise, Gang Dong-won is fine as the emotionally damaged Psychic, essentially a broken child with a capacity for getting back at the cruel adults, even though his dialogue/narration becomes progressively jejune. Go Soo thankfully does not oversell Byuk-nam's aw-shucks "straight guy" quality. Byun Hee-bong is as usual brilliant as Utopia's owner, equal parts scurrilous and benevolent. But the film's real discoveries are Abu Dodd and Enes Kaya, playing Byuk-nam's migrant worker buddies, who steal every single scene they are in. Not only are their command of Korean language frankly better than those of some Korean entertainers, they are good actors to boot, not only providing requisite comic reliefs but transmitting genuine pathos when called for. We definitely want to see them in more movies, Korean or otherwise.
Haunters is not bad at all for a debut feature and possess many praiseworthy traits. Although not quite successful as a satisfying character study, it is quite ambitious for a Korean SF/fantasy thriller, and director Kim Min-seok at least earned the rights to keep our eyes on him for his next project.      (Kyu Hyun  Kim)

    Festival
Like director Lee Hae-young's previous film Like a Virgin (2006), Festival is a work of Queer Cinema. He brings out into open as many taboo objects and themes as he could, making use of a dependable tool known as comedy. Of course, the process of "coming out" as depicted in this movie has inevitable political implications.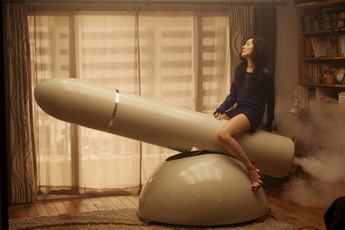 The backdrop of the film is a town festival that celebrates the theme of "making our neighborhood safe and happy." One of the protagonists, Jang-bae, is a vice squad cop harried day and night by the ongoing, festival-related brouhaha, which subtly reminds Korean viewers of the ridiculous hustle-bustle surrounding the G-20 summit meeting in real life. There are other main characters in the movie but their stories more or less progress independently of one another, until the climax where they come to a big, head-on collision. Jang-bae feels his masculinity is threatened by girlfriend Ji-soo, an English instructor full of free spirit and unbound by social conventions. Ji-hye, one of Ji-soo's teenage students, has a big crush on the fish-cake vendor Sang-doo, but the latter is keeping some skeletons in his closet. Ji-hye's mother, Soon-shim, is surprised to find her dormant passion rekindled by the new neighbor Ki-bong, a hardware store owner. Meanwhile, Ji-hye's high school teacher Kwang-rok harbors some personal secrets of his own.
Festival is, plainly put, a veritable expo of "deviances," sexual or otherwise, as defined by the mainstream Korean society. Director Lee has crammed an impressive variety of sexual tastes, instruments of, shall I say, pleasuring and outré behavioral preferences into this one movie. The humor mainly results from the fact that the characters saddled with these, ah, extra-ordinary orientations and habits are portrayed as utterly ordinary folks: in fact, the more seriously "out-there" their "tastes" are, the more innocent and honest they are revealed to be. Indeed, the most negative and violent character in the film is Jang-bae, who has little doubt that he embodies the "normal standard" for a Korean male. Naturally, the movie has great fun dismantling his oblivious self-confidence.
I cannot really say that this comedic strategy has been carried out to its full potential in Festival. The ending, in particular, is fairly artificial, trying too hard to tie up all the loose ends. In my view, only one couple among the many resulting from the convoluted turn-around of the plot feels "real": the rest are spotted with the greasy fingerprints of the deus ex machine, working overtime to bring everything into a neat happy ending, in time for rolling out of Uhm Jeong-hwa's "Festival" in the soundtrack. Some of the "coming out" scenes are excessively pedantic, as if inserted from the boringly well-meaning queer cinema of '90s. I also wished that the comedy was a bit louder, the all-hell-breaks-loose climax was a bit bigger, or the movie was shorter by about ten minutes, but perhaps the theater-going public might respond more enthusiastically to the film than journalists and critics.
Festival is well cast. The actors avoid making caricatures out of their characters, and convey sincerity at every turn. The emotional resonances of certain dramatic turns and dialogues remain considerable, despite their naiveté and preachy quality. I can only guess how much of what Lee originally intended to show ended up on screen, but as a whole Festival is a fresh, upstanding and truly wholesome entertainment. It is full of things that Korean viewers were unable to watch, to their loss, in the movies of the past dealing with similar subject matters, such as '80s soft-core "ero-films" or '00s sex comedies.       (Djuna, translated by Kyu Hyun  Kim)

    Villain and Widow
As the movie opens, professional art thief Chang-in (Han Seok-kyu, Shiri, An Eye for an Eye) confronts a weasel-like antique dealer (guest star Park Won-sang), who claims to possess a set of Ming Dynasty tea utensils smuggled out of China and valued at 2 billion won. Unfortunately, the dealer, trying to escape the police, falls to his death, leaving the location of the utensils unknown. Believing that the priceless tea set is hidden somewhere in the dealer's house, Chang-in disguises himself as a novelist and moves into a boarding room, rented out by the dead weasel's widow, Yeon-ju (Kim Hye-soo, Tazza, Modern Boy). However, what he initially thought would be a piece of cake job rapidly turns into a nightmare, with Yeon-ju and her teenage daughter Seong-ah (Ji Woo) bumping into him and creating havoc at every turn, and his super-rich client (Uhm Gi-joon) threatening to break every bone in his body if he fails to meet the deadline.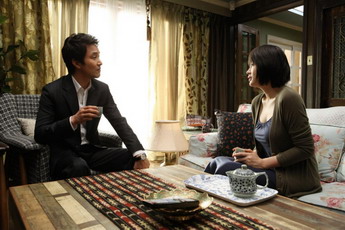 One thing a prospective viewer must be aware of beforehand is that Villain and Widow, despite its title and frankly hoary premise, is neither a crime thriller nor a situation comedy. It is really a comedy of manners in which two fully-realized characters with deceptively obvious flaws clash against one another. The beauty of it is that screenwriter/director Son Jae-gon's (My Scary Girl) personages are so well constructed, so wonderfully embodied by Han, Kim and the other actors, that the movie attains the kind of natural flow rarely seen in a Korean film. Chang-in and Yeon-ju's interactions evince the spontaneity and conviction of real-life figures reacting to real situations, yet always culminating in the desired effects, that can only be achieved when talented performers are giving their all under a supportive taskmaster. Even Chang-in's simultaneously nail-biting and drop-dead hilarious effort to escape the basement, which must have been choreographed to the last centimeter during filming, looks completely unrehearsed, capped as it is by Han's exasperated reaction guaranteed to bring down the theater.
Both Han Seok-kyu and Kim Hye-soo are in top form. Bestowed with his best role since A Bloody Aria (2006), Han is totally in his element essaying an outwardly urbane, insouciant scoundrel, trying to prevent his innate arrogance from ruining his carefully laid-out plan, and failing. Kim seemingly goes against type to play an ultra-neurotic, heavy-drinking and ill-mannered housewife, but she deftly harnesses her performance toward slyly comedic ends, reminding one of Meryl Streep. Another strength director Son Jae-gon has, that he shares with a few other directors such as Lee Yoon-ki (My Dear Enemy), is the extension of compassion and understanding to basically all of his characters, including wholly antagonistic ones. Son even puts up a good case for sympathy for the chaebol client's stature-challenged gangster enforcer (Oh Jae-gyun), without diminishing the physical threat he poses for Chang-in. Likewise, the way he treats the victimization of Seong-ah by the "lookist" youth culture is thoroughly unsentimental and un-self-righteous: the mother-daughter relationship does not get resolved in a big, fake, tear-jerking reconciliation scene at the end, as they refreshingly maintain their own integrity.
Villain and Widow is not for viewers who like their comedy large and loud, or expect conventional genre thrills. Otherwise, it is a superbly intelligent and supremely witty piece of entertainment. Do you remember a scene in Jonathan Demme's Married to the Mob where Michelle Pfeiffer tearfully relates how she ended up a spouse to a Mafioso, and then crosses her eyes? If that scene made you laugh, yet also feel a tinge of sympathy for Pfeiffer's character, Villain is most assuredly the right movie for you.      (Kyu Hyun  Kim)