10th May 2011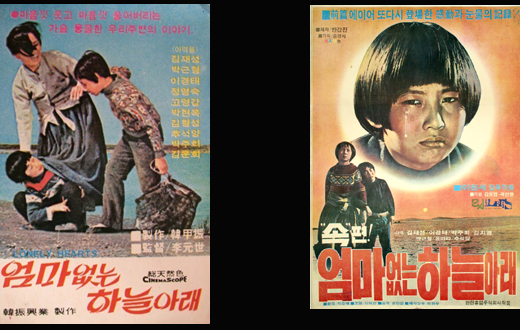 Over the weekend, I happened to catch Lee Won-se's The World Without Mom on KTV. I enjoyed the movie very much and, knowing that I had the DVD set which contained not only that movie, but the sequel as well, I decided that is what I would watch on the upcoming holiday which I knew from the weather forecasts would be a good day to stay home as we were going to be hit with heavy rains that will last throughout the week.
The World Without Mom is based on a diary by Kim Yeong-chool and that is indeed the name of the main character. He is a young student, approximately ten years old living in a southern coastal village where the main industry is salt farms. He lives with his father, mother and two younger brothers; Yeong-moon who is about 7 and Yeong-ho who is an infant. They are happy, but life is hard for the family and, as the title suggests, the mother exits the world early from, as Yeong-chool put it, 'overwork.' 
Her death leaves the small family devestated. Yeong-chool's father turns to alcohol to assuage his grief, but it is not enough and he slowly loses his grip on reality and becomes mentally unstable. Afraid to leave Yeong-ho at home or at work with his father, Yeong-chool starts taking his youngest brother to school with him, making him the butt of cruel jokes by his classmates. His teachers, however, are more understanding and soon all the students come to respect Yeong-chool. His father becomes more unstable and, after attacking a man and nearly killing him, he is institutionalized, leaving his young sons on their own.
Yeong-chool tries his best to keep his family together as both his mother and father urged him to do, but there are many problems. The salt farm owns his house, and as his father is no longer working harvesting salt, it seems likely they will wind up on the streets. Well-meaning neighbors try to help, but Yeong-chool is too proud to fully take advantage of what they could offer. The villagers worry about the children and make arrangements for their welfare. Two of the children are set to be adopted while another will be sent to an orphanage. This does not sit well with Yeong-chool who knows they are not orphans. He decides he will fight to keep his family together. Yeong-moon comes to the same conclusion and runs away from the orphanage. The first movie ends with the brothers meeting again on the road outside their home. Their futures are uncertain, but at least they are together.
The World Without Mom 2, made and released the same year as part 1, picks up right where the other left film left off after a short recap.  The children are told by the owner of the salt farm that they can continue to live in the house and wait for their father to return from the hospital.  They receive food aid from the government and bags of rice from the villagers. Yeong-chool takes on full responsibility as parent, taking care of his younger brothers and becoming responsible for budgeting their meager savings. He receives some money from publishing his diary and a lot of donations are made to him and his family, but he misunderstands and refuses the money as he does not want people to think he is a beggar.  When it is revealed that his father's hospital bill is late, he stops school to work harvesting seafood from the mudflats. And when his father escapes from the mental hospital, it is responsible Yeong-chool who makes the call to report his location.
However, things finally start looking up when the father does make a full recovery and is released from the hospital. He works hard for his family and the children are all happy that things are back to normal.  But the well-meaning neighbors once again interfere and tell the father that he cannot raise the children on his own and needs to remarry. They even know the perfect woman, a recent divorcee who cannot bear children but wants desperately to have a family. Yeong-chool is all for it and believes his mother would feel the same. Yeong-moon, who has been acting out all through the film, is not so sure…especially when the woman who will be his stepmother comes between him and his father with whom he is very close.
Both films are heavy on the drama and strive to make the viewer cry, and the way they go about this makes them feel a little dated. However, they are very enjoyable films and there is a lot to be said in their favor. The strongest points come from the acting of the two elder brothers Yeong-chool and Yeong-moon.  The former was played by Kim Jae-seong and the latter by Lee Kyeong-tae. Neither of these two continued in acting after the 70s but it was certainly not because of their performances here. They are naturals in the parts and the interaction between them, especially in the second film, is very believable. There are also some very artistic shots with the director highlighting the bleakness of the landscape while making it quite beautiful at the same time.
Their story did not end there. There is a third chapter called The World Without a Mom 3: Festival of Chicks made by director Lee Won-se in 1978.  However, it is not included in the DVD set nor have I seen it on tv. Just reading about it, I can tell that it does seem to differ from the first two quite a bit. For one thing, the title does not make sense as they now have a mother and father who love them and takes care of them. This in itself removes the feeling of tragedy from the film. Also, the family moves out of the village and into a larger town or small city taking advantage of low-income housing provided by the government. It does not seem to have Yeong-chool as the central figure as in the first two films. Rather it is Yeong-moon who learns at his new school that he has a passion for baseball but his talent does not match. He tries out for the team and winds up as a bat boy. The film apparently is his struggle to find the confidence and drive to succeed in his dreams… not at all the same as their previous two films where they fought to keep their family together and struggled to survive on their own.
If you can track down the DVDs of the first two films which were released together by Dreamix in 2006 with English subtitles, I highly recommend you do so. I liked these enough that if the third film ever becomes available, I will be picking that up as well.